I just have one important question for you today…
Why does it take pirates so long to learn the alphabet??
Because they spend years at "C". 😀
If you thought that was good, then you will LOVE the rest of these colorable sea jokes lunch box notes templates!
Cute Colorable Sea Jokes Lunchbox Notes
I absolutely LOVE puns and humor. 🙂 They are so fun and kids love them too! The adorable sea creatures design brings that added level of cuteness, making them SO kid-friendly.
They are also colorable, which is a FANTASTIC way to give your kids an extra activity to work on. They can color and doodle on them, and give them back so you can surprise your kids with these later! Also, they can be printed and used as many times as you need.
These sea-inspired jokes are a great addition to your kid's lunchboxes! Whether they are having a rough day and need a pick me up OR "just because," these lunch box notes ideas are sure to make them smile when they open their lunchboxes or bento boxes!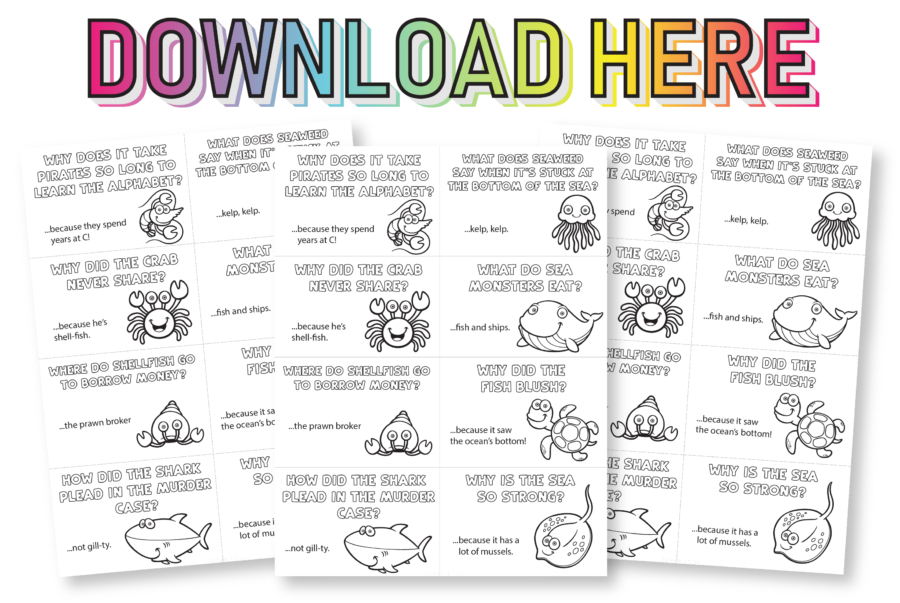 Download the sea jokes colorable notes lunchbox printable pdf here.

Creative Ways To Use These Printables:
Besides putting them in your kids' lunchboxes, there are LOTS of other ways to use these hilarious sea joke printables. Here are some ideas!
Hide These Printable Lunchbox Note Cards Around The House
This is such a fun way to brighten up your kids' day! Maybe it's a Saturday or they are on summer break and looking for something fun to do.
Plan a day to have them color in these jokes, then take them away for a week or so. One night, after the kids go to bed, hide these cards all over the house! The bathroom, silverware drawer, under the TV remote, etc. You are sure to have TONS of giggles as they find these hidden notes throughout the day. 🙂
This is also perfect to do for when you have sick kiddos – they won't be able to resist cracking a smile at these funny jokes!
Encourage Siblings To Use These Printable Lunch Notes
Of course, it makes sense for you, moms, to add these into your kids' lunchboxes, but why not start encouraging your kids to do this for each other?!
Help them build their relationships and practice doing nice things for each other. The more they do it, the more they will want to!
Send These Printable Lunch Box Notes To School for Your Kid's Friends
If you thought your kids' loved these jokes, imagine how much their friends will love them too! Send these printables to school with your kids for their class. Their friends will love this fun activity to bring back to their houses.
Maybe they are having a classroom party? These make perfect gifts for that as well. These jokes are sure to be a hit with your kids' friends! 🙂
These sea jokes lunchbox printables will definitely keep your kids laughing and can be used for many years to come!