July is, in my opinion, the best month of the year to shop for Christmas. You get AS GOOD OF deals as after Christmas sales and Black Friday sales, but here's the thing…most people aren't thinking about Christmas right now. So, all those out of stock signs WON'T be put up. It's like the cream of the crop, pick of the litter all on sale. Plus, all the stores are moving clearance to make room for Christmas inventory. You'll start seeing all the new gizmo's and gadgets, and now's the perfect time to score some great gifts at a fraction of the cost.
How to save the most money on Christmas in July Ideas
In stores:
My favorite stores to check out this time of year are: Target, Sears, and Toys R Us in person and frequently to score the best in-store deals.
Toys R Us will start clearancing out all their electronics (if you're a reseller, you can make a killing on that alone!)
Target has a ton of toys already 30-50% off but it's a great idea to ask them what day your local store marks down their stock. Visit the afternoon of those mark downs to score the best deals.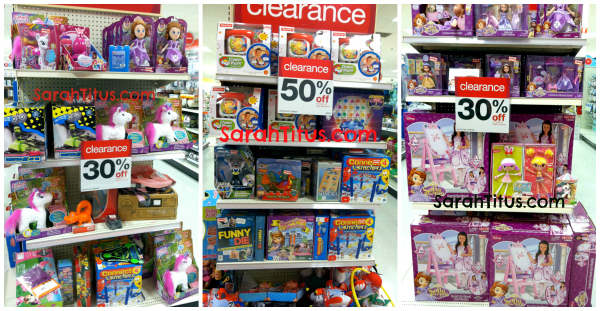 Sears is great for clothes and seasonal items. This time of year, right as Back to School is upon us, Sears will be clearancing out all their summer clothes. This is a great time to stock up for next year if you plan ahead.
Online:
I know I'm going to get a lot of heat for sharing this top-secret trick, but if you're really going to save the most amount of money you can on the things you already purchase, you'll want to check out SlickDeals. SlickDeals is my favorite site – okay, well, after this site of course. 😉 They are basically forums that other people post on. When they see a deal, they post. The secret is getting on those sites late at night, 2-3 am will score you the best deals because most people are sleeping. Early bird catches the worm right! You'll want to be super quick though. The deals usually do not last long, and the sites are pretty popular.
These sites are how I got into reselling. It was really simple to make a lot of money just simply by getting great deals for my family and adding a couple extra items to my order. Sell off the other items and use the profits to pay for my own items. This is a general principle I do in all areas of my life. Just yesterday, I was looking for a Wii remote for our new Wii U and it's actually cheaper in the long run to buy a brand new Wii Mini + Mario Kart for $100, sell off the game and console and keep the remote, than it is to just buy the remote separately. Plus, I know the remote is 100% genuine (I don't always trust eBay to sell genuine stuff even if they are USA sellers) and it's NEW. The lowest eBay ad for a USED remote was $63. Forget it. I just listed the Mario Kart game today on eBay and it sold within an hour. Now to list and sell my console. I'll end up paying LESS and get my remote NEW. No greasy, gucky fingerprints I have to clean. Gross!
Here are a few of my favorite deals to snag now…
Have you heard? Everyone in the U.S. is obsessed with these 4D Lashes by Younique. Gone is the day of short, skinny lashes. You can have plump, long lashes with this new incredibly cool technology. Love it! Check out the demo here.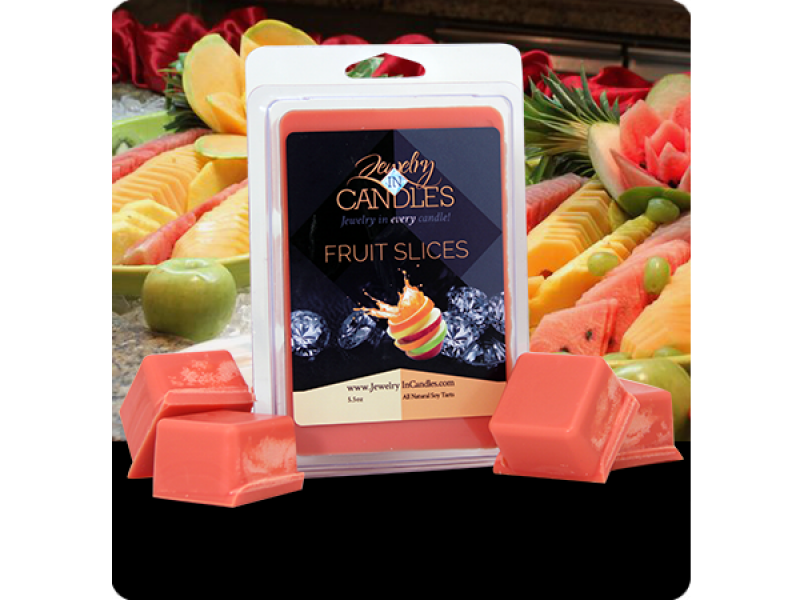 What a fantastic idea this is. You hear of wedding proposals where the gentlemen puts the ring in a dessert for his girl to find it. Same idea here. Very clever! The cool thing is, you get to pick what you want. Want a necklace, a ring (different sizes available), or earrings? You can pick your treat!
A mouth-watering array of scents. Infused with natural essential oils!
Up to 60 hours of vivid fragrance.

Great for your tart warmer, candle warmer, potpourri pot or other electric warmer.

Many scented wax tarts are only 1 oz to 3 oz. Our wax tarts are much larger, last much longer and have the surprise of hidden jewelry inside!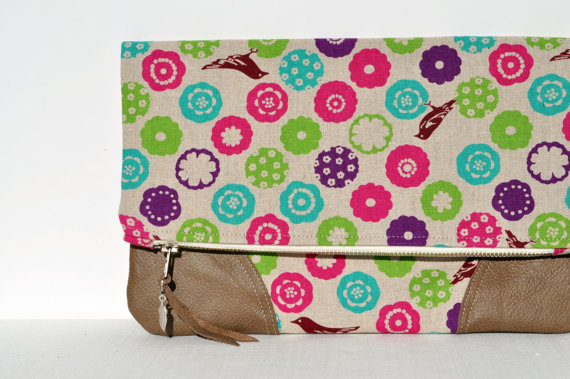 I met Lani at a craft fair some time ago and fell in love with all her designs. She is a fantastic seamstress, and a very clever designer. My favorite item she was selling at the time was an iPad cover. Her items are always of the highest quality and she only uses the best quality materials. She is a very talented mom and I'm honored to share her designs with you. Lani is happy to do custom orders. Simply contact her for more information.
The printed linen bird fold-over clutch is made with a beautiful linen cotton fabric from Echino. It is accented in a medium brown leather at the corners and matching zipper pull. The lining is a wonderful matching fuchsha linen blend fabric and reinforced with duck cloth interfacing for added durability, while also giving the bag a sturdy structure . This clutch is perfect for a night out, running errands, or even to stash in a larger bag.
I love Shany brushes. They are soft and very durable. Quality made and stand up to your usage for a long time. I have a fantastic set and absolutely love them. If you don't have a set, be sure to pick one up for yourself as well!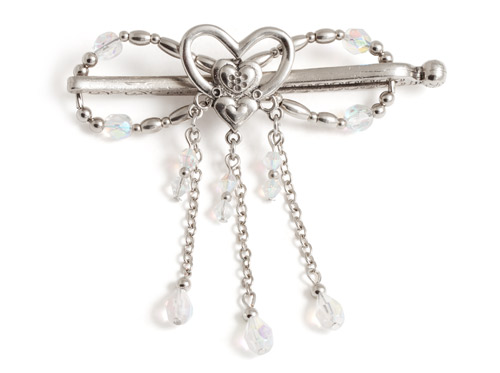 Isn't this clip super adorable? It's one that I actually have and LOVE. It's big enough to hold all my hair or just half. It stays put well and unlike my usual hair ties, it doesn't give me headaches. See my full review on Lilla Rose here. For me, this is a perfect gift. It's more like an heirloom piece of jewelry that you can wear than some old hair clip you get at Target. This is special, unique, beautiful. Okay, I'll stop talking now. I love it!
Oh, seriously, I'm a sucker for the Chevron print. Anyone else obsessed with it? This is an adorably cute overnight or gym bag. Shoot, you could use it for a lot of things. It's so versatile.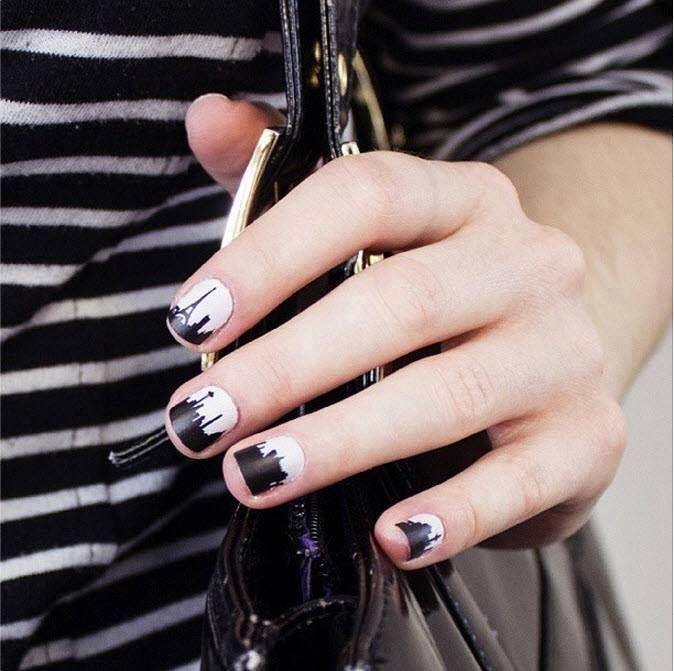 These are super cute nail wraps. They last longer than painting your nails and you don't have to be a designer or go to a salon to have a pretty design on them. My favorite is the skyscraper design.
Jamberry nail wraps are a solid film covering that can be applied directly to the nail to achieve a look not found anywhere else! The wraps are made in the USA with no harsh chemicals and are latex free. They last up to two weeks on fingers and four or more weeks on toes. Unlike nail polish, they don't chip and require no drying time and at fifteen dollars per sheet (that will give you at least two manicures or pedicures), they are much cheaper than going to the salon. There are over 300 designs to choose from, so there is something for everyone on your list (including yourself)!
How cute is this? And it's pretty near 40% off right now!
The Oster My Blend blender is an individual-sized blender and sport bottle in one that is designed to fit your active, fast-paced lifestyle. With quick and convenient One Touch blending, you can create your favorite smoothies, protein shakes, and more to enjoy at home, on a run, or at the office.
The My Blend is a powerful way to start your day with its 250-watt motor that will pulverize frozen fruit and ice to blend the smoothie of your choice. By blending directly into the sport bottle, you'll have less mess and less to clean up. The drinking lid has a carry hook that makes it easy to take with you as you carry out your day. The stylish 20-ounce BPA-free plastic sport bottle is dishwasher safe and fits in most car cup holders. Storage is simple, as the blender base is small enough to keep on your counter every day.