Have you been trying and trying to save up money or pay off debt, but have been struggling?
Or maybe, you need a good, organized system to get you started?
Well, I have got something PERFECT (and cute too), to get you started today. 🥰
Check out this awesome cash envelope system for your budget, with printable cash envelopes!
Cash Envelope System For Your Budget
Has there ever been a time where you've gotten to the end of the month and you have NO idea where all your money went? Or maybe at the start of each year, your goal is to budget better but it doesn't happen?? Then you are in for a treat today!!
Creating and implementing a budget in your daily life is essential to help you have healthy finances. Not only that, but God also wants us to be good stewards of the resources He gives to us, like finances! So this is much deeper and MORE important than just getting out of debt or spending wisely.
Making a budget doesn't have to be too overwhelming either. In fact, I've got you covered with a great starting point in creating a budget here and my Budgeting Money Binder here! This will help you develop a great budget that actually works for your family and that you'll be happy about. 😊
Then, once you have that in place, you can start using these cash envelopes and get the best results from them!! These beautifully designed horizontal cash envelope printables are a great resource to help keep you on track! They can be printed, cut out, folded, and filled out to hold cash for whatever purpose you need it for.
There are TONS of designs for you including fun pops of color, seasonal, and more to help budgeting feel joyful, and not as a chore! 😊
You can use them for whatever occasion you need as well. Use a general print to help pay down debt, or save up money for something big like a car or vacation. Or, you can use the birthday envelope to add money to save up for a birthday party. It's the same concept with any of the envelopes!!
Cash envelopes included:
Anniversary
Beauty
Birthdays
Christmas
Clothing
Coupons
Date Night
Food
Fun
Gas
Gifts
Misc.
Pet
Restaurants
Savings
Vacation
I hope you enjoy this amazing cash envelope system for you and your family!! 💖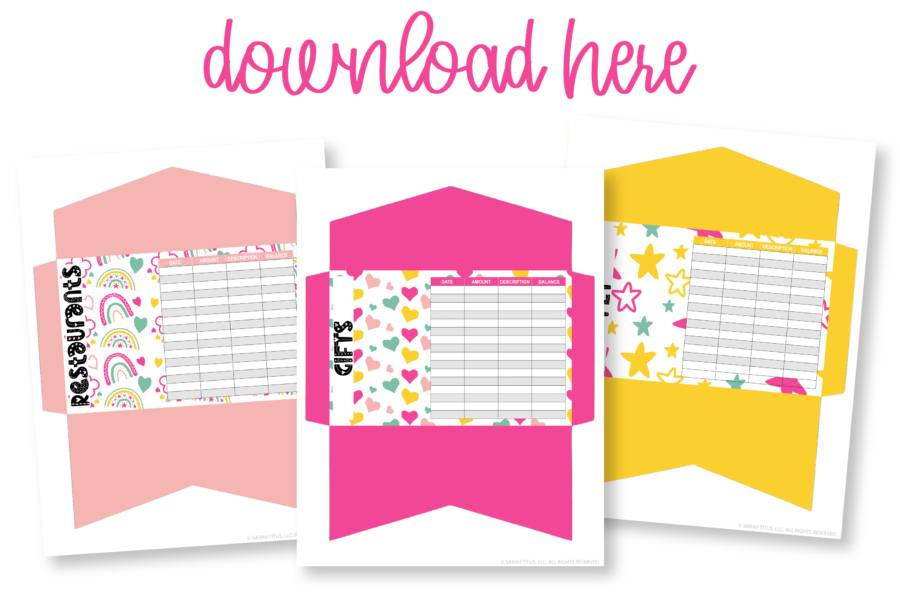 Download the Cash Envelope System For Your Budget here.