My mom was a diabetic. She developed diabetes as a child. First tested at the age of 18, they discovered it.
She would ALWAYS steal candy, cookies, all kinds of sugary foods from her parents pantry as a kid.
It's something that she would never control. But today YOU CAN with this blood sugar tracker!
Blood Sugar Tracker
I remember as a kid, my mom telling me things like, "I'll eat this whole cake because I can just take more insulin."
Years and years of abusing her body, she struggled with many side effects, but would never take care of herself. She wanted to die. She was slowly killing herself.
As a teen, one day she asked me to commit suicide with her. She told me that she would inject me with the insulin needle, enough to kill me, and then she would kill herself by injecting too much insulin in herself as well.
I remember running to the bathroom, completely scared for my life. I was just absolutely terrified. I stayed in the bathroom for over an hour.
When I came out, she was sleeping and I ran to my room so as not to wake her and just cried.
I don't think I ever got over that. I don't think a person ever CAN.
How can your own mother want you dead?
When she died at age 65 (she ended up killing herself), honestly, I was relieved. She was a complete and utter monster to me my entire life. Constantly beating me, up until I was 18 when I threatened to call the cops on her.
She wanted her body donated to help others when she died. Out of respect for her, I worked with the people to donate whatever we could.
The ONLY thing she was able to donate was her eyes. There was not one single other thing on her body that was usable to help other people.
Why? Because she had destroyed her body her whole life.
Tears. So to ME, you can see why this post is very important to me.
Listen, I NEED YOU to take care of yourself. I do not want one child to ever have to go through what I did. The pain, the abuse, the torment.
If you have diabetes, or if someone you love has diabetes, they have to take care of it and their blood glucose levels. It is NOT something to play around with. And using a device to check your blood sugar several times a day is a part of taking care of yourself.
Whether you yourself are a diabetic, a family member, you're a school nurse, or even a caregiver, these diabetes tracker printables are a perfect way to keep track of blood sugar levels.
They are perfect for logging blood sugars on a daily basis. They help you to know the best times to check your blood sugar, allowing you to track your blood sugar levels for breakfast, lunch, dinner, and at bedtime.
Simply record your meal, time, sugar level and intervals of 1, 2, and 3 hours. There is even a notes section to write down important information or reminders.
If you struggle with low or high blood sugar levels, this printable will help you monitor them and help you keep it under control.
What you eat, the exercise or activities you do, and even stress can affect your blood sugar levels. This must-have diabetes tracker spreadsheet will keep you organized by tracking and logging your levels.
When it's time for your next doctor appointment, don't forget to bring along these printable sheets to your health care provider. They need to see this stuff.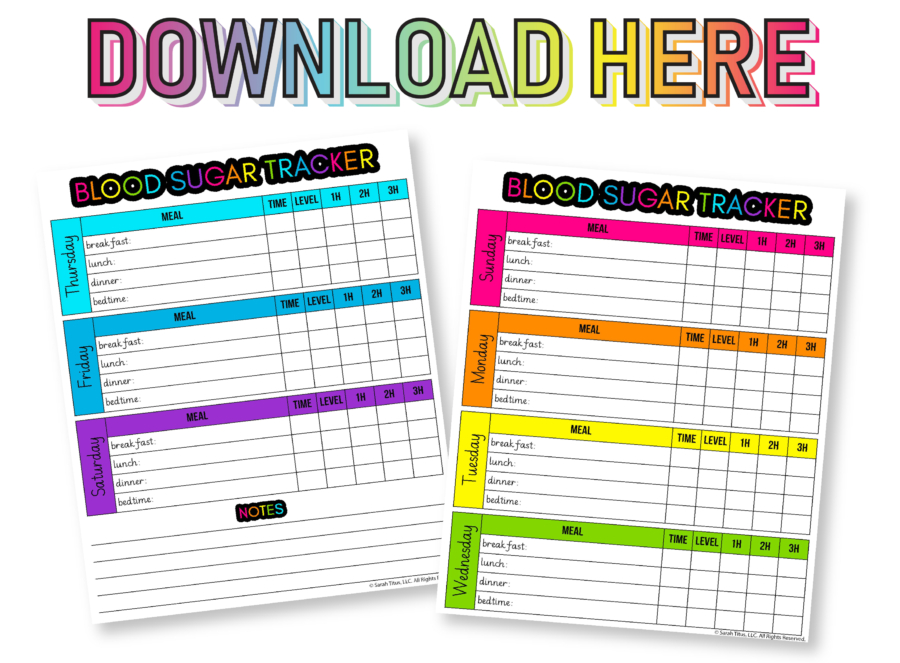 Download the Blood Sugar Tracker Template PDF here.
Want my full 37-page Medical Binder to improve your health and be more organized?
Medical Binder pages include:
Cover
Spines (1″, 1 1/2″, 2″, 3″, & 4″)
Dividers
Vital Information
Visits to the Doctor
Medication Log
Medical Consultation Log
Doctor Visit
Medical Contacts
Blood Sugar Tracker
Symptoms Tracker
Blood Pressure Log
Family History
Medical Release
Dental Log
Transformation: Before
Transformation: After
Body Measurements Chart
Personal Measurements Charts
30 Day Fitness Challenge
Personal Workout Plan
Daily Inspiration
Grocery List
Recipes to Try
Recipe Card Printable
Water Tracker
Vitamin Intake
Journal
Goals & Rewards
Monthly Overview
Me Time Tracker
Growth Tracker
Child Notes