Do your kids ADORE playing games? Mine definitely do. Even though they're older, they still really enjoy games like memory!
My 14-year old daughter helped me design the emoticons and my son wanted the safari ones.
I'm SO excited to share these 5 cute printable memory games with you!
It's such an awesome game pack for your kids to enjoy and since kids helped design them for you, you know these will be a for-sure hit!! 🙂
5 Cutest Printable Memory Games For Kids To Enjoy
These specific printables are some of the CUTEST I've created yet! They are SO adorable and you've got a little bit of everything in there – animals, treats, emojis, dress up, and more! The colors are so fun and bright too, making them even more enjoyable for little minds.
Memory and matching games are so beneficial for your children. These types of games not only exercise their minds – which is FANTASTIC – but the beautiful, bold colors + cute designs on these printables really help inspire them! Looking at these fun designs will definitely produce a sense of happiness.
My favorite is the animals page with the unicorn and kitten! Seriously, how CUTE is that kitten?!?!
If you want to print them, simply click below and download, then print. Cut them along the lines, flip them over and start playing! Super simple. <3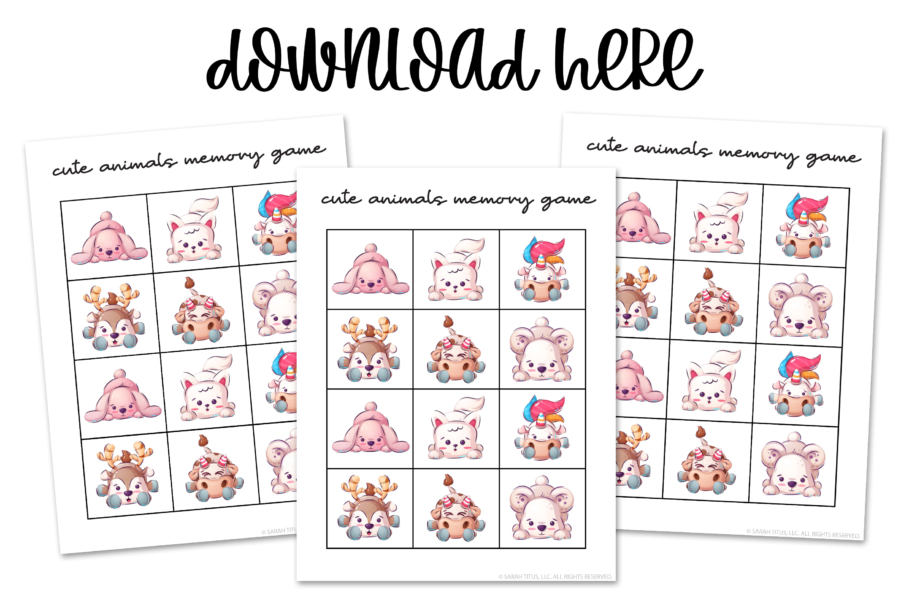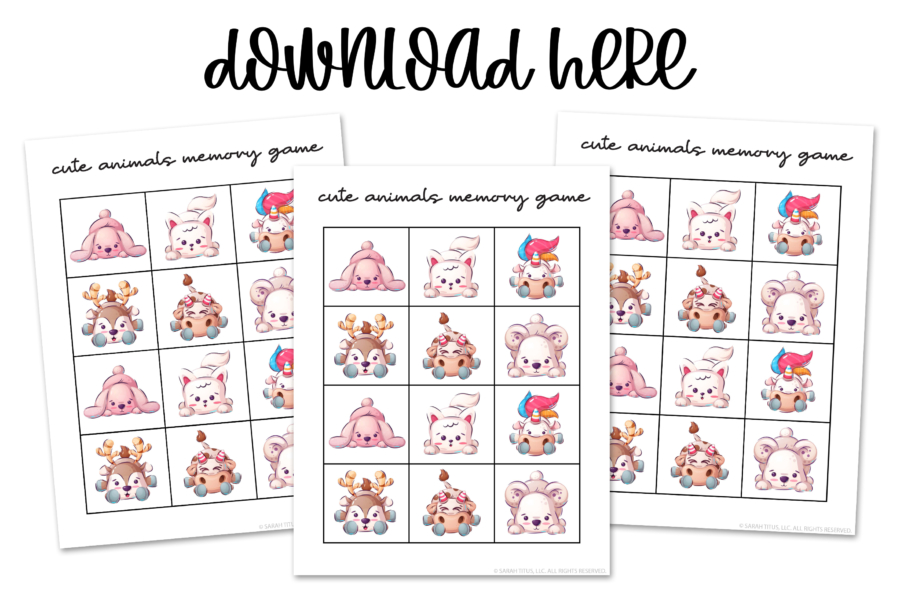 Download the cute animals printable memory games pdf here.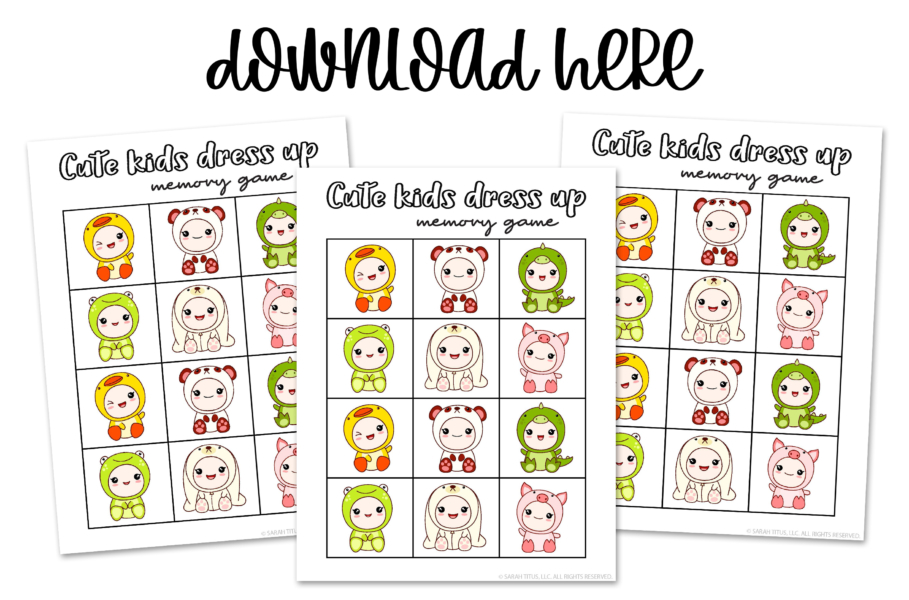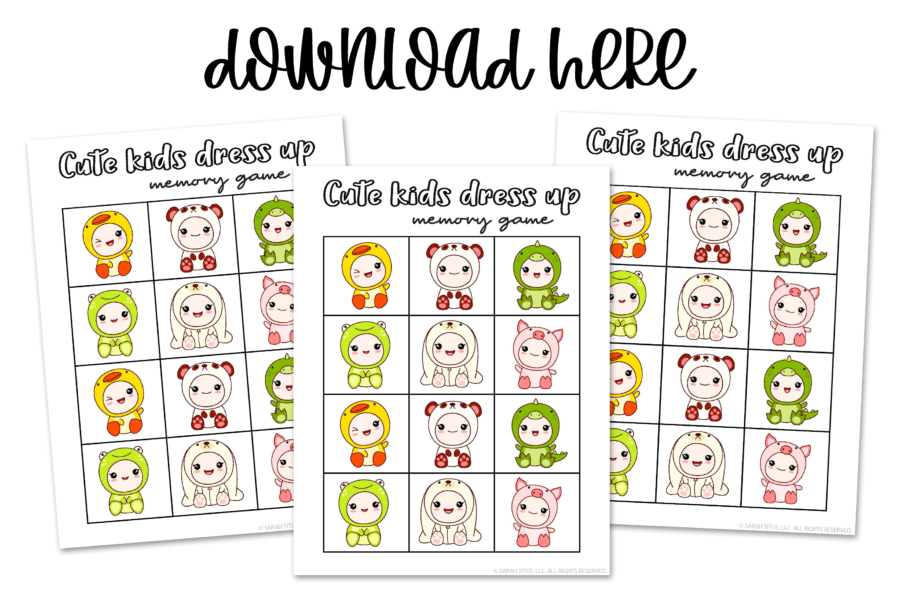 Download the cute kids dress up printable memory games for kids here.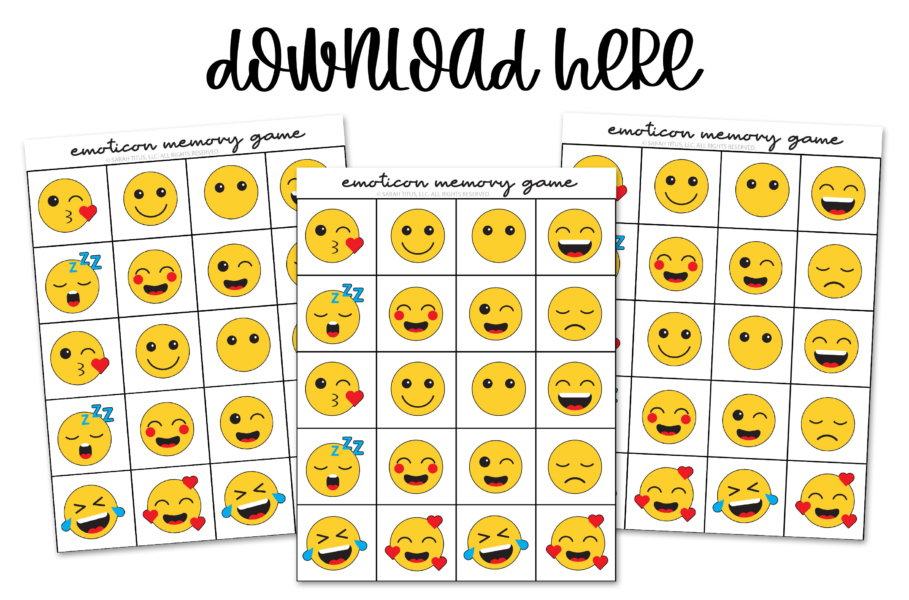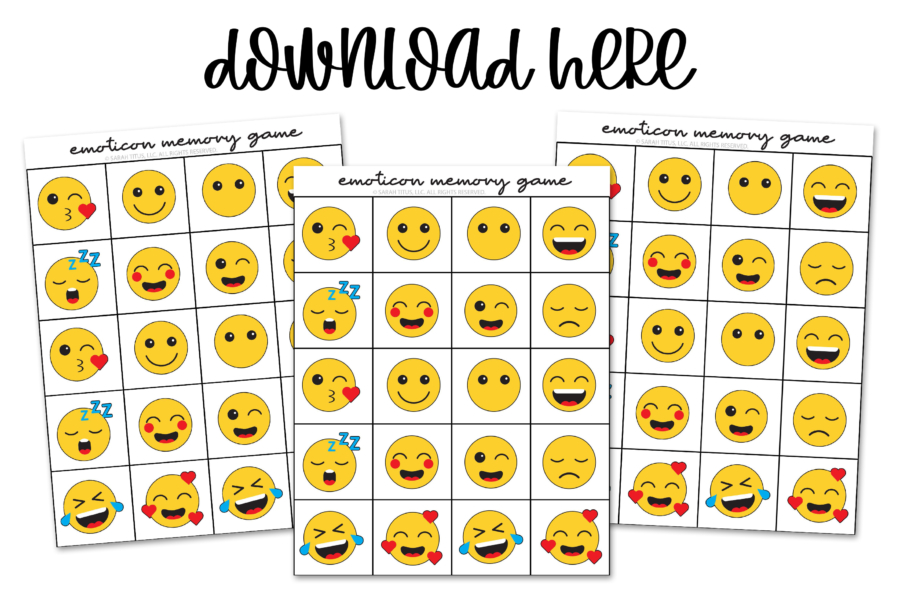 Download the emoticons memory games printables here.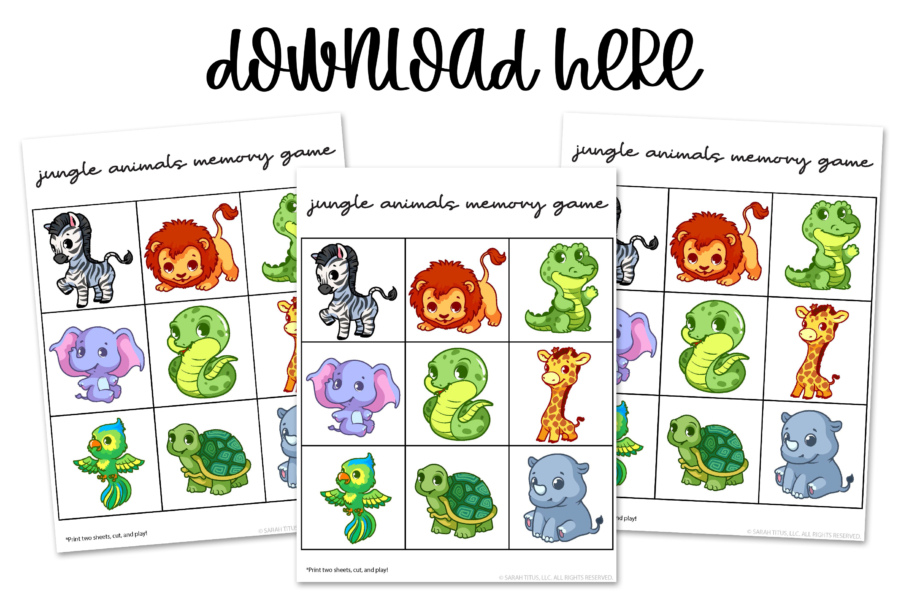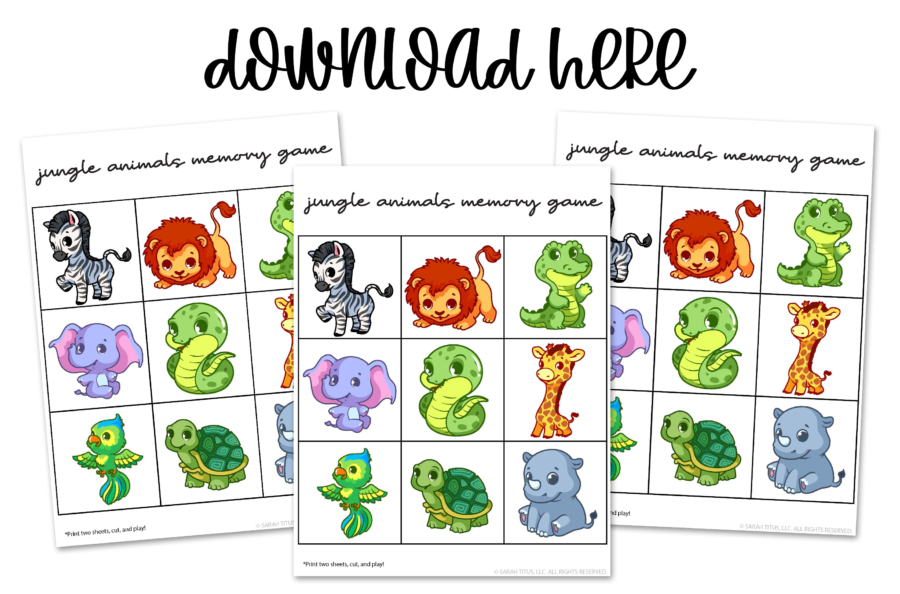 Download the jungle and zoo animals printable memory games for kids here.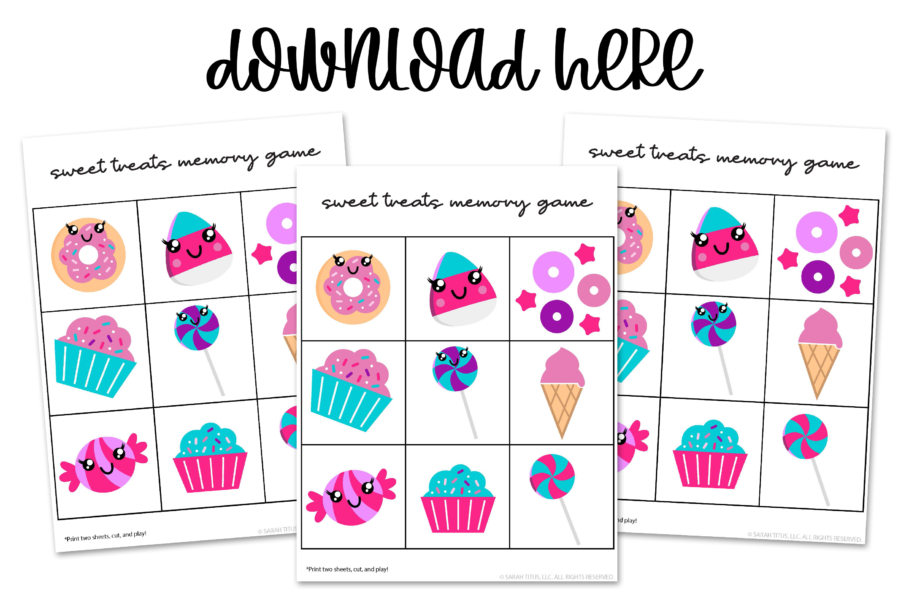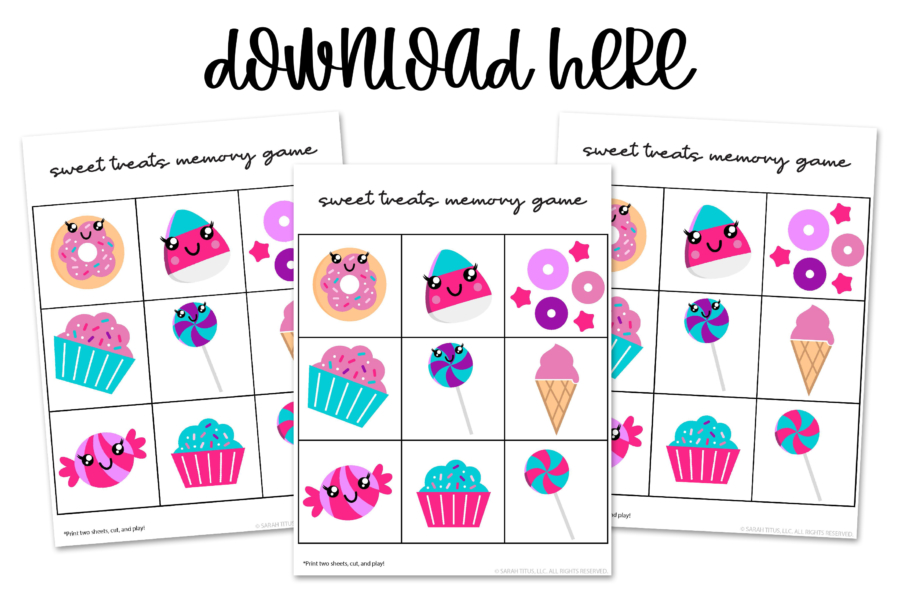 Download the sweet treats printable memory games template here.
New & Creative Ways To Enjoy These Free Printables:
Memory games never get old! You can go through them all again and again with your kids, from toddlers, preschoolers to older student kids! Here are some fun ways you can use them…
Encourage Your Kids To Work Together
Ever wonder how to get your teens and toddlers to do more activities together? Turn off the TV, put away the phones and let them play this game!
Encourage your older children to spend time with and help teach the younger ones how to play. This will definitely strengthen their sibling relationships! The older ones will have just as much fun (especially with the emojis 😉 ), and the younger ones will learn in the process!
As much as I enjoy playing games with my kids, it's good to let them have some good quality sibling time too. 🙂
Pack a Picnic And Bring These Printable Games For Kids To The Park
Bust out of the house and get outside! Pack up a quick lunch/snacks, grab a blanket, these printables, and head to the park! If you aren't super close to a park that's TOTALLY okay! Your back yard will do just fine.
There's something about just getting outside that will set up a positive vibe to enjoy this game.
Rather than playing it at the table, let your little ones get their wiggles out and then have a blast playing this outside! Breathing in some fresh air will definitely support concentration and focus!
Something we did here the other day in our backyard with some memory game printables is to take water guns and place the pages on the ground (don't cut them out). Have your kids take turn shooting each of the pictures on the printable. This helps their aiming skill and because it's starting to get hot here, they LOVED playing outside with the water guns.
I scored the water guns for $1.50 on 50% off right now at Hobby Lobby. So check your store's clearance to see if you can find some water guns if you don't already have some.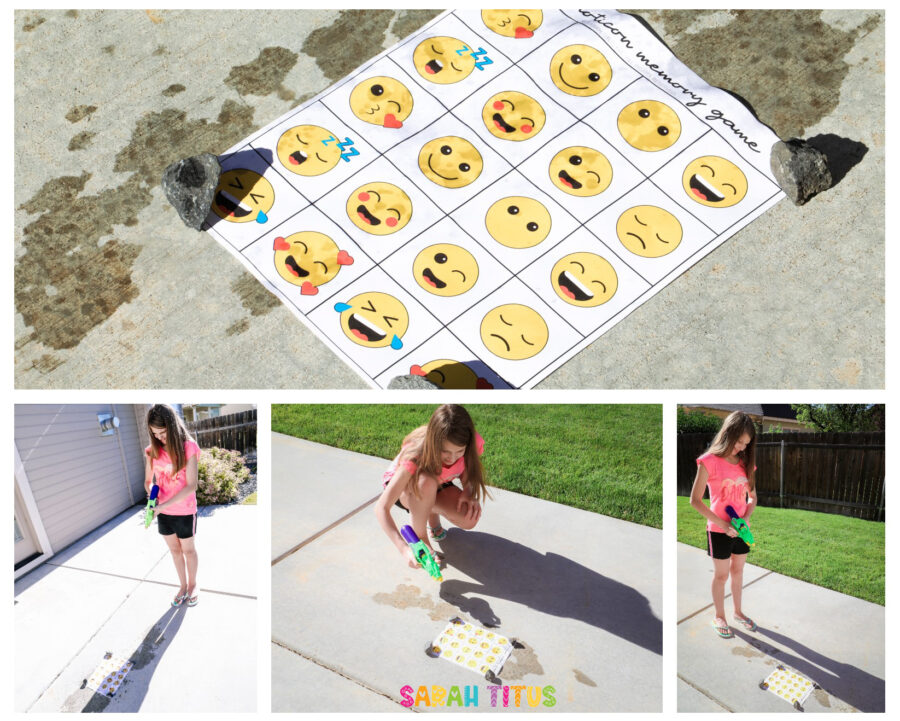 You could have the littler kids be able to get closer (bottom middle) and the older kids, have them stay behind a certain line to make it interesting!
We put rocks around the printable to make it stay b/c it was a little windy. 🙂
When they complete the board, take turns squirting each other. It's a super fun, outside activity for them (and you!)
Act Out The Pictures On The Printables
Before you ask what in the world this means, let me explain! This could be the most fun way to play with these printables yet. 🙂
Pick one of the printable themes – let's use the animals as an example! Each time your child gets a match, they have to act like whatever animal they just matched. Can you imagine the laughs you'll have together when matching the emoji sheet?!
Or put all the printables in a baggie and make a little charades game out of it! Take turns guessing and acting them out!
This could work with all 5 of the printables, you just have to get a little creative – I mean, what exactly does a cupcake act like?! I guess you'd find out. 😉
Memory games are one of my favorite types of games, and I hope you'll enjoy them as much as we do!