I lived in a homeless shelter for a little while and everyone was mopey there. It's impossible not to be really. Everyone's going through some of the worst experiences in their lives and trying to just survive and make it to the next day.
But at the shelter, there was a girl there who worked there who was always happy. Curious about it, I asked her one time as she was driving me to an appointment. She said she was happy because of Jesus. God made her happy and she was hopeful about her life. She said that she could go through hard situations too, and still BE happy because of the hope that God put inside of her.
Seeing her hope was infectious. I started believing that this wasn't the END of my life, this was just a beginning.
A beginning of a new life.
A beginning of a new chapter.
A beginning of showing the world what I was made of.
A beginning of not failing.
When I started to "borrow" some of HER hope, I started to get better, stop being depressed all the time, and I started to FIGHT.
Fight for myself. For my kids. Fight for the life I wanted. Fight for a new beginning.
And I did. I ended up here!
I have a beautiful life. I get to stay home with my kids, I get to work online and support me and my family as a still-single-mom from home and it's incredible just how far God has brought me. But I wouldn't be here today, talking to you, telling you that you too can have hope, if I didn't lose mine!
I'm so thankful for those days and what God brought me through. 💯
Even though it was hard at the time, I wouldn't be the person I am today, without having gone through that.
After I got out of the homeless shelter, I gave my life to God and things have been flying ever since. I'm incredibly blessed that God saw me and took pity on me and saved me. He didn't have to, but He did. 🙌
Maybe you're sitting there wondering to yourself if you'll ever get outta the mess you're in. You will! This is not the ending. This is just the beginning and YOU get to write the rest of the chapter. How do you want it to go?
To inspire and encourage your heart today, let's dive into the Bible and see 30 Bible verses on hope! After you're done reading the verses and being inspired, write down on a piece of paper what you want to do next. What you're willing to fight for. This…is your hope. ❤️
30 Bible Verses on Hope
1) 1 Thessalonians 1:3
"We remember before our God and Father your work produced by faith, your labor prompted by love, and your endurance inspired by hope in our Lord Jesus Christ."
2) Isaiah 40:31
"But they who wait for the Lord shall renew their strength; they shall mount up with wings like eagles; they shall run and not be weary; they shall walk and not faint."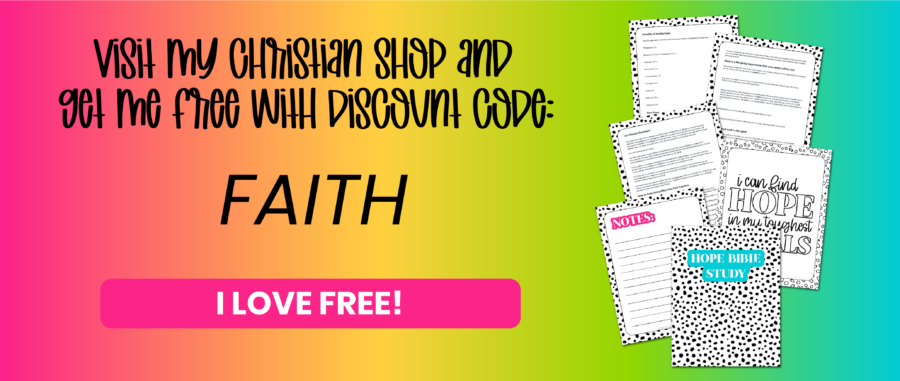 3) Psalm 9:18
"For the needy shall not always be forgotten, and the hope of the poor shall not perish forever."
4) Psalm 71:5
"For you, O Lord, are my hope, my trust, O LORD, from my youth."
5) Proverbs 19:18
"Discipline your son, for in that there is hope; do not be party to his death."
6) Jeremiah 17:13
"LORD, you are the hope of Israel; all who forsake you will be put to shame. Those who turn away from you will be written in the dust because they have forsaken the LORD, the spring of living water."
7) Romans 5:5
"And hope does not put us to shame, because God's love has been poured out into our hearts through the Holy Spirit, who has been given to us."
8) Romans 12:12
"Be joyful in hope, patient in affliction, faithful in prayer."
9) 1 Corinthians 13:13
"And now these three remain: faith, hope and love. But the greatest of these is love."
10) Galatians 5:5
"For we through the Spirit wait for the hope of righteousness by faith."
11) Romans 15:13
"May the God of hope fill you with all joy and peace as you trust in him, so that you may overflow with hope by the power of the Holy Spirit."
12) Psalm 147:11
"The Lord favors those who fear Him, Those who wait for His faithfulness."
13) Ephesians 1:19
"I pray that the eyes of your heart may be enlightened in order that you may know the hope to which he has called you, the riches of his glorious inheritance in his holy people, and his incomparably great power for us who believe. That power is the same as the mighty strength"
14) Jeremiah 29:11
"For I know the plans I have for you, declares the Lord, plans for welfare[a] and not for evil, to give you a future and a hope."
15) Colossians 1:22-23
"But now he has reconciled you by Christ's physical body through death to present you holy in his sight, without blemish and free from accusation— if you continue in your faith, established and firm, and do not move from the hope held out in the gospel. This is the gospel that you heard and that has been proclaimed to every creature under heaven, and of which I, Paul, have become a servant."
16) Colossians 1:27
"To them God has chosen to make known among the Gentiles the glorious riches of this mystery, which is Christ in you, the hope of glory."
17) Psalm 33:22
"Let your steadfast love, O Lord, be upon us, even as we hope in you."
18) 1 Thessalonians 5:8
"But since we are of the day, let's be sober, having put on the breastplate of faith and love, and as a helmet, the hope of salvation."
19) Hebrews 10:23
"Let us hold fast the confession of our hope without wavering, for he who promised is faithful."
20) 1 Peter 1:3-5
"Blessed be the God and Father of our Lord Jesus Christ! By His great mercy He has given us new birth into a living hope through the resurrection of Jesus Christ from the dead, and into an inheritance that is imperishable, undefiled, and unfading, reserved in heaven for you, who through faith are shielded by God's power for the salvation that is ready to be revealed in the last time."
21) Job 13:14-15
"Why do I put myself at risk and take my life in my own hands? He slay me, I will hope in Him. I will still defend my ways to His face."
22) Psalm 38:15-20
"Lord, I wait for you; you will answer, Lord my God. For I said, "Do not let them gloat or exalt themselves over me when my feet slip." For I am about to fall, and my pain is ever with me. I confess my iniquity; I am troubled by my sin. Many have become my enemies without cause; those who hate me without reason are numerous. Those who repay my good with evil lodge accusations against me, though I seek only to do what is good."
23) 1 Corinthians 13:6-7
"Love does not delight in evil but rejoices with the truth. It always protects, always trusts, always hopes, always perseveres."
24) Hebrews 11:1
"Now faith is confidence in what we hope for and assurance about what we do not see."
25) Isaiah 43:1-3
"But now thus says the Lord, he who created you, O Jacob, he who formed you, O Israel: "Fear not, for I have redeemed you; I have called you by name, you are mine. When you pass through the waters, I will be with you; and through the rivers, they shall not overwhelm you; when you walk through fire you shall not be burned, and the flame shall not consume you. For I am the Lord your God, the Holy One of Israel, your Savior."
26) 2 Corinthians 4:17-18
"For our light and momentary troubles are achieving for us an eternal glory that far outweighs them all. So we fix our eyes not on what is seen, but on what is unseen, since what is seen is temporary, but what is unseen is eternal."
27) 1 Timothy 4:10
"For to this end we toil and strive, because we have our hope set on the living God, who is the Savior of all people, especially of those who believe."
28) Proverbs 23:18
"For surely there is a reward; And thy hope shall not be cut off."
29) Revelation 21:3-4
"And I heard a loud voice from the throne saying, "Behold, the dwelling place of God is with man. He will dwell with them, and they will be his people, and God himself will be with them as their God. He will wipe away every tear from their eyes, and death shall be no more, neither shall there be mourning, nor crying, nor pain anymore, for the former things have passed away."'
30) Lamentations 3:24
'"The Lord is my portion," says my soul, "therefore I will hope in him." The Lord is good to those who wait for him, to the soul who seeks him. It is good that one should wait quietly for the salvation of the Lord."
31) Psalm 42:11
"Why are you cast down, O my soul, and why are you in turmoil within me? Hope in God; for I shall again praise him, my salvation and my God."
32) Proverbs 10:28
"The hope of the righteous shall be gladness; But the expectation of the wicked shall perish."
Want to encourage your heart even more? Grab my FREE Hope Bible Study in the shop when you use discount code: FAITH