Do you ever feel like an imposter? I certainly have!
If you listen to anything these days you'll hear the term "imposter syndrome", and, trust me, I have felt like that at times too.
My entire journey, my whole life, would not exist apart from God. There's no way I could have accomplished all of the things I've done and am doing without Him. But sometimes when I try to explain how I "do everything" (their words, not mine) and I tell them that it's ONLY by the grace of God that I can even get through some days, some don't really believe me.
They think the power is in me or something. I assure you, it's not!
In fact, just last week I was laying on the floor crying because I felt like I couldn't go on anymore. "I can't get THROUGH this!" I told the Lord, "It's too hard. I can't make it. You HAVE TO do SOMETHING."
And He did! 🙌 He gave me strength, He gave me motivation to keep going. But it was all of HIM.
God has given me some seriously specific focus for this blog and all of the resources I try to provide. And He keeps expanding that vision and direction as I listen to His leading. I have come so far and gained so much spiritually, and, yet, He keeps pushing and stretching me to places I never thought I could go. Things I thought I couldn't do or make it through, but have with HIS help alone!
But don't think for a second I don't have those moments of "Are you sure you want ME to do that, Lord?" There are days that I sit back and think, "There is no way I'm capable of doing what He's asking me to do."
Right now, He's asking me to post 2 blog posts a day for 3 months. I thought, "WOW. I can't even post ONE new blog post a day, much less two!"
You know what?!
During that time period, I posted THREE new blog posts a day for 2 months. I asked Him if I could do it that way instead and He convicted me it was okay and I did it. But the point is that I DID IT!!!
I was able to, but only by the grace of God. Only by His providence in helping me.
I'm not an imposter because it's not me doing all of this…it's HIM! It's always Him and as long as we continually remember where our strength comes from, why we are able to get through the day, and are CONTINUALLY GIVING HIM the glory for that strength (both outwardly and inwardly in our hearts in praise, worship, and thankfulness), He is pleased!!!
He's my strength and my resource…my every present help…my sole defender. And with Him I can do anything!
With God All Things Are Possible Wallpaper
No matter what we think our limitations are, with God all things are possible.
That's what we need to remind ourselves…this is His Word and His truth. If you read in Matthew 19 you'll see that He's making the point that it's extremely hard for a rich man to enter the kingdom of heaven.
Why? Because when we are rich, and we are all rich to some degree, we don't need to rely on Him for whatever riches we possess.
But when something is hard (or we feel like an imposter), we find that we need Him and rely on Him more to complete what He has called us to do. And that's when His promise hits home.
Do you need this reminder today? I'm here to tell you that whatever that tug is on your heart, whatever He's impressing on you when you are in prayer, He will make it possible for you to complete that which He is asking you to do because with Him all things are possible!
Download this wallpaper today for your devices to remind you that you are already equipped for His calling. And put it on your social media to spread that good word: With God All Things Are Possible – Matthew 19:26
Need help saving them to your device? Click here for the full tutorial.
Phone (1849 x 3798 px):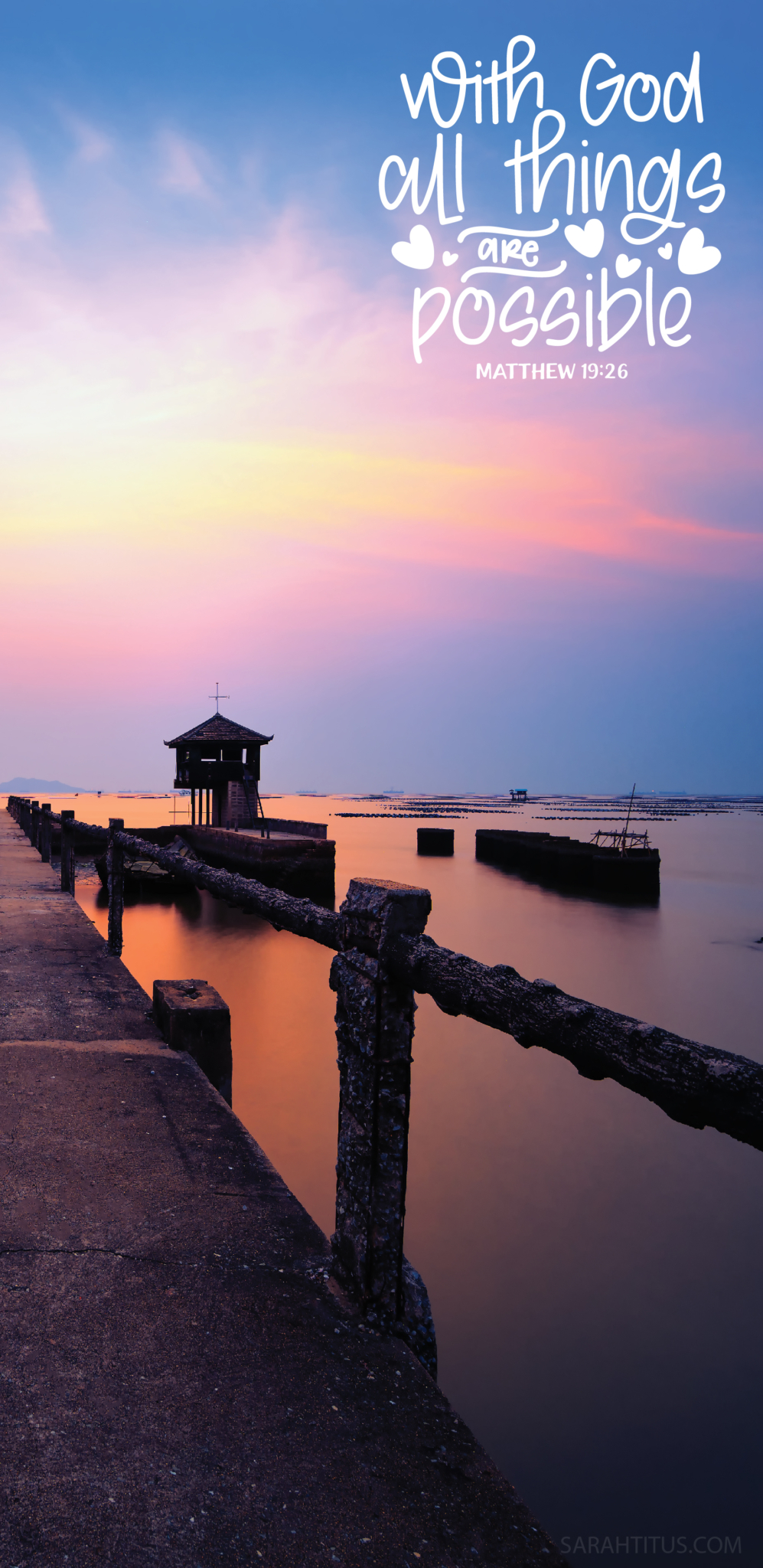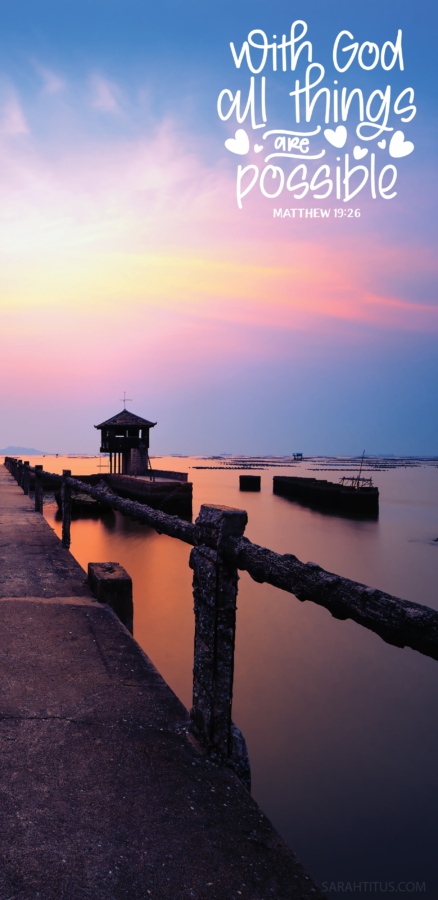 Laptop (2550 x 2048 px):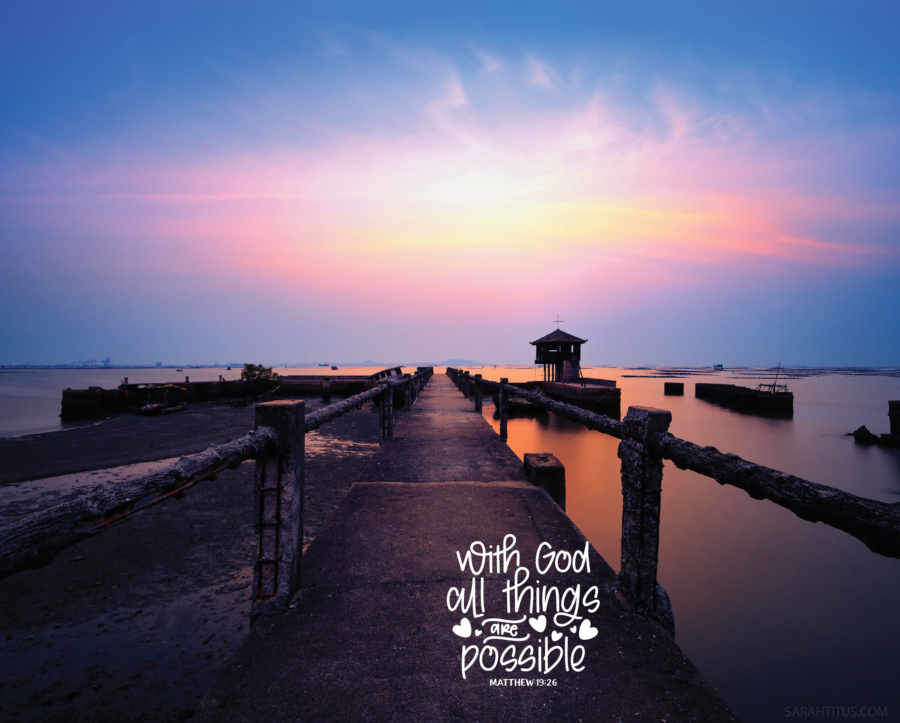 iPad (2550 x 3382 px):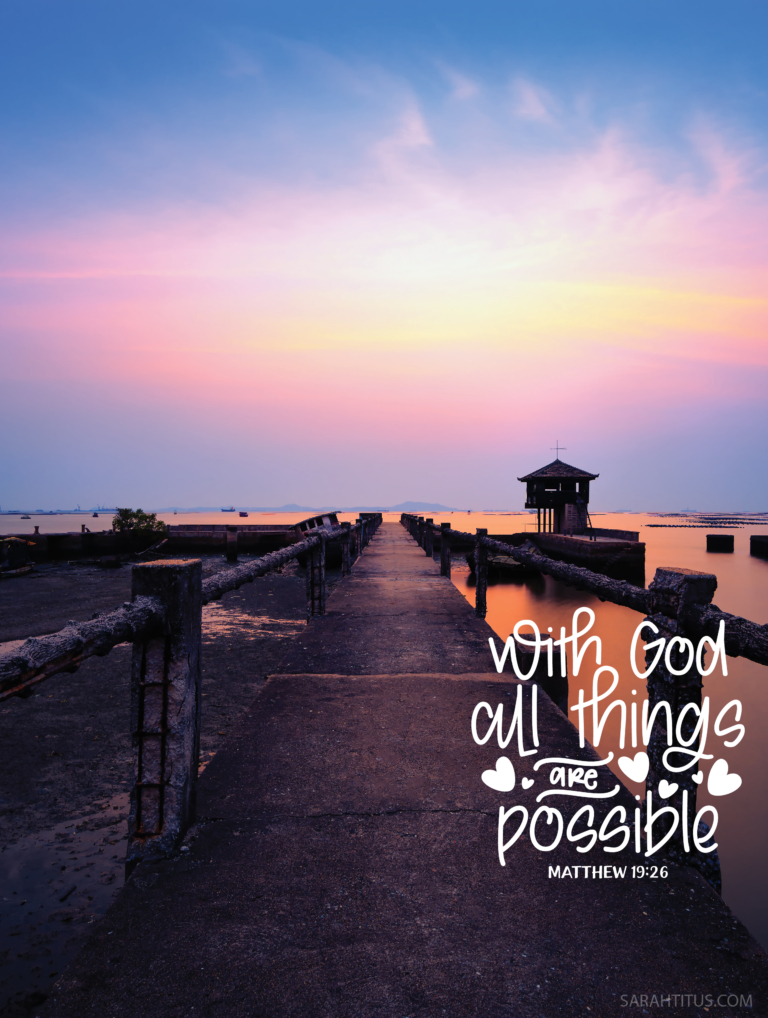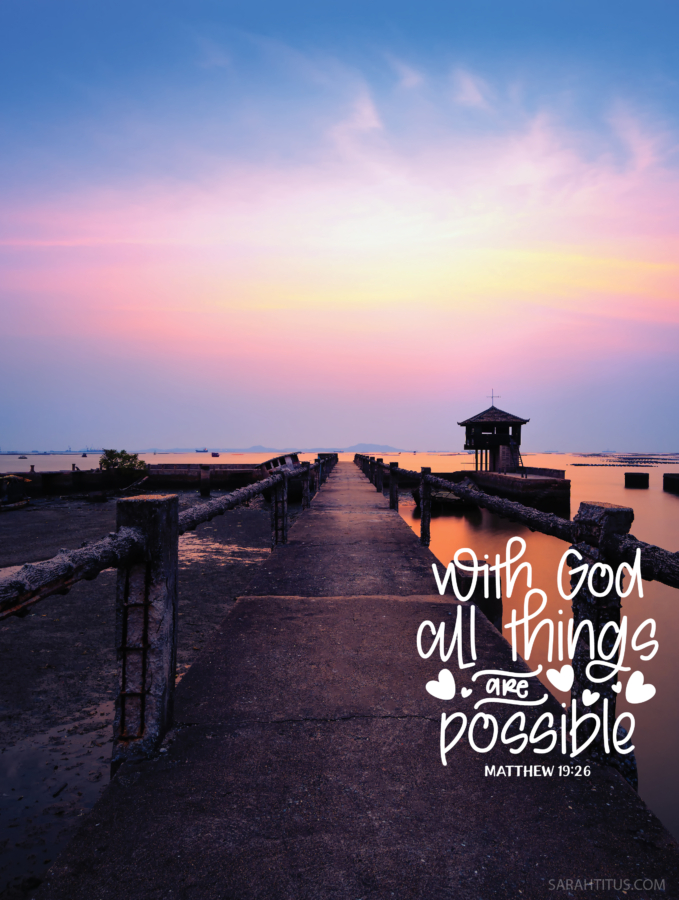 Instagram (2550 x 2550 px):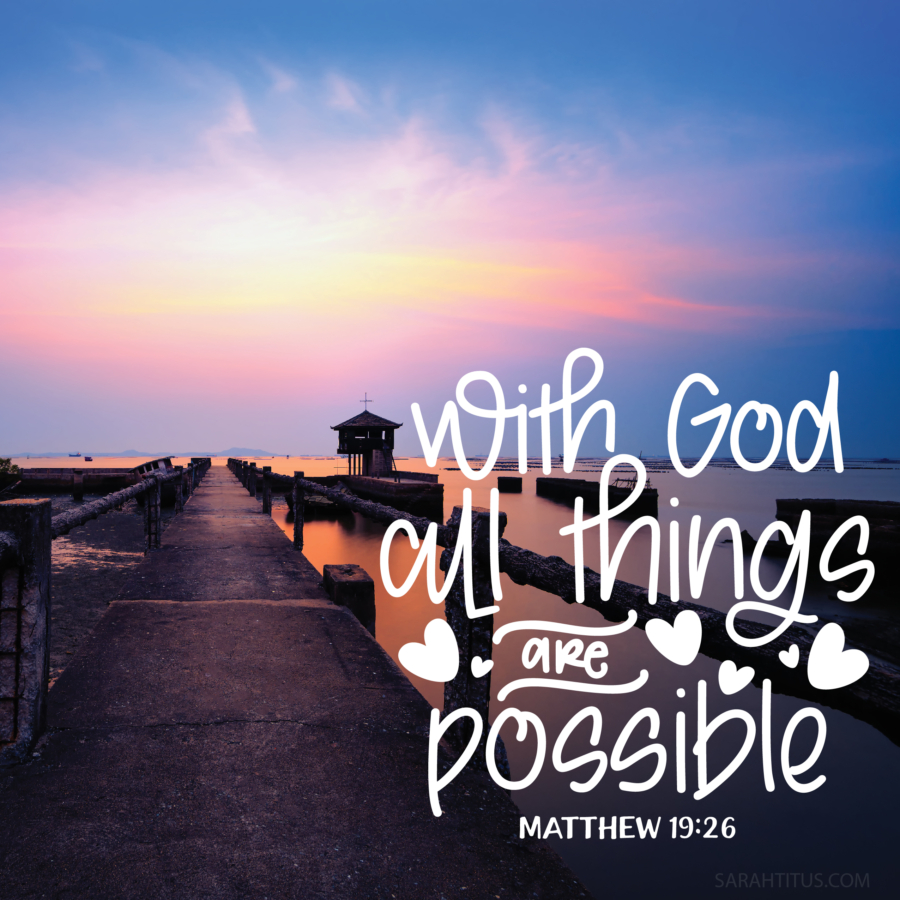 Desktop Computer (2550 x 1435 px):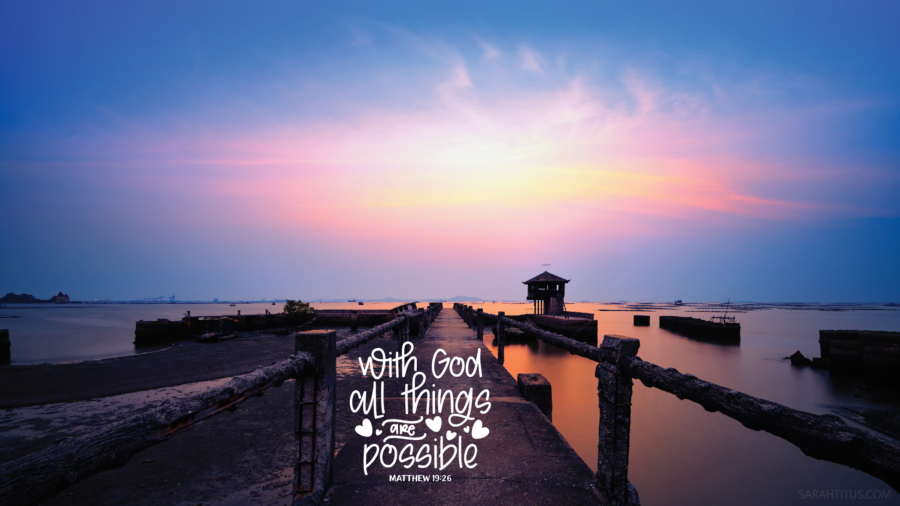 Facebook Cover (2550 x 948 px):

Pinterest Cover (2702 x 1548 px):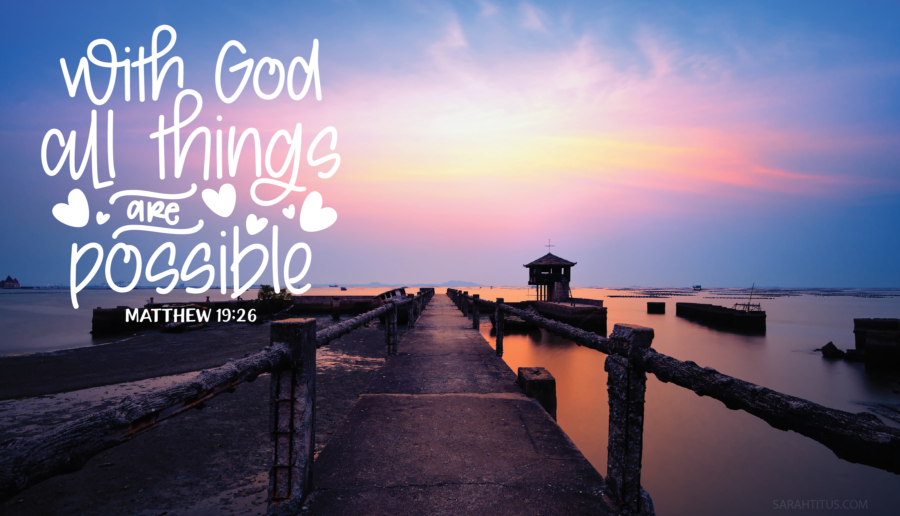 Enjoy!!! 💕🎁