The Luck O' The Irish! Four Leaf Clovers! Leprechauns! Corned Beef and Cabbage!
What do all these have in common? If you guessed St. Patrick's Day, you are on a ROLL!
St. Patrick's Day is right around the corner (if you can believe it – weren't we just celebrating New Year's Day?!) and I wanted to share a new creation with you.
As I have mentioned in previous posts, I'm learning to hand letter, and having a blast doing it.
Being able to create new and different designs, wall art and more is something I've loved since I was a child. Since I enjoy both hand lettering and really treasuring moments with my family by celebrating every holiday, I wanted to combine the two!
Some of you have written to ask how I got started with hand lettering calligraphy, and wondering how you can learn it yourself. It's kind of funny. I was on Twitter one day, just messing around scrolling through my feed, and I saw another blogger share a post by Dawn Nicole Designs.
When I went to Dawn's site, I recognized one of her images from another favorite place of mine, Creative Market. I knew that when I saw her stuff on Creative Market I wanted to buy it, but I never knew she had a blog!
I saw her hand lettering stuff and tried it and INSTANTLY FELL…IN….LOVE! She's the first blogger that taught me how to hand letter (I'm still learning) and I love all that she does! She's been hand lettering for 5 years now and definitely knows what she's doing.
Since I love creating printables, I love creating my own design ideas and combining my unique gifts with printables. It's just so much fun. So, if you don't hand letter or you are on the fence about it, definitely give it a try. You might just fall in love like I did!
St. Patrick's Day Hand Lettering Practice Sheets
You can print out as many worksheets as you need to practice your own hand lettering strokes. Once you're done, use your new designs to decorate for St. Paddy's Day, use them as bookmarks, place cards for your Irish celebration or even wall art around the house.
Another fun idea is to send them to school with your kids! Sneak it into their backpack to give them a special treat, made just for them by you!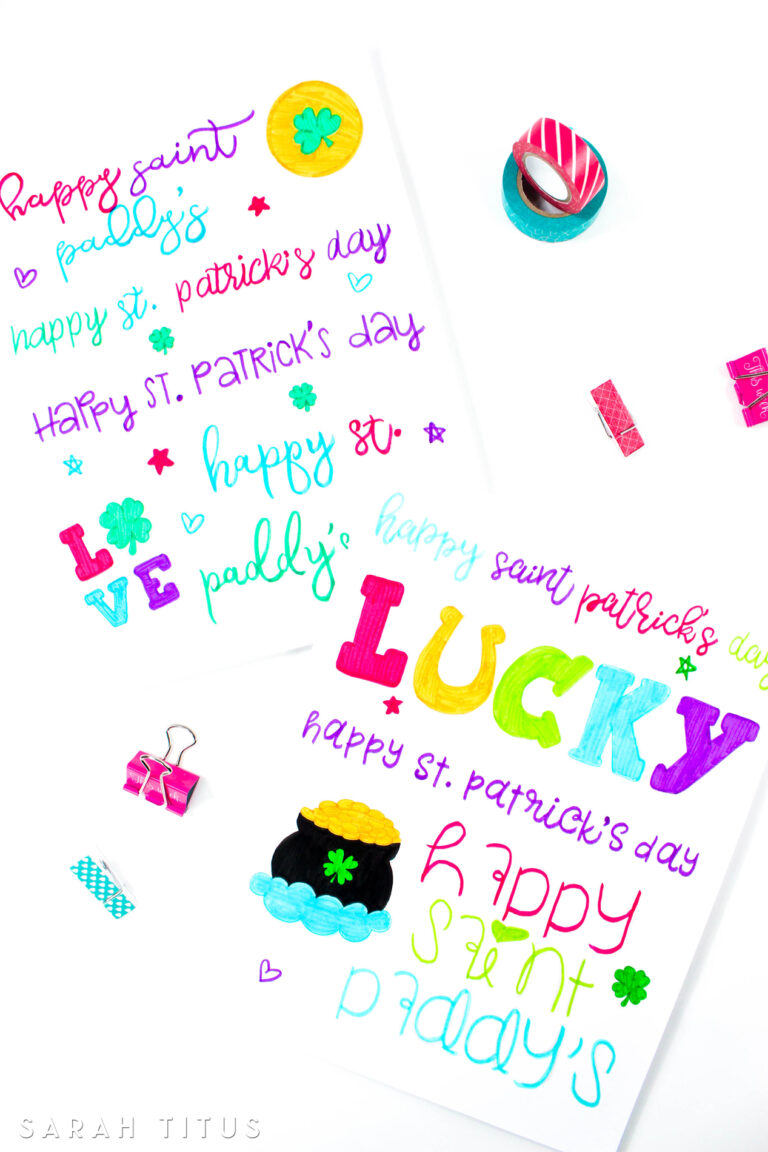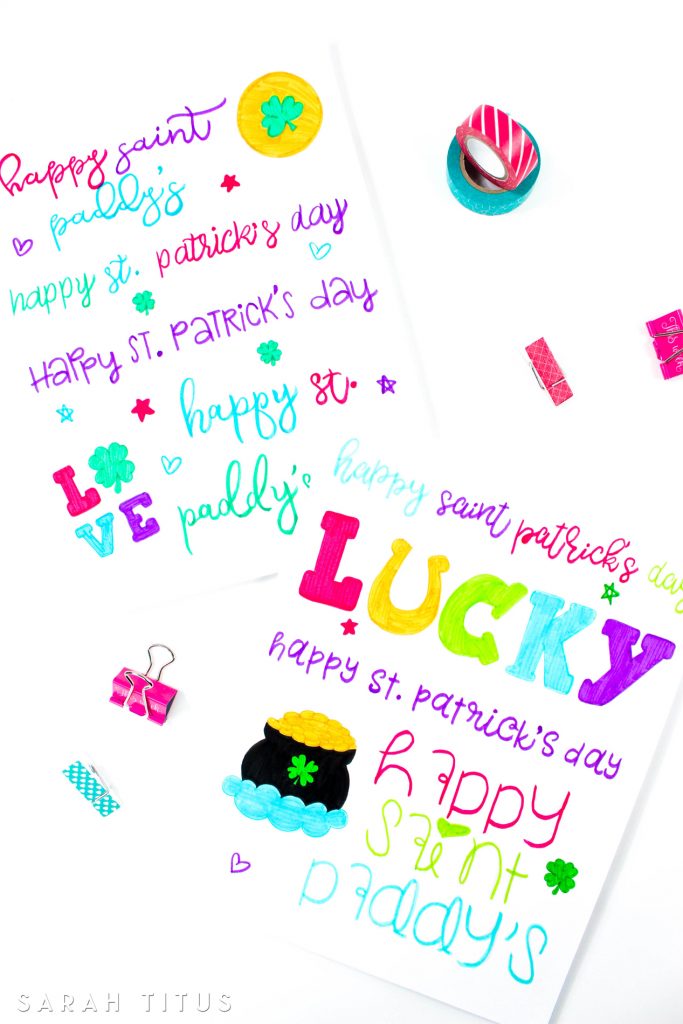 Practice makes perfect, whenever you feel like giving up just grab a pen and keep doing tracing exercises! I've found that hand lettering is ALL ABOUT the pens you use. My favorite of all I've tried is Tombow Dual Tip Brush pens. They are seriously, THE best invention EVER! I have TWO complete sets and highly recommend them.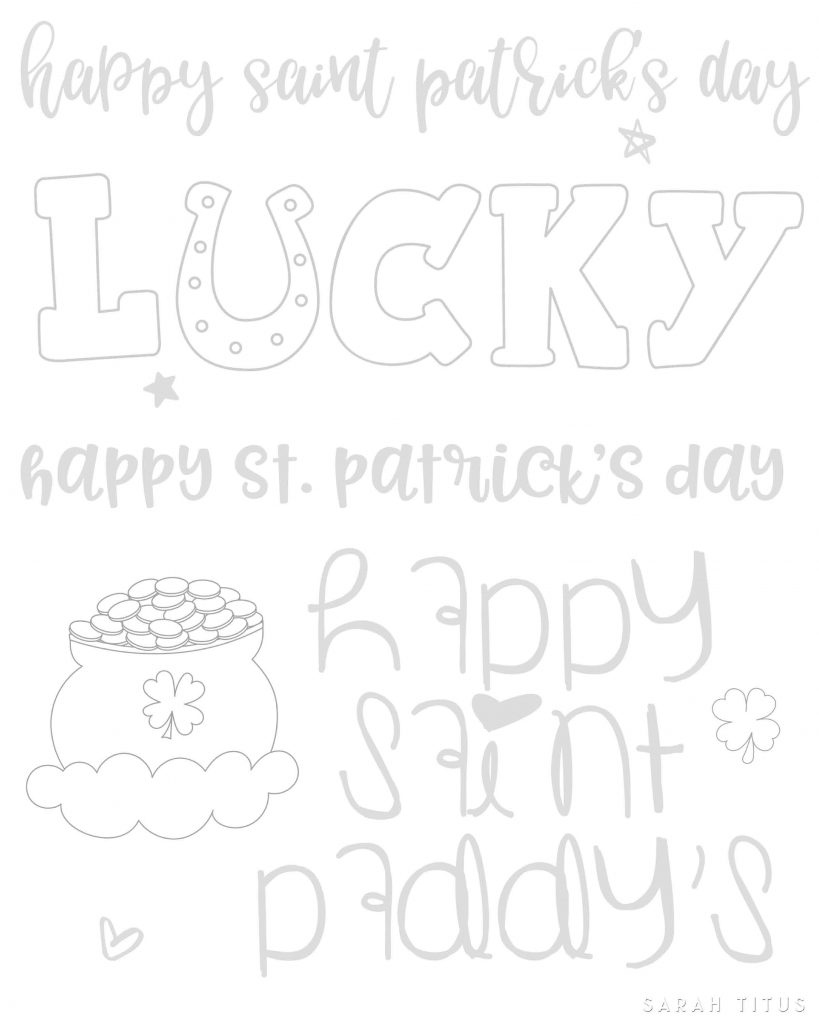 If you're just starting out like me, it's all about getting that pen in your hand confident…nice, smooth strokes.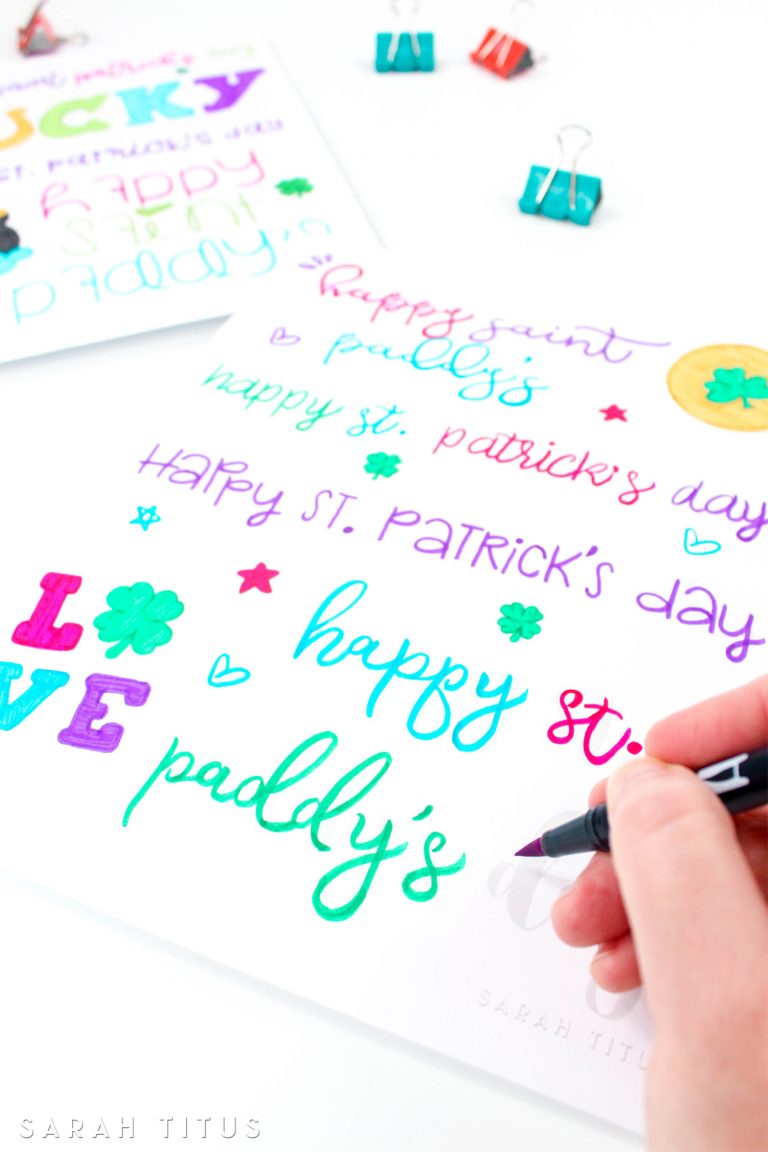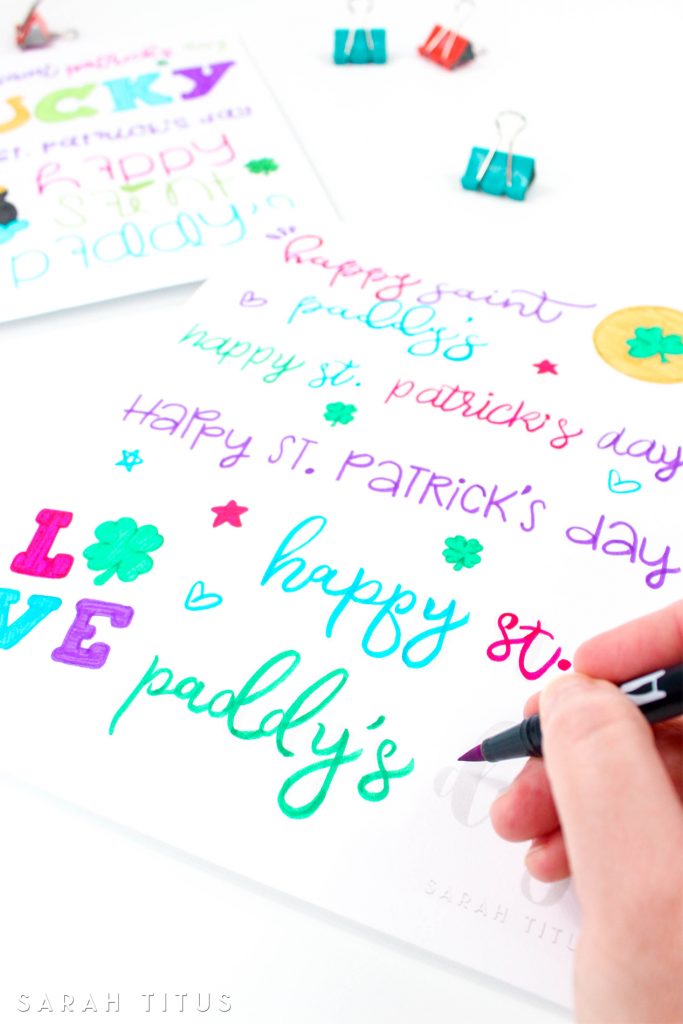 You can do this! Never give up on you or your dreams. 🙂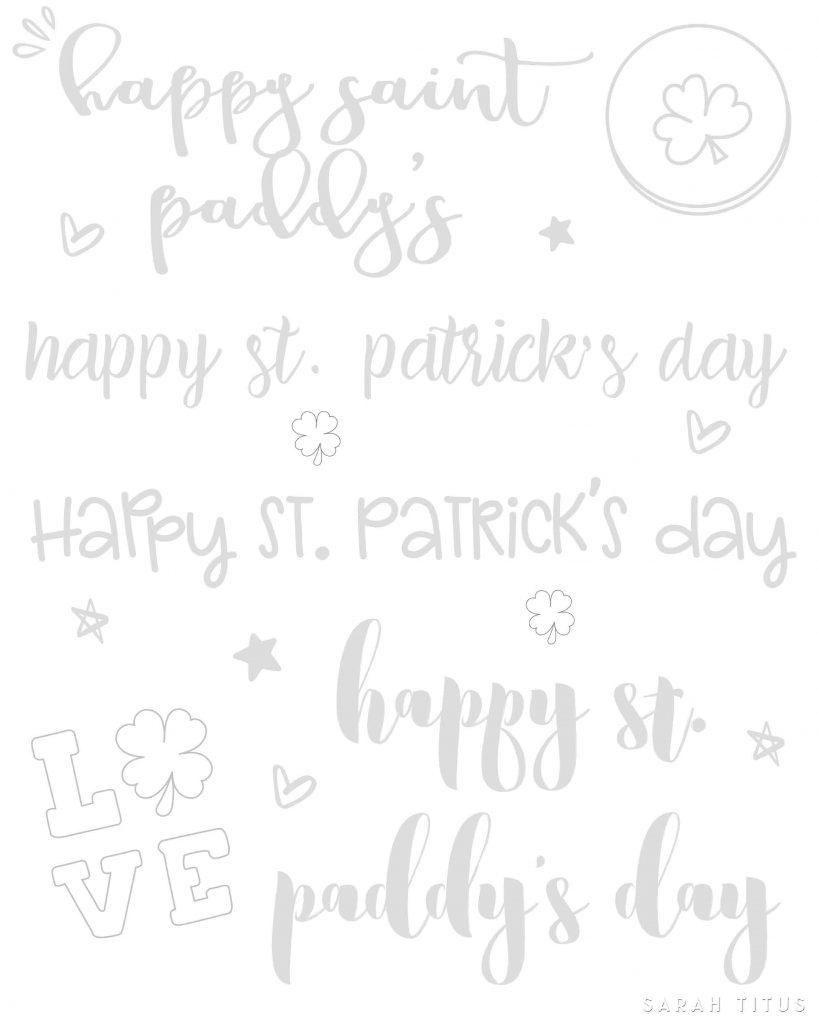 Download The St. Patrick's Day Hand Lettering Practice Sheets PDF Templates Below: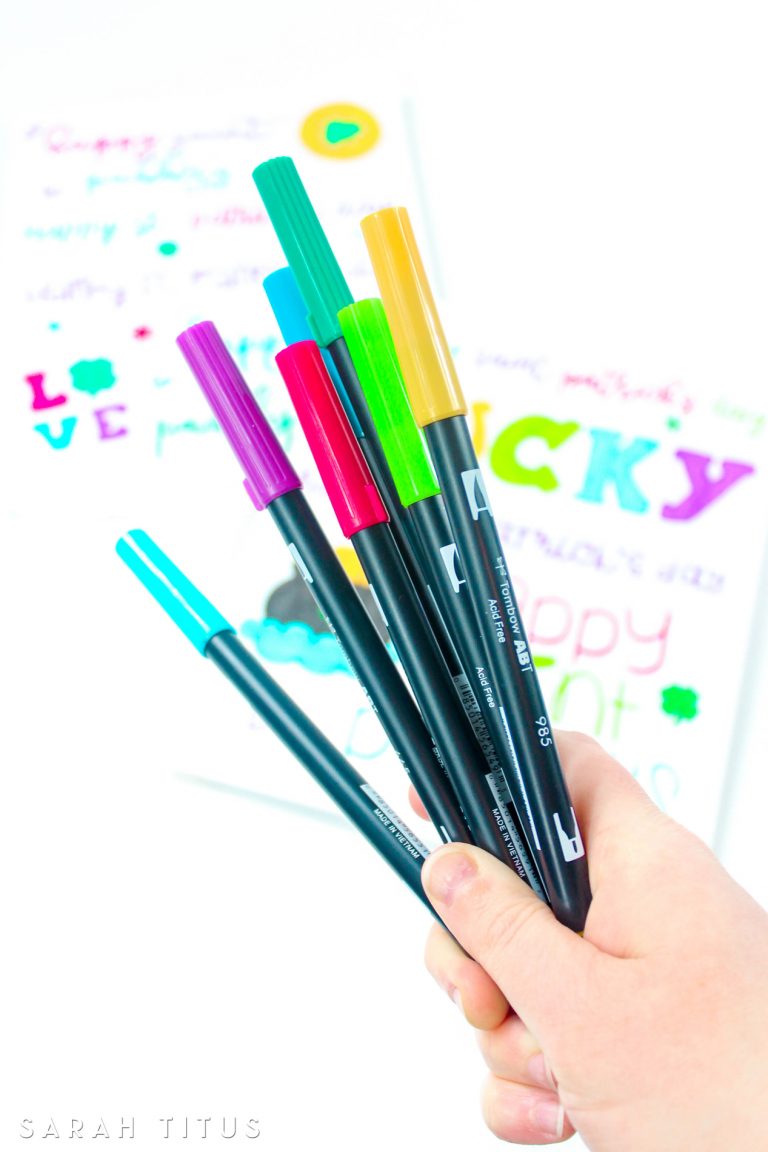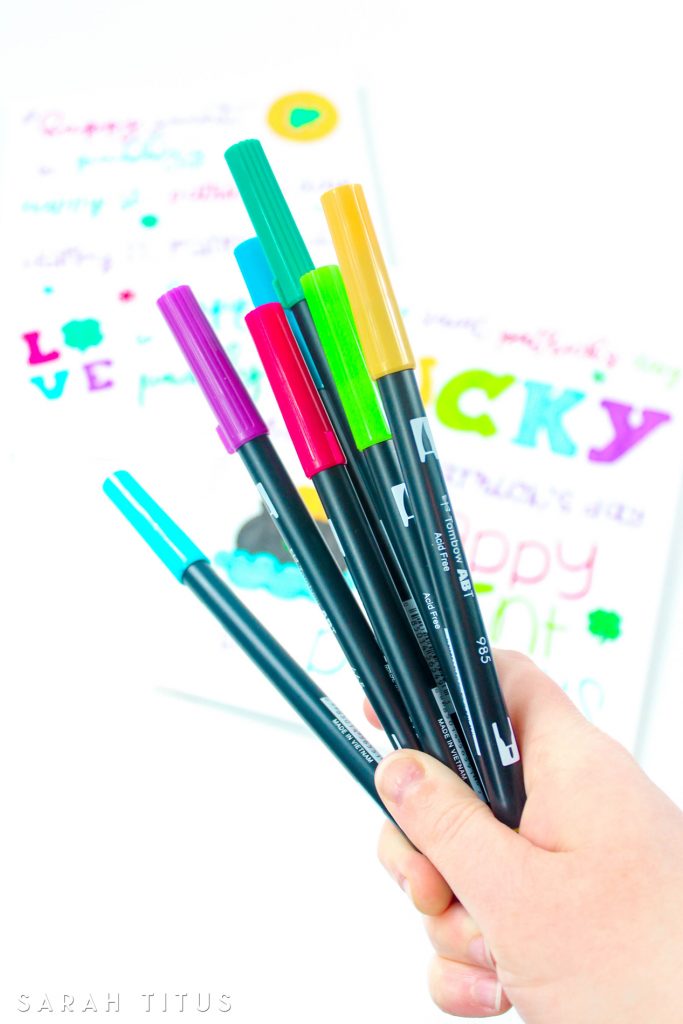 If you want to achieve this look on your St. Patrick's Day Hand Lettering Practice Sheets, I used thick card stock paper and the Tombow Pens (Colors used: Purple #665, Pink #815, Green #296, Electric Green #173, Gold #985, Sky Blue #452, Blue #443).