Who doesn't love dining out? There is something so fun about picking your own meal, sitting back and having good conversation with your loved ones and seeing the food arrive. Add to that not having to do any dishes!
However, as fun as eating out is, it can get mighty expensive very fast as well, especially if you do it frequently. You definitely don't want to be surprised at the end of the meal with a huge check especially if you are on a budget. Here are some great tips on how to save money on eating out.
Ideas on How to Save Money on Eating Out
Use coupons
Many people don't know how easy it is to get coupons for your favorite restaurants. Some places I get coupons is from local coupon books (often made by churches, schools and sports teams for fundraising-keep your ears and eyes peeled!), by signing up with establishments for their email newsletters (you often get free meals on birthdays and anniversaries this way!), clipping out of the paper or the Sunday inserts, looking at local tourist magazines (these are often found at hotels and well-known fast food establishments) and by simply asking where the restaurant gives out coupons.
Places like TGIF has a stripes card where every time you bring in your stripes card, show it to the server once you are seated and they will give you free chips and salsa while you wait!
Eat out on kids eat free nights
If you are trying to spend less and get most food for your money when it comes to eating out as a family, map out all the places and days that they offer free meals for kids. In most cases, 2 kids can eat free per adult meal order, so you could potentially feed your whole family for the price of two adult meals! I always ask for two plates when it comes to my kids, and restaurants are always more than accommodating to my kids. They split the meal up in the kitchen for both children and it works out very well.
Order appetizers and just split them as a meal
Order a couple of the appetizers off the menu and share amongst yourself as you meal for the whole family. This also works well with kids if you want to get a full meal for yourself. A plate of sliders can be split between two or three younger children and it could cost less than $2-$3 dollars per child to feed them this way!
Split adult meals for light eaters
If you or your kids or grand parents are light eaters, why not take one of the adult entrees and split it? Most restaurants offer way more than the average adult can eat anyway, so splitting it will still fill everyone up.
Be smart about drink orders
Did you know that soda often is marked up so much that you are paying at least $2.00 for a glass when it only costs the restaurant 25 cents or less? Don't drink soda at all and you could save an easy $10 off your family's bill. Instead, ask for water with lemons. It's better for your health and cheaper for your pocketbook.
Eat at places where you are not expected to tip
There are plenty of places that you can sit down and eat in without it being a traditional service restaurant that you have a wait staff at. While tipping is good and something you should do fairly, no matter how much you are trying to save, if you simply can't afford to, try a place that you are not expected to and save some more money.
Eat at a non-peak time or at special times
Many restaurants offer early evening specials for food items. Take advantage of these non-peak food deals. If you are eating at a buffet, usually it's around 4 pm, they change to the dinner menu prices. The food is often the same, prices are not. Get in at 3:45 pm and you'll save a good $10 for a family!
Choose take out & buy gift cards
If you are looking for more of a meal without the service part, choose take out. Great options are Chipotle's and Panda Express. Those types of establishments usually have Christmas savings on gift cards at the end of the year. Something like a $30 gift card for $25. Buy 3-4 gift cards per place and eat all year round, saving a nice penny right off the bat. I do this every year with those two places. Not only does my savings add up, but I know I'll be eating there anyway through out the year since they are personal favs!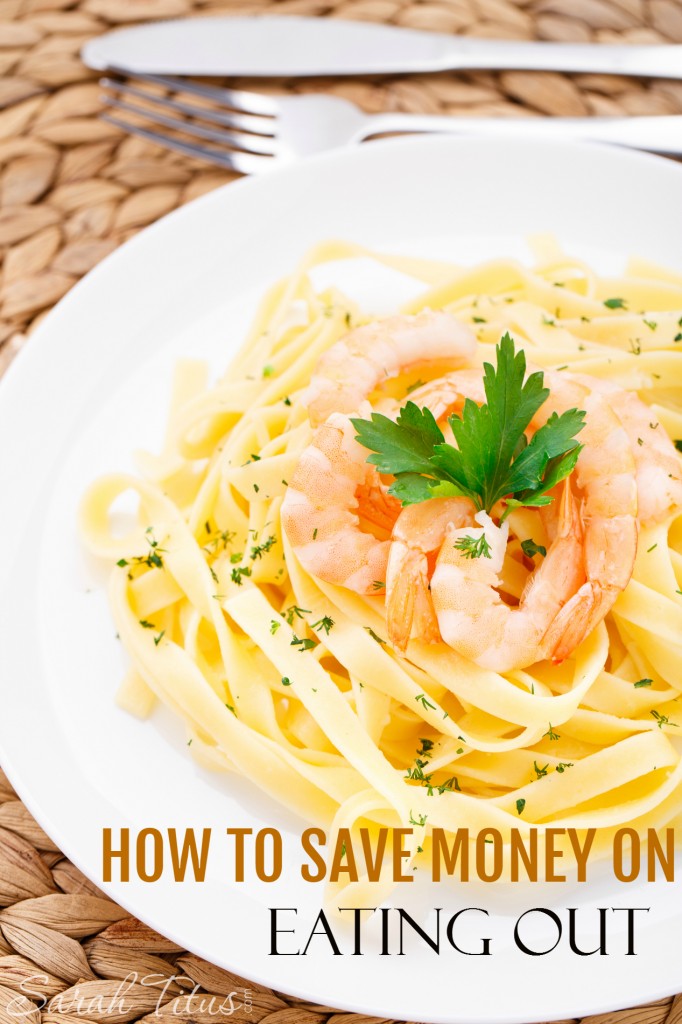 How do you save money when eating out? What is your favorite place to eat because it is good food for reasonable prices?