I have to admit that when I first heard of the idea of online grocery shopping, I was obsessively nervous…after all, I AM a control freak. I didn't believe that someone could shop FOR me and get great deals. They can't read my mind, they don't know what decisions I would make at the grocery store. So, I feared that one of the disadvantages would be that my orders would be all messed up.
But, I took the plunge to save money buying groceries online.
Internet Grocery Shopping: Save Money Buying Groceries Online
I started out slowly over a year ago with Schwans. I'd order from them every few weeks. With Schwans, you get free delivery if you order more than $50 worth of groceries.
While I do believe that Schwans prices are spendy (more than in your local grocery store), one of the advantages is that the food QUALITY is much, MUCH better!
In fact, this year, I've lost 65 pounds. I stopped drinking flavored water enhancers, started drinking Green Tea (here's the exact recipe/directions I use) AND started buying Schwans. I have no clue if Schwans has anything to do with my weight loss, I'm thinking not that much, BUT, I will say that it's so much different than the frozen food with all the guck that the manufacturers put into it that you get from your local grocery store.
Did you know that eating frozen foods actually make you hungry?! Totally true. Some manufacturers put stuff in the food to make you hungry. I love learning about food and just yesterday, I learned that eating brown bread is actually worse than eating white bread, because they put stuff in there to make you crave sugar!
Our food system is horrible, so I love to chose the best sources. Places like Schwans help me get the benefits of quality food. There are so many products that I really enjoy at Schwans.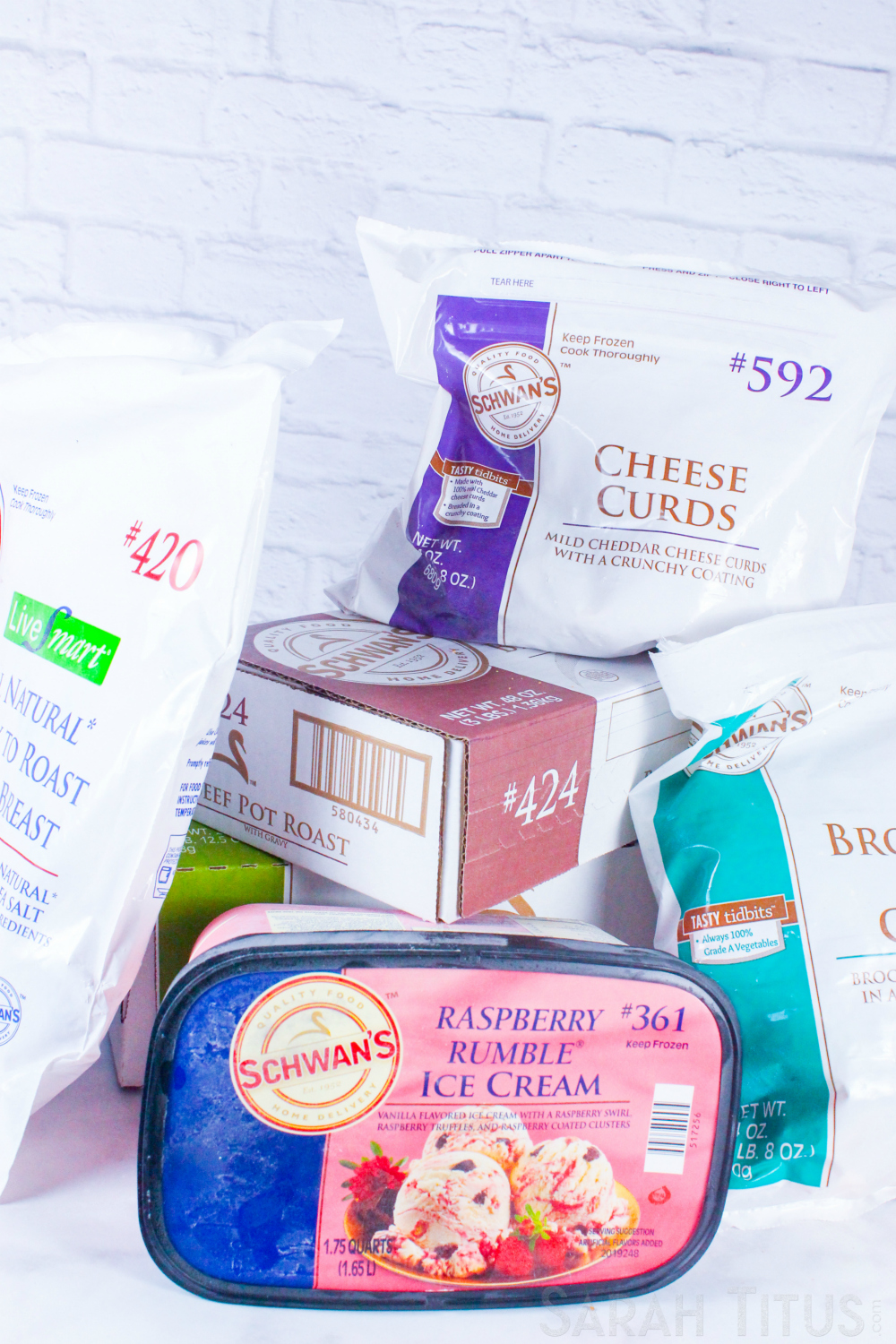 A couple of my personal favorites are:
Slow-Roasted Beef Pot Roast with Gravy (it's a huge roast and the seasoning is seriously, THE BEST! My #1 favorite item at Schwans)
Chicken Lo Mein Skillet Meal (this is by Jet Tila – Cutthroat Kitchen – and is so good, expensive, but good)
Turkey and Pork Meatballs (these are really good, but I wish they sold beef meatballs!)
Shredded Chipotle Chicken Tacos (I like to add a little bit of shredded cheese, lettuce, and sour cream to these)
English Toffee Bars (it's $6.99 for 12 and in my opinion, it's a great deal)
Zesty Jalapeño Bites (these are just SOOO good)
Onion Rings (the bag for these is just massive; they give you a lot and they are well made)
Broccoli and Cheese (YUM! I like to add some shredded cheese to this to make it ooey-gooey cheesy)
A few I DON'T like are:
Mini Donuts (they come plain and you have to put your own butter on them and sprinkle them with the sugar mixture they give you. It's labor intensive and never comes out right)
Gourmet Twist Pretzels (these are the same as the mini donuts – do it yourself, labor intensive, doesn't come out with enough flavor)
Buffalo-Style Boneless Wyngz (these are tasty, but don't have enough Buffalo flavor in my opinion. They should come with added sauce!)
Cheddar and Bacon Potato Skins (I don't like these at all…not enough filling and falls apart too easily)
Pulled Pork (this used to be really good, but the last two times I've ordered it, it's had too much fat pieces in it, which is just gross when you make a sandwich)
I didn't put links to those foods, because their links and food change with seasons.
If you don't already order with Schwans, I would highly recommend them. They are fantastic. Each time you order, you earn points. You redeem the points on your next order and it's like money off your next order.
Currently, I have $21.30 worth of points to spend on my next order, which is great!

If you live in a state that charges sales tax, Schwans will charge you sales tax, so keep that in mind.
They are incredibly meticulous. Since I've been ordering from them longer than a year, in that entire time, I've only had two issues. One was a recall on one of the items I bought. They just had me return it with my next order and refunded my money.
The other time, a bag of Chinese food was cut open a little bit. For ordering that long and that many times, that is not a lot of mistakes at all, which I LOVE. It's been the same driver since day 1 and he's very polite, friendly, and knowledgeable. I've had 0 issues with delivery and it's been an extremely easy process. Something that saves me a lot of time and gives me quality food I enjoy.
The other place I like to get groceries from is Albertson's (you can see if it's available in your area here). It is the same parent company as Safeway, so if you have a Safeway in your area, they most likely deliver.
When you go to the site, they will show you they give you $10 off your first order and free delivery, using their promo code: TENOFF.
Regularly, it's a $6.95 delivery fee (and the drivers don't accept tips, so that saves a little bit of money too because you can't tip them; I tried!) but, here's the cool part, they are always having deals where you buy something, you get free delivery.
For me, I buy pull ups anyway, and for the past 5 times I've ordered, you buy the off brand pull ups (which work well by the way), you get free delivery. So, I'm saving money buying something I'm already going to purchase.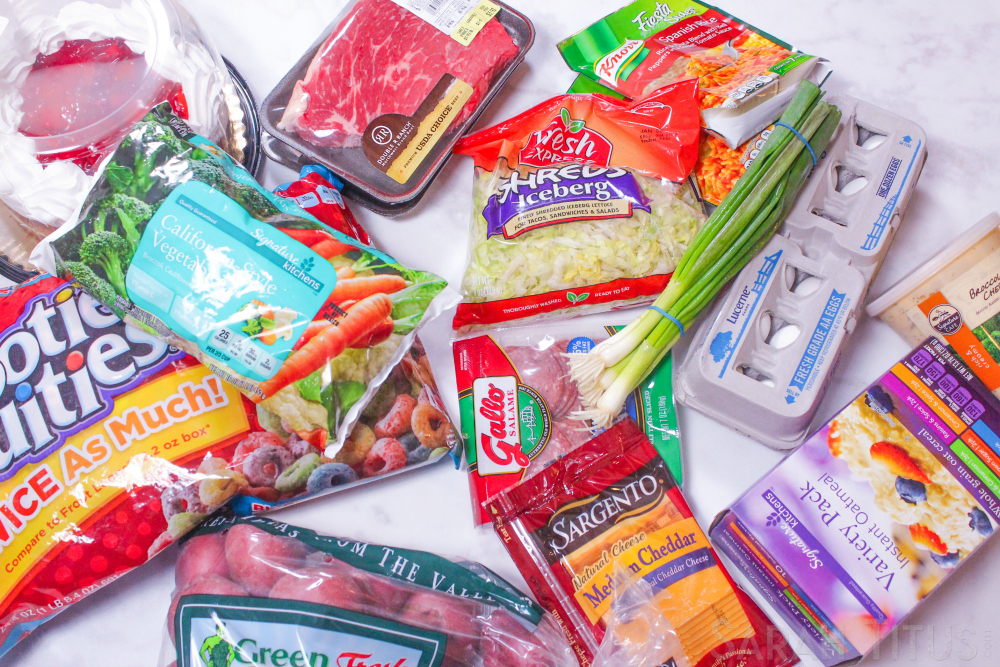 They also have a free item of the week (with promo code) and that item changes each week. This week, it was ice cream. Free ice cream with $150 order. Yes, please. I love my ice cream! Thank you Albertsons! You rock!
Since the free delivery and free item is $150+ order, again, like what I do with Amazon, I put things on my list as I go and then when I have a $150 order, I purchase.
Usually, my online grocery delivery is scheduled the next day, but with the massive snow storm we have been having here, it's scheduled out 4 days this week! So, I'll need to make a note of that in my brain for next time. Order a little earlier. It's okay though. We have plenty of food. 🙂
I think that best of all, this week, the big bulk bags of cereal are only $2.50 for 24.4 oz. So, what did I do? You guessed it. I bought 10 bags! It's usually $3.49, so I'm saving about $10 on something we already buy.
Now, the only trick about ordering from Albertson's online and having them deliver is the free things you're ordering. Make SURE you select that you're willing to have a product substitution (it's in the checkout part when you go to checkout) because sometimes, things are out of stock, and then you don't get your free item!
Also, anything that you can't live without that week, like say, milk, eggs, or bread, or something like that, select that you accept a product substitution. Because you don't want to have them show up to your door with no bread when sandwiches was your kids lunches that week and now you have to run to the store to get bread or order $150 more to get it delivered. Yeah, learned that lesson the hard way…don't do that! lol.
And if you ever have any problem with an order (in my area, delivery is new, so they are still working out kinks and there has been mistakes made), you simply call the online order customer service number and they will take great care of you!
As far as pricing goes, in my area, Albertson's is actually pretty cheap. It's cool because Albertson's USED TO BE the most expensive in our area, but Fred Meyer has slowly, over the last year and a half, raised their prices, and Albertson's has lowered their prices, so they are the same now.
But see, no one ever shops around. They just ASSUME Fred Meyer always has low prices. So, Albertson's is the same price, but SOOOO much less crowded, and since people aren't checking prices, they just pay whatever (BAD!) Albertson's has things in stock and you get a better selection in places like the produce section, since it's not all picked over already!
So, my one tip, is don't just ASSUME your favorite store is still the lowest priced in your area. Over time, they inch up those prices, thinking people don't notice, but…some of us do! Don't trick me Fred Meyer!
Another store in our area is Winco, but I just personally don't care for that store. While they are cheap in many items, many items are also the same price as Albertson's and Fred Meyer in my area. So, for the 10 items out of 50 that are actually cheaper at Winco, it's just not worth it for me to make a special trip all the way across town (which is about a 35-40 mins drive round trip and I'm never in that area).
The other thing I don't like about Winco, is that a lot of their food is low quality, processed. Our store doesn't have a health food section. The produce is bad quality or goes bad quickly in the fridge as compared to other stores, and it's just so busy all the time. So, for me personally, I just don't care to shop there.
The only other option is Walmart, and you all KNOW how I feel about THAT store! Don't get me started!!! lol.
So, really, Albertson's and Fred Meyer are the best options for our area, in my opinion, and since Albertson's delivers (for free if you shop wisely), for me, it's a no-brainer.
Shopping online saves me so much time and gas. It saves me from spending money when I see something in the store I want to buy, but shouldn't. And if you have kids who love to touch stuff in the aisles, hate traffic, or just don't wanna deal with rude people in the grocery stores, it's so much less complicated to just save money and buy your groceries online!