I like a very particular hairstyle for my hair. I like to have long layers. Seems pretty simple, but since I moved from state to state and left my amazing hair stylist behind, it had been two years of going to several different hair salons and no one seemed to be able to get it right. It doesn't seem that hard, I thought. I've seen my old stylist cut my type of hair for years, I bet I could do it! That thought echoed in my mind and was the beginning of my earning $160/year every year since then.
Save on Salon Costs – $160/year with One Simple Trick
You see, I don't believe that you need a J.O.B. to create resources for your family. No way. I believe that every penny you save, that my friend, is INCOME! It's not going out; it's coming and staying in. It's IN-COME!
So brave little no-hair-salon-experience-what-so-ever me, went on YouTube and found a couple DIY haircuts how-to video's. I tried one; didn't care for it, but this one, I totally fell in love with. She made it seem so easy to cut medium to long hair and I thought to myself, "I could do that."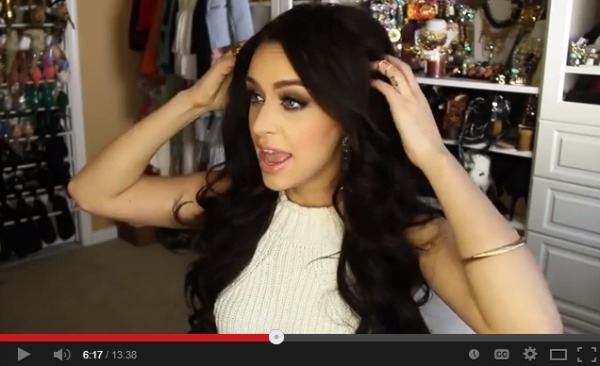 But was I REALLY going to cut my own hair? If you know me, I'm totally a hair salon snob. Only the BEST for me. High end, upscale, nothing less. To me, my hair is worth it. I figured, eh, what the heck. If I totally mess it up, I can just go in to the hair stylist, tell her my daughter got ahold of the scissors and cut my hair (totally kidding!) What did I have to lose? Oh yeah, $160/year! 😉
My first time went shockingly well. I sat there so very proud of myself (and looking fabulous by the way!). The very first time I cut my hair in my entire life, it came out BETTER than any hair stylist had done in the previous TWO YEARS! Tell me THAT'S not a confidence booster! 🙂
It's not for everyone, I get it, but for me, it's worked out great. I've been saving money on hair cuts and cutting my own hair ever since!
A couple follow up tips I've learned. Style your hair after you cut it as you normally do. I like to straighten my hair afterwards, no heat protectant, and I don't wash it for 2 days. It seems that for me, not only does styling my hair after I'm done cutting it, allow me to 'check my work' and I can see if something needs to be cut to perfect the haircut, but it also sets my hairstyle how I like it. It's like training my hair to do what I want it to do. It's like your hair says, "Yes, I will be beautiful for you," and maybe that is why I seem to have a lot of good hair days. 🙂
Lesson learned: Through adversity comes success. Through trials comes perseverance. Through courage comes beauty!