How many times have you found yourself looking into the refrigerator at 4:30 pm looking for inspiration? Unfortunately as I'm sure you know, inspiration doesn't live in the fridge 🙂
Knowing what's going on the table each night is a huge help in a busy family. The secret to easy menu-planning ideas is to do it when you're not under time pressure to start cooking or run out for takeout.
Here is my super simple menu-planning strategy for beginners. You can plan out a week's worth of menus (or even a month!) in about 15 minutes.
Menu planning as easy as 1, 2, 3 …
Collect your favorite cookbooks (and maybe a tablet to use Pinterest?) and a menu-planning template worksheet. Start keeping a list of favorite family meals.
Using your cookbooks (here's cost-effective, quick meals for those on a budget) and Pinterest, fill in meals on the worksheet. Don't agonize over what you want to cook – just jot down examples of what comes to mind. Hang up the menu on the fridge (or type it up in a pretty, colorful font and then hang it up).
Make your weekly meal plan shopping list depending on what you already have at home and what you'll need.
15 minutes of planning will save you oodles of time during the week
You can do all your shopping in one trip rather than needing to go out last minute to get a critical ingredient. If something requires thawing, you can take it out the night before instead of dealing with a rock-hard piece of meat when dinner needs to be ready in 30 minutes. You can even leave instructions for your teenaged son to cook some pasta to be ready when you get home.
The result? Those 15 minutes will make you look like a superstar!
Menu-planning Tips
Just like with organizing, the hardest part about planning a menu is getting started. Once you sit down with your materials, you can probably plan out a whole month.
I like to mix things up – if we have chicken one night, I might pick vegetarian or ground turkey the next. We might have chicken 3 nights in a week, just not in a row.
Assigning themes to particular weekday can help when you're in a rut. Think "Taco Tuesday," "Pizza on Friday," or "Pancake Saturdays."
Don't forget to keep in mind days when you'll be home late or out of the house altogether. Try to plan a freezer meal or something super quick for those days.
Keep a Pinterest board of recipes you want to try. When you're menu-planning, you can browse the board and see if anything will fit into your schedule.
Plan a double-batch of something or do some advance food prep to make another dinner super easy to throw together.
Sometimes I include a side dish in my plan, but sometimes I wing it depending on what fresh produce needs to be used up first. If I'm serving a starch, I'll usually pencil it into the menu.
Just because you've planned a particular meal doesn't mean you can't change it around or skip it altogether. If your plans change or you feel like cooking something else, do it! The menu plan is just a tool; you don't have to be a slave to it.
I don't usually plan breakfast or lunch except on the weekends. At our house, breakfast is usually oatmeal, eggs, or homemade yogurt and fruit. Lunch is sandwiches or leftovers. Easy peasy!
Creating simple systems like this one for menu-planning, laundry, and paperwork will help your home run more smoothly. Take a little time to plan ahead and your grocery budget will also thank you for it!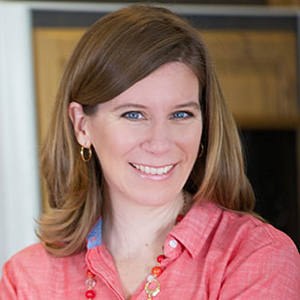 Sarah Mueller believes that outer order contributes to inner calm! She's a sometimes frazzled mom to 4 boys in PA and encourager to moms everywhere.