And with the news…Pluto is no longer considered to be a planet.
Over all the years of scientific discoveries, man has found and discredited and changed their answers and questions a myriad of times. And it's always based on what man can see with their human eyes, never what's in their hearts or the unseen where God dwells.
As many times as man changes their minds, the Word of God NEVER changes. His Word, who He is, His character, His nature, His sovereign will…it never changes.
God is the same God He was 6,000 years ago. He's the same God that asked Peter to trust Him in the Bible, and He's the same God that asks us to trust Him as well.
God is the most predictable power on Earth. Not only is He unchangeable by His very nature, but He gives us an amazing book in which we get to see the future. He spells it all out. He tells us what's going to happen in His word and year by year, decade by decade, we see His word performed in the world as if some miracle.
But it shouldn't surprise us. For if we know God and we know the Bible, these things will come to pass. Man can change his answer based on findings and new revelations and you can follow everything they say and change your mind a myriad of times as well, being tossed to and fro with every different idea that comes to pass, OR you can get to the know the God of the Bible. Because His word doesn't change.
What He said yesterday will still be true for us today. There's great confidence in knowing that God doesn't change. He doesn't have mood swings, His word stands forever. When He convicts your heart, in the smallest of places, you can be sure He will bring it to pass and give you the courage and strength to obey His commands.
No, God never changes, and I find great comfort in knowing that. Do you?
Since God never changes, we want to get to know Him more and who He is. You can trust that it won't change over time. His very name is His name today, yesterday, and forevermore.
And today I have a really cool "Names of God" memory game you can play with your kids to teach them (and you) the names of God! Check it out below!!!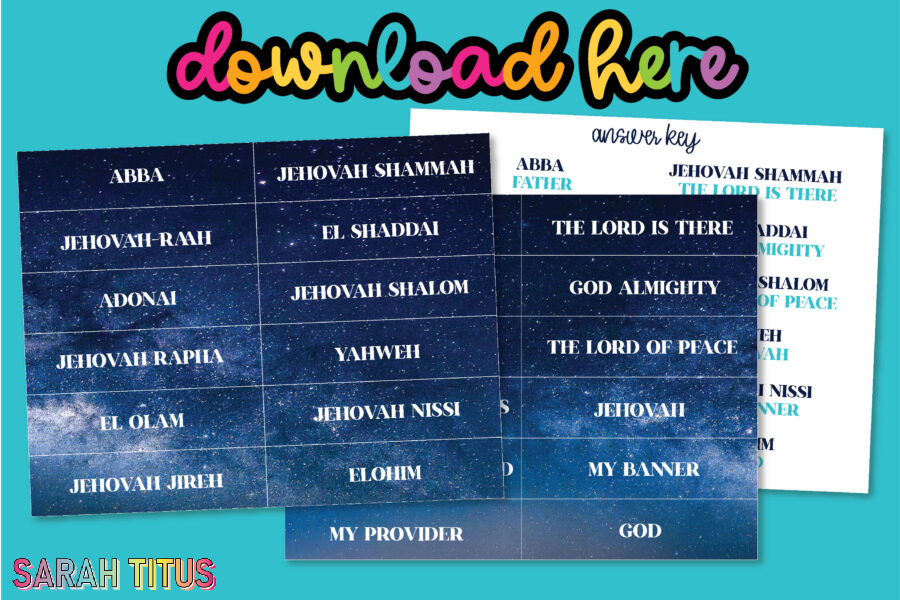 Want to encourage your heart every single day? Grab my 31 day devotional, the Hope Binder here!