Do you ever look around your house and think, "Man, I wish I could afford to hang some nice wall art."
Or, "I can't afford to redecorate, but my living room looks so blah! I'm so over it."
You might even be thinking, "My friends' birthday is coming soon and I have no idea what I can get for her!"
Well, I have an inexpensive solution for you.
This HUGE Wall Art Printables Bundle has over 190 gorgeous wall art ideas and designs (for bedroom, kitchen, bathroom. office, nursery, living room – anywhere!). You will absolutely adore it, or your money back. LOL. Okay, that was just funny right there. 🙂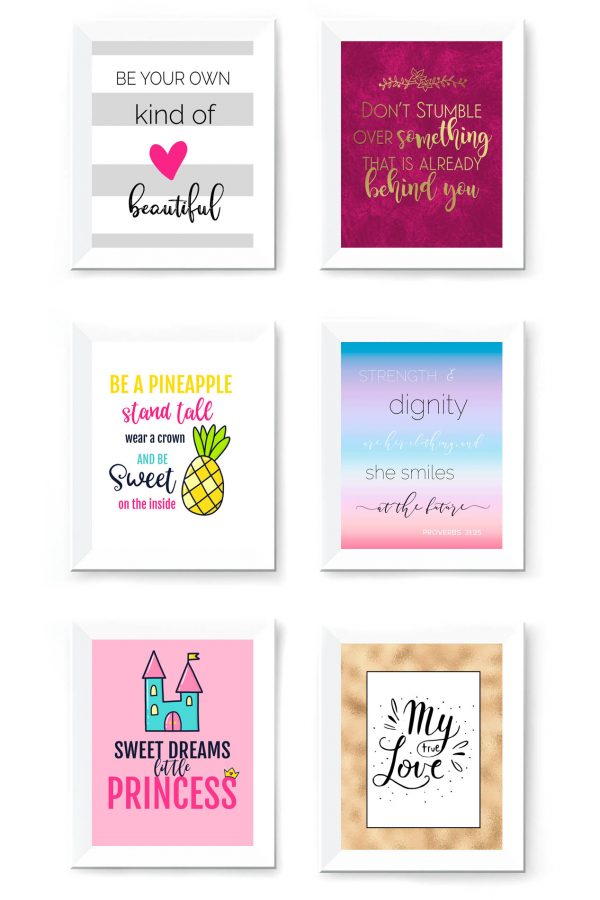 What can do you do with this Huge Wall Art Printables Bundle?
The possibilities are endless!
Size down the printables to create greeting cards.
Size them down to print for desktop or tabletop style art
Use them as postcards to send to friends and brighten their day.
Print off matching prints, laminate them and use as changeable place mats for fun table settings.
Print off designs to frame and give as gifts.
Use for inspiration at your desk on your bulletin board.
Print multiple art prints off and string together for a party banner decoration.
Use as cute binder covers or dividers.
…and more! The ideas are limited only by your imagination!
If you want to frame ANY of prints from the Printable Wall Art Bundle and arrange on your walls, you can find the frames I use below.
Here's a link to the white frame I have and love and here's a link to a black frame I have similar to the white one.
To access the high quality prints, you can get the Huge Wall Art Printables Bundle here!! I like to print the printables on card stock (this is the exact pack I buy; it's super cost-effective, and well made.)