Are you pulling your hair out trying to figure out how to create a Facebook store and get consistent sales?
Or maybe you already have a Facebook store set up with some items but nothing seems to be selling? It's just a lot of people emailing "Is this available" and it's driving you nuts, wasting your time.
HOW do you get your stuff to sell?
I feel you! When I first started selling on Facebook Marketplace, nothing was really working. I wanted to make extra money, but I didn't know WHAT was wrong. Why wasn't it working?
When I'd go to buy stuff, it wasn't available anymore so I KNEW OTHERS were selling, but I didn't know why *I* wasn't or how I could fix it. So…I took about a year, dove deep into everything and figured it all out!!!
Now my stuff sells like hotcakes and I do very well on there!
To save you from having that same experience, I've created this easy-to-follow guide (plus all my secrets tips and tricks!!) so that you can quickly get set up and running with your Facebook Marketplace store, and more importantly, make great money selling things you no longer need!
First, we'll start with the actual how-to's of listing things and then we'll get into all the tricks and tips of actually MAKE MONEY on there! Let's get started…
How to Create a Facebook Store
When you list items on the Facebook Marketplace platform, it creates a public listing that can be viewed by anyone searching on Facebook Marketplace, in Facebook feeds, search and any other locations both on or off Facebook. Make sure to read through the Commerce Policies because any listings on Marketplace or buy-and-sell groups must abide by these policies!
Here's how you can you sell items on Facebook Marketplace:
From your feed page when you're logged in, click on 'Marketplace' on the left-hand side menu. It has a little shop icon beside it like this .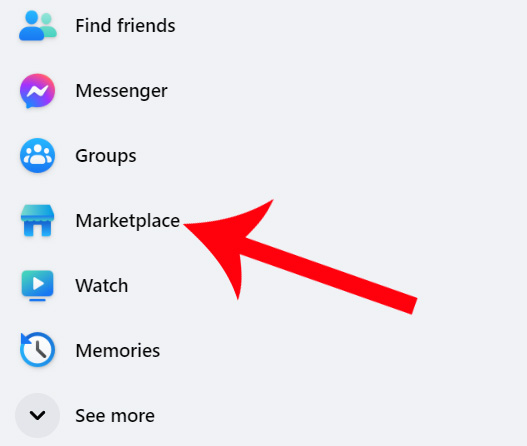 Next, click on the button '+ Create new listing'.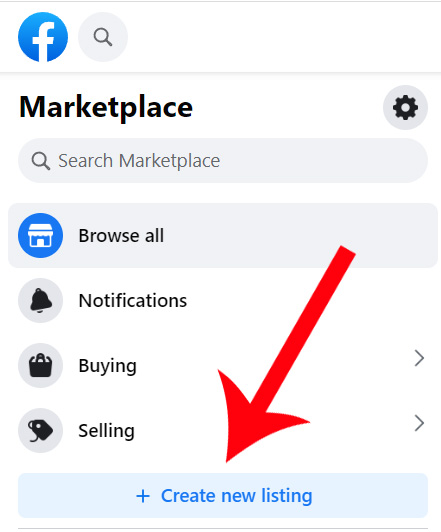 You'll then have to choose the listing type, and you'll want to select 'Item for sale' (unless you have a vehicle or property for sale or rent).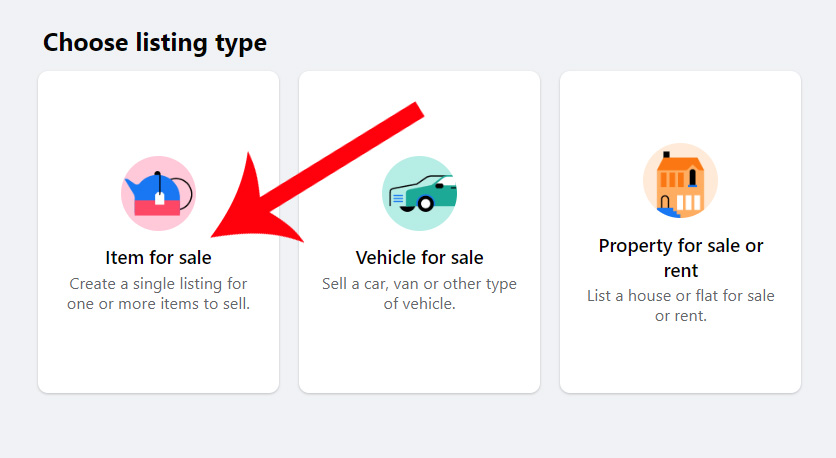 Next, click on the 'Add Photos' section on the left side to upload a picture of your item from your computer. You can also drag and drop the image into the photo section if you prefer.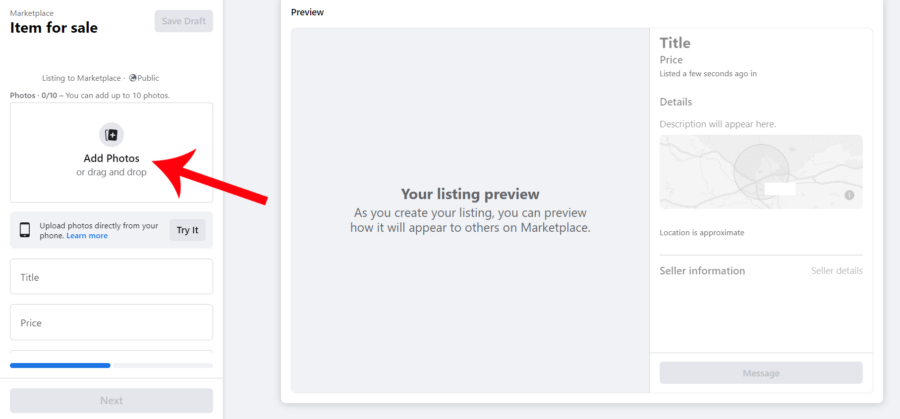 In the appropriate sections, type in all the details about your item. As for the price, if you want to mark it as free, just type in '0' in the price section.
Once you've added all the item details, click the blue 'Next' button. If the 'Next' button is greyed out and unclickable, it means you've still got some required information to enter before you can proceed.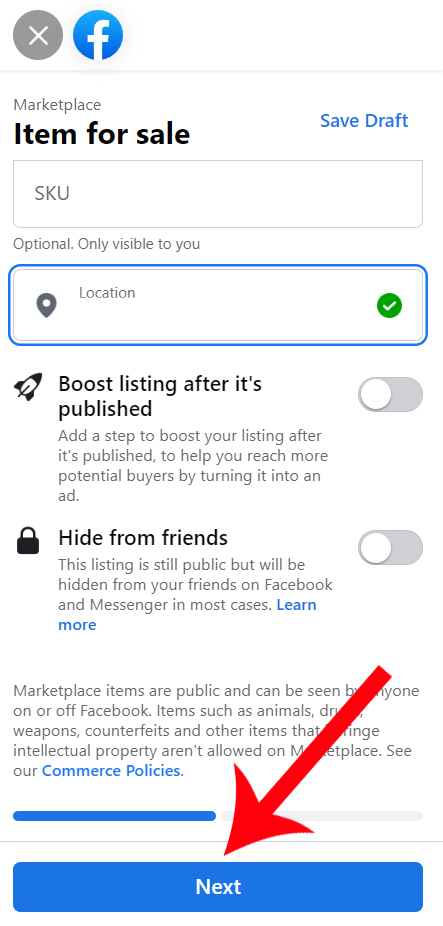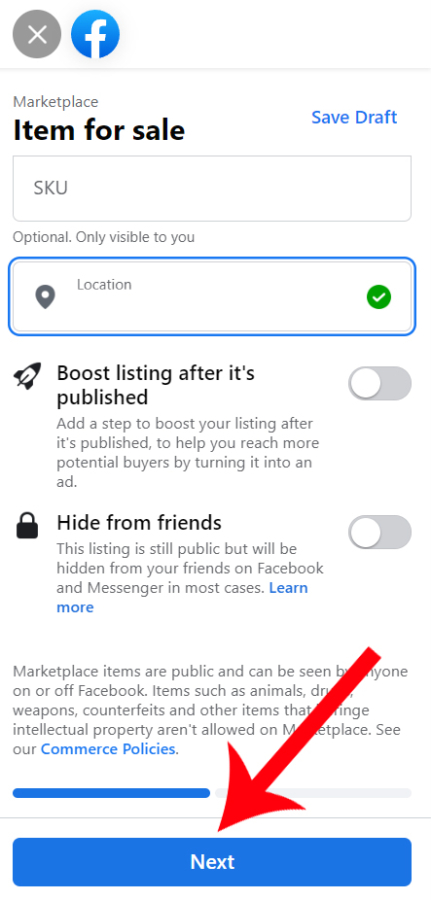 Add your listing to any appropriate groups (if desired) and then click the blue 'Publish' button to list your item on Facebook Marketplace.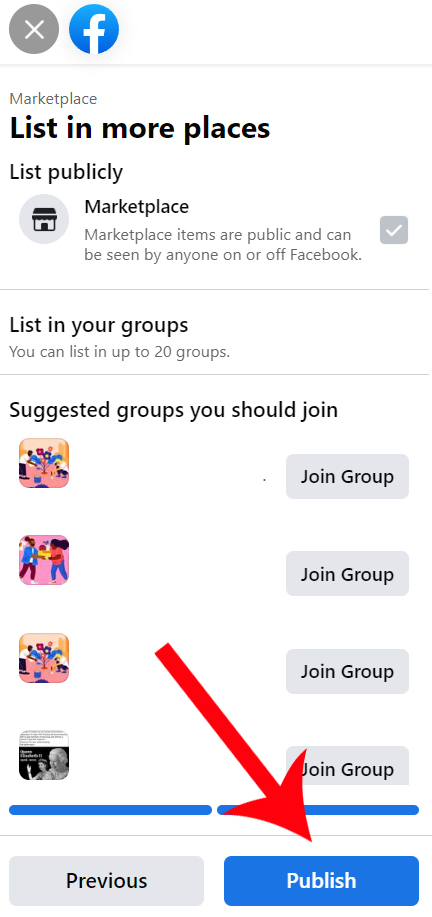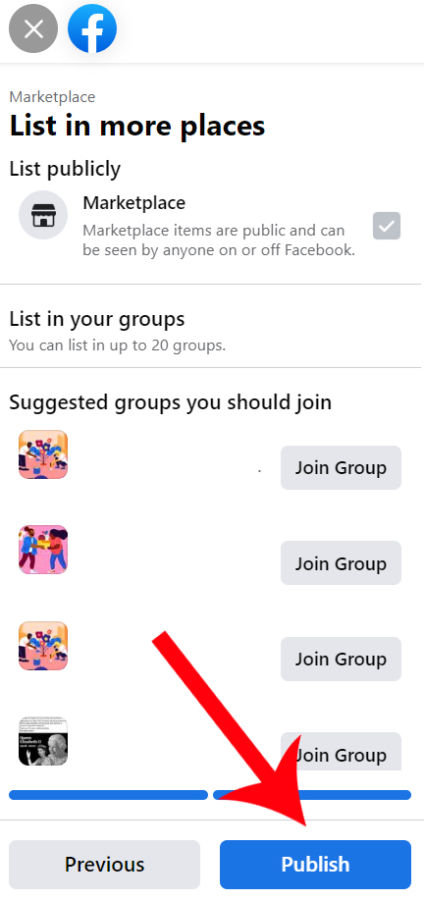 You did it! Wasn't that super easy?!
Here's how to edit the details of a Facebook item listing:
From your feed page, click on 'Marketplace' on the left menu.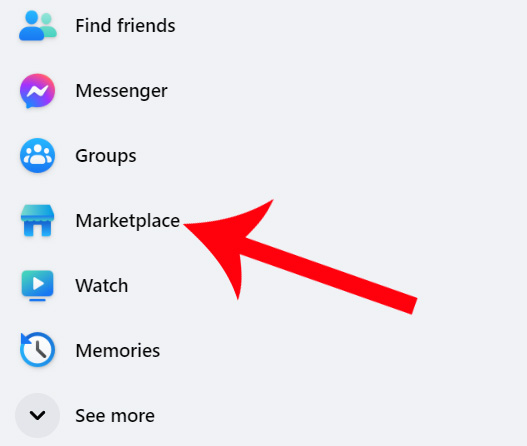 Next, click on the 'Selling' option in the left menu.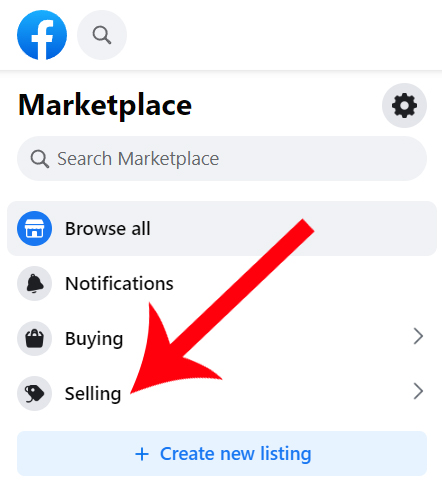 Then click on the 'Your listings' option.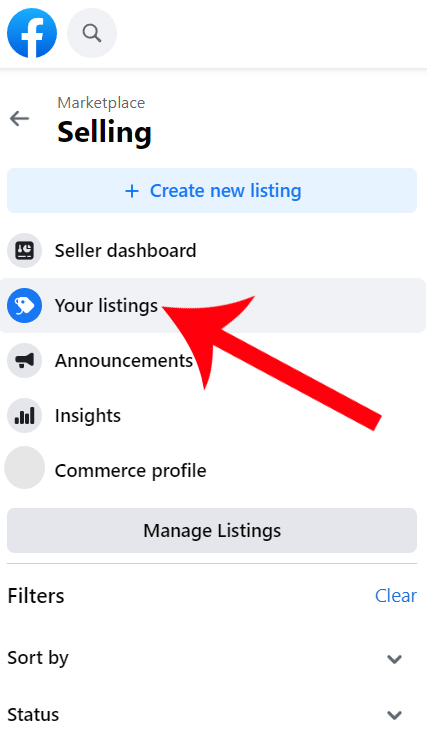 Next, click on the the 3 dots (…) to see more options under the listing that you want to make some edits on, and click the 'Edit listing' option.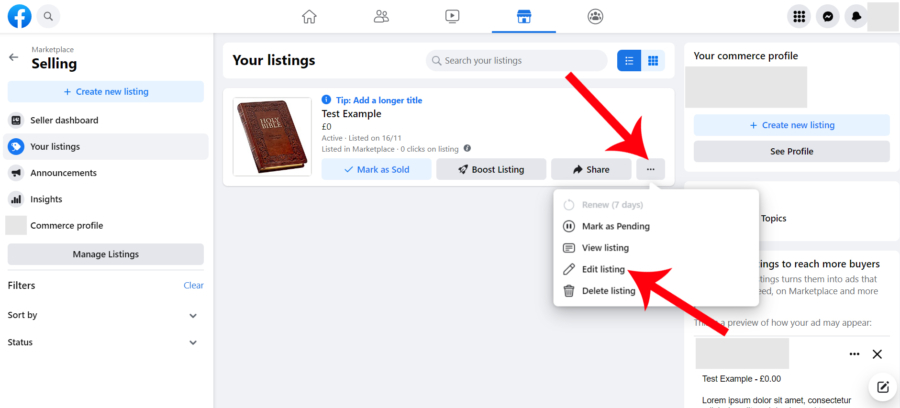 Once you've edited your item listing, click the 'Update' button to save the changes.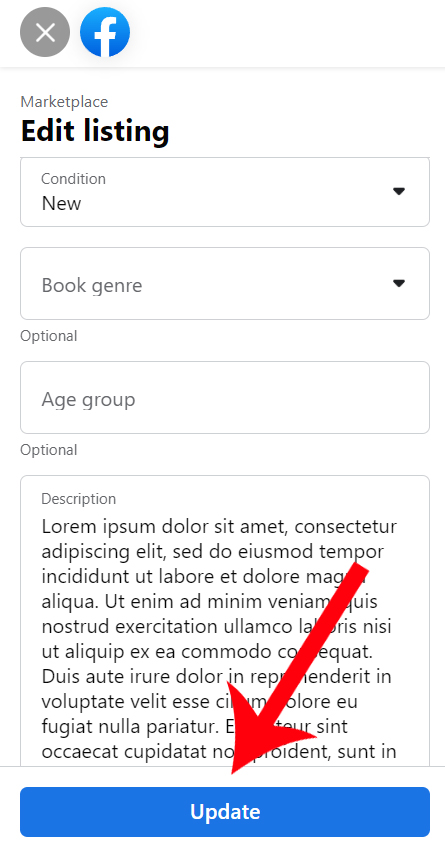 Tip: It's not necessary to edit your listing each time you sell an item in a multi-quantity listing. You might think you need to edit it to show how many are left after each sale, but the listing will automatically update and show the viewers how many are left.
Here's how to mark an item as sold:
From your feed page, click on 'Marketplace' on the left menu.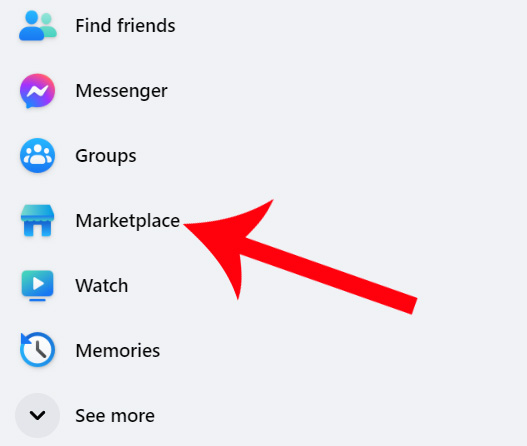 Next, click on the 'Selling' option in the left menu.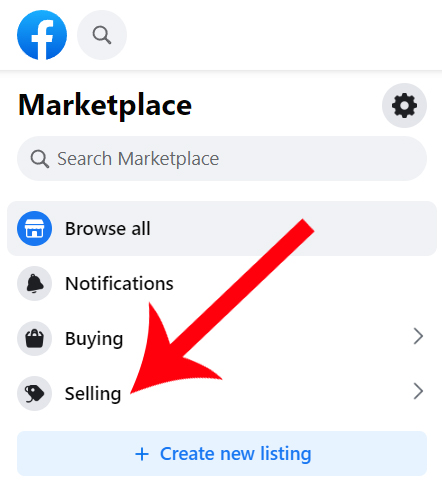 Then click on the 'Your listings' option.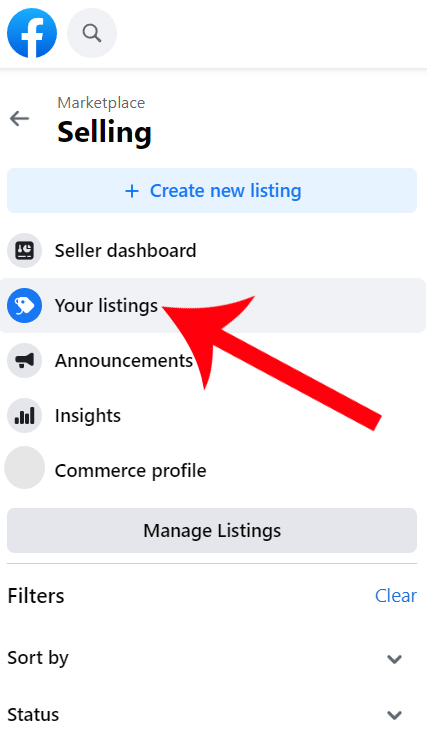 Click 'Mark as sold' below the item listing that has been sold and is no longer available.

After you've marked an item as sold, the buyer will receive a notification to rate you as a seller. You want these, so do NOT skip this step!!!
Now that you know how to add your listings to the Facebook commerce world, edit your listing, and mark it as sold, let's turn to how you can sell on Facebook and actually MAKE MONEY!
Because it's all well and good being able to post your items for sale on Facebook, but if you're not maximizing your chances of success, you won't earn as much money! We don't want all your hard work to go to waste.
Check the tips out below and start implementing them to boost your sales…
Images
You definitely want to upload high-quality images. Potential buyers can't touch and inspect the item upfront and getting someone to come out to your house is harder than you'd think, so the images you use need to be a true representation of the item and good quality so they know what they are getting and are motivated enough to make a drive to pick it up!
Once you take a photo, edit it if you want but don't strip out the "genuineness" of it. What do I mean by that? Well, you want it to be true to life: the color of the item, the texture etc. You want it to look at if they were seeing it in real life.
You also want to make sure you take the picture in good lighting. You don't want dark or blurry images, then people won't get a clear idea of what they are getting and they'll move on. Make things as easy as possible for them or you'll reduce your chances of a sale.
I see many people taking pictures of items on a bed. NEVER do that (unless it's a bed, of course). Just don't take pictures of your personal items on a bed, especially clothes. No one will buy items displayed like that, it's too personal and not appealing.
I'd also suggest using only ONE picture of the item as much as possible, because using more than that, the pictures are weird angles and it doesn't entice as many people. Make sure that the ONE picture you use is good and that it appeals to all people. Use neutral colors as the background to appeal to as many people as possible. If an item really warrants more than one picture to give accurate detail and representation of the item, then definitely add more pictures, but as a rule of thumb, just use one picture. I've found that my items with more than one picture just do not sell.
Be sure to stage the pictures a little. Like, you could add a little plant or flowers, whatever fits with the item/theme and could help the potential buyer see themselves owning the item or how it could work in their space.
If you think adding a little short video would help with the sale of your item, then feel free to do that too. Videos are great because a person can really see what they are getting. Just be sure to highlight the benefits or good qualities of the item when videoing it.
Making a video about it would be extra effective for showing items in action, showing that they work, showing some features/sounds etc. but don't show TOO much of the item in the video. You want to pique their interest, not give them the WHOLE thing all upfront. You want them to WANT to come pick it up.
Pricing
It always pays to be strategic with your pricing. Do some research, search your own item on FB marketplace to see what others in your area are asking, then price a hair lower than that. You can also price the same as your competitors, but if buyers see your item is lower than others, you're more likely to get the sale faster.
Don't tell them how much the original item cost. It may sound counterintuitive, but I started out doing that and I wasn't getting any sales. Make them work for it. Trust me, if they are interested, they are going to do the groundwork of researching your item to make sure it's a good deal and if you can get them to take that FIRST STEP to research the item, they are investing their time into it.
So they are much more likely to buy YOUR item because they are investing time into it. Make them invest that time because they will feel invested in it and buy much more likely.
When pricing, people expect to pay more for popular brand names, so do 50% off of retail for brand name items/highly sought-after items like Pottery Barn, Z Gallerie, Crate and Barrel, Restoration Hardware, etc. For everything else, do about 70% off retail. Use that method, along with your researching your own item there on Marketplace to get a good number to start with.
If you don't get any sales within a week, don't worry. A lot of times, it's just about leaving it on there, DON'T reduce the price if you've followed all the above information and just wait it out. They may ask you to go lower and that's totally fine but leave the price as-is. So often, I find that I have something on there and someone emails out of the blue on it, and they just wanna pick it up.
They are not into games, don't want to play around and just want the item, it's a good deal and they are ready to buy. Straight-forward type of buying and that's the best really!
Keep relisting the ad, as appropriate and you'll get the sale. Be patient and you'll make more!
Another little trick I have for getting FULL price is leaving the item at my door instead of meeting them face-to-face. If it's a smaller item, put it in a gift bag (remember presentation is everything). People want quick and easy. Leaving it at your door (IF it's covered from the elements), you can get more buyers because they know they can come whenever.
My conversation with them looks exactly like this (give or take). Adapt it to whatever is best for you. When they ask to come see the item, I say…
Sounds great! I can just leave it for you at my front door. Then you can just put the cash under my welcome mat or I can send my venmo information, whatever works best for you. 🙂 Is that okay? If so, when's a good time for me to set it out for you?
They almost always say yes, and then I send them my address and they come. At THAT point is when they'd ask you to go lower but I've only had about 5% of people ask to go lower at that point. It's pretty understood, you're getting full price at that point! Which makes YOU more money!! 🙂
This is also safer because I'm not opening the door, I'm just having them grab the item. More tips on WHO to sell to is in the next section…
Messages
Booooy do I know it can be annoying to get messages that say "is this available" over and over. I guess some sellers don't remove their listing, or don't mark the item as sold, so I understand that potential buyers need to check, but it is annoying haha! Nonetheless, make sure you answer ALL messages (even the annoying 'is this still available' ones) because ANY interaction you get on your post (even the "is it still available" ones), FB algorithms will show it to more people!
DON'T put in your ad, "If you see this item, it's still available". You WANT them to ask if it's available. It's annoying, I get it, but it tells Facebook, your item is worth showing to more people!
Plus, every message is a potential sale, so it's in your interest to answer. Be super polite and courteous when responding to your messages. Customer service is key here. Also, try to be super quick when answering back or they will find another item and buy from someone else! The faster you respond, the better your chance of getting the sale!!
If you receive commonly asked questions, reply to the potential buyer directly and then also edit your listing to include the extra info. If one buyer had to ask, then others will likely have the same question. This cuts down on the number of messages you'll receive asking the same thing. It saves time and makes your item listing thorough and detailed. Buyers like that.
It's also important to avoid messaging buyers privately outside of Facebook. You want to keep your correspondence with the buyer on Facebook, so that there's a record of your communication, just in case there is a problem with the purchase or payment later.
Be sure you feel SAFE with the person you are selling to. If a profile just has a picture of a flower as their profile pic and nothing on their feed, it's most likely a scam. I never respond to those past the point of saying, "Yes, it's still available". I don't look at profiles until after they want to actually come see the item. Then I make sure they are safe and I feel comfortable selling to them.
If they ask you for your phone number to text you for ANY reason, it's a scam. They are collecting your phone number to sell it as a list. They are working. They are either hired or they sell the lists of all the phone numbers they collect and you'll get on a bunch of spam call lists and spam text message lists if you give it out, so DON'T!
Be safe and take all necessary precautions to guard you and your family.
Item Listing
Include as much detail as possible but in a very straightforward way. Don't write paragraphs (think: bullet point info). Make sure to hit on the answers to any questions they might have within the post (measurements, etc). Accurately reflect the condition of the item:
New is brand new, never used, never staged, never opened.
Like new is new, but staged or barely used.
Good is an item that has been used and has some sort of damage/dents to it.
As a rule of thumb, try not to sell anything that has any sort of damage/dents to it. If you sell something like that and they don't see the damage, get it home and are upset about it, you'll get bad feedback, which will ruin your sales! Feedback is HYPER important here. As of right now, I have 18 reviews on my profile and 5.0 stars.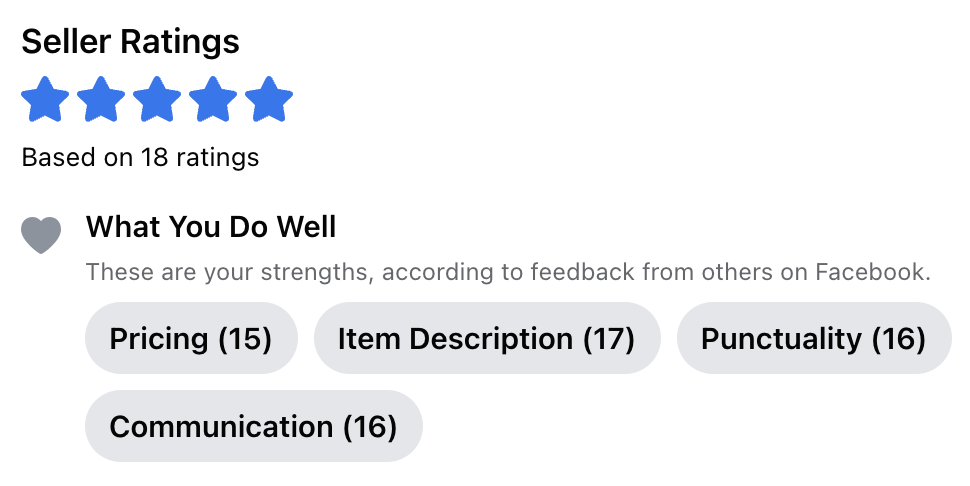 That's really good and you want that. It tells others that you are not a scam. You are trusted and they are safe to buy from you.
You also want to pay attention to the structure of your item details section. People are busy, they like to be able to skim text and see all the important information in an easy-to-read fashion. They don't want big blocks of text, that's hard to read, especially on a cell phone. They are probably not going to bother trying to read it, it's too much effort, and will move on to the next.
Use short sentences, (but don't use bullet points, it seems too "stock product" instead of real), make the text skimmable and easy on the eye.
Write the details from the lens of the buyer. Help them see what's in it for them to own the item. Emotions play a BIG part in the sales world, much more than logic. People don't really care about what your personal history is with this item. You'll obviously want to include why you're selling the item and have a brief backstory for those who're curious, but DON'T do that!!! They care more about how that item fits in their life and how they stand to benefit from taking this item off your hands, so focus on that.
Here's a good example of a description:
Black distressed, solid wood Restoration Hardware dining kitchen table. Measures 30″ H x 60″ L x 42″ W (seats 8). Pictured with leaf in it. Without the leaf, it's a square 42″ x 42″ (seats 4). Includes a glass top.
It has the measurements, the brand (because it's a brand name), it says dining kitchen (hitting two keywords) and gives a good description of how many it seats. Think about the questions you would want to know if YOU were buying it and include those things. 🙂
Keywords
Consider the important details about the item and what people are likely to search. You want to capture their attention with keyword-optimized titles that speak to them and what they are looking for. Include things like the brand name, the model, color, condition, and any other relevant thing that will catch their eye and make them want to check out your listing.
You also want to make sure to include keywords relevant to your item in the description section too.
For example, when you're choosing your title of the item, don't just say Christmas stockings and that's it. Your title is the magic part. So make it extra long and use as many keywords as possible.
Instead of Christmas stockings, say: Pottery Barn Gray Christmas Holiday Stockings (Set of 2).
The keywords there are:
Using more keywords, ESPECIALLY in your title, will get Facebook to show it to more people.
Timing
Pay attention to when you post your item listings. I've found it's best to post on weekends and in evenings when there are more people online.
When you list items, it's better to list less than 5 items at a time than a ton of them. You'll get more sales just having a couple things listed at a time, rather than 30 items. Plus, it's safer. People see those 30 items and want your stuff, so they could do bad things.
Try to list like items at the same time. If you have two lamps for sale, list them both in separate ads, for example. People will look at everything you have for sale and buy more and see something else they like and want to buy. Repeat customers is the #1 goal!!! Treat the people who buy from you right so they come back because they WILL. They will look at your ads routinely and follow you. When you list something, they will get a notification and it'll help sell your items.
Some of my sales (about 25%) come from repeat buyers! One lady has purchased 4 separate things. After they know where you live, had a great experience, your pricing is good and they know you, they are MUCH more likely to buy from you again! 🙂
Algorithm
The initial trajectory of your item listing matters. That's things like the clickthrough rate, conversion rate, current demand on the platform, etc. It will either get more views as it snowballs, or it won't and will die off.
Facebook measures things like past customers, past viewers, location and people around you and their interests, and constantly tries to pair items to people who're looking for it.
If a listing doesn't get any traction, it's totally fine. You can renew it, relist it when the time comes (every 7 days). It gives it another chance to take off. Plus, there's no limit to the amount of times you can relist an item.
If something is just not selling, definitely just delete your ad and create an entirely new one. New ads are new algorithm opportunities in Facebook's eyes, so create a new listing and it'll help it sell better if it's not selling (do this maybe after 2-3 weeks of no sales on the item).
When you have other listings doing well, it will improve the history of your account and can make previously unsuccessful listings do better.
Safety
Taking your safety into consideration is super important! There's no use in making a sale if it endangers your life!! NO amount of money is worth it!
If you'd like to avoid giving out your address, meet someplace safe instead. If you're meeting someone in person, arrange to meet in a busy, public, well-lit area. Let a friend or family member know your meeting plans, where and when. You could even take someone along with you so that you're not alone. Many towns offer an area that's the designated sales exchange spot. Typically at police or fire stations because they have good lighting and cameras.
If you meet at your house, make sure you have a good camera system in place (even a ring doorbell that captures video is awesome). One of the things that I did when I first moved into my house is to buy a really good security system. It's the same system that our local congress house uses here in town. I have them ALL over the house, everywhere with a TV set up to monitor any and all activity. If anyone crosses the path of any of those camera's, I'm alerted immediately. So when someone is here to pick something up, I know it.
Obviously, if you're selling just a few things, this is not a concern for you. But if you sell a lot, it can be a good idea. You can get and set up cameras for as little or as much as you want. And if you leave your item at the door and they don't pay, this is considered stealing to the police.
What I like to do is after they leave the money under my welcome mat (or pay by venmo), send a confirmation to them saying that I got the money. This relieves their mind in knowing that you got it and all is good.
Giving out your address might be your only option, so try to arrange a collection at a time when your spouse or someone else will be at home with you too. NEVER invite them in, and if you're dropping the item off at their home, NEVER go inside their house.
If you receive messages from a person and they're rude, pushy, or your gut just tells you something isn't right, ignore them, even block them if they don't stop contacting you. Similarly, even if the messages from someone seems fine, if their profile is private or doesn't have any information on it or they look like someone who's not safe, don't get involved with them. It's better to be safe than sorry.
There's also the safety aspect in terms of bacteria and germs. Make sure to clean and disinfect any items you are listing for sale. Again, making sure it's in good presentation for them to view.
Payment
It's better to have different payment options to appeal to more people.
Mention in your ad the types of payment options available (cash, Venmo, etc.). Noting the options on the ad leaves one less question for them to email about. People like simple, streamlined buying.
Watch out for scam payments from buyers. One common payment scheme is when a buyer will pay with a stolen credit card and pay more than the cost of the item, then claim to have paid too much in error and request a refund of the overpaid amount. As an honest seller you would naturally return the extra amount, but the original payment gets declined and never ends up in your account, so the scammer gets away with your money. If you ever have a buyer pay more than they were meant to pay for the item, decline the charge and ask the buyer to initiate a new payment for the correct amount.
Shipping Option
You always want to appeal to as many people as possible. Some people may be really interested in your item, but are unable to collect. If you don't have a shipping option, it immediately disqualifies them as buyers. Adding a shipping option is just another handy tool that will help with sales because it appeals to more people.
If you're selling a furniture item, you can mention on the ad that you can deliver for a small fee if you are able to, as well. That will appeal to more people. You'd want to be upfront about how far you are willing to travel to deliver, so those outside that radius do not expect that you can deliver to them.
If you do sell an item with shipping, DEFINITELY make sure you have received the buyer's payment (and it clears) before you ship the item out to them and use Facebook's site to ship from, NOT an external vendor. The reason is because FACEBOOK will charge you a lot LESS to ship and item than if you walk into your local post office to ship that exact same item. You can save 16%-25% by going through Facebook!
Sometimes, Facebook will run free shipping days. Especially toward the end of the year. So on those days, you may see a huge influx in sales because Facebook covers your shipping. The customer doesn't pay it, therefore, they can afford to buy more stuff, Facebook covers your shipping (up to a certain dollar amount if you ship it out within a certain period of time).
So again, this can really increase your sales by A LOT!!!
Ads
You can run Facebook ads to get more eyeballs on your items. I've never personally tried it, but it's an option to test out to see if it works for you.
You can also use the 'boost' feature on your item listing. Once you do that, your listing turns into a Facebook ad so more people can see and engage with it, which could help you to sell your item quicker.
Join Facebook Groups
Join Facebook groups specifically designed to promote your items locally. Search your area for buy/sell/barter/trade groups. Then when you're listing items, you can also list it in the groups, especially if you have a neighborhood Facebook group and it's allowed.
You'll notice during the process of listing your items, Facebook will suggest a bunch of local groups you may want to join. You should definitely join these groups if they are legit. Facebook has suggested them because they are local and relevant to you and can help with sales.
Thing That Sell Well
Some things just happen to sell better than others on a Facebook sales page. Here's a list of items that I've found to sell well on the Facebook Marketplace platform:
Furniture does really well (couches, beds, bar stools, desks, etc.)
Essential oils (new, sealed)
Holiday items
Small kitchen appliances
Larger appliances (washing machines, fridges, etc.)
Clothing
Exercise equipment (trampoline, treadmill, recumbent bikes, etc.)

Think about the types of items YOU buy on Facebook. What would YOU buy used? What would you be willing to buy used and drive to a stranger's house for to pick up? Whatever YOU would do, others will be willing to do the same!
There are other things that DON'T seem to do that well:
Home decoration – items like flowers, mirrors, wall art, home staging items, etc. It can sell but it's harder to sell (after all, they can just go to TJ Maxx/Ross/Tuesday Morning or something to buy and save money AND have a return policy if it doesn't work)
Fancy dresses/homecoming dresses – unless you ask like $20 for a dress you paid $200+ for
Door wreaths – your best chance of selling these is IN season and $25-30 for something you paid $100-$200 for
Have you found a good trick to selling on Facebook? What works for YOU? Since I sell on Facebook Marketplace too, I'd LOVE to hear what works for you! <3