Today I'm going to tell you a story.
A story full of good guys and bad guys, oppression and forbearance.
I'm going to tell you a story of danger, a story of great loss and of great wins.
A story of characters failing to the lowest depths one can fail to and yet, of the highest mountaintops one can have as a human, all in the same story.
And while this is a story, every word I'm about to share with you is absolutely TRUE!
This is a TRUE story that has been 6 years in the making. It's a story that has never once been shared publicly, till now.
Above all, you will see God more accurately, more clearly than you ever have before in your entire existence. You'll see Him as you've never seen before as He pulls back the curtain of Himself and His chosen people.
Truly, God is a God of compassion and unfailing love. He never wearies of us or abandons us in our failures. He continually loves us.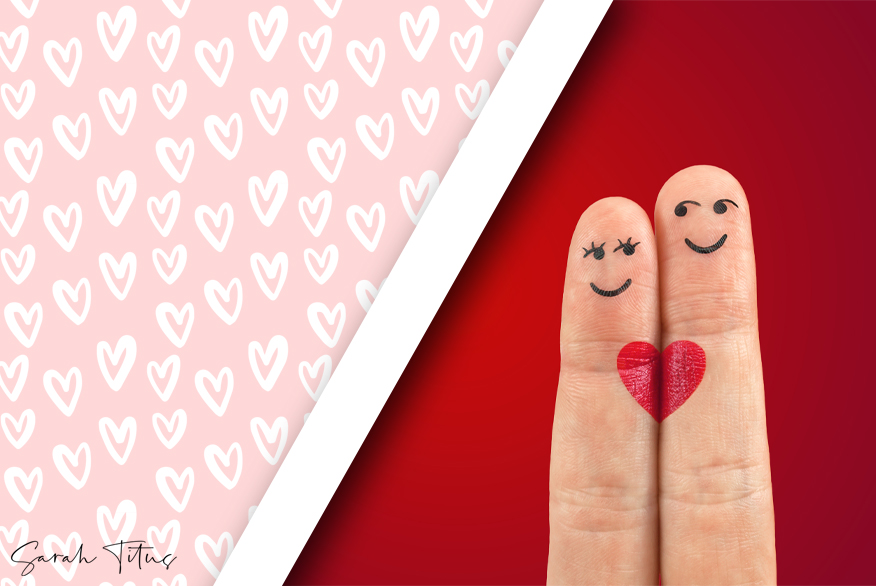 Our Love Story
The first thing I want to say is that I would have LOVED, utterly LOVED to tell you everything that has happened in the past 6 years before now, but God would not allow me, and now, He is ASKING me to share all this publicly. It's definitely not easy, but I need to stand for what God is asking me to do, for His name and in His name.
As I sat in front of my Pastor and Elder, and I told them the situation years ago, they would not hear me.
Their hearts were turned against me and would not even listen. Their minds were made up far before I ever met with them that fateful day.
"I was a fool."
"I was making the whole story up."
"It was all in my head", they said.
"I was delusional", they said, "living in a fantasy world".
They mocked me greatly.
They fervently tried to get me to denounce the truth, but I would not.
I stood true to the truth, to the Bible, to what God was asking me to do, even though extremely difficult at the time. I did not waver and I do not waver today. I stood firm in the Lord, but they refused to believe the truth. Blinded by their own sin, not willing to TRULY listen and give what I was saying a chance. That it was possible, I was RIGHT. No. Sadly, they would not hear.
I met with them several times, some of which they tried to forcefully get me to change my story. But my dear friends, how can one change the TRUTH?
I felt God convicting me to do as HE did when HE was falsely accused, as I was being falsely accused, to not respond.
So in the end of things, after I saw they were not going to believe me, after I had done everything they asked me too, I stopped meeting, stopped talking, and told them I would like to revoke my membership to the church.
To me, it was like shaking the dust off my feet and peacefully leaving. "Okay, they will not believe me, they have tarnished my character, accused me of terrible things, not a problem, my character ultimately belongs to the Lord, HE knows I'm telling the truth, I'll leave," I thought.
But as they would have it, they refused to let me leave the church (you can read more of that story here and if you're following along with this story line, here's another one you'll want to read too, God Uses the Weak). 🙂
They said if I turned in a letter to remove my membership to the church, they would not accept it. They said that their rules were that no one can leave the church while in church discipline.
But I was not IN church discipline. I had done NOTHING WRONG!!! I had spoken the truth. I was not lying. Still, they refused me, and eventually, they unjustly and unbiblically ex-communicated me and they did so, with evil in their hearts and with vengeance on their minds.
I watched as they played both sides between my God-ordained-future-spouse's parents and me. I watched the manipulation and when I tried to tell them of THIS as well, they cut me off in speech and said I couldn't. "I needed 2-3 witnesses before they would hear my concerns of how they were sinning," they mentioned.
I only need ONE witness.
GOD….AL-MIGHTY!!!!!!!!!!!!!!!!!!!!!!!!!!!!!!!!!!
And He, as my loving Father HAS heard my cry all those years ago, as He hears ALL OUR petitions to Him, my begging Him to vindicate me. To set the record straight. To not let injustice prevail.
Eventually, Jim and Scott (my previous Pastor and Elder – the same one that told me not to blog) did NOT follow Matthew 18 guidelines and ex-communicated me. Having sinned so publicly by doing these things, their GREAT sins invoked God's greatest attention, for He loves justice.
While He has been mainly dormant in the situation for so long (and I'll get to why in just a moment), God's love for us never grows weary and He is here now, ready to vindicate me. The time is NOW!
I have to admit, I am SOOOO beyond thankful! I've been WAITING, patiently, quietly, six YEARS for everyone to know the truth and we are here. The beginning of the world seeing the truth. My character WILL be upheld! I will be vindicated. I will be free!
But I (and the man I love) are not altogether completely innocent either.
For several years, me and the man who loves me, Kyle, have been severely punished because of OUR sin. We did not obey God as we should have when we had the chance.
See, God convicted us to be together, and me in my fear, I tried to sabotage things (oh, I am sooooo terrible at self-sabotage, even still to this day. It's just something I really struggle with). 🙁 I picked a fight with Kyle right before an important meeting because I was scared of being with him.
Could anyone truly love me after my ex-husband of 14 years abandoned me?
Was I even lovable?
Was I not trash, yesterday's leftovers?
How could anyone possibly love me?
All those thoughts and more ran through my mind as I made Kyle angry with me. I didn't realize it till years later, when God confronted me with my sin. And it came to be, Kyle in his sinfulness too, did NOT have courage and faith in God either.
We both failed, oh and failed greatly. It was like in the Bible when the scouts from the Israelites see the promised land and the people and are afraid. They lack faith so they don't go in the promised land. Then God punishes them and makes them wander the desert for 40 years!
Can you imagine?
Just imagine for one moment, you lack faith in God. You're scared, and you're punished for 40 YEARS!
Kyle and I have been punished, in the same way, for 5 years (the last year of this trial, I have not been under God's punishment, but Kyle still is). Why? Because Kyle STILL won't tell the truth. 🙁 He just cannot bring himself to do it and you have to understand. This is an honorable man! This is someone, I've known for YEARS and never ONCE caught in a lie. And yet, he's lying to the world, his parents, his church, because he can't bring himself to admit what he's done. It's such a tough situation, but sin is sin and there's no excuse.
The years that have gone by in our chastisement by our perfect heavenly Father have been most difficult I have ever endured. The punishment was severe. It was harder to endure than anything I ever dealt with before.
Homelessness
Abandonment
My mom trying to murder me
Divorce
Years of abuse (spiritual, emotional, physical)
All that seemed like CAKE compared to the last 6 years.
I do not write this letter to you of pure joy, but also of pain in telling you God is a loving and FAIR God. When we sin, as a child of His, He chastises us.
And so I bring to you the story NOW, the entire full story that will make you stand up and praise the God you worship and also, know more of the righteous, holy fear of the Lord, for He is just in BOTH!
For if it had not of been for God, Kyle and I would not be ABLE to BE best friends all these years, talking daily, and still in love after all this time, waiting for each other. <3
It's an interesting story. How God brought to me this man. Watching it all unfold has been the most incredible ride of my life!
I met, Kyle, the most amazing man on the entire planet, at his baptism.
He was standing in front of me, and my son at the time, just a little tike, had given his life to the Lord and wanted to be baptized because that's what you do when you're saved (not sure if my son was genuine in his confession back then or not, his life doesn't pattern a godly boy, but I'm just relaying events). But my son was too afraid of the water. It was too deep there in the lake in which they performed baptisms that beautiful and bright, cheery day.
Kyle was standing in front of me and wow, he was so handsome. The most handsome guy I ever saw. I do not speak solely of physical appearance, though he is quite the looker 😊 but it was his whole presence. One of my spiritual gifts is the ability to distinguish between spirits, and I have to tell you that his soul was beautiful and glowing.
Out of all the people there at the lake, his spirit was of the HIGHEST rapport. That's what caught my attention. Although he wasn't physically, it was LIKE he was glowing. Just massive, massive godliness and goodness and purity exuded from him.
I thought to myself, "Who IS this man?!?!?!"
I was just completely enamored by him, I admit freely. Wanting to remember him, I angled my camera to take a picture of my son who was near him, and took a picture of Kyle. At the time, someone I never met before (he's the one in black on the left).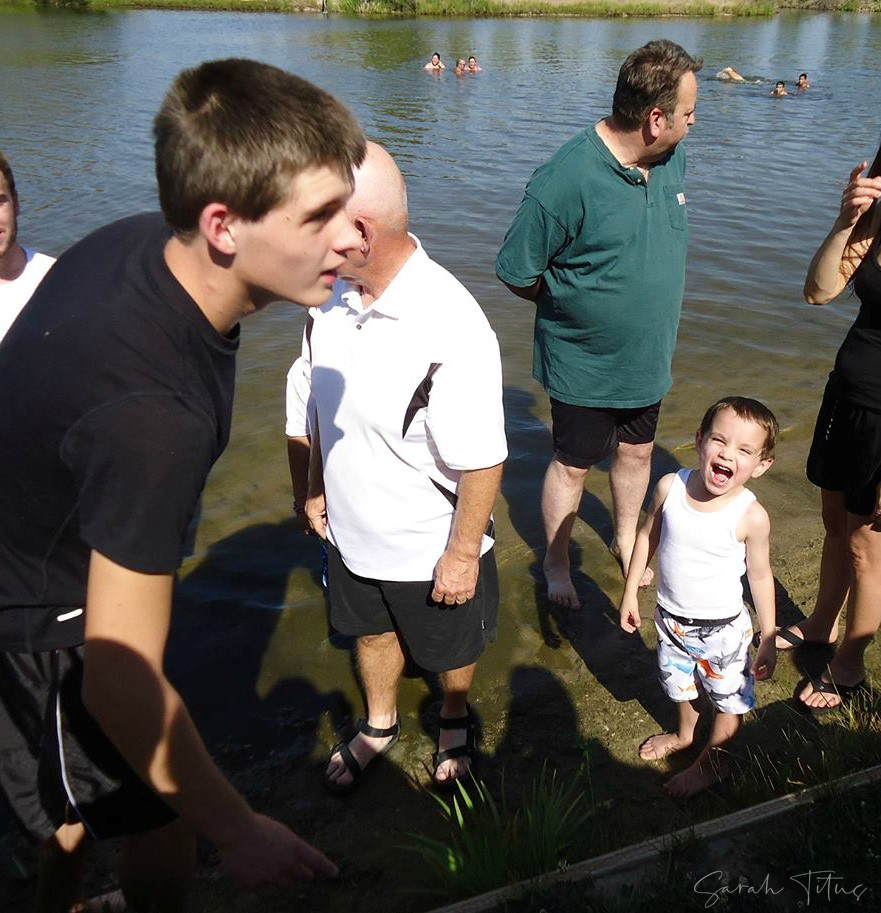 Now, in case you are wondering, I've NEVER snapped a photo of a random stranger like that before, but I did it and I'd come to find out why later! 😊
This young man was not at all interested in me though, sadly. Although I tried to get him to notice me, he never once even looked at me (not that I saw). It was sad. I mean, I can get the guys attention. Believe me. If I want to, it's pretty easy. A girl can flip her hair or something. You know, the girl things that we do when we want a guy to notice us. And although I do not try to get guys' attention as a normal thing, I do admit, I tried to get his that day.
I saw him get baptized. I discerned his spirit to be holy and good and it was such a beautiful thing to witness. I remember thinking about his black shirt he was wearing. How he is very handsome and could have easily worn a white shirt, that when wet, would show his chest. After all, this was the lake and would have been appropriate. But he didn't!
He wore a black shirt, that when wet, would not reveal his chest and I remember thinking to myself, "What a godly man he is that his intentions are to glorify and focus on the LORD, not on HIS physical appearance or himself."
Can you imagine, being married to a man like that? A guy that wants to glorify the Lord over himself, even when he has full opportunity to shine light on himself? What a true treasure that is!!
After the baptism was over. We were walking back to the picnic, as it was the annual picnic and baptism, and I lost him. I didn't know where he went. He was behind me one minute, a friend of mine came up to me and talked to me and he disappeared the next. I was sad and I prayed a prayer that would catapult my life forever in a direction I had not known I would go.
I said, "Lord, please give me a husband one day as hot as him."
It was the first time I ever even WANTED to be married again, since being divorced. After I was divorced, I swore off men forever and I meant it. Until that day. I knew it was strange behavior. All of it. Things so out of character for me, and I didn't understand why at the time (of course, now it all makes sense). 🙂
Now let me do my due diligence to explain to you WHY I prayed remarking his physical appearance. Because I assure you, my heart isn't just interested in someone who is deemed good looking.
After everything I've already mentioned, and how impressed I was with his spirit, he IS hot. I'm not going to lie or pretend he's not the most handsome guy I've ever laid eyes on! Truly.
But that, in my former marriage with my ex-husband, who was not good looking and yet we married, proving that it's not all about looks. But it should be about looks a little bit. You should be physically attracted to your partner. Because when you are not, it causes problems.
So THIS time, if there ever were to BE a next time, I want to be physically attracted to my future husband. I think that is well and proper within context of marriage.
After that day, nothing ever happened. I didn't EXPECT anything to happen. It was just some handsome, glowing random guy I saw at the picnic. Really. That's all it was.
My business online, my blog, had been doing very well and I was FINALLY moving to my dream house. Oh how I had prayed and prayed and prayed and prayed for that house for SO very long. How hard I had worked for it. I prayed for very specific things. Things that were not even possible to be in a house. Things I thought I'd never get, and yet, it would be the first thing, God would give me that seemed impossible.
See I also had this checklist for a man. If I'm going to be married again, I'm going to avoid every single mistake I ever made before. THIS TIME….will be different! So I made my checklist a mile long. Haha.
There were just all these requirements, physically and spiritually. I wouldn't give my attention to someone who doesn't have ALL those requirements.
Thinking I'd never find someone with those traits and saying to myself, "I'll be single if I can't have all those traits. I'd rather be happy alone, than miserable with someone else!"
God started convicting me I'd meet the guy I would marry during the move, so of course, I was even more excited, but I didn't know if it was a true conviction or not.
The first day, some guys came to help me move and I just KNEW it was none of them. I was confused. "LORD, you said I'd meet him. Where is he?"
It happened that they couldn't finish helping me move because it was getting late and so, the church called other people to help me finish up moving the rest of the stuff that next day.
I remember thinking to myself that night, wondering who would show up. Who would it be. Was this REALLY a true conviction.
Well…guess who showed up?! haha.
That's when Kyle and his family came to help me move into my dream house. It was on that day, that I fell for him. Not in love mind you, but man did I like him! Except….I didn't know it was him!!!!!!!!!!!! I had NO CLUE it was the man from the baptism!
When I first saw him that moving day, he was of course handsome. Brown hair, ocean blue eyes you can bathe in, silky skin. Cute little moles on his face. Eyebrows I'm jealous of. TALLLLLLLL. Oh my goodness, I fall for the tall guys! Every time! He's 6'4 or 6'5. Something like that. Just super duper tall.
So seeing this guy of course, my immediate response, he's cute so he's a player. I don't like him. And I didn't. I actually was more interested in his twin brother more at first. He seemed more like he wouldn't be a player.
Welp. After all of about 5 mins, I knew that was not an accurate reading of the brothers. Kyle's brother was making fun of him and I didn't like that. And so my heart immediately went to Kyle, like… "Awwww, you're teased too? Me too! Been teased all my life." So I felt more connected to him, you know.
I saw how Kyle treated his sister. She was trying to unscrew a bathroom cabinet and struggling. It was a hard one I couldn't get out either. It was jammed in there super good. But Kyle just stood there, patient and loving to her (it's no surprise he's a teacher). 🙂 Just soooooo patient, something I completely lack!
He didn't try to overbearingly take over and I was really impressed by that. He just was waiting. He asked her if she'd like help and eventually, she accepted and he tried. He worked at that screw to get it out and finally did. It was just in there so tight.
Everything he did, everything he was, impressed me. We would look at each other across the garage and just stare at one another, not saying a word. Just, enthralled with each other. Couldn't look away type of thing. Our souls liked each other! There was just something completely mesmerizing about each other, that we couldn't explain. We were drawn to each other, but didn't know WHY.
I remember standing in the garage and he was walking toward me and he looked at me. My soul JUMPED inside me. I never, ever had that happen before but something about him, I didn't know what, but something, my soul liked his soul for SURE!
At one point, he was "running" with his brother to come and talk to me. His brother again teasing him. Kyle put his arm on the wall above me to show he was interested in me and to get my attention. I don't know if you've ever seen the movie, While You Were Sleeping, but it was JUST like that! He was "leaning".
He got so close to me, I stepped back and even when I stepped back he was still too close for my personal space. I could tell he liked me. And I liked him too. 🙂 My knees began to buckle and I swore I was gonna fall flat on my face and embarrass myself.
He looked in my eyes at that time and I could read his soul (spiritual discernment). It said, "I'm not gonna hurt you."
I think that he knew my situation and was being polite. He didn't want to hurt me and he was innocent. He never once crossed any lines at all and there is nothing there that he could ever be in trouble for (neither could I). While it was very CLEAR flirting, it wasn't in any way crossing the lines or being bad in any way, shape, or form. We both were innocent. And to this day, even 6 years later, we have remained in our innocence.
Outside of some very innocent flirting (he tried to touch my hand when picking up some crates, things like that), nothing happened. No words were said, but I knew. His soul was talking to my soul and I suspect mine was talking to him too!
After that day, I looked him up on Facebook. I knew his name was Kyle and so I searched for him. And then I saw it….the thing that would cause us more trouble and pain than you could ever imagine.
His birthday.
Seems innocent enough, right. It's just a day. A month. A year.
Oh, but the trouble that one number has caused us. November 22, 1997.
Six years ago, if you're doing the math, that made him 17 years old. I was in shock. Wait. He was only 17! OH NO! No no no no no. I thought for SURE he was in his 20's. Of course, after finding out his age, I left everything completely alone, as any honorable person would do.
But I was now more confused than EVER! "GOD"…I cried. "YOU SAID!!! My future husband!!! What is going ON!!!! I can't be with someone so much younger than me" I was completely and utterly baffled.
I knew I could not even be his FRIEND, much less anything else, as he was younger than I am (by a good amount). No way, no how. I would not even want anyone to think we were up to no good or tarnish his character or mine. Not even with a friendship. I couldn't take the chance. So, I didn't friend him that day. I actually just forgot about it and left it alone. I mean, he's not in my age group. I can't be with him. That's the end of it.
Leaving it completely alone and walking away. Feeling like it was a wrong conviction…
Or was it?!?!
But then it would happen. It was going to be Christmas Eve and the church was having a candlelight service. It was a week before the service and I started feeling like God was pressing me to go. I had all kinds of excuses. "WHY do you want me to go, Lord?! It's Christmas. I'm alone. I'm lame. It's at night. It's snowing. I'm going to die on my way there." haha.
I had all these excuses, right, but I knew, God wouldn't let up. The pressure got stronger and stronger. It was super intense.
Christ was more forceful with the conviction (not letting me run away from it), more blunt, more clear. He wanted me to go. I had no idea why. I thought to myself, "Was it about Kyle? (he was now over 18). Would I see him at church?" See, I had not seen him even once since he helped me move back in May till that Christmas! And if I DID see Kyle, would he even remember me?? Most likely not. If he WAS there, and saw me, he wouldn't remember and it would hurt my feelings. "LORD, I don't want to go!!!!"
But, as an obedient Christian, I DID go. As hard as that was (in person, I'm a total wallflower, super shy, you have to understand)!!
Got to the service and found a seat. I sat behind Kyle, and yep, I saw him. Well, the back of his head anyway. 😊 He didn't see me. Then, I went to the bathroom. And when I came back, it was dark, so I couldn't see him or his direction, but the light was toward me, so he could have seen me. I didn't know if he did or not, and I sat down. We finished the service and the second it was over, Kyle bounces up like Tigger from Winnie the Pooh. Just completely bounces up so fast and excited.
Did he see me? Did he remember? Was he bouncing up excited to see ME? My heart was happy. At that time, he was 18 (now 24 years old). 😊
He went to stand over in the back, near me but not making anything obvious. I knew what he was doing. He was watching me. He tried for me not to know, but a girl just knows these things. Plus, did I mention my spiritual gift is discernment. haha. I was talking to another member of the church at the time and I saw Kyle kept watching me from behind her, peeking over at me by the back counter.
His family started coming over to him (his siblings) and he was like, "Uhm, get out of the way here" (in his spirit), because they were blocking his view of me, but he was cool as a cucumber on the outside and didn't give anything away.
Then the Pastor and I spoke for a brief minute and Kyle REALLY was interested in that, though I'm not really sure why, even still to this day. I think he was impressed, that the Pastor knew me. It meant I was someone who was regular in the church and of course a godly man would want a godly woman. That's just speculation at this point as to why though. See, me and Kyle, yes 6 years later, cannot talk. But I'll get into that in a bit. 😊
After that day, I knew…
1st, he remembered me
2nd, he was interested in me. At least interested to watch me. Haha.
And I saw how he was NOT a player that night, as I wrongly judged him to be the day I met him (remember that?) There were many girls in dresses as it was a Christmas Eve thing and he was not looking at any of them. He didn't know I was there at that point in the evening (he hadn't seen me yet), so it was a great chance for me to see his character without him knowing. He was not a hound! It was so amazing to see a guy not looking around at all the girls!!! <3 He was honorable and that really impressed me. I really, REALLY liked him!
So, after that I was looking at his Facebook profile again. Just trying to find out who he was and learn more about him as a person. At this point, I knew God was up to something with him and I scrolled down pretty far this time on his feed, and then I saw something that caught my attention.
It was pictures of the baptism. Why did he have THOSE on his feed???? Maybe he was there and involved or something. But then I saw a picture of him being baptized.
That's when EVERYTHING HIT THE FLOOR!!!!!!!!!!!!!!!!!!!!!!!!!!
Wait. WHAT?!?!?!?!
The man in the black shirt. Tears. The man who was being baptized. The man who I couldn't get his attention. The man that I took a photo of with my son near him. That man I prayed about to give me someone as hot as him, THAT………WAS KYLE!!!!!!!!!!
Same man!
I was in total shock. Again…haha. And Kyle and I joke now that God couldn't find another man as hot as him who's single, so He gave me HIM. Haha. I mean, God answers every prayer, right?! 🙂
I tell you what….take careful note of the prayers you pray! God's listening!!!!!!!! He will answer!
Anyway, I grabbed MY picture and sure enough, it was him! How cool is that?! <3
We met, didn't know it. Then met again, a long time later. And the ONLY WAY I'd EVER know it, was because something inside me prompted me to take that picture (I think it was God!) How GOOD is God!!! To show us He's loving us so long in advance. To know He's setting up a marriage, so far in advance! He surely reigns supreme on high!!!
Just in case you think God is not working on YOUR story long in advance, HE is!!! He absolutely is. I promise you, He is.
So, Kyle and I started talking online. Just friends. Nothing more. Online, it was more "business-like". Then in person, it was a lot more flirty. Again, innocent flirting but he was DEFINITELY flirting. He was always so happy to see me. Excited. And I knew he liked me for sure. We spent a week together at VBS that next summer. Although we didn't talk much, there was a lot of "secret cues".
He put the journal I gave him in his back pocket to show me he was thinking about me. He knew I liked his singing and my favorite song, so he'd walk by the table I was at and start singing my favorite song. He'd stare at me when we were in the group singing. This is him starring at me, totally lost in thought. Look at those eyes, just completely gone…in love.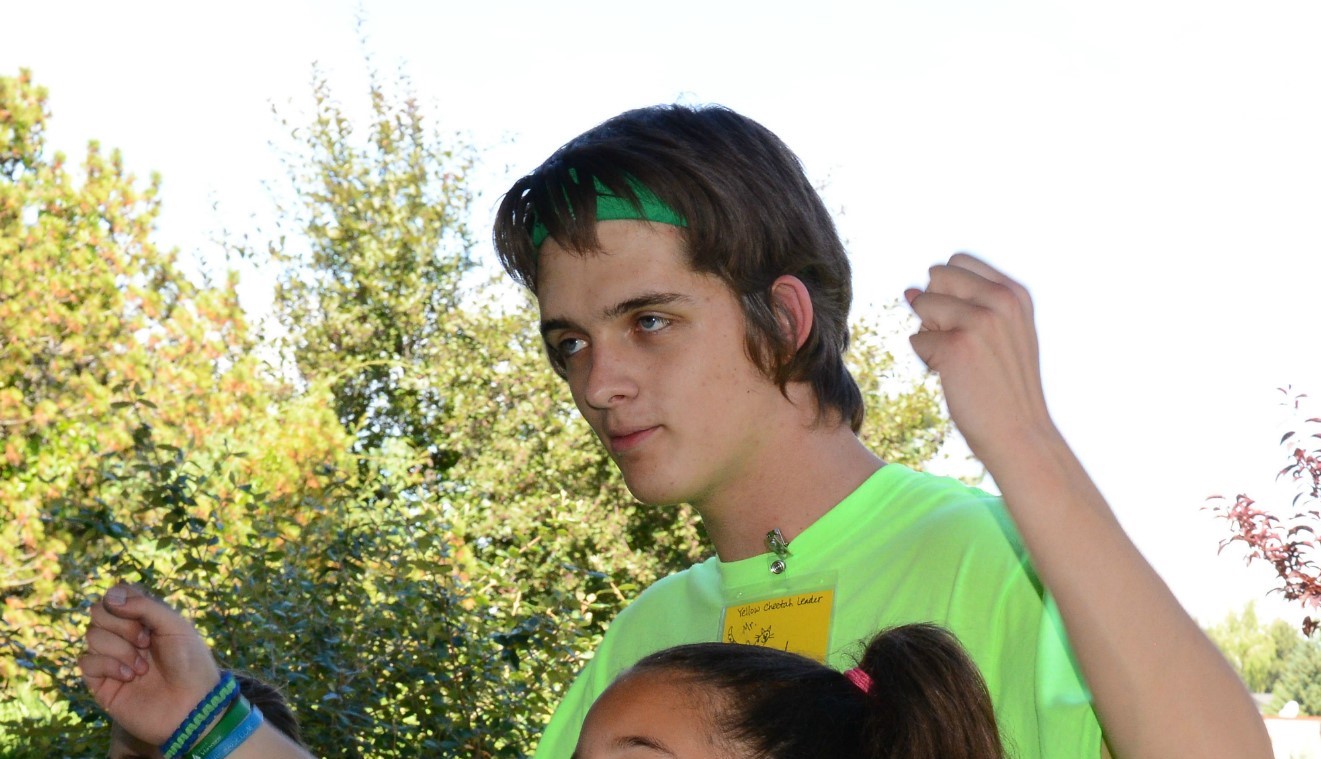 The last day at VBS, there was a big slip and slide type thing on the hill and he kept purposely running very near me, trying to get my attention. He was always trying to impress me. Doing acrobats and stuff to "show off".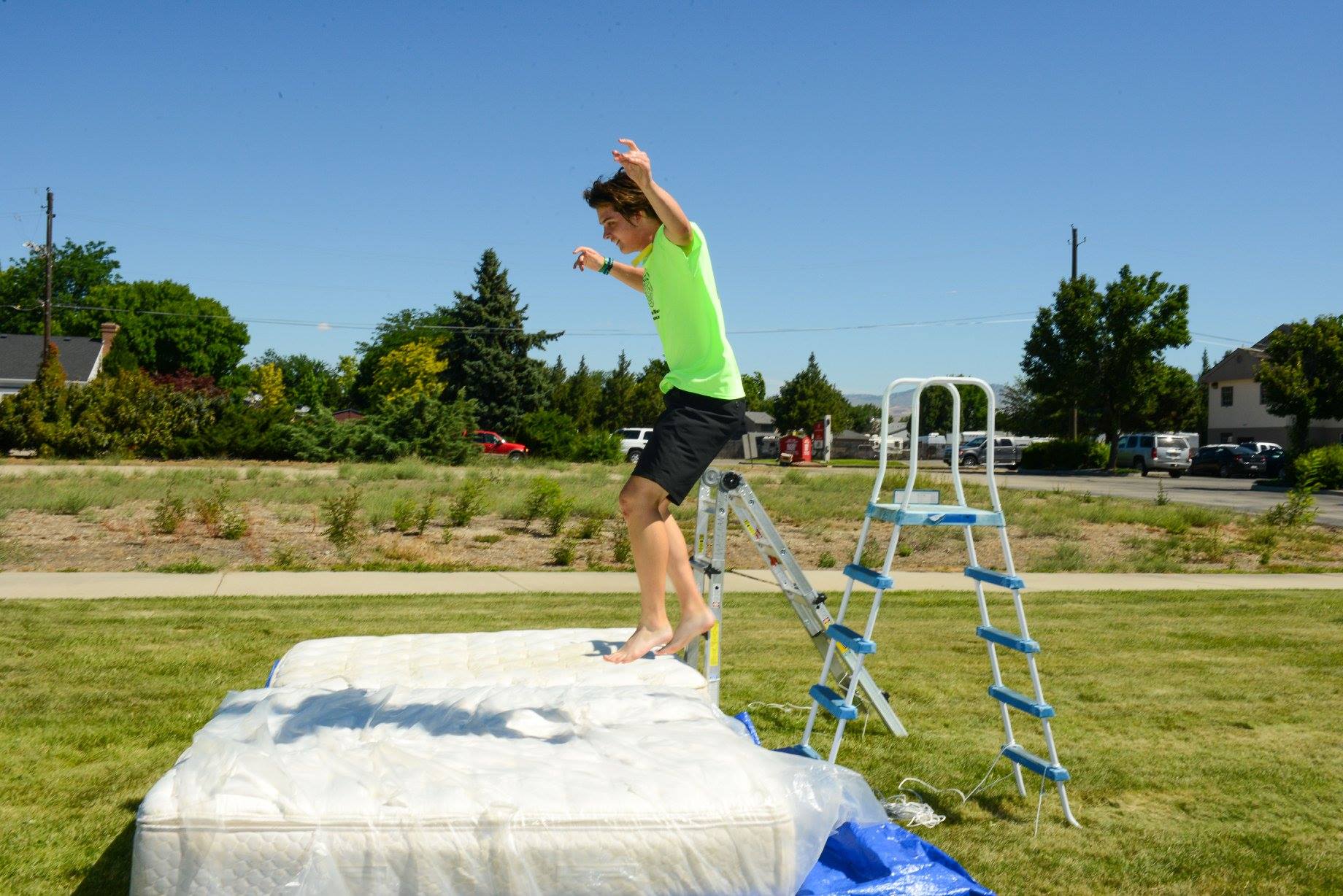 I mean, how can a girl resist all that?! 🙂
We were basically keeping how we felt about each other private. His parents did NOT approve of me. I am much older and we both knew it. They made it VERY clear that they would not allow us to be together from the get-go.
The WORLD wouldn't approve of us. Seems like it's okay for a man to be older than a woman in our society, but it's somehow bad for a woman to be older? Really???
But none of that matters, because as Job 42:2 states, ""I know that You can do all things, And that no purpose of Yours can be thwarted." And this is DEFINITELY God.
It came about, due to my pressing, that he liked me. I wanted to stop flirting around and being secret all the time. At that point we both knew God had picked the other for us. But I was also scared and I made him mad purposely the night before we were to meet with the Pastor and Elder of the church and it ended up being that Kyle said he didn't like me! He LIED!!!
I was in shock. Wait. What?
He denied everything. Said it was all in my head. He didn't like me. But the excuses he gave, the things he was saying, I KNEW they were lies. Some of the things he said I KNEW weren't true.
And just like that, my whole world was devastated.
The man I saw baptized.
The man I saw his spirit shine so brightly.
The man who is so pure, so honorable, so polite, so biblical, would fall SO hard.
And that's when I realized he was HUMAN.
He failed miserably. He lied. And to a Pastor and Elder no less. Truly, it was a really hard day for me. I was mad. I was in shock. I was hurt.
Even though I had made Kyle mad the night before online, I was still in shock that he lied.
In case you are wondering, how we could talk while everything is secret, we spoke to each other in secret ways as we still do to this day, 6 years later. Kyle is my BEST FRIEND and we've gotten to know each other extremely well, through the good and through the bad. It's kinda like "smoke signals".
He originally initiated contact and then I gave him my passwords/access/permission, etc. He sends secret messages on his social media and through text (he has an app that masks your phone number). He is on all my electronic devices (computers, phone, TV- anything with WIFI). He sees all that I do online and works with me. He's on my email, on my Facebook, on my YouTube, on everything.
When someone rings my doorbell or comes to my door, he knows about it. Because he's on my phone, seeing the alerts. There's nothing that I can hide from him; he's my best friend.
We spend all our free time together. We watch movies, TV shows, I talk on my email, or write this blog post 🙂 and he watches the screen. Because he's on my computer, he can see what I'm typing and then he can refresh the screen or make things refresh. There are other ways we communicate in secret too, but that's the main portion of it. 🙂
God is such a big part of our relationship and everything we do. I cannot believe how much God has allowed sometimes and I'm so thankful that he's able to be such a part of my life. God has really held us together like glue through all this.
Kyle sends me songs and they are beautiful. Saying he loves me and wants to marry me. It stinks that we've had to keep this beautiful relationship quiet all because his parents don't agree with us. They have been very clear that Kyle is to have nothing to do with me. They made ALL their children have nothing to do with me. They cut off communication. They would not even hear our side of the story.
His parents severely oppress him, to an incredibly sinful degree. They've gone up against God. They've taken something that isn't a command of the Bible (don't marry outside of your own age group) and made it a command. It's not a command and Jesus was extremely clear in the Bible what He thinks of adding to His Word and the people who do it (think: Pharasees). God is NOT happy! This is against His will. THEY are against His will. They have kept us apart all these years by force and by oppression.
If Kyle tells the truth, he faces being homeless. They will most likely kick him out and completely ostracize and disown him. Kyle is a loving son. He loves his parents dearly (more than I've ever seen ANY son or daughter love their parents) and he doesn't want to hurt them. But it's a fine line between obeying your parents (a biblical command for sure) and obeying the living God. It's such a tough situation for him to be in, I know, and he's sacrificed and suffered for so long because of their sin.
But it was our own sin too. We did not, together, tell the truth (me because I sabotaged it- even though I told the truth, I picked the fight with him the night before, and him because he shrunk back and outright lied).
We've been keeping everything secret, punished by God because of our sin, and because of his parents oppression to him for years now. It's been REALLY tough!!
Here's the point of this. If Kyle and I, like the Israelites, wouldn't have been scared of the people in the land (to him: his parents, to me: letting someone love me), we would not have suffered for years and years.
Six years we could have prevented had we of obeyed the Lord. Had faith in Him and His promises. It cost us six whole years because of our sin. God takes sin VERY seriously. If there is ever a chance for you to sin, I encourage you NOT to do it. It's just not worth it! It's better to jump feet first and trust and obey God, then to live in your chastisement for years. Do not do like we did.
Do not delay the wonderful gifts God wants to give you because you're scared to receive them!!!
We didn't trust the Lord and we paid for it dearly. God made me be quiet this entire time, not able to even have a REAL back and forth conversation with my BEST friend. He's punished Kyle severely too.
Do NOT disobey the Lord. Have faith. Trust in Him. I promise you, God knows what's best for you. He loves you. He wants you. He will fight for you. But you have to trust Him. You have to obey even when it's super hard.
I can't WAIT until the Lord comes and brings Kyle with Him. I can't WAIT until this whole mess is behind us and we can be together. I wait patiently for the day we get to to see each other in person, tears, to TALK a real one on one conversation. He's my best friend in the whole world and it's been so difficult NOT being able to have a straight-forward one-on-one conversation. I haven't seen him in 6 years! Talk about a "long distance relationship". Try one without talking back and forth. It's tough! But God is faithful and has kept us together and HE helps us communicate. 🙂
To often when reading the Bible, we gloss over his judgments and focus solely on the blessings. We memorize the GOOD texts. We put up on our walls beautiful printables of God's promises. I stand here to tell you the truth. We need to consider both.
We need to learn from His judgments and punishments on His people, not making the same mistakes they did, AND look at His blessings and promises. Because the truth is that God rewards when we obey and punishes when we don't. Both. Side by side in the same Bible.
But please…consider this. When we DO fall, God is so perfect in His lovingkindness, to pick us back up. Kyle and I shouldn't get another chance. We don't deserve to be together and yet, God, in His grace and mercy for us, has KEPT US together, all these years. There is no greater love than God's for us!