Do you make Easter baskets for your family? Or do you do Easter gifts for people?
I've always liked doing gifts for family members. Finding small gifts to make people smile is a lot of fun. And I've discovered it doesn't have to be anything big. A favorite candy bar. A small toy. Even Play-Dough can be a fun present.
When you're giving gifts, adding cute gift tags gives it a certain 'panache,' I think. But it's hard to find gift tags and gift bag tags for any holiday other than Christmas. And, in my opinion, having a reindeer gift tag on a yellow Easter duckie just doesn't look right!
So I created these cute and unique free printable Easter gift tags.
You can use them on gifts, or for your Easter baskets.
You could use these as place cards around the Easter dinner table.
You could make bookmarks with these tags.
These gift tags have dozens of unique uses. So, what did I do with them??? Keep reading to find out!
Free Printable Easter Gift Tags
This year for Easter, I made gift baskets!
I had went to the store and they wanted $15-$20 and the baskets looked sooooo cheap! I mean, I calculated the price of everything that was in the basket in my head and it wasn't more than $4 worth of materials. Not wanting to overpay and give out CHEAP-looking Easter baskets, I decided to make my own!
Here's what my prices looked like:
Shrink wrap and bow – had on hand
Happy Easter gift tags – free printable
Yellow chicks – had on hand
2 Pom Pom Pens – $2 each
Set of 3 Mini Notebooks – $2
Easter pencils – had on hand
Rainbow puffy sticker – had on hand
Diamond puffy sticker – had on hand
Easter bucket – $2
3 Bracelets – had on hand
My Little Pony Rainbow Dash – $3.99
Easter Lillies – had on hand
3 Lollipops – 39¢ each
Ribbon – had on hand
Blue donut eraser – 40¢
Clipboard Notebook – $2
Stickers – had on hand
Total for everything was $15.56. I think that many people would have lots of little trinkets and treasures you can fill up an Easter basket you make yourself pretty quickly without having to buy as much as I did. But even so, it was still around the same price of the lower cost Easter baskets that were barely worth $4!
It looks really cute! What child WOULDN'T want to get this?!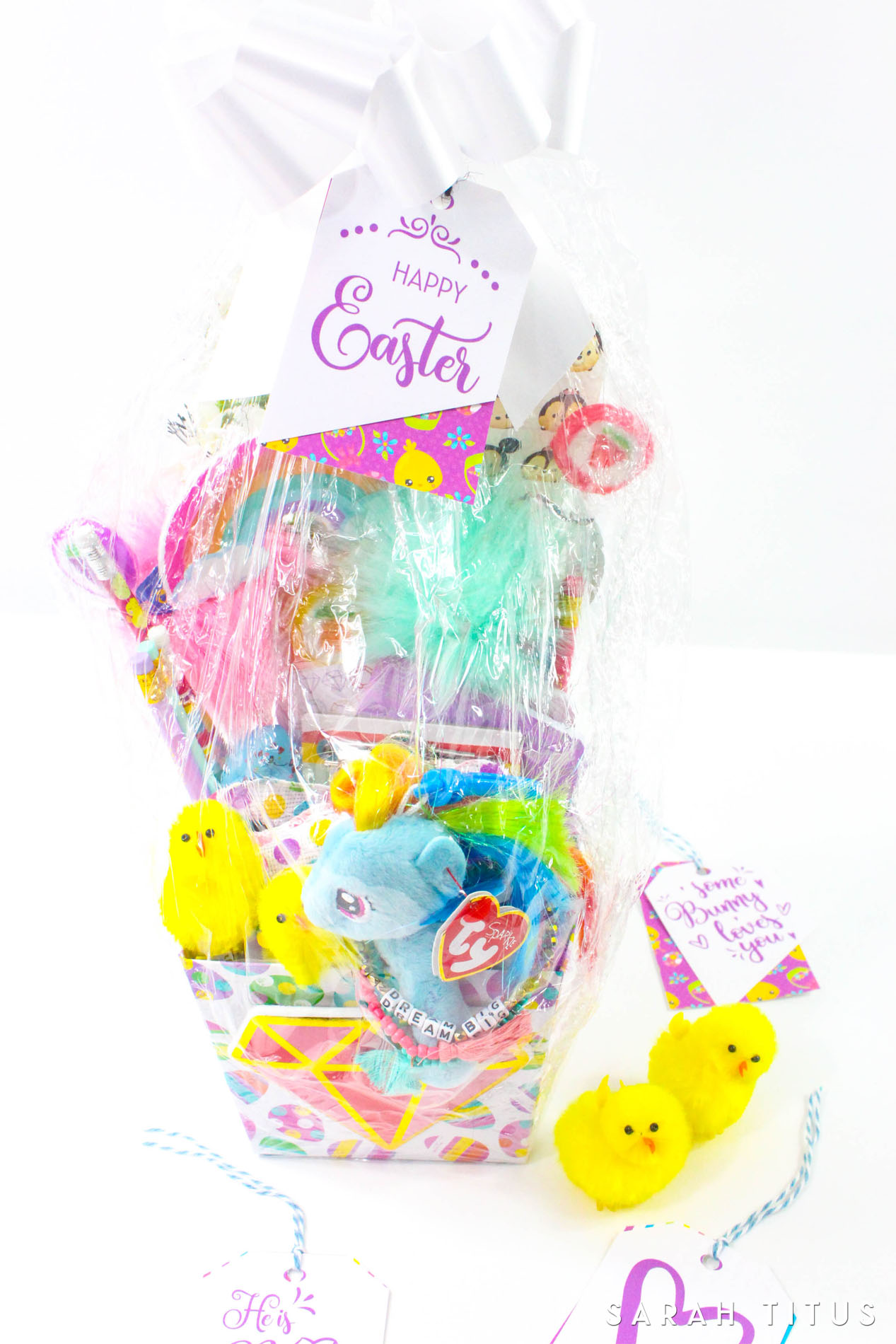 Years ago, I used to make things and sell on Craigslist; back when I was living on $18k/year. One of the things I would make is Easter baskets. At the time, I'd go to the dollar store and buy a bunch of materials that totaled $8 and I resold them on Craigslist for $20.
People bought them up like crazy. I always sold out of inventory faster than I could make them. My goal was always to create 20 baskets, they would always sell very well. I did that for a few years. I really enjoyed using my creativity and the profits were helpful. Each basket I profited $12. So, if I sold 20, that is $240. Back then, I lived in Oregon, so there was no sales tax either.
If you want to create your own Easter basket this Easter, here's how…
First, print out and cut out your free printable Happy Easter gift tags (download the top portion here and the bottom portion here).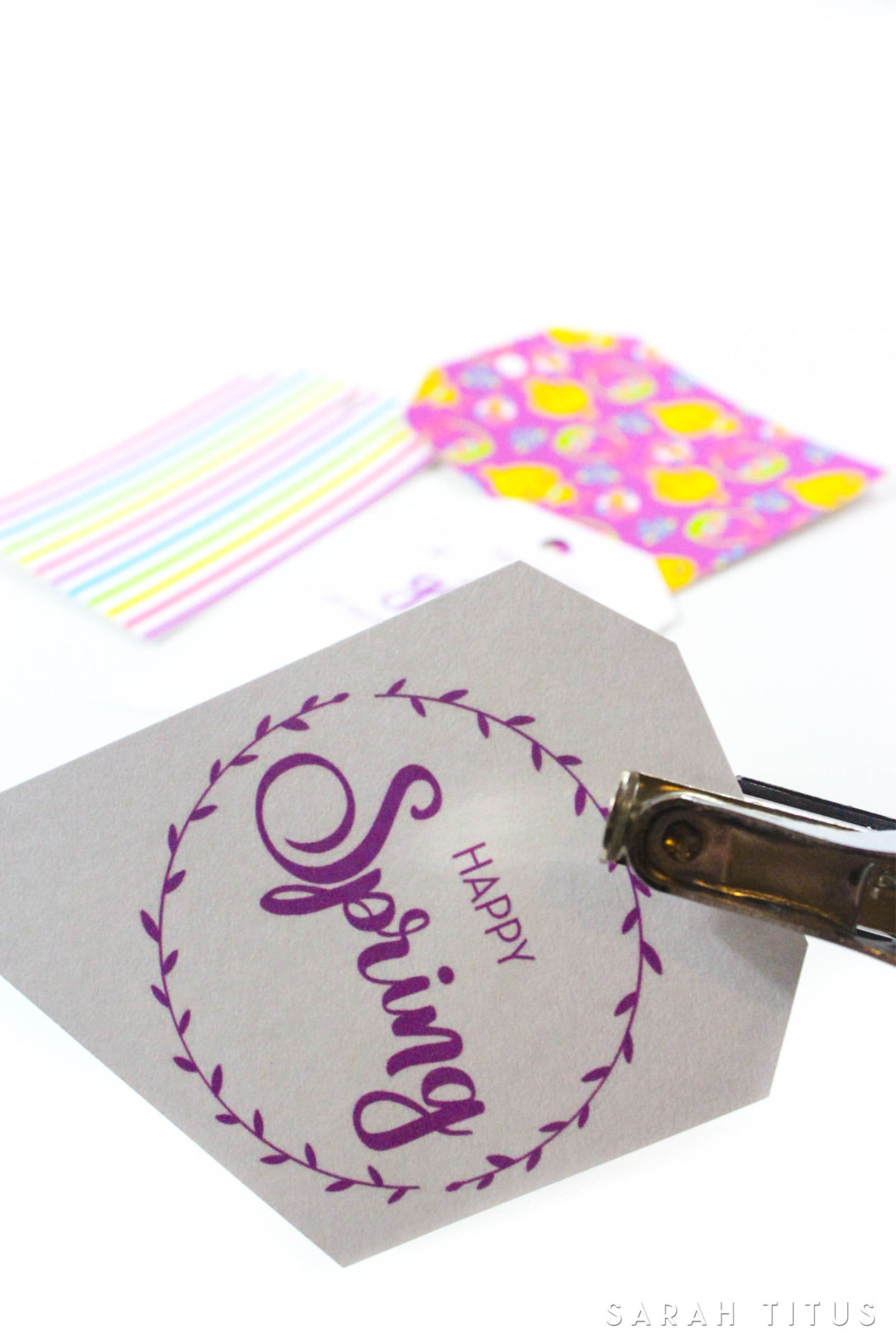 Then, hole punch the tags and put string in them.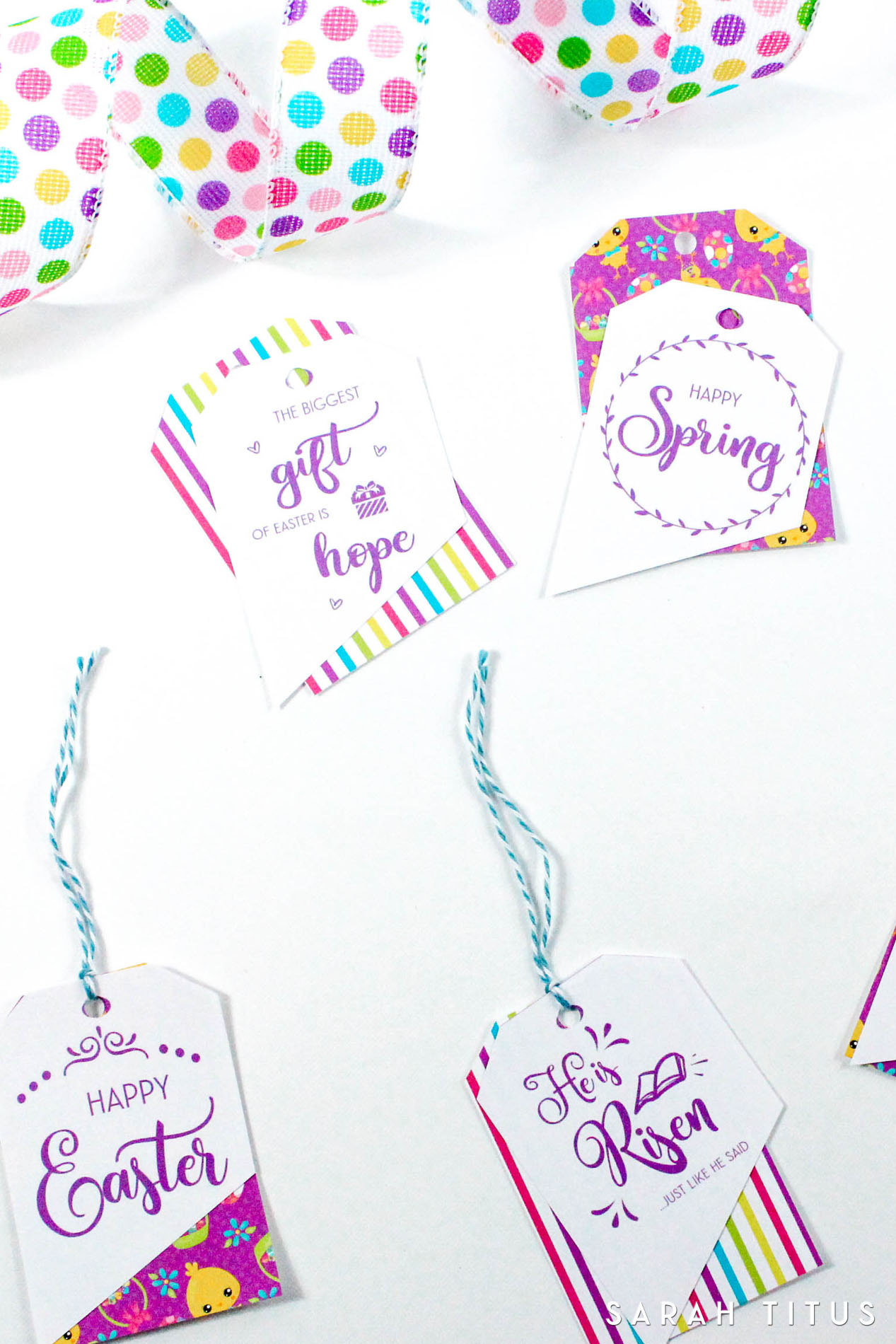 Next, gather all your materials for the Easter basket itself.
I usually start with a small bucket if I have smaller items to insert and a larger bucket if I have larger items to insert. For this one, I went with a smaller bucket.
I started by adding the ribbon in there to mimic Easter grass (because it's what I had on hand).
Then, I put in the two furry pens, and cut the lollipops to the right height.
Next, I taped the rainbow puffy sticker to the tag of one of the lollipops so it would stay put, and added the pencils.
I taped the lollipops to the inside of the bucket so those stay put.
I put in the 3 notebooks and clipboard.
Then, I added the Easter Lillies and the stickers. I taped the stickers to the puffy rainbow sticker.
Added the donut blue eraser, the chicks and Rainbow Dash. I put the bracelets around Rainbow Dash's neck and put the puffy Diamond sticker on the outside of the bucket.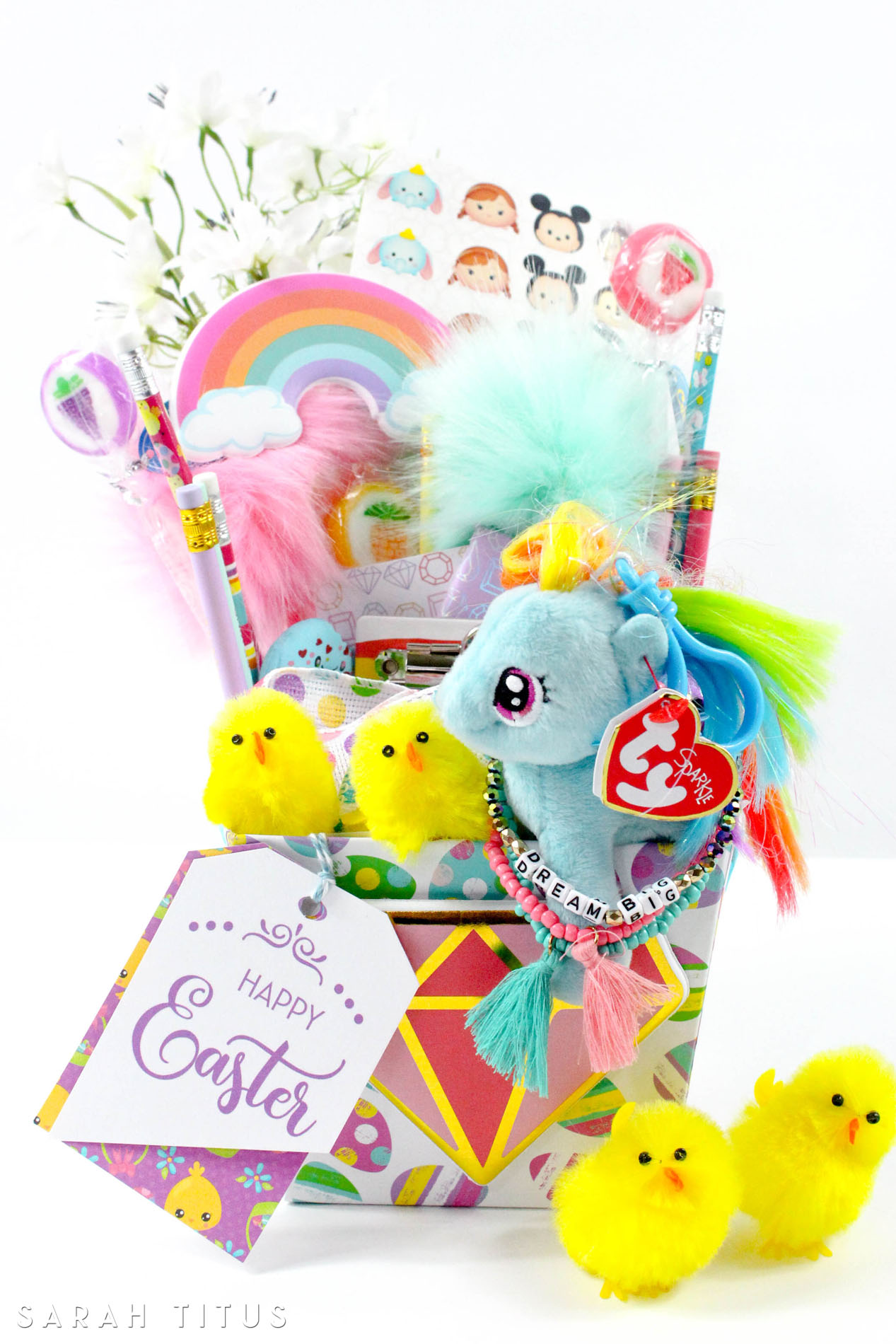 Now that the basket is built, I put the shrink wrap around it and tie the top with a rubber band. The rubber band usually always breaks, so I like to put twine (or you can use string) to make sure it's really secure while you go on to the next step.
After you have the top secured, make sure you get a good amount of air OUT of the bag. Otherwise, you'll end up with a balloon-looking shrink wrap and it'll look bad.
Then start blow drying the shrink wrap with your blow dryer.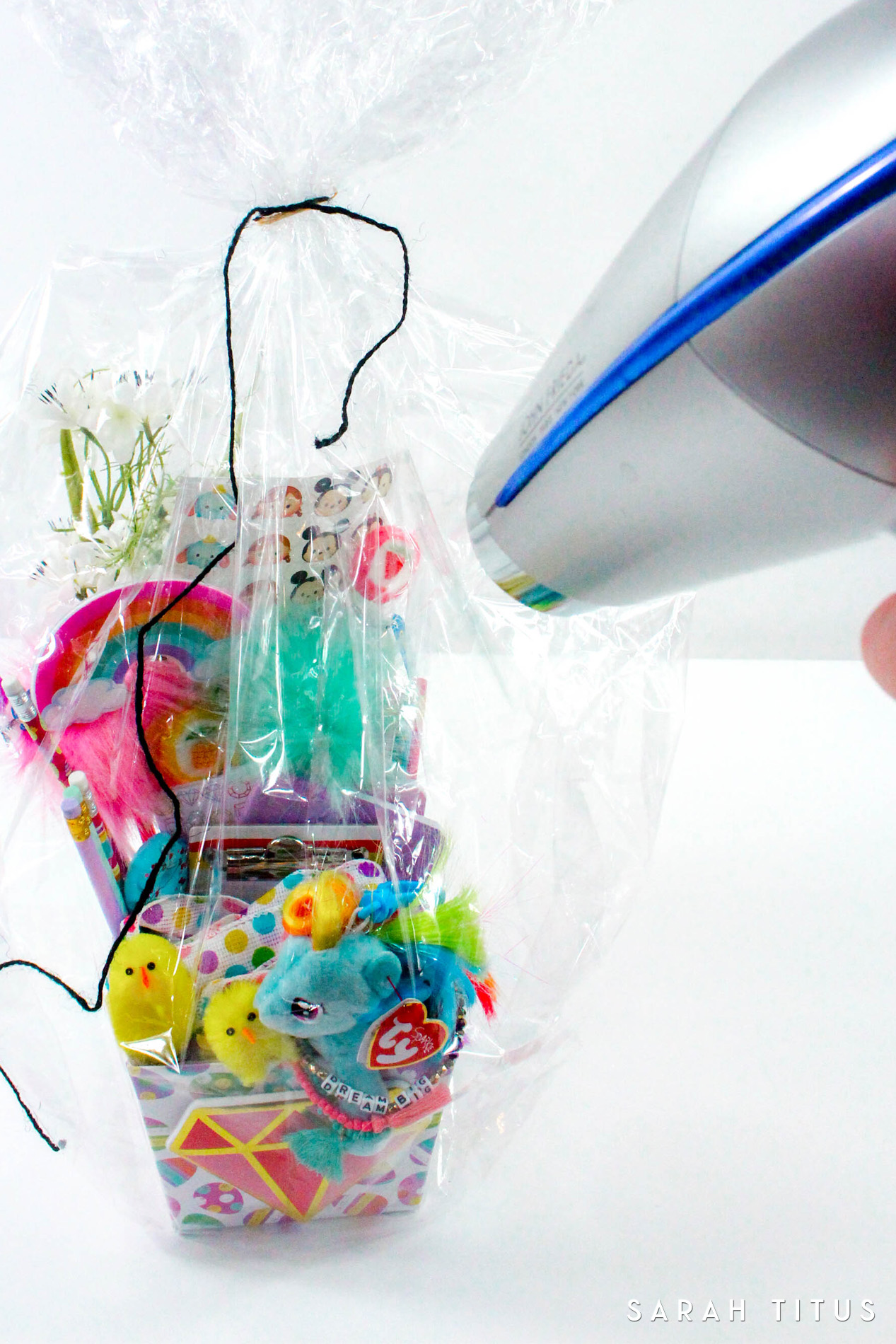 As your blow drying the shrink wrap, you want to start from the bottom. I've found that doing the bottom, where the bucket is FIRST, makes the whole thing come out a lot better and more even, so it looks professional.
It's kind of like a piece of art. You don't want a lopsided basket wrap. So, make sure it's all even all around. I usually pull the top upwards, while I blow dry the bottom of the bucket. THEN, work my way toward blow drying the middle.
Blow dry slow, using up and down motions (NOT horizontal motions).
If there's a big bulge of shrink wrap, I put the hair dryer right on the shrink wrap bulge spot for a couple seconds and it tightens it. Just don't leave it on there for more time than that.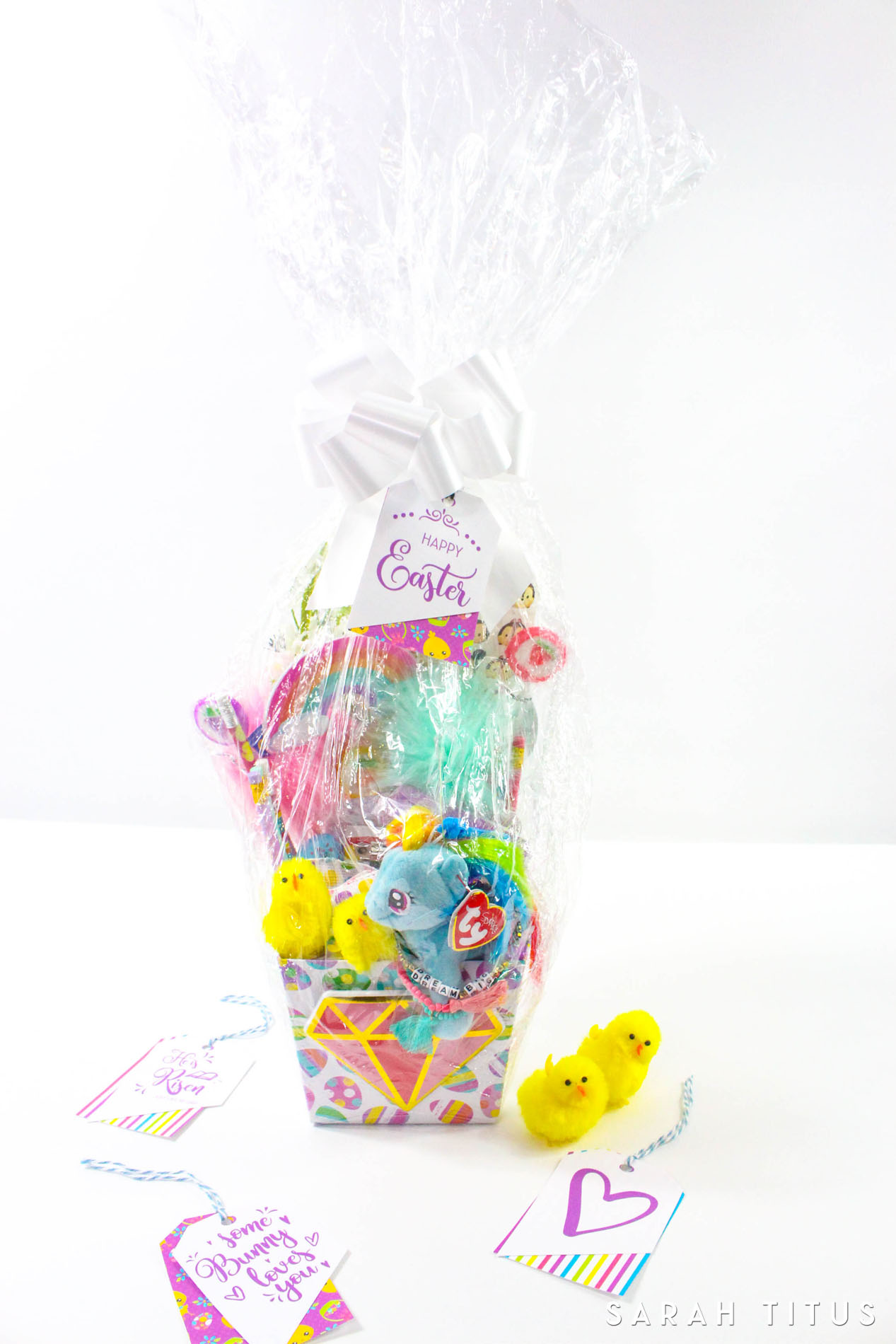 Then, it's just a matter of putting on your bow and gift tags on the top. I removed the twine after I got them all on.
Making Easter baskets of your own is really fun and creative. I think you get a lot more VALUE for the child in whom you're giving it too. Pre-made Easter baskets are way too expensive for my liking! Why not make your own, give better quality, more personalized stuff.
From start to finish, including taking pictures, it only took me about 30 minutes to complete all that. It's not really that time-consuming and the finished product is just SOOO adorable!
Tag phrases include:
Happy Easter
The Biggest Gift of Easter is Hope
He is Risen Just Like He Said (a nice Religious one <3)
Some Bunny Loves You
Love heart image
Happy Spring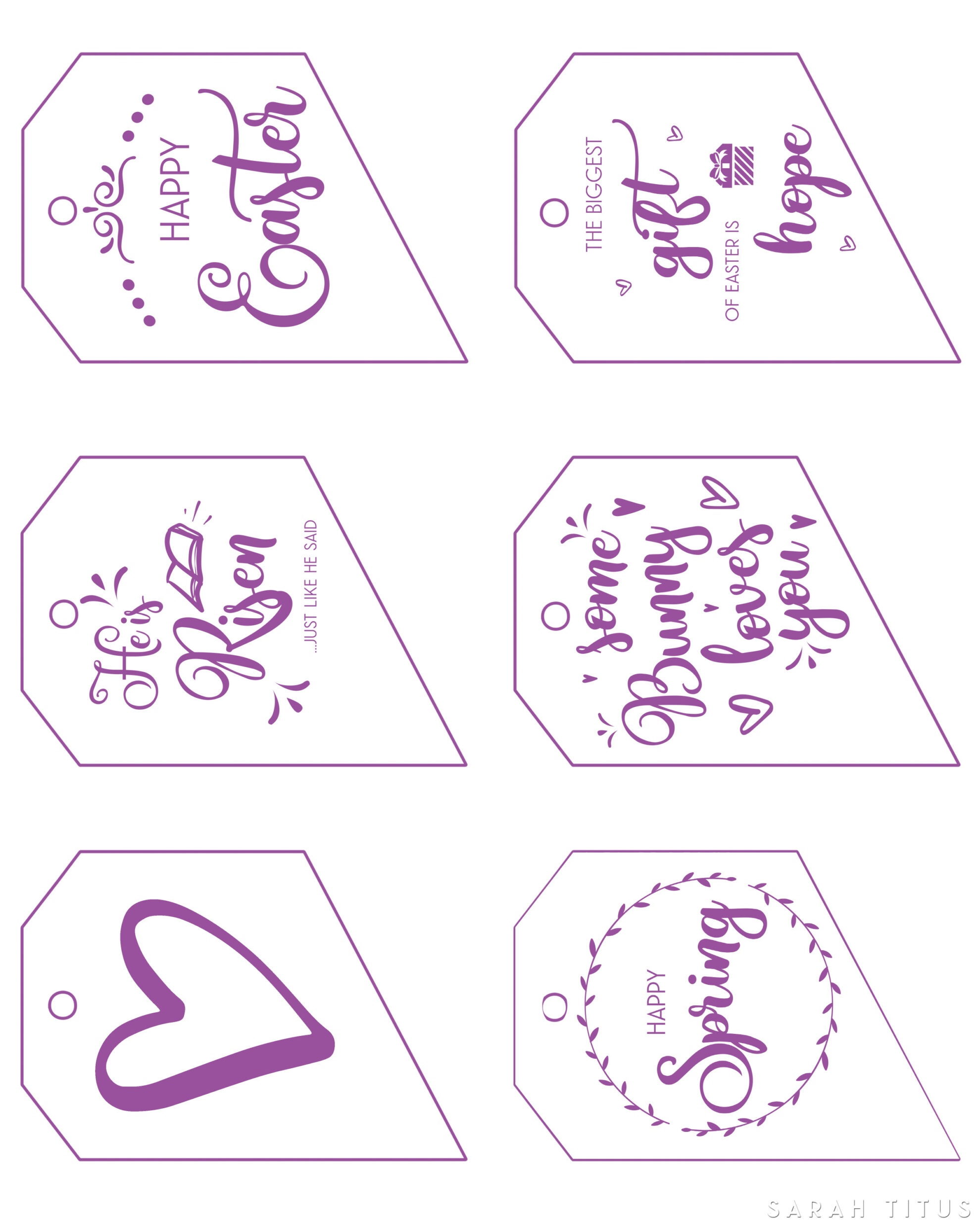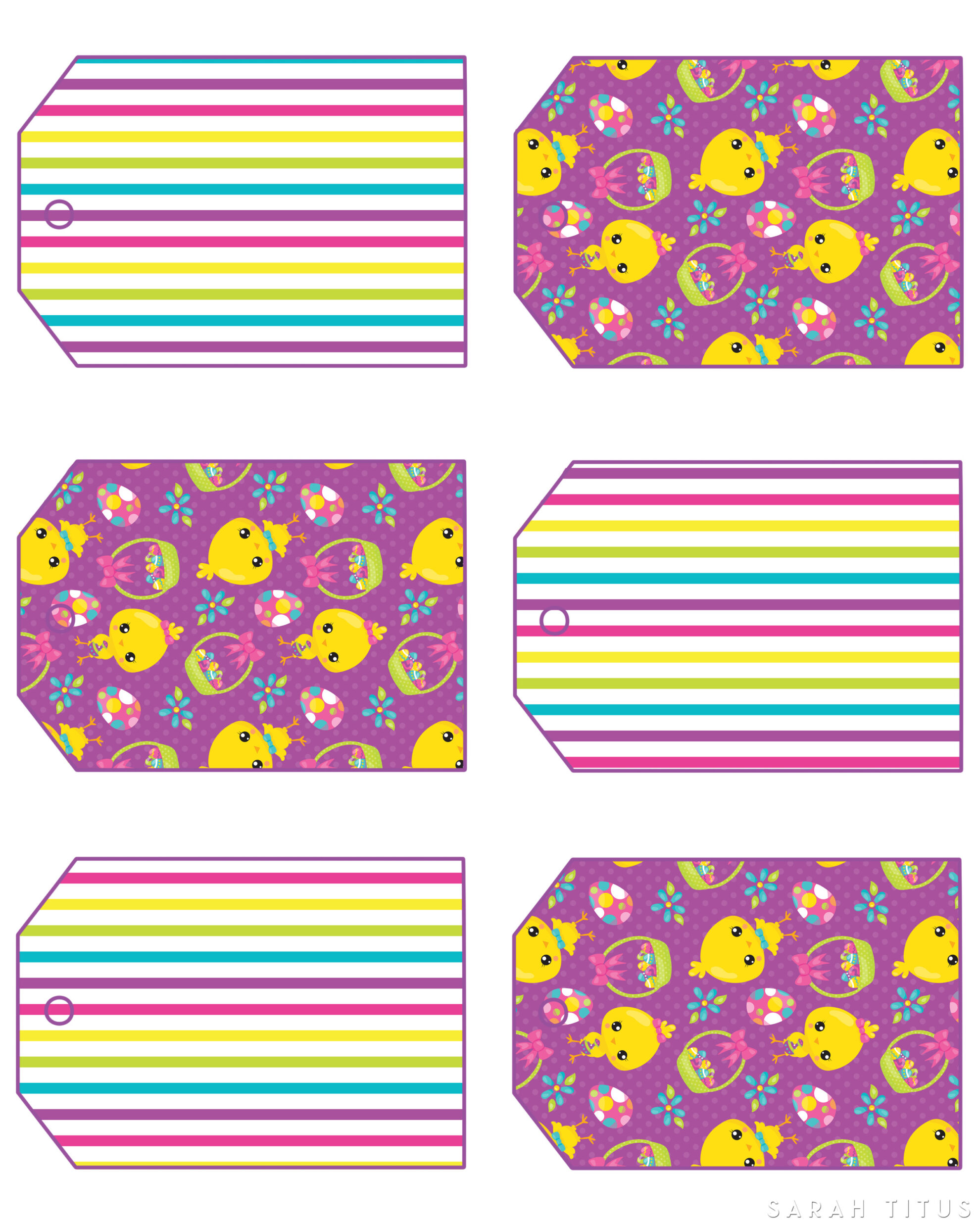 Download the free printable Easter gift tags PDF templates here…
Love all things Easter? Then you will NOT want to miss your chance to get the new 100+ page Easter Binder. It'll make you entire holiday season super organized and easy. Take the stress out of your Easter plans now, plus it includes tons of gift ideas and other things to make your holiday super easy and fun!