When you are trying to save money, it is most helpful to know what the rock bottom prices are for the items you regularly buy. Then, when you see them in the store at those prices, you know it's safe to stock up.
Items to Stockpile with Couponing: When to Stock Up
When you are first starting to coupon, you can become inundated with information really quickly, and there sure is a lot to learn.
Thankfully, I've already done a lot of the work for you. I've simplified the process down to the bare bones so that you can learn to coupon quickly and efficiently.
Although I don't do a whole lot of couponing as of lately due to time constraints, I've been extreme couponing since before it was popular.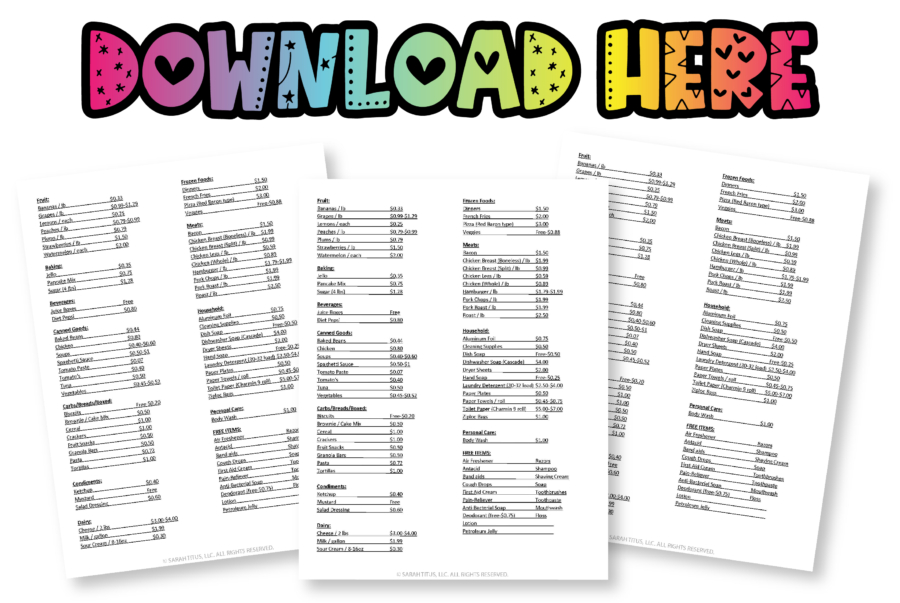 Download the free printable stockpile price list here: When to Stock Up
When you want to learn how to coupon:
Where to print coupons online – my favorite sources for coupons
How to get cash back when shopping online – are cash back sites really worth your time?
Think people are talking jibberish in the coupon world? – coupon lingo
Check out all the different stores policies (keep in your coupon binder) – store coupon policies
Your most important questions answered – couponing FAQ's
Wanna know how to request more coupons? – how to request coupons directly from companies
What supplies you need to start couponing – 30 things a couponer should never be without
Saving when there's no coupons: 8 biggest tricks to save money on produce and 3 biggest tricks to save money on meat
Sarah recommends:
The Krazy Coupon Lady – TONS of information on couponing, including store matchups
Money Saving Mom – coupon database
Fabulessly Frugal – all things deal related, learning to coupon, and store matchups