Digital stickers are all the rage, and I love being able to create several types of the same kind of stickers for you to use in your digital apps. That way, no matter what digital planner you use, you'll find SOMETHING that works for you and that you love. Idk about you, but I just love lots of options. 🥰
Today I have for you, some really cute colorful stars numbers digital planner stickers to use in your favorite digital planner!
And YES! These stickers are pre-cropped for Goodnotes! 🎉
Colorful Stars Numbers Digital Planner Stickers
These stickers can always be used to place over the numbers in a digital planner for the month or individual planner days. You can also use them to create to do lists.
What about goal planning? Are you one of those people who likes to sit down and make weekly, monthly, yearly or even longer-term goals? Use these numbers to do that! 🙂
One of the most effective things I've ever done with goal planning was to set my goal and then work on the little steps to get to the goal. That's how I accomplish my goals! For example, I may have a monthly goal to create four new kinds of stickers for you (just like these star numbers you'll see several different styles of number stickers available on my site with more to come!)
So my first sticker type, the 1 star in my planner would list the first type of sticker I'm working on – numbers. 2 star would have the second type of sticker – Christian. 3 star would have the third type of sticker – holiday. 4 star would have the fourth type of sticker – teacher stickers.
Then under the 1 star with the goal number stickers I would list 2-5 things I could do today to help me meet that goal. For me, I would want to work on one sticker set a day so that in one month, I'll have all the stickers created (20 sets).
Here's how it could look: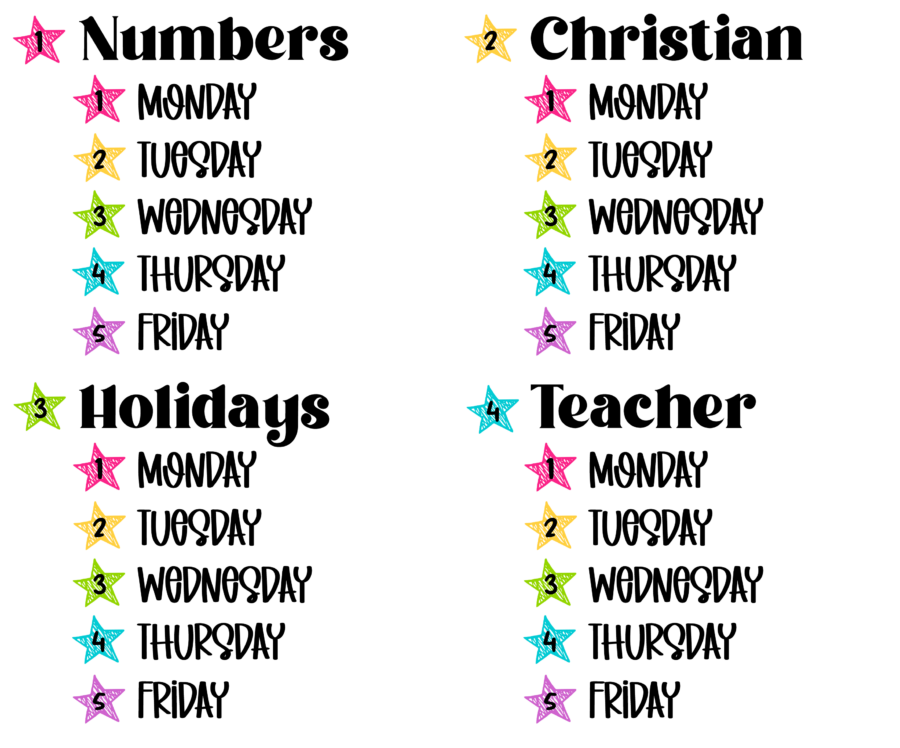 On that page, you'd also list out the fonts you're using to create each sticker and whatever notes you have, so that everything is saved and useful for the next set you create, all systematized. 😍
And I would have these beautiful, colorful, happy digital stickers to look at as I work toward each goal every day, week, month, year…whatever your goal-setting timelines are (you can use a paper planner too and print these out!) 🥳
You'll get numbers 1 – 31 in this set, so download them and get started using them however they fit you best!!