Have you heard about Ebates (Rakuten)? They seem to be everywhere, right?! But should you REALLY sign up with them? Are there any downsides to Ebates? Well, let's find out….
Do any of these 20 reasons why you shouldn't sign up with Ebates apply to you?
Review: 20 Reasons Why You Shouldn't Sign Up With Ebates
You hate earning cash back
You don't want to earn cash back for the purchases you already buy online
You hate shopping online and you don't care what they say, it couldn't REALLY be free to join
You don't like to save money
You think cash back sites are a rip-off, or worse, a scam
You don't like the idea of someone else earning money on your purchases, even though it doesn't change the amount that you pay
When people show you how much money they making using sites like Ebates, you don't believe them
You don't want to make one more click before you go to a site like Ebay, Amazon, JC Penny, Sears, Home Depot, Target, Groupon, Staples, Best Buy, Old Navy, Nordstrom, etc.
You don't want to get a free $10 gift card just for signing up under my link and making one purchase of $25 or more at any retailer on the site
You think cash back is overrated
You won't remember to go through Ebates, so you won't put a sticky note on your computer to help you remember
You love using your credit card for everything and that's enough cash back for you
You don't want to see deals like $10 off $30 purchase on Kohls.com
You hate the idea of referring friends to something. You fear they won't care or that you'll come off as selling something
You don't like to enter giveaways
You don't want 17% cash back when you send someone flowers
You think that a cash back site couldn't possibly have GOOD stores in there, you know, the ones you actually shop at
You prefer to shop in physical stores and not save money – if you do, here's 37 reasons you should shop online!
You think the savings couldn't possibly add up enough to be worth your time to sign up and use them before shopping
Ebates…isn't that the company that was embezzling money from its customers…oh, wait, that was another one. Oh well, they're all scams anyway.
To me, signing up with Ebates several years ago, was one of the best things I've done. I've earned over $2,000 cash back in that time and to me, it's definitely been worth it. However, there are some things you should know if you are considering joining:
Yes, the $10 gift card is REALLY free, but you have to earn it. You have to sign up and make ONE qualifying purchase within ONE YEAR following signup. A qualifying purchase is $25+ on any retailer through Ebates (over 1700 stores are included and yes, even Amazon is on there!!!)
I have tried a few other cash back sites and they WERE total scams. Every time I'd make a purchase, they would not count it and I'd go through customer service round and round again. After a while, it wasn't worth it. I left and went with Ebates and have loved them ever since! I've been with them around 3-4 years and haven't had any trouble with them at all!
If you don't want to miss deals, you can install the Ebates button, which I just found out about and am doing now!
When you refer your friends to Ebates, not only do they get $10 gift card, but you get $10 cash as well, and there's no limit. In fact, the more you refer, the more bonuses you earn AND you get entered into sweepstakes. Since I've been using Ebates for years now, I already promote them because I love them, but now that I'm rewarded to promote them, it's like icing on the cake! 🙂
It truly is free to join. There are NO strings attached at all.
If you're ready to sign up, here is a tutorial to walk you through signing up with Ebates.
First, you will want to click this link >> HERE <<, so you can get your free $10 gift card I went with Target when I signed up, but you can choose Macy's, Walmart (bleck; hate Walmart), Target, Kohls, or $5 cash on your Ebates account. It literally only takes 15 seconds to join!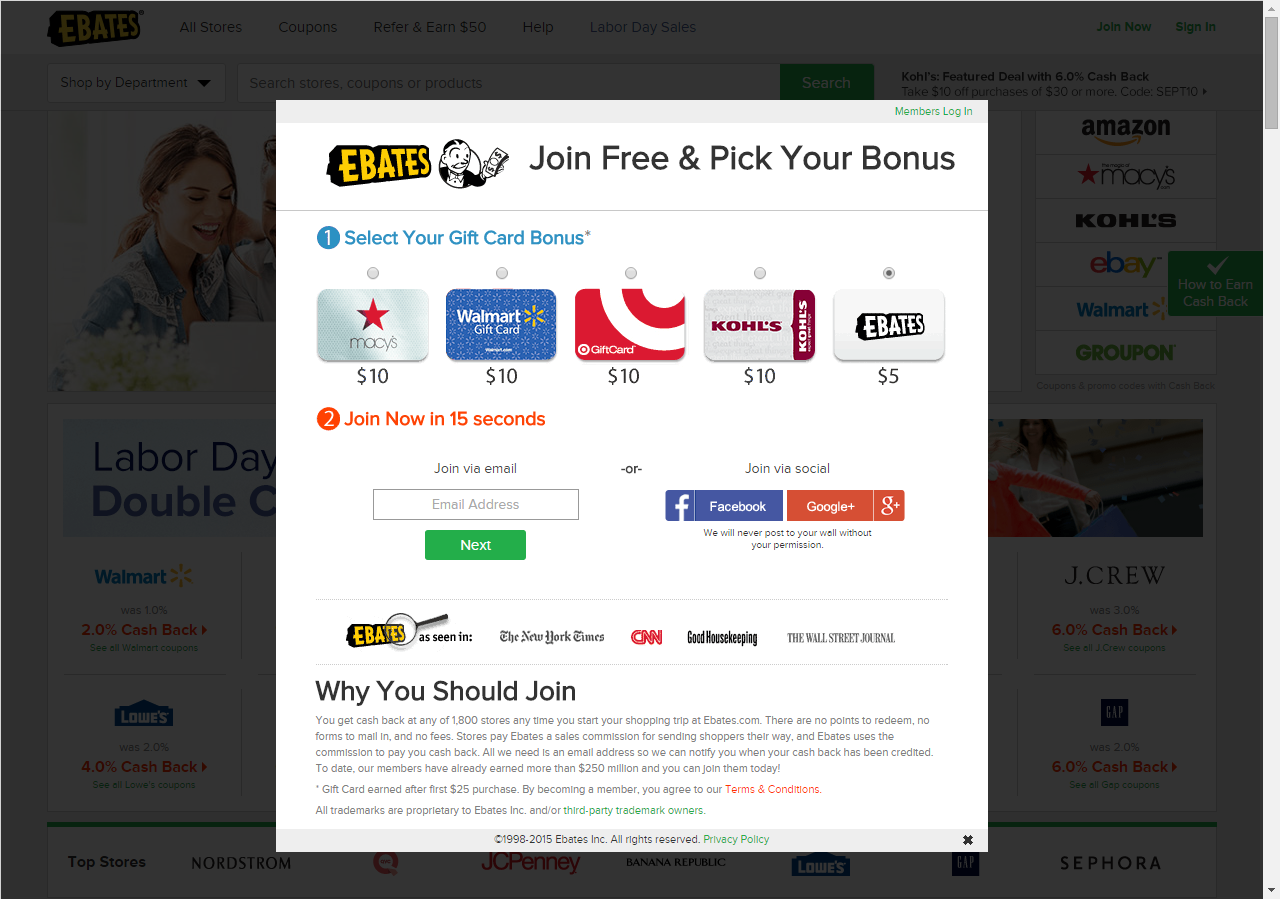 Pick which gift card bonus you want. You can sign up through email, Facebook, or Google Plus. Since not everyone has Facebook or Google Plus, I will be showing you how to sign up through email today, which is how I usually sign up for things personally.
When you go to join now, this little pop up will show. Simply type in your email address, create a password, and click "Join Now."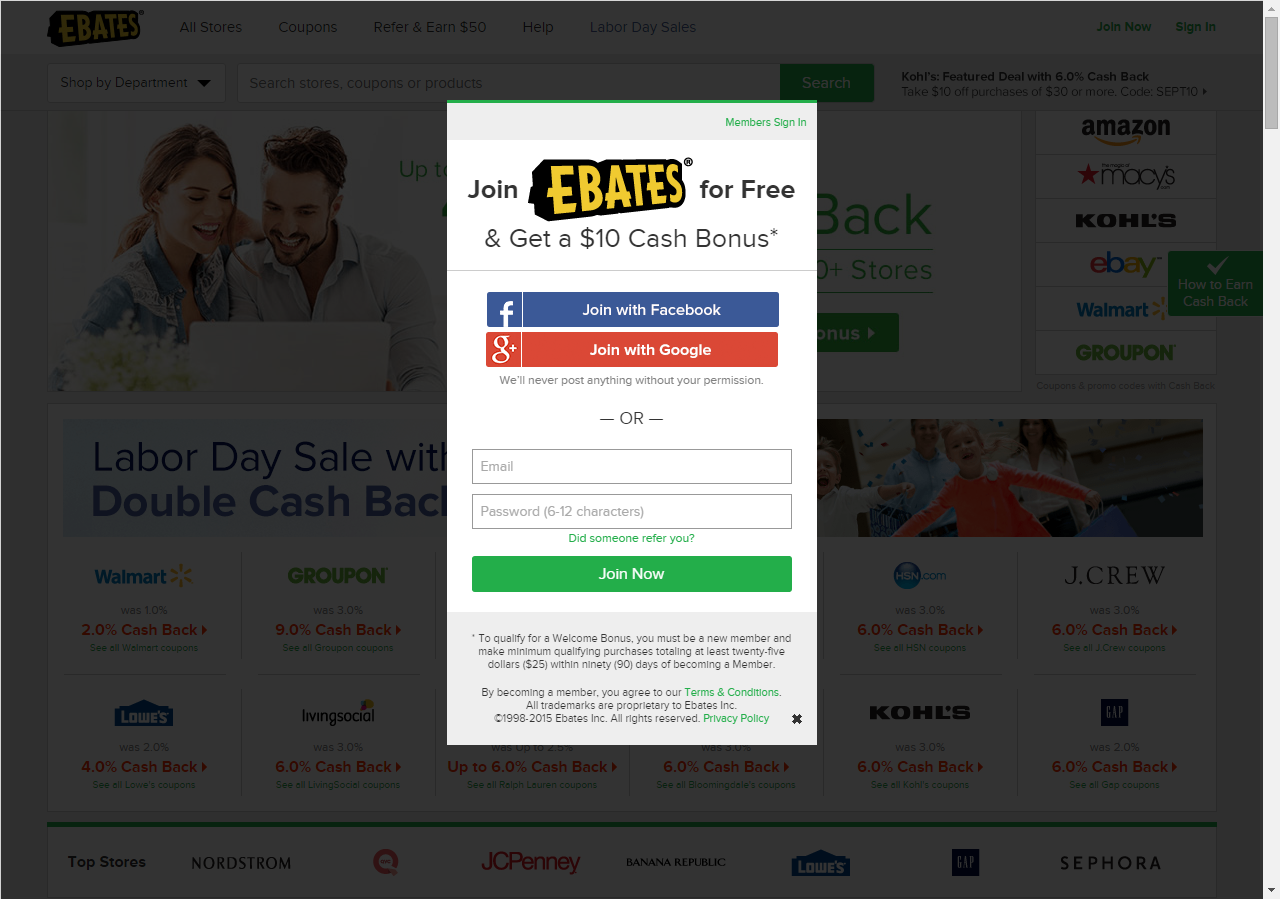 The next thing you are going to want to do is edit your address settings, so Ebates knows where to send you your money! You do that under "Big Fat Payment Settings."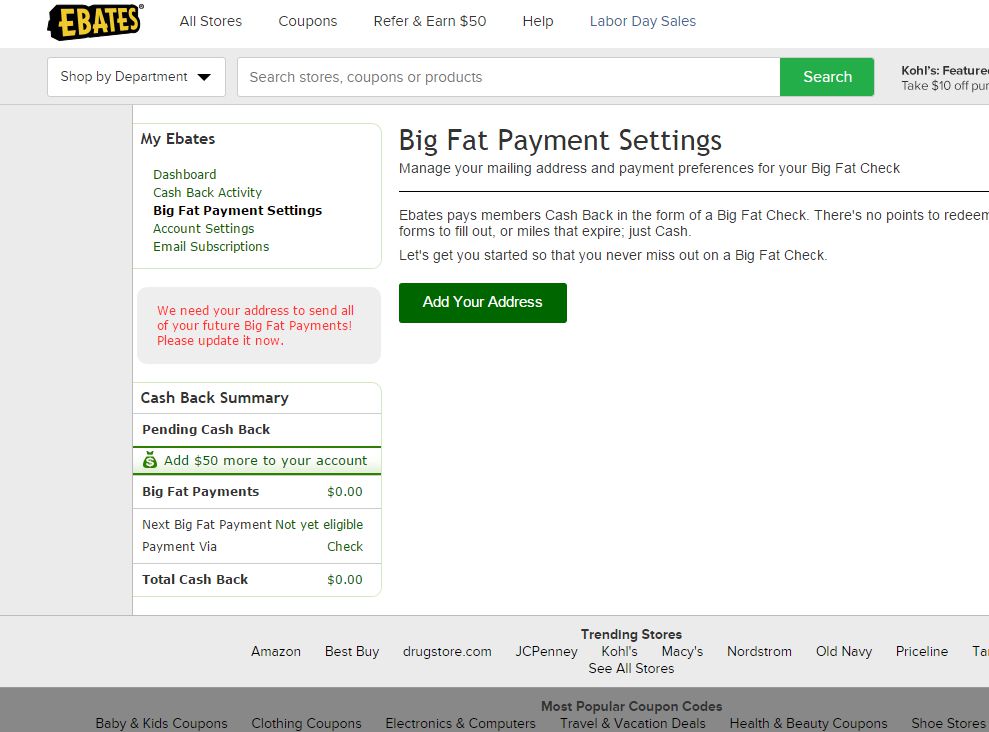 Now, you have an account. Simple, right?!
But, how do you use Ebates?
It's really easy!
When you come to the homepage, your screen will look like this.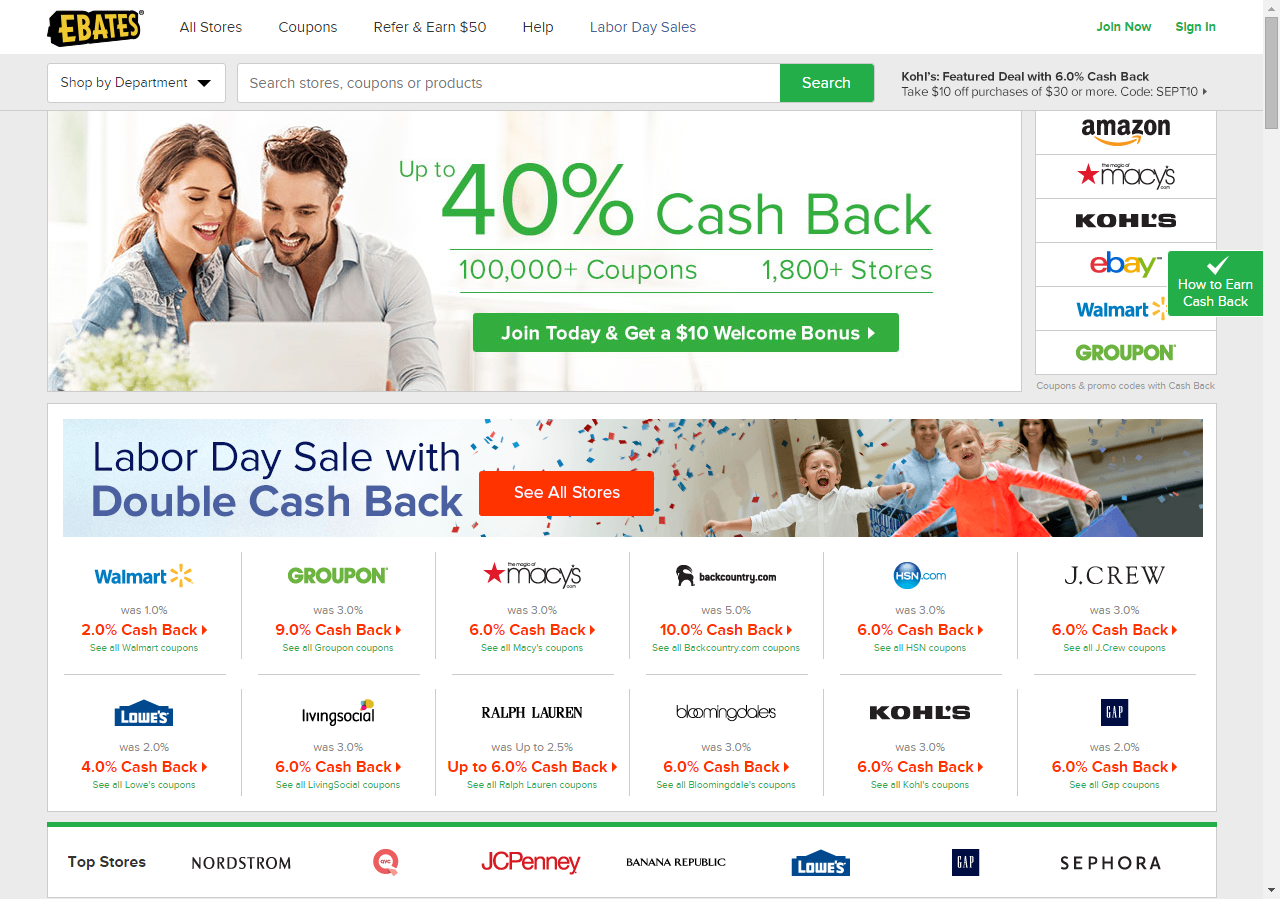 You will sign in, find the store you want to shop at, and start shopping.
That's it!
When you type in the name of the store you want to shop at, Ebates will show you all the current coupons and deals.
For example, just say I want to buy something from Target. I would logon to my Ebates account, and find Target. I would type in "Target," in the search bar and up pops all the current coupons and deals for Target.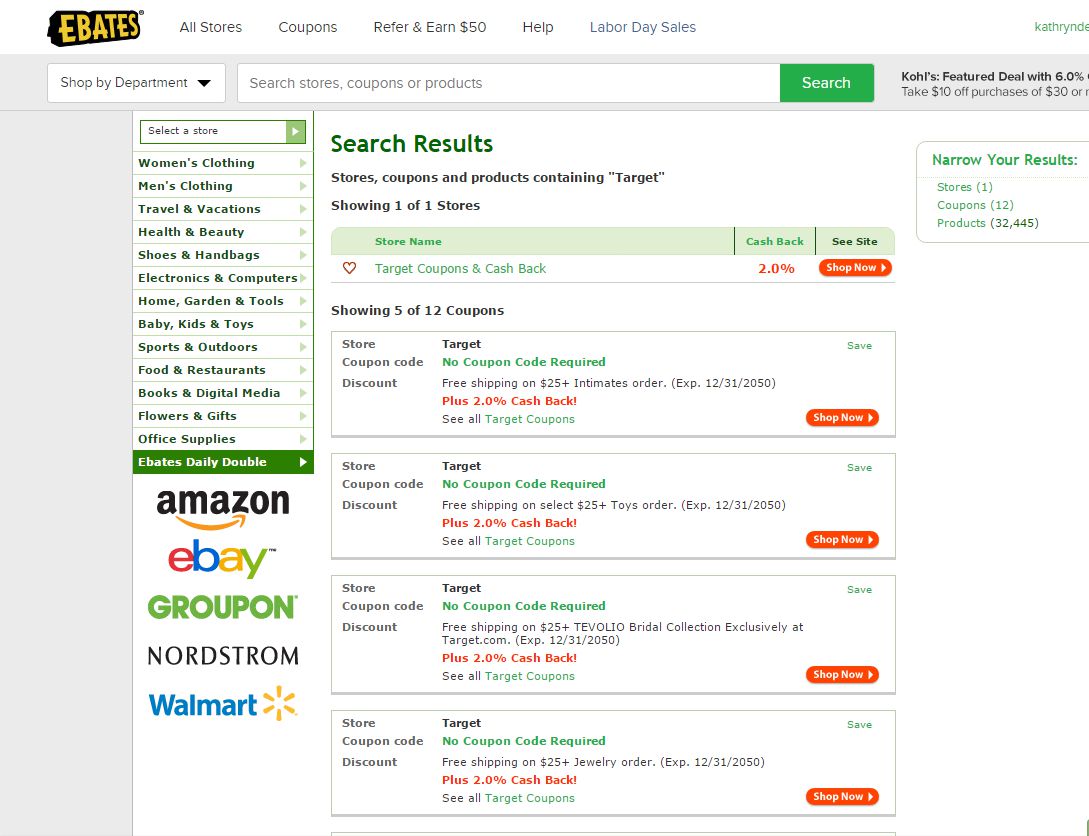 I simply click the Orange "Shop Now" button for the deal or offer I want to use, and Ebates takes me directly to the Target website and I am ready to shop as I normally would at Target. All my information is 100% safe. Nothing is transferred over either way as far as credit cards, etc. Just name and email to track the purchase, therefore, be sure to sign up with Ebates under the email address you use the most to shop with. They have to match to get the credit.
That's it! Ebates is a very easy (and fun!) way to earn some extra cash.