The grocery store delivery lady pulled up to my house in her big white truck.
She brought my groceries to the garage door and asked me where to put all of them. I told her to just leave them in the bins, I'll go ahead and do it, I know she's worked hard all day.
Smiling, she said, "I HAVE already gotten in my exercise for the day."
As I worked efficiently to take the groceries "off her hands", she commented how quick I was. I simply said, "I have a system."
She didn't know what to do; she didn't know how to process this. I was done within a minute and you could tell she was expecting to wait a lot longer for me to get the groceries out.
From the time that I took the groceries out of those bins, until the time they were completely up where they are supposed to go, labels facing the proper way (mind you, I'm a perfectionist here) 🙂 and plastic bags put up in their proper place, it took me a grand total of only 6 minutes. There were 17 bags of groceries to put up.
As I was thinking about what she said to me and how fast I was, I realized that the answer was because of a course I took less than a year ago.
Now, lemme interject at this moment. I'm a person who doesn't really believe in taking courses.
Oh, I believe in education and learning, for sure. It's just that MOST courses are complete JUNK!
All over the place you see courses advertised that claim to be so great and you buy them, and, you swear you'll NEVER buy another course again because it did NOTHING for you.
That's me!
I've lost SOOO much money in courses over the years. I see those same courses still promoted today, seemingly popular, and I know, I took them and they are nothing but fluff. It's just air. Expensive air. They teach you a couple quick tricks and that's it.
So, you NEVER hear me recommending a lot of courses. Like…EVER. In fact, to date, there are literally only TWO courses I've EVER taken that were worth anything.
THIS COURSE…is my #1 favorite by FAR!
Last year, Melyssa Griffin promoted this course I'm about to share with you. She said something like how it was the pivotal moment in her career when she REALLY started flying. Boy was she right on about this course (thank you, Melyssa!)
I wanted to soar on my blog and it seemed like a good answer to that, and while the course was everything I expected and MORE, it not only gave me my time back (can you say FREEDOM!!!) in my blog and business life, but in my personal life too. Tears.
Maybe it's a just little thing to you.
Maybe you see it like 20 minutes of putting up groceries doesn't matter. I mean, what does it really matter if someone takes 6 minutes to put up groceries or 20 minutes?
But I tell you plainly…
IT DOES MATTER.
Listen, life is precious.
Our time is precious.
It is THE most important commodity we have.
We can always earn more money. But we can NEVER…EARN…MORE……TIME!!!!
I've learned to live my life in an efficient way. I've learned to add up all that free time where I would have spent it doing things that are not fun, like putting up groceries, doing dishes, running errands, and reserving that time into what I like to call, "a bank."
A bank of time.
So that, at the end of the day, when my little guy comes home from school and I see that big grin on his face and he says, "Mom!!! I had a really great day at school today." I have time to listen to him. I have TIME, because, I'm not rushing around putting up groceries, cleaning the house, doing all the other things in life because they are already DONE!
Here's a single mom, right before your eyes, who doesn't live a chaotic life. Who is efficient and consistent and FREE!
Oh, how I used to be so proud and say I'm a person who loves to be a free spirit and fly with the wind, but I'll tell you something…as I've learned to live my life in an efficient manner, I've found MORE happiness, MORE peace, more free time than I EVER had before. Yes, I still have a free spirit, but I've learned to manage my life. I've learned to balance everything IN my life.
Susan asks, "I just don't know how to balance it all! How do you juggle so much and make it work?!"
Stacie asks, "How do you balance a work life and home life with small children?"
Emma asks, "(My #1 question is) how to have a better work/life balance and still make enough money."
Joan asks, "How do you strike a balance in life and keeping a blog?"
…and there are dozens more questions asking me the same exact thing always flooding in my email box at all times.
Listen…THIS is how!!!
Right here….
Right now…
What I'm sharing with you this very second, THIS is how I LEARNED how to do it.
I'm not saying my life is perfect. Sometimes I still get busy as everyone does, but the pattern, the mainstay of my life is that it's all organized. Everything from the way I run my blog to the way I conduct my home, parent my kids, and everything in between.
No, Todd Herman's, The 90 Day Year, is not just for business people who wear suits, it's for people like me and you….average stay-at-home moms who realize the importance of TIME!!!!!!!
Who realize…
We can't get our time back…once it's gone.
The moment I realized I couldn't get my time back was the moment, I held a very large and super heavy black box in my hand.
As I looked at the name on the box, June Martin, my mom, who was only 65 years old, who passed away way too young because she didn't take care of her physical health, I realized that there's NOTHING more important on this Earth, than time.
As I opened that box, I looked at the white-ish colored sand that was inside, that's all that's left of us. Dust.
Time is the most important thing we have. You CANNOT put a price on your time.
You turn around and I PROMISE YOU, YOUR kids WILL GROW UP.
You turn around and you KNOW that your husband has a little more grey hair than he used to, and you know the same thing is happening to you to when YOU look in the mirror. That wrinkle starting to form on your forehead. That one persnickety strand of white hair on the top of your head you keep pulling.
We only get a little bit of time and then our time is over here on Earth and I don't know about you, but I want my time to MATTER. I want it to matter to others. I want my time to matter for my family. And most importantly I want my time to matter to God. We are to be good stewards of our resources. I came to a sudden jolt in my Christian walk when I realized that TIME is a resource. As a Christian, I'm sinning if I'm not spending HIS time that HE gives me, wisely.
How you spend your time wisely is completely up to you, but for me, I was NOT doing a good job at ALL!
I want to be fruitful. I want to spend my time the best I can. I can't make any more time, but I don't have to be running around like a chicken with its head cut off just BECAUSE I'm a single mom.
NO!
I can have order
I can have balance
I can have freedom
I don't HAVE to juggle
I can do all the things that I need to do, the important things, and have enough time
The 90 Day Year changed my life. It catapulted me on a whole new level. The level I am today and still growing. See, I'm not done! I know many people tell me, "Hey, what do you do now that you've arrived?" It's funny. I laugh. I've arrived. HAHA! That's funny. Dude…I AM JUST…GETTING…STARTED!!!!!
I know where I'm going. I have a solid foundation in my sight. My path is lighted. Todd taught me that. He taught me what to focus on and what to let go, which was hard for me at first…can you say "micro-manager"?!!!!! 🙂
I learned how to work on the IMPORTANT things and what those tasks were. I learned exactly what to hire out in my business. I learned what to focus on and what was just a "shiny" distraction to me. I learned how to get quick wins. I learned how to track my progress in an effective way. I learned how to be more productive, so I'm not spinning my wheels all day long and I can accomplish more.
Most of all, I learned how to find CLARITY. See, I was scattered before. I didn't KNOW where I was going, just that I was going SOMEwhere. I didn't know what I wanted.
The course gave me a super clear picture of everything. It's literally, tears, the BEST thing I've ever done in my entire life. The best education I've ever received (and I went to college). One of the best investments I've ever made.
It's this MASSIVE course. No expensive air here. If you wanna see more of what's included, keep reading! But first…
You can get a couple REALLY COOL bonuses for purchasing through me!
Bonus 1 – $150 store credit (discount code)
Get one hundred and fifty whopping dollars of store credit in my Shopify store to purchase ANYTHING you want in the store.
The possibilities are endless.
Wanna stock up on binders? You can!
Wanna get more blogging resources? There's a few bundles available!
Wanna learn more about handling your money? There's a bundle available for that too.
Bonus 2 – Work with me one-on-one
Ask any 5 questions you want in this personal coaching session.
So many people are so excited at the chance to work with me personally in a giveaway I'm currently running. Here's your FOR-SURE chance to get some Sarah-time!
Hillary says, "You have already inspired me so much, and to be able to connect personally with you and receive guidance tailored to my own life, situations, business & needs would be a blessing from God!"
Tarah says, "It would help me along my blog journey. You are very selfless, humble and you are always yourself. This inspires me and certain things I learn well from you."
Cassie says, "It would mean the world to me! It would open up so many positive opportunities for me and my family."
Here's a sneak-peek, behind-the-scenes look of what Todd Herman's The 90 Day Year looks like.
The course is massive.
This is JUST the modules section. This isn't even including any of the bonuses, sessions, or the private Facebook group that you get too.

OH and the WORKBOOKS. Seriously…YOU KNOW I'm all over the printables.
The workbooks are super long and meaty and there's workbook(s) in every module. There are 185+ printables included in this course!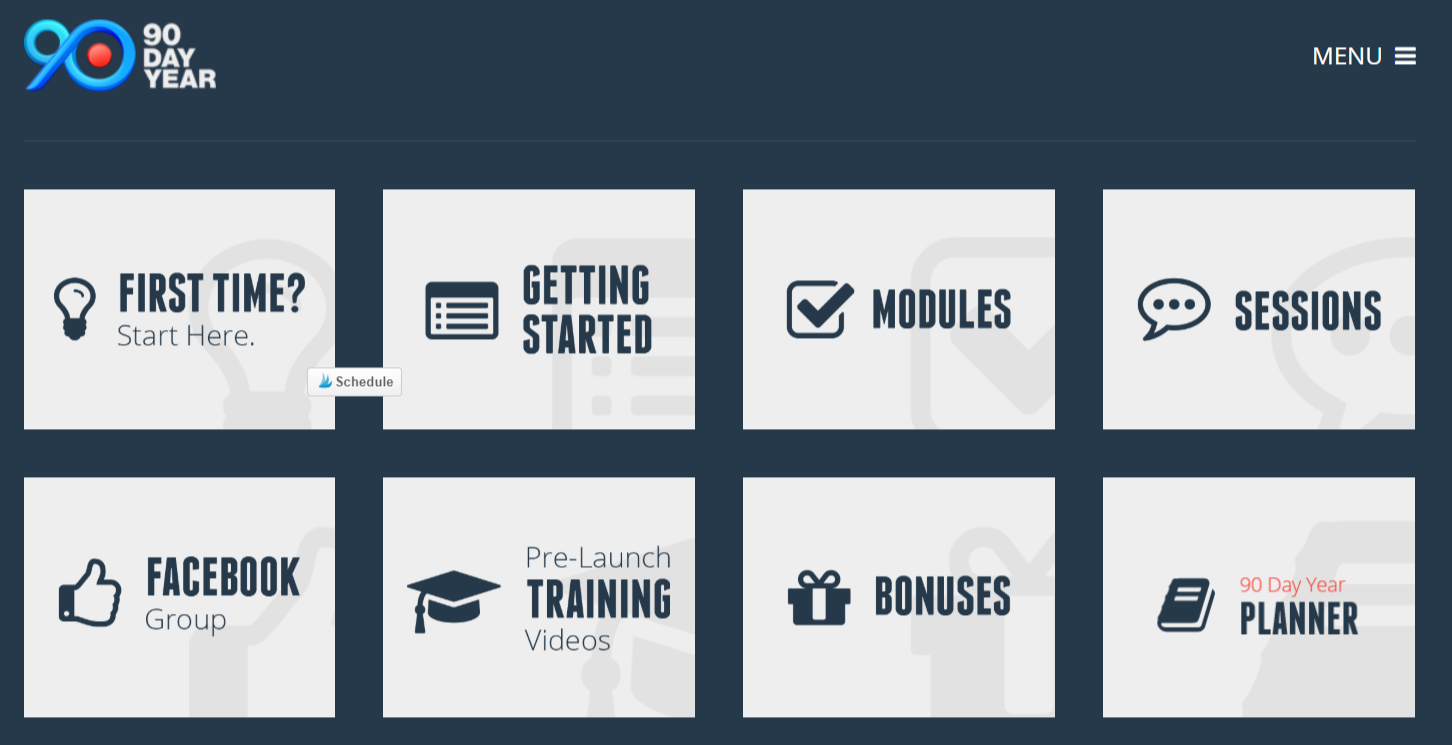 This is one of my favorite videos: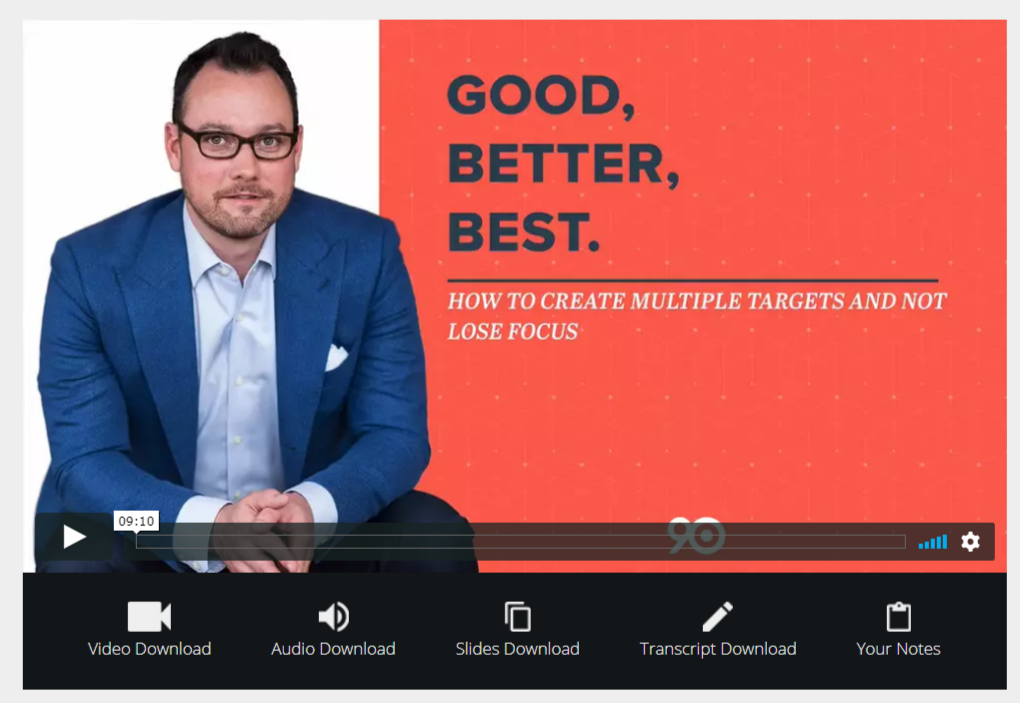 It teaches you how to make goals.
See, before, I used to feel like a complete loser sometimes because I didn't hit a goal.
After implementing Todd's strategy, I no longer feel like a failure. I've learned HOW to make goals that work for me and then sometimes, I like to assign small prizes to myself for what happens.
If I get my "best" goal, I have a pizza party night with my son.
If I get my "better" goal, maybe I'll grab some special ice cream I like. My prizes are usually food….I am JUST saying! 🙂
You can find that video in Module 2.
Another one of my favorite videos is the "Block and Tackle" method (found in Module 3).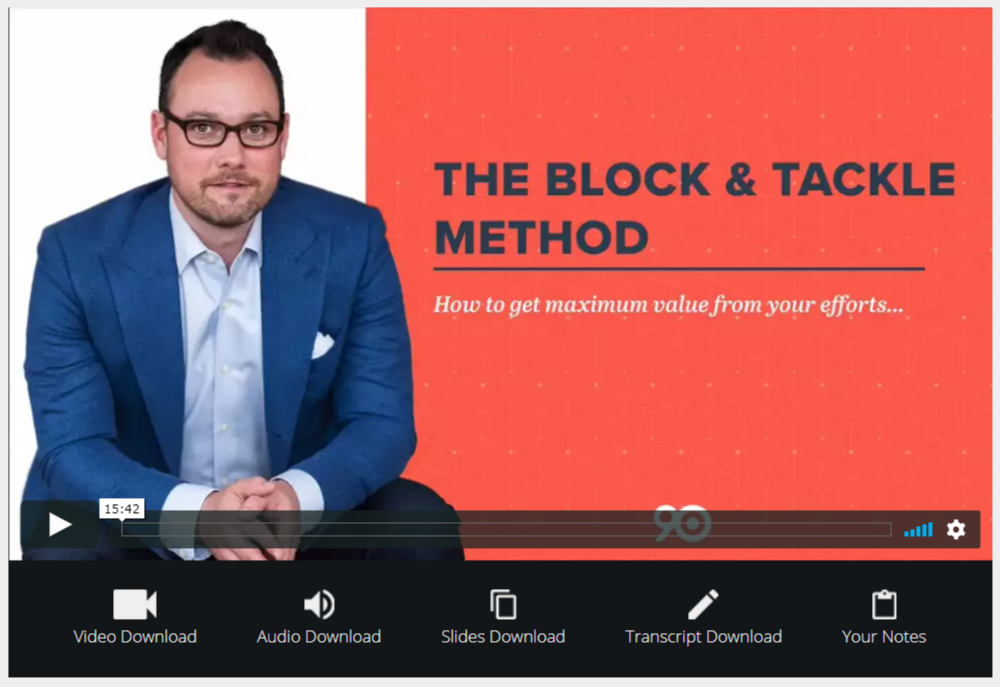 I never really thought of it like that, and really, you HAVE to BLOCK all the meaningless to-do's of what comes on your plate so you can TACKLE the important stuff. He goes into what kinds of tasks are meaningless too in the course. It's SOOO helpful.
I talked a little bit about his workbooks earlier. This is my favorite page of all his printbles. You'll find it in Module 2, page 36 of the workbook. I keep these sheets in my binder, because OF COURSE, I made an entire binder just for The 90 Day Year.
Every single product gets its own separate sheet.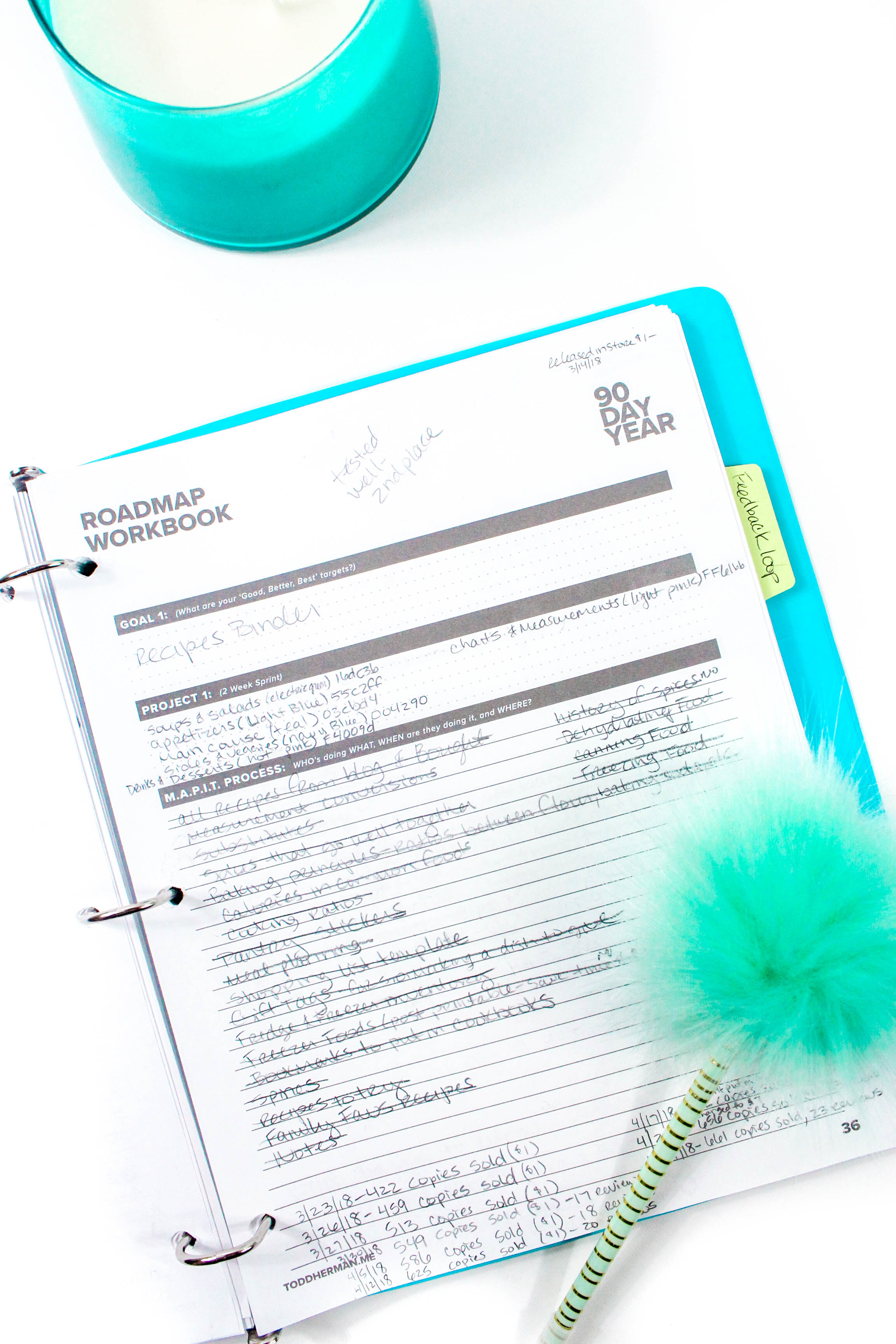 So, I put my product in the title and then different main things I need to know, like what fonts I used, what HTML colors, different sections, things like that.
In the bottom section, we map out our entire process. Everything the product needs to include, all the steps it'll take to create this product.
At the tip top of the page in the white space, I write down when the product has been tested. For this particular product, my Recipe Binder, I tested it with my audience and it tested #2 on the list of what they were most interested in. I also write the date I released the product and for how much.
At the bottom of the sheet, I keep records of how many of the product sold, how many I gave for free (if applicable), and how many reviews, along with the dates.
All this information helps me be able to know if something is successful or not. From start to finish, it's all mapped out and planned. For this Recipe Binder, I released it on 3/14/18.
On 4/27/18, about a month later, I had already sold 661 copies of the binder and it had 23 reviews on it. I read EVERY SINGLE review people leave on my store. I want to know what they think and how to improve that and future products.
Another video I really like is the Daily Theme (found in Module 3).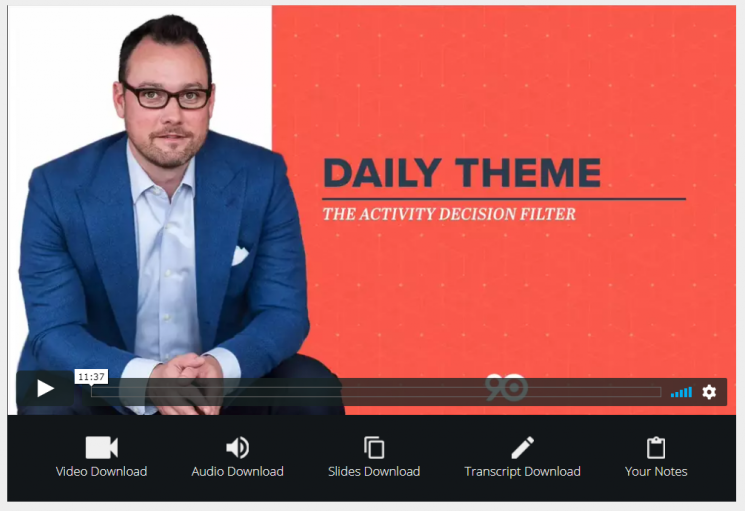 He teaches us how to pick a daily theme, so that as things come your way, you sort them…you sorta filter them, into the appropriate day.
I don't do a daily theme every day, however, I have gotten better at implementing this strategy and it's been so beneficial. My days look like this:
Monday is my busy day. I get all my work done that I hate to get done. All the "boring" stuff. It's also the day I finalize my newsletter for the week. On Monday's, I also my day to reply to customers and my audience. So, I spend the day answering emails, answering blog comments, really taking the time to invest in that stuff because I believe it's valuable and important. These are tasks I do every Monday.
I don't have a theme for Tuesday, Wednesday, or Thursday. I usually just work on 1-2 projects at a time though.
On Friday's, I work up the draft of my newsletter. I also close out all loose ends. Since the blog is pretty quiet on Friday, I finish up all the things I couldn't get to during the week.
On Saturday's, that is my learning day. I spend the day learning something new, because it's something I personally enjoy. Right now I'm reading through the book, "7 Strategies for Wealth and Happiness" by Jim Rohn.
And I just finished taking an AMAZING strengths test.
The strengths test helped me learn what my strengths are so that I can implement them more into my business, which leads me to succeed more.
If you buy the book, "Now, Discover Your Strengths" by Marcus Buckingham, it comes with a one-time-only-use code to take the test online.
You have to make sure the book is brand new and the code is unused. I think the test was worth purchasing and I'm thinking about having my whole team take the test because it will really help us all use our strengths more in the business to achieve a common goal: serving you. 🙂
Sunday's are for church and prepping for the next week. So, I'll lay out my plan for the week, decide what to work on, and so on. I also close up loose ends on Sunday and sometimes use that time for learning.
At the end of every day, I close up loose ends as well as make a more specific plan for the next day. TELLING your time where to go is VERY important! Otherwise, if you don't tell it where to go, it'll disappear on you.
On the 1st of the month, I am pulling stats and balancing all my checkbooks/financials.
The first WEEK of every month, I'm finalizing posts for that month to go live on the blog.
You can pick whatever themes work for you and he shows you exactly how to do it and why it's so important. Having theme days is what many of the successful "big dogs" do, including the owner of Facebook.
So, if you ever wonder HOW someone is able to accomplish so much, it's because of theme days. There's a lot more to it than just that, that you need to understand, but that's the first step of how to make it work. Of course you'll need to know WHAT to work on, why you want to work on it, what NOT to work on, what themes to pick, and you'll want to learn about context switching (another very important thing he teaches).
He goes over all that in the course though. 🙂
The Daily Target Value video (found in Module 4) is also really helpful.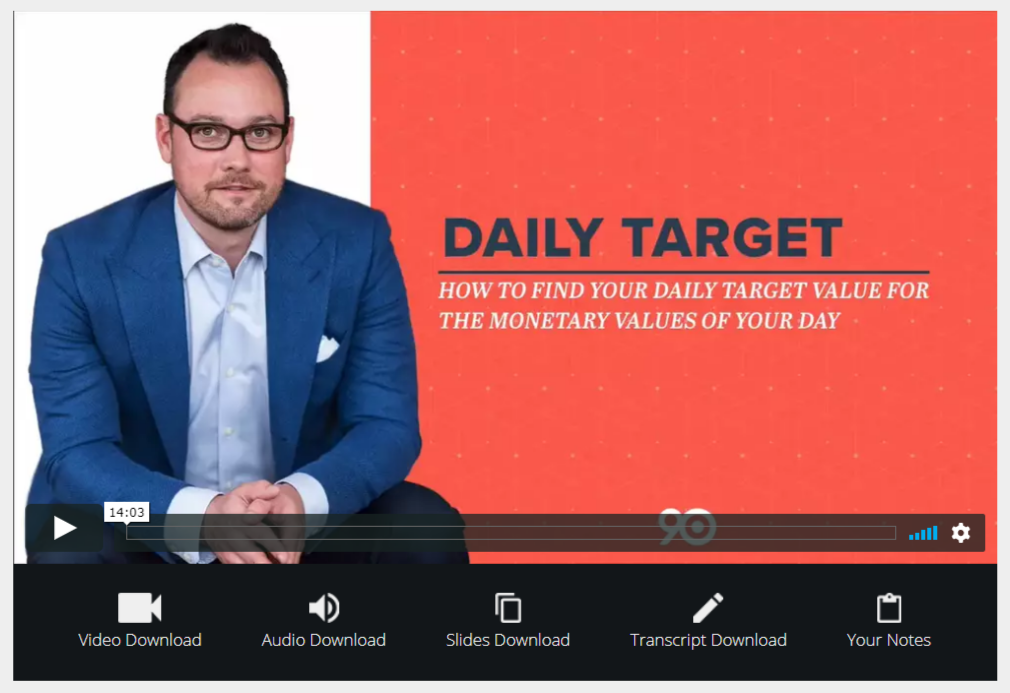 This is where he goes IN DEPTH about WHAT you should be working on.
If your goal is to make lots of money, you want to work on the things in your business that make you lots of money. Work on the things that are the most valuable in your business.
He teaches you what those things are and how to discover what makes you the most money in your business. Then you set goals, a daily target value, of what to hit.
There's so much meat included in this course. If you really want to grow your business in a very quick and efficient way, as well as change your entire life and how productive you are with your time and how you spend it, so that you have time for the fun stuff in life- like your family (!!!!), there's no better course on the planet to take than this one.
Todd's been doing this for 20 years. He totally crushes it.
If the course is open (from what I've seen, it only opens once a year in June), get in while you can. Because a year will pass by and you could have already flown and be somewhere by time it opens up again!
To get your bonuses, please contact me at Sarah (at) SarahTitus.com to claim within 30 days after you purchase the course. Just let our team know you've bought and we'll get you started.
*All bonuses must be redeemed (used) within 30 days of our sending them to you or they are invalid and void. Discount code is $150 off $150 purchase. You must purchase The 90 Day Year through my link here in order to get the two free bonuses.