Do you stand in that certain room in your home (or maybe even rooms-plural) 🙂 look at all the clutter, and just feel completely overwhelmed? Maybe even a bit paralyzed?
Your heart's desire is to simplify and get your home in order, but you have no earthly idea of where to begin with this huge task. Sigh!
Let me help you! I have some simple, but super effective, printable tools to get you moving forward in this process. Let's get you UNstuck! 🙂
Check out these Free Printable Organization Signs! They are cute organization printables that cover every sorting category you need while going through your stuff. So grab yourself some bins or boxes, print out these very helpful and colorful signs, and then label your containers.
Believe it or not, just doing THAT is half the battle! 
Free Printable Organization Signs
The storage container labels that I've included are:
Toss/Garbage – for broken or unusable items
Keep – for things you still want and use, and have a place for
Sell – for items in good condition that you could sell online or in a garage sale
Donate – for items in good condition that you would like to bless a friend, church, or charity with
Return – for borrowed items you need to return, or for things you need to take back to a store
Relocate – for things that belong somewhere else in your home
Recycle – for items that can go to the nearest recycling center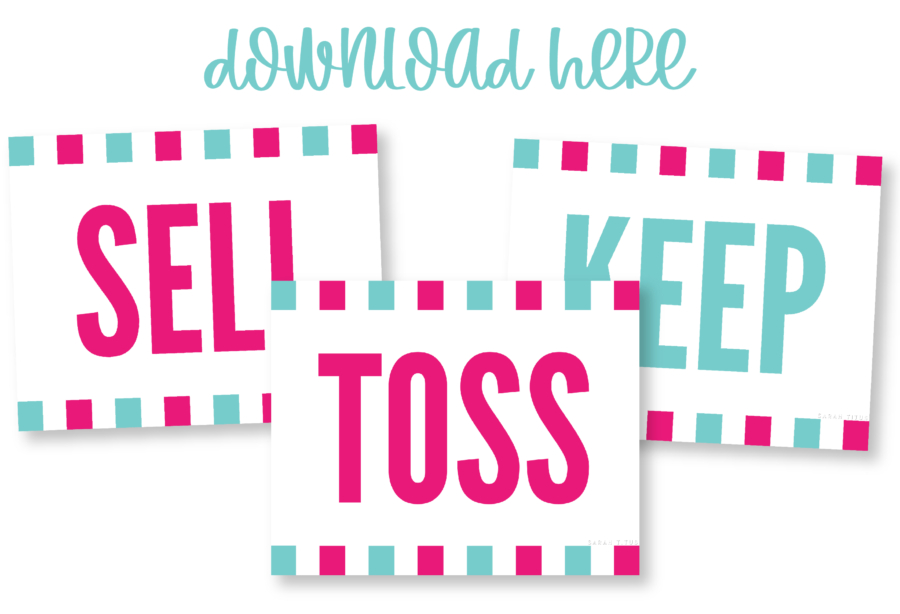 Download the Free Printable Organization Signs PDF here.
Doesn't the job seem easier already!?
Most of the time, the biggest challenge is just BEGINNING! And with these fun organization printable tags, it gives you just the kick start you need to get the process going.
Areas to declutter
Don't miss these 14 places (full post here):
Spice cabinet
Medicine cabinet
Makeup drawer
Jewelry box
Game closet
Bookshelves
DVD's and CD's
Junk drawer
File cabinets
Linen closet
Pet supplies
Paint cabinet
Holiday decoration Storage
I recently used these free printable labels for organizing and was honestly SHOCKED at HOW MUCH I was able to get rid of!
Most of it was in my upstairs video studio. Because it's in a room no one uses, it tends to be a catch-all place for storing stuff.
Used the signs and was able to donate all this…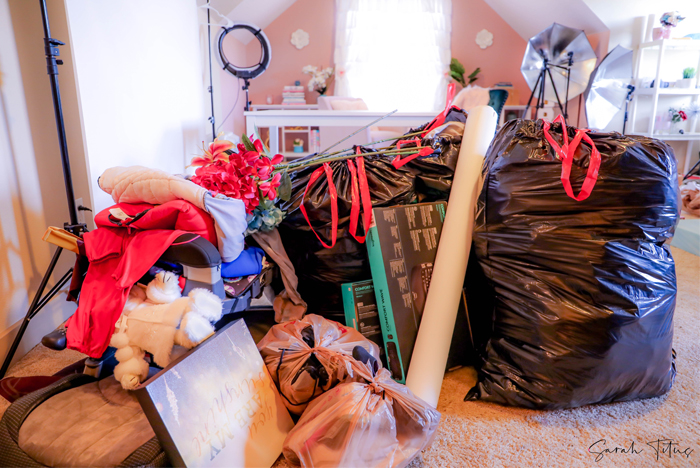 To keep things straight, I put a couple signs on bags too. 🙂 Believe it or not, that's only about HALF of what I got rid of.
Organizing and decluttering just makes you FEEL GOOD, doesn't it?! The kids even got rid of a ton of their old toys and games too! It was pretty cool to get the whole family involved and these free printables for home make it super easy to get started. 🙂 <3
After you're done with the signs, just stick them in the recycle bin and you're good to go!
30 Day Declutter Challenge
Have fun with it. Make decluttering and organization a challenge so you stay motivated to the end! There's even a free printable organization labels template at the bottom. 🙂
Day 1 – Pantry – Empty out the pantry and wipe down the shelves. Then go through everything you took out and discard expired items. As you put things back into the pantry, group like items together.
Day 2 – Lotions and makeup – Sort through all lotions and makeup and discard old or unused items. Wipe down the outsides of everything, and then regroup like items together.
Day 3 – Car – Remove all trash items first and dispose of them. Then gather anything that doesn't belong in the car and put back where it belongs. Finally, vacuum and wipe down the inside of the vehicle.
Day 4 – Books and magazines – Gather together all books and magazines. Sort through and recycle anything still in decent condition, that you no longer want to keep. Store rest of books and magazine in a clean dry area, and if you like, organize them by subject. I like to tear out just the pages I need and put them in a binder in sheet protectors. 🙂
Day 5 – Jewelry – Go through your jewelry and decide what you want to keep. For everything else, you can either give away, donate, recycle, or throw away. I keep my jewelry in a mirror stand. Since it doubles as a mirror, it saves on space (plus, it locks!)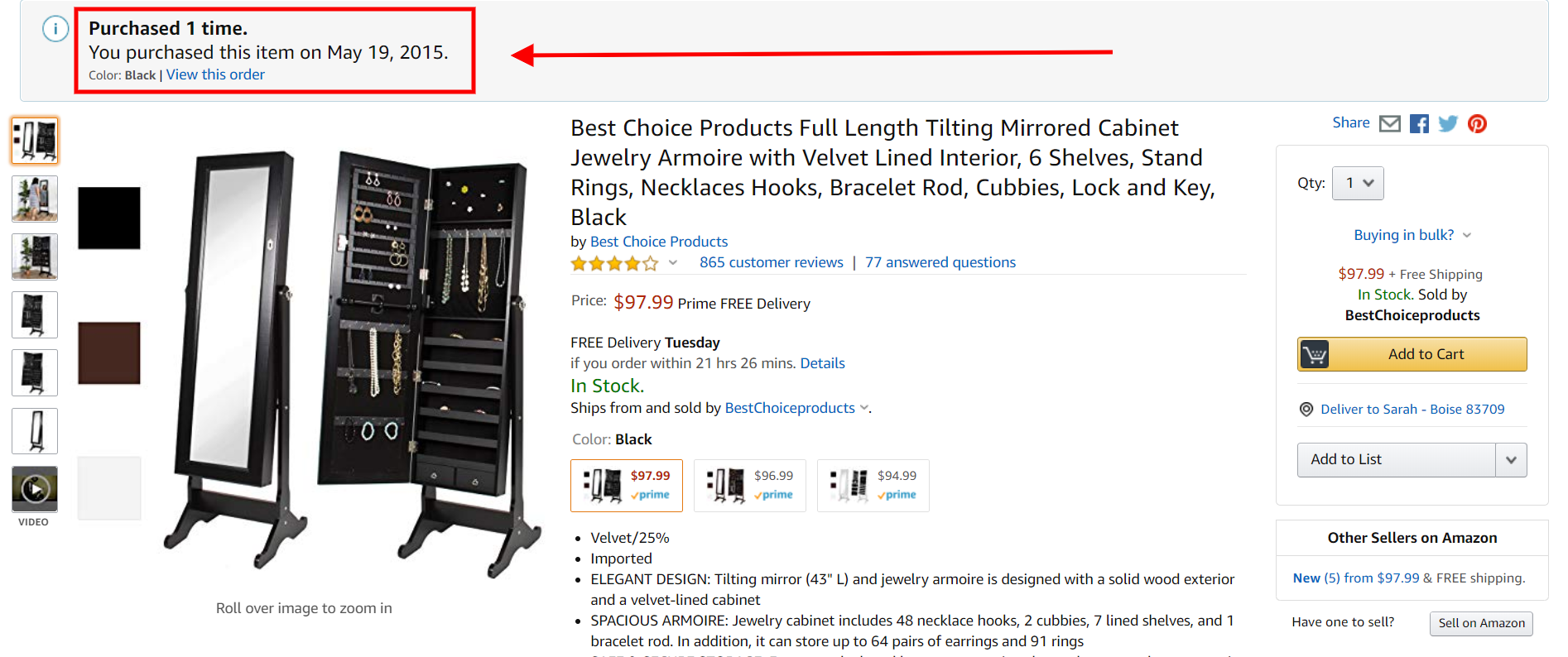 Day 6 – Medicine cabinet – Empty it out first and wipe down shelves and containers. Properly dispose of expired items or medications you no longer use. Group and properly label similar items. For instance, stomach medicines, allergy, pain, cold, etc.
Day 7 – Spices – Remove all your spices from the cabinet or drawer. Clean shelf/drawer and then sort through spices, discarding old/expired ones. When you put them away, you can group them either in alphabetical order or by what you use them for whether baking, cooking fish, beef or poultry or by international flavorings.
I have two of these spice carousels. You can either screw them underneath your cabinets, or I just have them inside a cabinet. You can put them on your countertops as well. They are really pretty and easy to fill and spin so you can see all of your spices.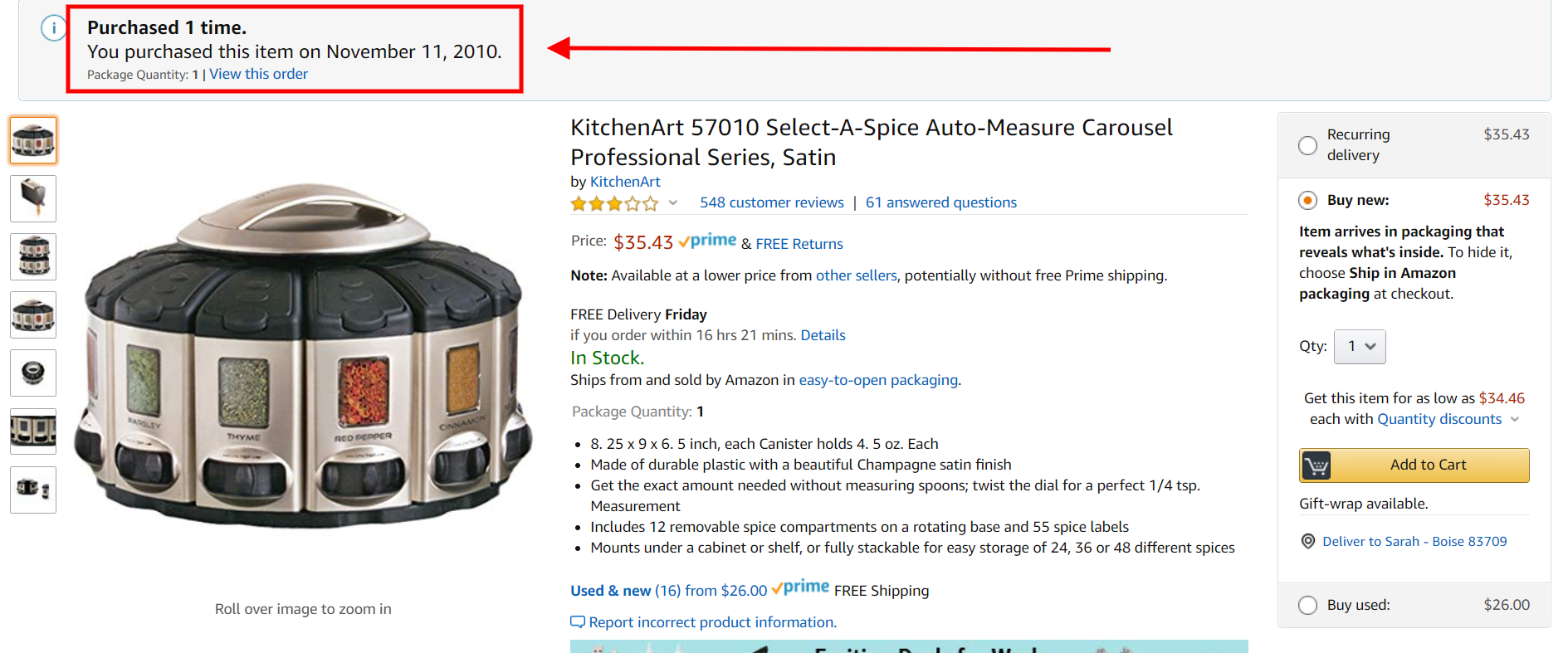 Day 8 – Kitchen cabinets – Empty cabinets and wipe down the shelves and doors. As you're putting dishes back in, pick out to donate those items you never use or those things that you have many multiples of.
Day 9 – Kids toys – Gather all the toys together, and if you like have your child help you to decide what to throw away or donate. If something's irreparable or missing pieces, it's a good idea to get rid of it. Only keep as many toys as you really have room for and can manage easily.
Day 10 – Kids items – Go through your child's room and discard any trash. Put things away that belong somewhere else in the house. Give the room a thorough cleaning.
Day 11 – Holiday decorations – As you sort through all of your holiday decorations, as you see items that you almost never put out or up, feel free to donate them. Unless some things are extremely sentimental, allow yourself to embrace the whole "less is more," when it comes to decorating for the holidays.
Day 12 – Shoes – If you have children, more than likely you have shoes laying around in a closet somewhere that they've already grown out of! That's just wasting valuable space and creating clutter, so donate all outgrown or no longer worn (or liked) shoes for each family member.
Day 13 – Pet items – You know that box of dog toys that your dog never plays with or that food you bought that they wouldn't touch or the leashes you never use anymore? Yep, get rid of it, and take back the space!
Day 14 – Garage – This can be a big one for some people, but it's a great feeling to get it done, so… Empty out the garage and give it a good sweeping and cleaning. Now go through and be ruthless in letting go of what you don't use or need anymore. Make sure to dispose of certain items properly, especially things like paint, cleaners, oils, etc.
Day 15 – Kids clothes – Go through your children's closets and drawers and donate or sell any clothing that doesn't fit anymore. Throw out or use as rags anything that's no longer wearable. Then group like clothing items together, neatly folded or hung, so they can easily find what they're looking for.
Day 16 – Desk – Gather and sort through all the paperwork located here. Decide what to keep and file or what to shred or throw out. Again, put things away that belong somewhere else, and then dust and tidy.
Day 17 – Gadgets – We all tend to hang on to things because we've "spent good money on them." You know, like the steps tracker, older model phones, the reading light that snaps on a book, etc. Go through your home and find these cluttery things and donate them to someone that will get some use out of them.
Day 18 – Fridge – A good time to declutter the refrigerator is right before grocery shopping. Discard any expired food or dressings, and then using a food-safe cleaning product, clean each and every shelf and drawer. Now you have a nice space to put your new grocery items when you come home!
Day 19 – Freezer – If it needs it, give your freezer a good defrosting. As you're emptying it out, discard any freezer burnt foods, foods you have no idea what they are, and any old food items. When it's time to put things back in, group similar food items together so you can find them later easily.
Day 20 – Receipts – First decide what types of receipts you really need to keep, then shred or throw away the rest. Decide on a filing system or receipt storage system that will work best for you and your family, so that you have a plan in place for storing and organizing them.
Day 21 – Shelving – Depending on what type of shelves you want to declutter and organize, you can use anything from shelf dividers to baskets or bins to help corral and contain your items.
Day 22 – Adult clothing – Unless you have a fancy job that you have to really dress up for, here is an excellent place to really simplify! With washers and dryers these days, how many shirts, pants, dresses, etc… do you need?! Make it easier on yourself and only keep what you love and need.
Day 23 – Junk drawer – Everyone has one or two of these, right? That's ok too, but you can still declutter, tidy and organize even a junk drawer so that it's functional. Grab a drawer organizer insert from your local discount store to give you a good head start!
Day 24 – Linen closet – First, purge torn, stained or otherwise unusable linens. Then group sheets together by which bed size they go on. Some people even store the sheets inside the matching pillowcase! How nifty is that!
Day 25 – Storage – For most people, their "storage area" is in the basement. Unless it's a sentimental piece, purge any unused furniture you keep "just in case," the strollers your children long grew out of, and that pile of wood you "may need" someday for a project, etc. If your basement is full, you're going to have to be a bit ruthless in getting rid of things you're not using.
Day 26 – Travel items – Suitcases, bags, insulated coffee mugs and water bottles, OH MY! I suspect you have more than your share. Now is the time to buckle down, sort through, and keep only what's necessary.
Day 27 – Cleaning products – Today everyone seems to like to use more green and safe cleaning products, so go ahead and clean out under the sinks in your kitchen and bathrooms all of those extra unused cleaning products.
Day 28 – Mail and paperwork – Decide and establish a filing system for dealing with all of the mail and paperwork that makes its way into your house. Keep a recycling bin or trash can nearby to dispose of unwanted, unneeded papers. A shredder is a good investment for sensitive papers that you no longer need to keep.
Here's the shredder I have. I love it. It does a good, solid job. 🙂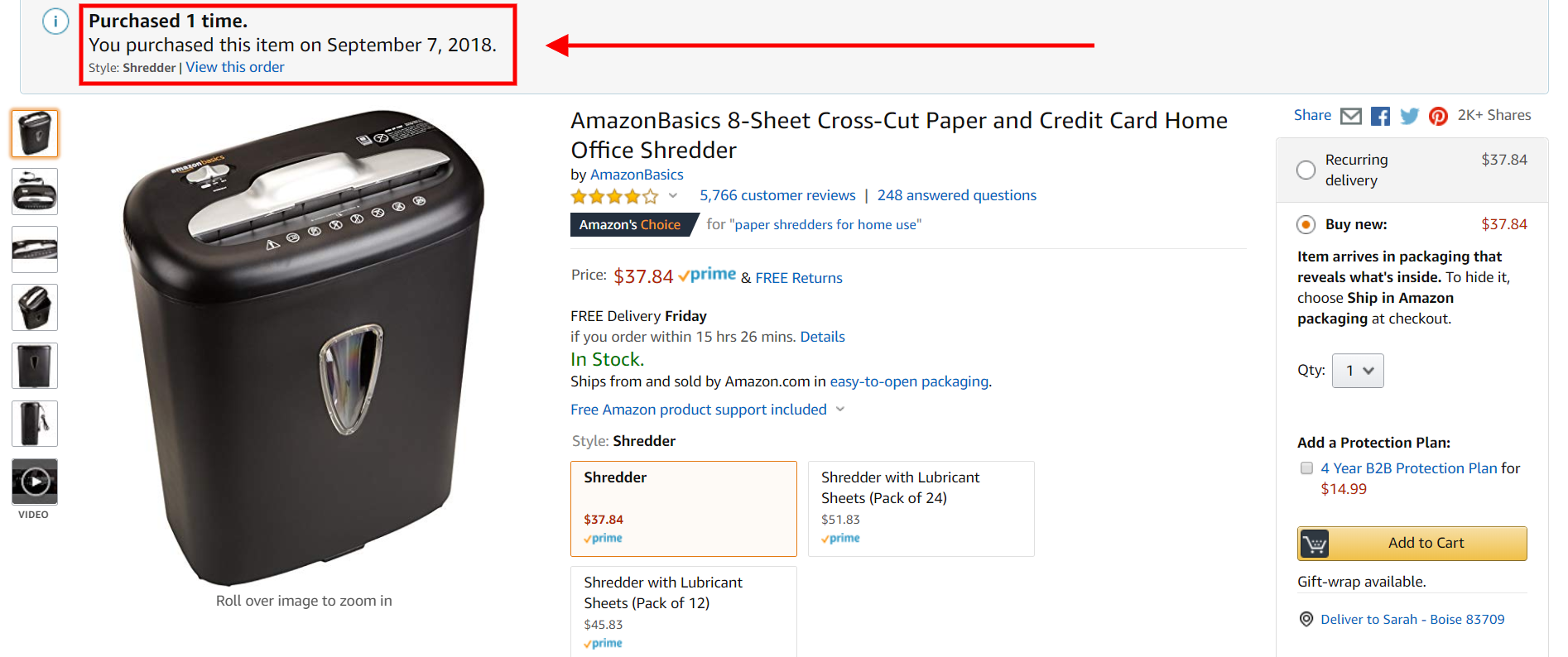 Day 29 – Coupons – If you like to coupon to help save your family money, that's great! 🙂 You need a filing system in order to use them efficiently. Be sure to go through coupons routinely and throw away old expired ones.
Day 30 – Hall closet – First decide what you want to keep in your hall closet. Will it be for coats and shoes or for vacuums, mops and cleaning products. Whichever you decide, make sure to have the proper storage/organizing tools to complement its use, whether a hanging rod or shelves, etc… Also, take into account what you may need to keep out of reach of small children.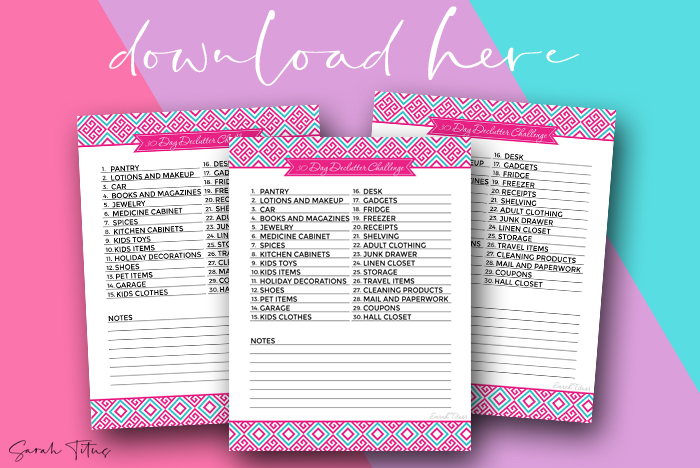 Download the Free Printable home organization worksheets for the 30 Day Declutter Challenge here.
30 Day Free Printable Decluttering Calendar
Want a free printable declutter calendar so you can color in which areas you've done as you organize them?
Awesome!
Check this out! BAM! 🙂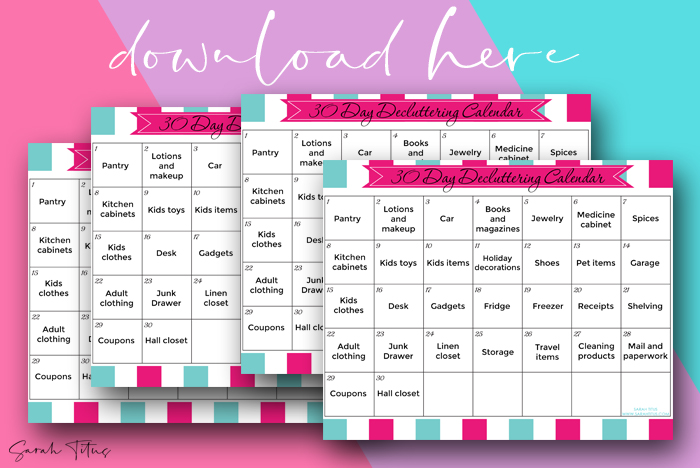 Download the Free Printable 30 Day Decluttering Calendar here.
Wanna take your cleaning to the next level and organize your entire cleaning routine? Grab my Cleaning Binder here.