Today I wanted to have some fun on Illustrator and I created some really kickin' free Christian digital stickers out of my own everyday handwriting! The rose I drew is something I learned how to draw in high school. It's so much fun to draw and hand letter! I still love it, even to this day!!! 🤩
You can grab these digital stickers absolutely free (PNG format) below!!!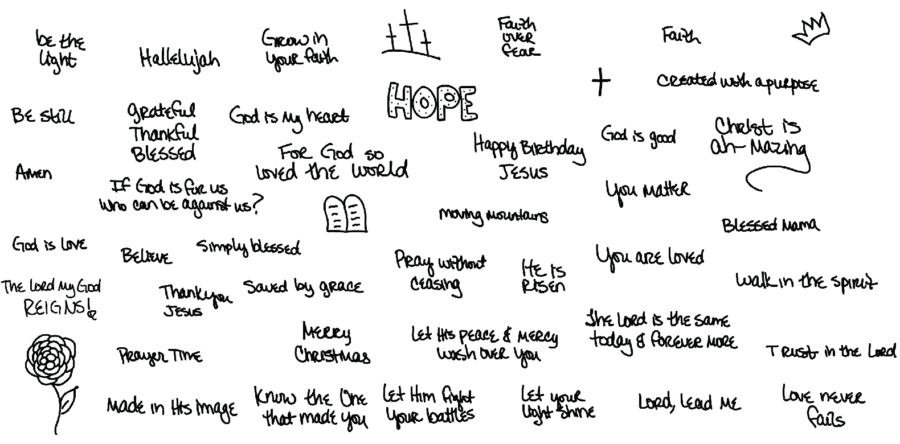 Free Christian Digital Stickers to Download
You can also use these as paper stickers if you'd like, but for those who love all things digital planners, these stickers are for you! 🥰 I'm working on adding a TON of digital stickers to this blog right now, so stayed tuned, because there's a TON coming and in the meantime, checkout the digital stickers tab here for more!
PNGs included:
Amen
Be Still
Be the Light
Believe
Bible Graphic
Blessed Mama
Christ is Ah-mazing
Created With a Purpose
Cross Graphic
Crosses Graphic
Crown
Faith Over Fear
Faith
For God so Loved the World
If God is For Us Who Can Be Against Us?
God is my Heart
Grateful Thankful Blessed
Grow in Your Faith
Hallelujah
Happy Birthday Jesus
He is Exalted Above All Else
He is my Rock
He is Risen
Heart Graphics {2}
Hope
I am a Child of God
I heart Jesus
In Christ Alone
It is Well My Soul
Jesus Loves You so Much
Jesus Saves
Know the One That Made You
Let Him Fight Your Battles
Let Your Light Shine
Lord, Lead Me
Love Never Fails
Made in His Image
Merry Christmas
Moving Mountains
Let His Peace & Mercy Wash Over You
Pray Without Ceasing
Prayer Time
Rose Graphic
Saved by Grace
Simply Blessed
Thank You Jesus
The Lord My God Reigns
The Lord is The Same Today and Forever More
Trust in the Lord
Walk in the Spirit
You are Loved
You Matter
God is Good
God is Love (looking for free printables you can give to your kids/the kids at your church? Grab this God is Love Printables Activities Bundle FREE if you use special discount code: FAITH )