Today we are zeroing in on evangelizing at playgrounds and parks. Maybe you're helping your child to learn to evangelize, or maybe you find yourself needing to occupy some free time while your children are testing the limits of the swings. Regardless, you can evangelize to unbelievers and/or encourage believers with several fun activities!
Evangelism: Park & Playground Evangelism
Sidewalk Chalk Evangelism
Bring a box of sidewalk chalk on your next park adventure. Writing out John 3:16 the sidewalk is a perfect way to share God's love with passersby.
We live near an elementary school and lots of children and parents walk on our sidewalk daily. You can just write out the verse in brightly colored chalk, or embellish it with fun happy faces and flowers.
I've even made a hopscotch version which is super fun to watch the kids skip through.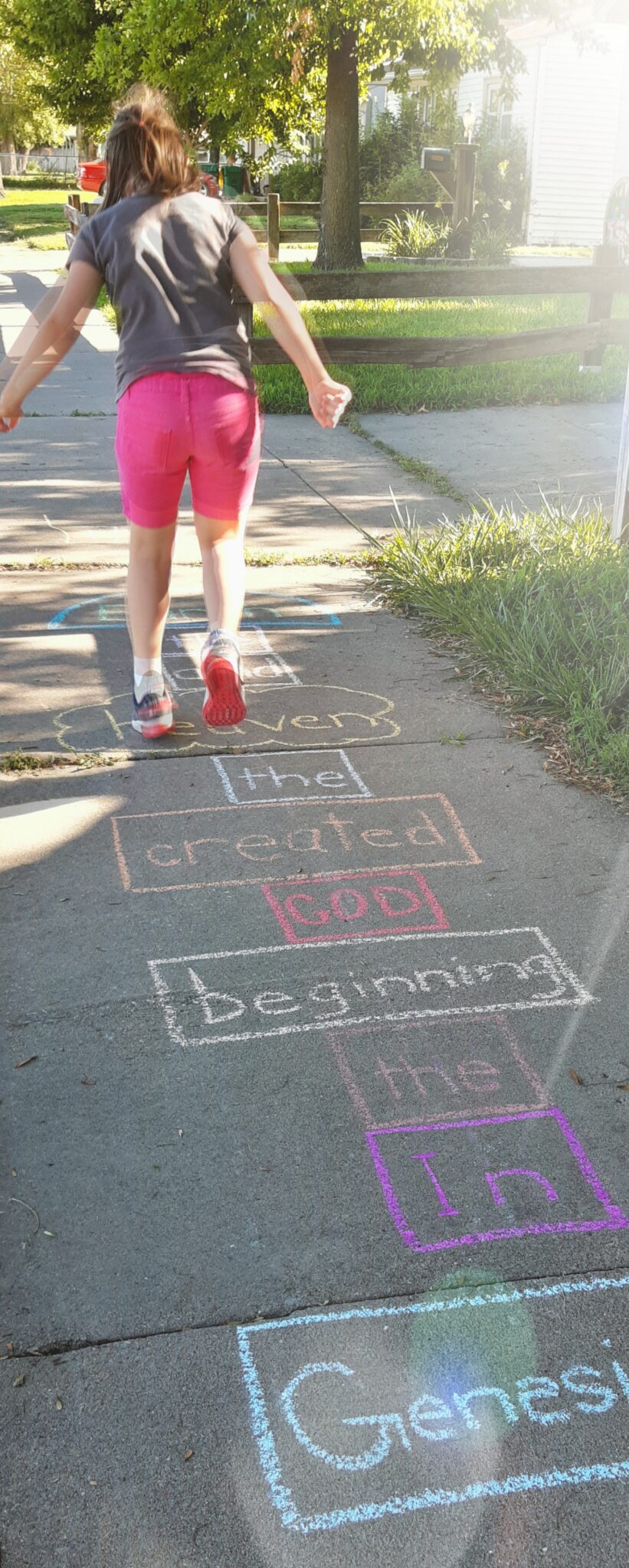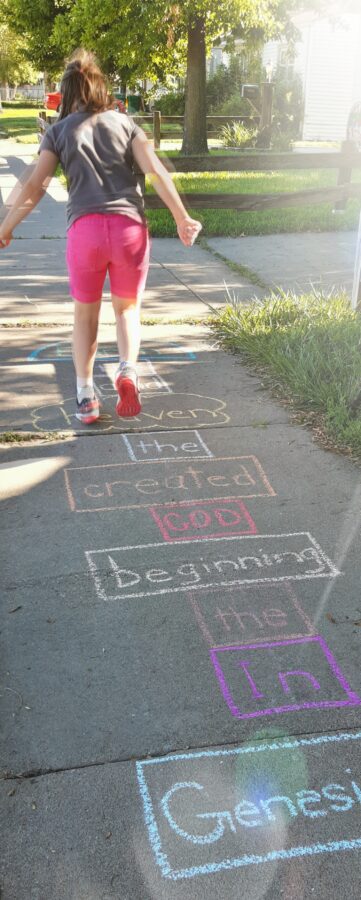 Here are a couple of my other favorite verses to write:
Genesis 1:1 – In the beginning God created the heaven and the earth. (add fun pictures of planets, stars, comets, and the sun)
Romans 5:8 – But God demonstrates His own love toward us, in that while we were still sinners, Christ died for us. (I'd maybe draw a cross and some hearts for this one)
John 14:15 – If you love me, keep my commandments. (this one is meant to encourage believers, and not so much for non-believers)

Bible Rocks
This one takes a little forethought, but once you have a good stockpile you can always grab a couple of rocks to put in your pocket on the way out of the door. Here's how to paint rocks:
Find or buy rocks to paint. Although the smooth rocks are easier to draw on, the irregular shaped rocks can inspire fun ideas, such as a slice of pizza with a bite taken out of it.
If finding rocks to paint, make sure it is not part of someone else's landscaping. It is also illegal to remove rocks from railroad tracks, state parks and national parks.
I buy mine from Michael's (usually using a 20% off coupon that they have in the Sunday newspaper advertisements or online) or Hobby Lobby (I love their sliced, flat rocks).
Wash and air dry rocks prior to painting or Mod Podge-ing (is that a verb? It is now!) so the paint will stick. But if they're SUPER dirty, wash them off outside or the dirt may clog up your plumbing.
Cut out verses from my FREE Bible Rocks printable below and Mod Podge to the bottom of the rocks. There are many various verses to choose from that can fit different sized rocks. Some of the pivotal verses are repeated, so you can use them multiple times. Get this FREE printable now!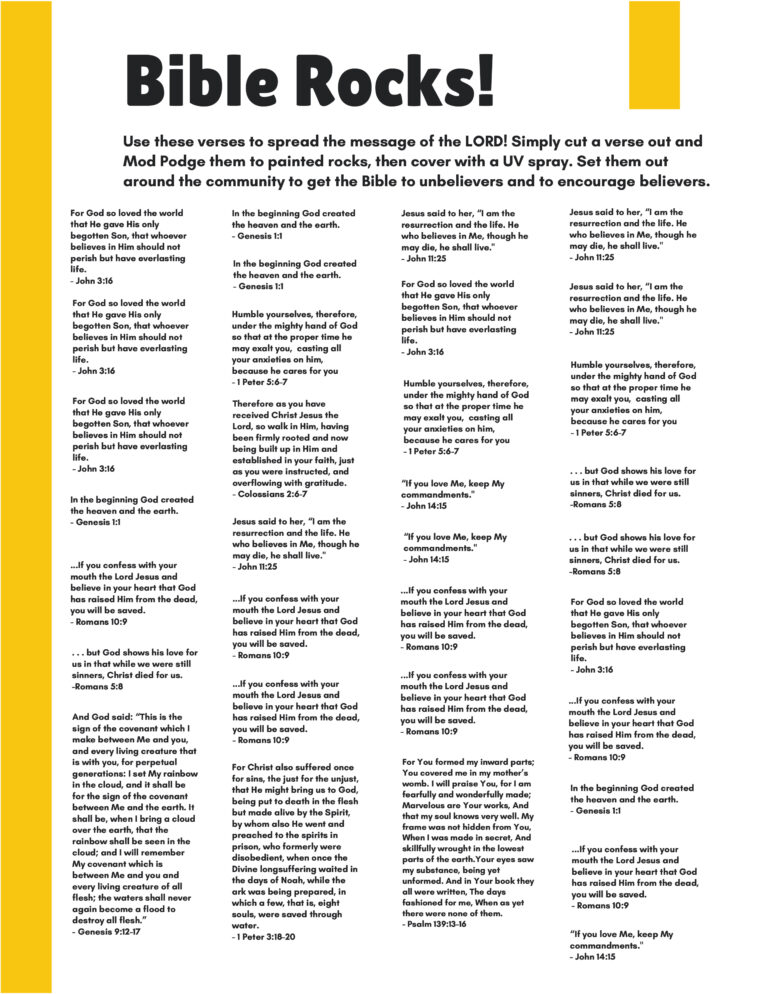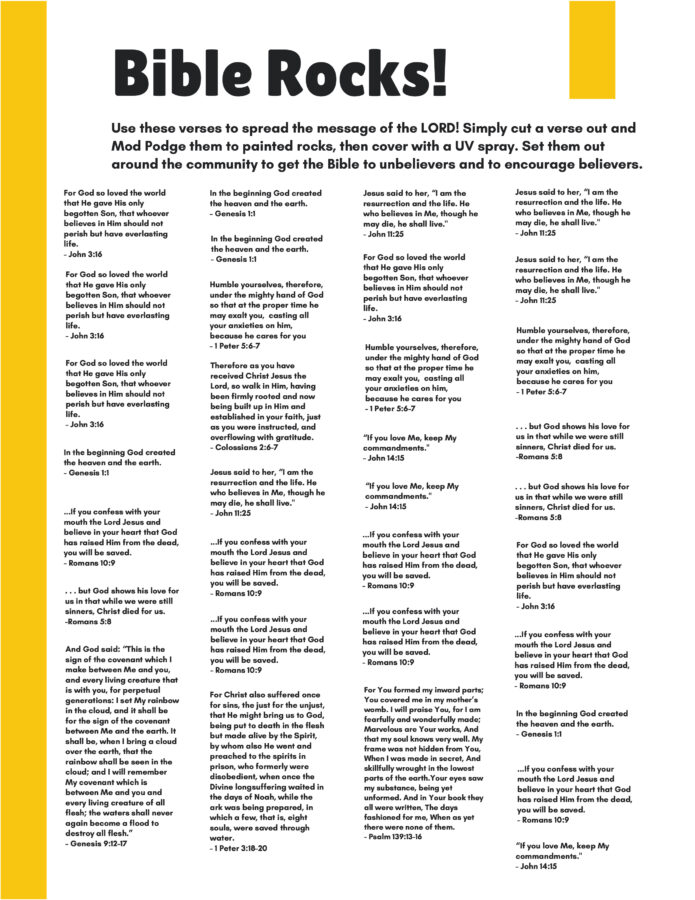 I have used a foam brush, but recently discovered the benefits of using a small, sorta stiff-bristled brush to cover the bottom of the rock with a thin layer of Mod Podge (the stiffer bristled brush helps to push the paper Bible verse into the crevices of uneven rocks easier).
Then put the Bible verse on the rock, and finally cover the verse with another thin layer of Mod Podge smoothing out any bubbles or other imperfections in the paper.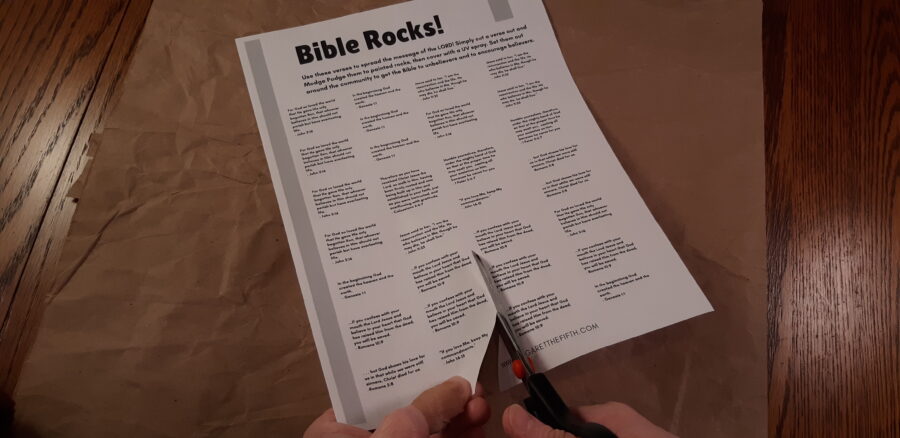 Seal the bottom of the rock with a UV (and clear) spray on sealer after the Mod Podge has dried.
Then allow the clear spray paint to dry before painting the topside of your rocks. Make sure you're in a well ventilated area. I always spray mine outside. Pay attention to the instructions for the weather conditions on your can of UV spray. Mine wants a warm-ish, low humidity, low wind day for best results AND so I don't get doused with paint. Do not use Mod Podge for this step because it won't protect the rock from the elements.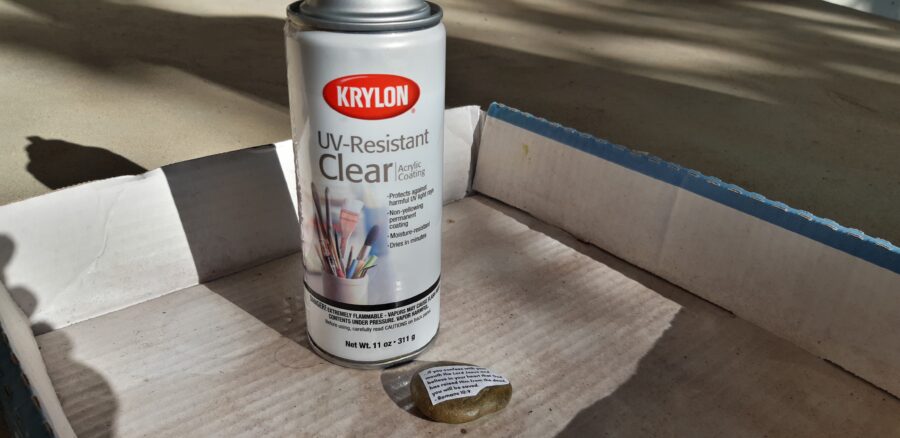 Use acrylic paint to paint your rocks. They seem to work the best for me. You can use brushes, but I usually just use the acrylic paint pens. Although I have used blobs of acrylic paint on a paper plate and Q-Tips to paint when I didn't have any paint brushes.
OPTIONAL: to really make the colors pop, add a base layer of white or another light color of paint before painting your design. I usually don't do a background paint, but others regularly do, and it looks really sharp!
Seal the top of the rock with spray on sealer after the paint has dried. Just like in Step 4, but now for the painted tops.
Hide the rock! When hiding rocks, do not hide where lawn mowers will get it. Hiding near statues is popular but do not hide on statues as it may cause damage. Common hiding places include libraries, public parks, and splash parks (use common sense here when hiding- don't hide TOO well or they won't find them and keep off monuments, etc.)

Keep or re-hide the rock. The rock can be kept (as a way to be inspired by the Bible verse and fun painting!), or given away. I've heard that sometimes people choose to keep the rocks for a while to enjoy them, and then re-hide them at a later date. These rocks really stand out at parks and school playgrounds, so try it today!
Leaving Tracts on Playground Equipment
Are you familiar with Christian tracts? They are small booklets that tell people how to get saved from their sin to get to heaven, or it illuminates a sin that a person needs to turn from or protect themselves from, or shines light on lies like evolution so people can gain freedom from wrong beliefs.
Tracts should be immediately engaging with colors and fun, age-appropriate pictures. Ray Comfort has a ministry called Living Waters where we buy our tracts. Here are my favorite tracts for kids: Albert Brainstein, and this is one that comes in many different languages, Are You A Good Person?
Fun fact: When we received our first set of kid tracts, we prayed over them prior to distribution that the LORD would use each one of them to bring people to Him. A day or two later, my daughter (who was about 4 years old at the time), asked me what these little colorful cartoons were, so I read one to her. She asked me questions about what it meant to sin, realized that she had sinned, and wanted Jesus' free payment for her sins. We prayed together that very afternoon, and she asked Jesus to be in her heart! Hallelujah! I never expected for these tracts to impact our lives in such a personal way, but what a wonderful blessing! 💖
Honestly, this option has less finesse, but it gets the Word of God into the hands of children. Simply leaving a tract on playground equipment. That's it.
And when a child finds a fun, kid tract, they'll run to show it to their friends and family. They become inadvertent evangelists.
So dig deep to find your inner child, and crawl through playground equipment, roll up a tract to put through the chainlinks of a swing, or lightly wedge a tract into a seam on a winding slide.
Buried Treasure Evangelism
This evangelism tool actually combines sidewalk chalk AND painted rocks AND kid tracts.
Honestly, this is my FAVORITE tool. It is SO fun!
First, do some prep work. Buy some food that comes in plastic containers that have a watertight, screw on lid from the grocery store. Make sure that the ingredients of the contents aren't common and sometimes severe allergens like eggs or nuts (so not peanut and other nut butters, coconut oil, or mayonnaise jars). We don't need to create an emergency here! 😊 I like Talenti sorbet or applesauce that comes in plastic jars.


After the containers are empty and THOROUGHLY washed, glue a rock on top of the lid according to the package directions. This will require adults to complete this step or at least to supervise closely. I used plastic gloves to keep any glue off my skin. Use a strong glue (we have used JB Weld, Super Glue, and even hot glue- all of which work fine, but, in my experience, will not hold forever).
Once the glue has dried, paint the rock.
Once the paint has dried thoroughly, spray the rock on the lid with a UV spray.
Then place 4-8 quarters and a kid tract inside.
Color a specific shape that coordinates with the painting on the lid of the jar on the sidewalk at the playground. Make more shapes all the way to a sandy/rocky/wood chippy area. Bury the jar in the sandy/rocky/wood chippy area leaving only the rock peeking out. Kids will LOVE to find this treasure! It appeals to their sense of adventure and fun.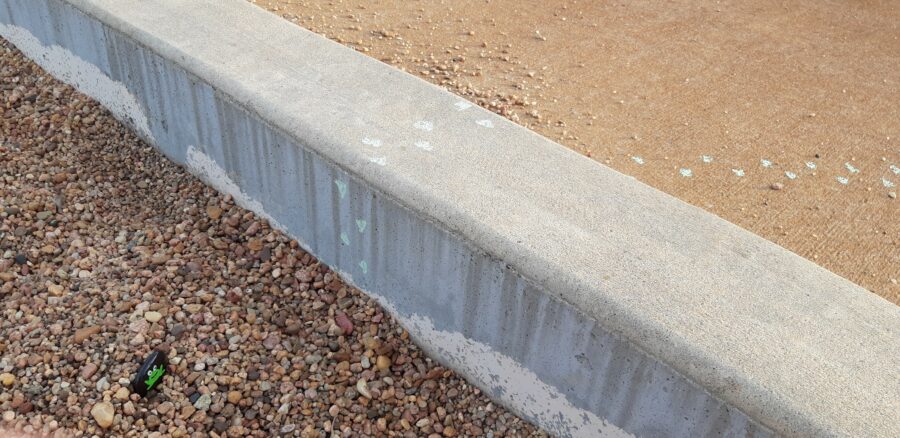 Above is a picture of the one that I did with a little frog on the rock. I did this with my kids and what a THRILL it is when you come back to the park that same day and your treasure has been found! It is SO exciting to know that at the very least a spiritual seed has been sown! I was SUPER pumped the rest of the night!
Once, I did one with a rainbow theme: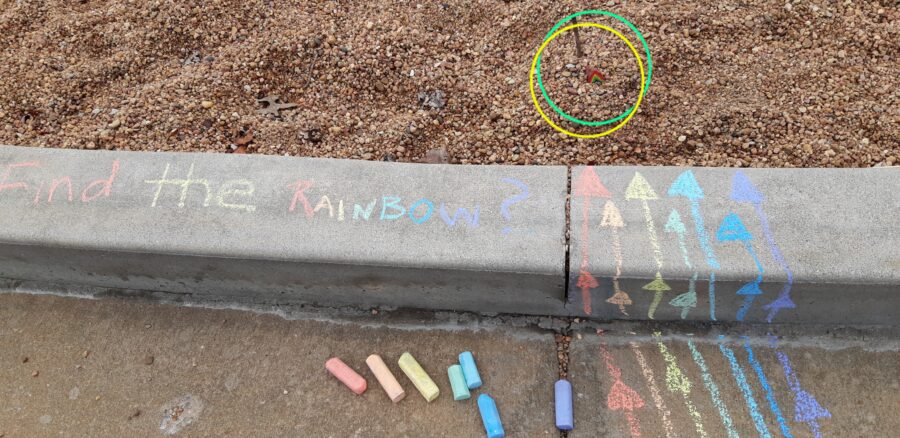 And when I came back later, I got a "Thank You" message from a girl named Mabel. It was SO SWEET! Of course, even if there is no reply, we can be sure that our Heavenly Father sees it, and He will use it for His glory.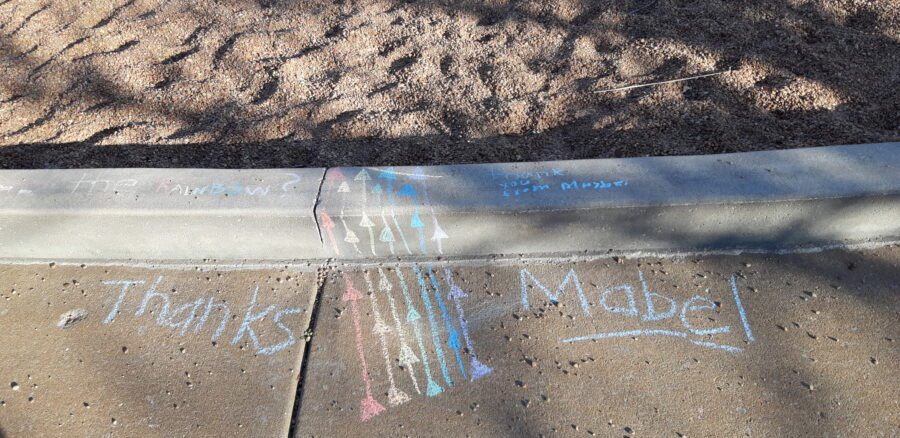 There were a few ways to evangelize and encourage while having fun at the park or playground, but there are so many more. Have you done anything to spread the Word of God at a park or playground? We'd love to hear your ideas! 💖