Christmas gifts used to cost me a good $500 each year. I kid you not. I still remember those days vividly. Thankfully, God had other plans in mind for me. He wanted me to learn to spend His money wisely.
Here are some of my biggest tips that brought my Christmas spending down to a mere $100 without compromising the love I share. If you want to save money on Christmas gifts this year, these are my favorite 7 ways to save $400 on Christmas gifts.
7 Ways to Save $400 on Christmas Gifts
1) Shop Throughout the Year
Friends and family are usually fairly easy to get for, so when you see something that someone else would like, and it's on sale or clearance, grab it and set it aside.
A few weeks ago, I came across a beautiful picture frame that had my friends' name custom-made on it. Her name is not a common name so, of COURSE I knew she'd love it! It was regularly $14.95 on clearance for $3.50! That friend will never know I didn't spend $15 on her! In reality, I spent a whopping $3.50 and got her a gift she will ADORE!
If my budget for each person is $10, I can either a) spend an additional $6.50 on her or b) up someone else's budget or c) walk away paying $93.50 on Christmas gifts, instead of $100. Whatever you chose is up to you, just don't use that as an excuse to blow the money on yourself. It's so tempting I know.
2) Never Purchase Last Minute
Listen, I'll be upfront…I've been selling for 15 years and I can boldly say that the sharks come out Dec 15th every year!
Fully KNOWING there will be people who wait until the last-minute and need a gift. Those buyers will pay just about anything to score that item. The sharks know this, and take advantage, gouging every cent they can, all under the guise of "helping you."
3) Set a Budget and Stick to it
I know, you were on board until you read 'stick to it.' What a buzz-kill, right?! Well, again, I'm a straight-shooter (no fluff here). If you want to only spend $100 on Christmas gifts this year, you'll need to create a budget and stick to it. Here's a free printable to download…
Free Christmas Gifts Budget Printable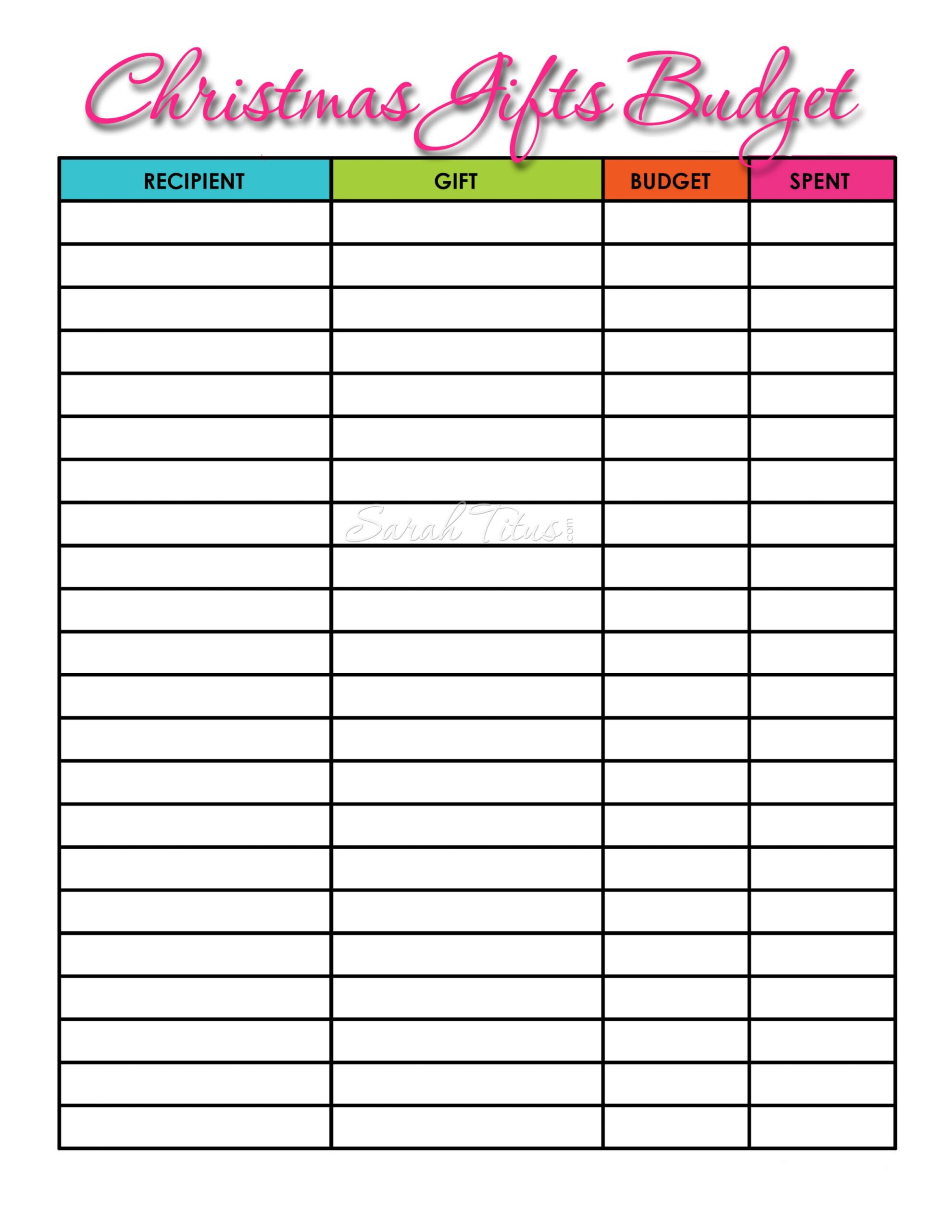 Here's a free printable that you can use when making your own list!
I also like to keep a running log document in MS Word on my computer. On it, will have each person's name and by it, gift ideas. Throughout the year, when I think of things that person may like, I open up my document and add in my ideas. It really keeps me organized!
4) Buy Previously Enjoyed Gifts
This is not the mainstay of Christmas gifts, I get it, but for my kids, they totally know their getting previously loved gifts. Why they are okay with it? Because I'm able to buy them MORE used, than I would new. See, they understand the value in saving, even at a young age! Saving money = more stuff.
One year, I even asked them what they preferred. More gently used stuff or less new stuff. What did they chose? More used stuff! So proud of them!
5) Shop Around
To get the best deal, you absolutely have to shop around. See something on the clearance aisle? That doesn't necessarily mean it's the best deal for YOU. It's inventory the store wants to move. Research and know your prices. Use a site like Slickdeals (my favorite) to score the best deals.
If you can, shop online. It's MUCH cheaper if you know how and of course, ALWAYS go through Ebates for cash back (I've been using Ebates for about 8 years now and LOVE them!) In fact, if you don't already have an account, you can get $10 free when you start using them by clicking here and joining. Then just place any $25 order through any company they go through as you normally would, within 90 days of signing up and the $10 is yours for free. No strings attached. They don't charge you anything for this service at all either! It's a WONDERFUL company. You'll love them!

6) Give Gifts All Year Round
Christmas may be once a year, but your friends are not.
Is Christ's love for us just once a year? Do you really need a day set aside to remind you that your friends and family are AWESOME? No way.
If you see something small, pick it up. Give it to them 'just because.' Your family and friends will feel loved and they will not need, nor care, that you didn't spend $50 on their Christmas present. Gifts are about the love behind them, not the actual gift. If you need a holiday to make you think of them, that's a heart issue.
Sometimes it doesn't even have to cost you money. A few months ago, I found a clipart picture that I just knew one of my friends would just love. So, I posted it to her Facebook wall.
She replied back how thoughtful it was and how thankful she was for our friendship. I didn't do it to gain favor in her eyes. I did it out of the love in my heart for her. That love for others wants to bring a smile to their faces. What can you do today for a friend that you haven't connected with in a while?
7) Make a Christmas Gift
Do you do something well?
Maybe you make beautiful hand-made cards? You could make someone's Christmas cards for them, as your gift to them, for Christmas (just make sure to deliver it to them early).
Maybe you sew. You could make a doll dress for a child, a curtain for a friend, a stuffed animal for a loved one.
I know someone who makes Christmas ornaments for her friends every year. Every year they are different. They are beautiful and I look forward to getting them and seeing what she's created for this year. It became a tradition for her, one that is passed on to my children.
Remember, it is the heart that matters. Show your friends and family the love for them in your heart, and they will not feel 'jipped' come Christmas.
Christmas gift ideas- just in case you stumped for ideas, here's an ultimate Christmas gift guide for LITERALLY EVERYONE on your list. You can also check out my 50+ Essential Oils DIY recipes post that has some great tutorials and ideas on very inexpensive, but lovely, Christmas gifts!