Owning a Shopify store is exciting. It's your very own business and you get the chance to make money and sell items that you love. However, if you've been in business a while and haven't been able to get new customers or make money, you may be wondering what you're doing wrong.
While I have an entire course dedicated solely to how to set up your Shopify store in a way to get people to actually hand over their debit card numbers and get the sale, there are things you're doing wrong right now that tank sales.
Let's talk about the 5 things you're doing to REPEL new clients, customers and MONEY for your Shopify store. These tips will give you solid ideas on how to promote and improve your store!
So, why should you listen to ME? After all, there are billions of websites out there, am I right?! What makes "THIS GIRL" different?
Well, first off, I have over 22 YEARS experience in ecommerce. Not very many people can say that. I literally have been selling in ecommerce stores since I was 17 years old! Just a wee baby. I've grown up in ecommerce. Today, I literally make millions of dollars a year in my Shopify store (here's all my income reports) and I do it ALLLLLL on nearly autopilot.
See, I was working 80-120 hours a WEEK (not a typo) for three YEARS! Busting my butt as a single mom. Trying to support my family after my ex-husband suddenly took off and abandoned us. I ended up in a homeless shelter. Fun times. 😛
The problem was that I could work my hiney off and make good money, money to have enough, provide for my kids, take vacations, provide for them for college, buy a brand new car, but…I had to do it, while WORKING my whole life away!
I was doing great as a single mom, but I didn't want to always have to be online. Slaving away at the computer night and day.
So I opened up a Shopify store to sell printables that I hired someone to create for me.
The thing went gangbusters the first month. I'm not kidding you, I made $52,060 in revenue my first month on Shopify. I hit a massive chord. I myself, was shocked!
Fast forward two years later and I'm STILL making really STEADY income and I don't work more than 10 hours a week on my Shopify store/email list.
I'm standing before you today, a single mom, making millions of dollars a year in revenue, all while working less than 10 hours a week on it. Seriously, it's everyone's dream life and I can't believe that *I'm* the one that gets to live it. It's amazing!!!
All those years in ecommerce has paid off for me, and I want it to pay off for YOU TOO! I want YOU to have what I have.
Will it come easy? No.
Will it happen overnight? No.
If you're starting from scratch, it'll take you a few months to get going. But after having earned money online for over 20 years, the best, fastest way to earn legitimate money is to open your own shop and sell your own products. The place to do that is Shopify, hands down.
So if your store isn't performing like it should be, first of all, if you sell digital products, you need my course, Million Dollar Shop®. Secondly, you need to make sure you're not doing the mistakes below…
#1. Not Being Personal and Professional
You may make a sale because people are curious about what you have to offer or they see what you have and want it. However, the bottom line is that they are only going to come back based on their experience with you. When it comes to your Shopify store, you need to be personal.
There are two types of Shopify stores. One is super professional, they look professional, but there's no personality in it. WHO are we buying from? WHO are we investing in? Some shady online scammer? I mean, how do we really even KNOW?!
People want to know they are investing in a good cause. Show them who you are. Show them you're a good person to invest in.
Another way to look at this would be to earn your customer's trust. Keeping those clients is important, which is why you need to be able to make it personal and earn their trust. Some of the ways you can do this include:
Show your personality a little bit
While people love shopping, they also want to see your personality. Don't be shy about showing the human side of you. Showcase who you are in a personal and respectful way.
Highlight the good side of your Shopify store
What do you have to offer that another Shopify store doesn't? By highlighting the good side of your store: for example your great eye for design, your care of your customers, you are making things more personal. You are giving your customers a reason to come back.
Make yourself available
When it comes to your Shopify store, make yourself available to your customers. Do they have questions? Are you available to answer them? Make sure your customers can reach you and you have your contact page set up. You need to be answering those emails every day (on weekends too, if possible). If they know you're available to answer questions, they are more likely to come back to you.
The second type of store is one that's TOO personal. It looks a little crazy because the store design has a cursive font, baby blue background and there's just way TOO much personality put into it.
Listen, both types of stores are WRONG.
You need a solid BALANCE of BOTH!!!
My shop is the perfect example.
The first thing you see is my banner for a freebie. I want people to see this first. I'm here to make sales, yes, but, if I get people on my email list, I'd rather take that then get a sale.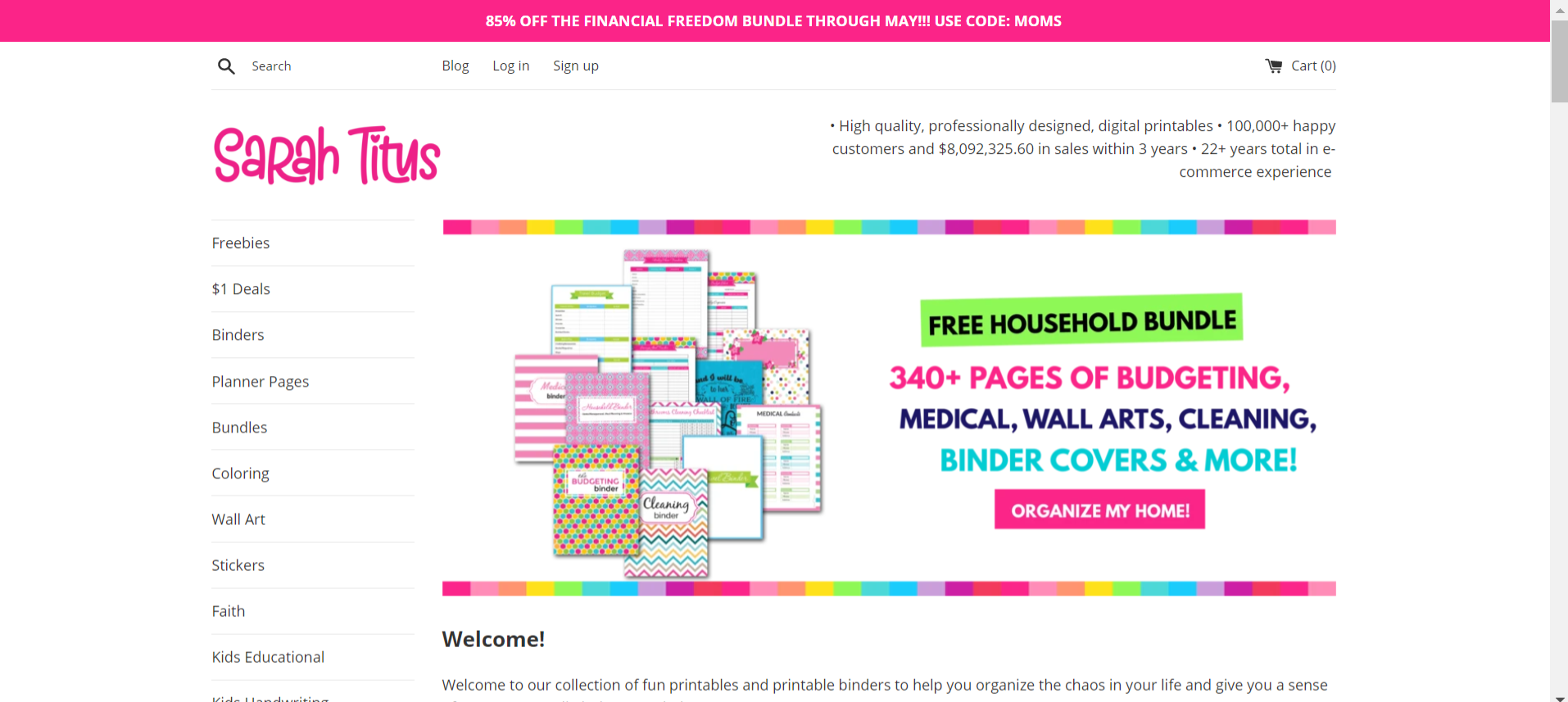 Why?
Because when I'm personal in my emails to them, they get to know me, trust me, and they buy more and BIGGER stuff. That's obviously not the only reason, I LOVE serving people. It's my life. And people on my email list, I get to serve.
I want to give them lots of freebies, make friends, show them so much kindness they will never leave me.
My banner is personal. My logo is personal. My logo is indicative to my niche.
But when you scroll down, you see the professionalism.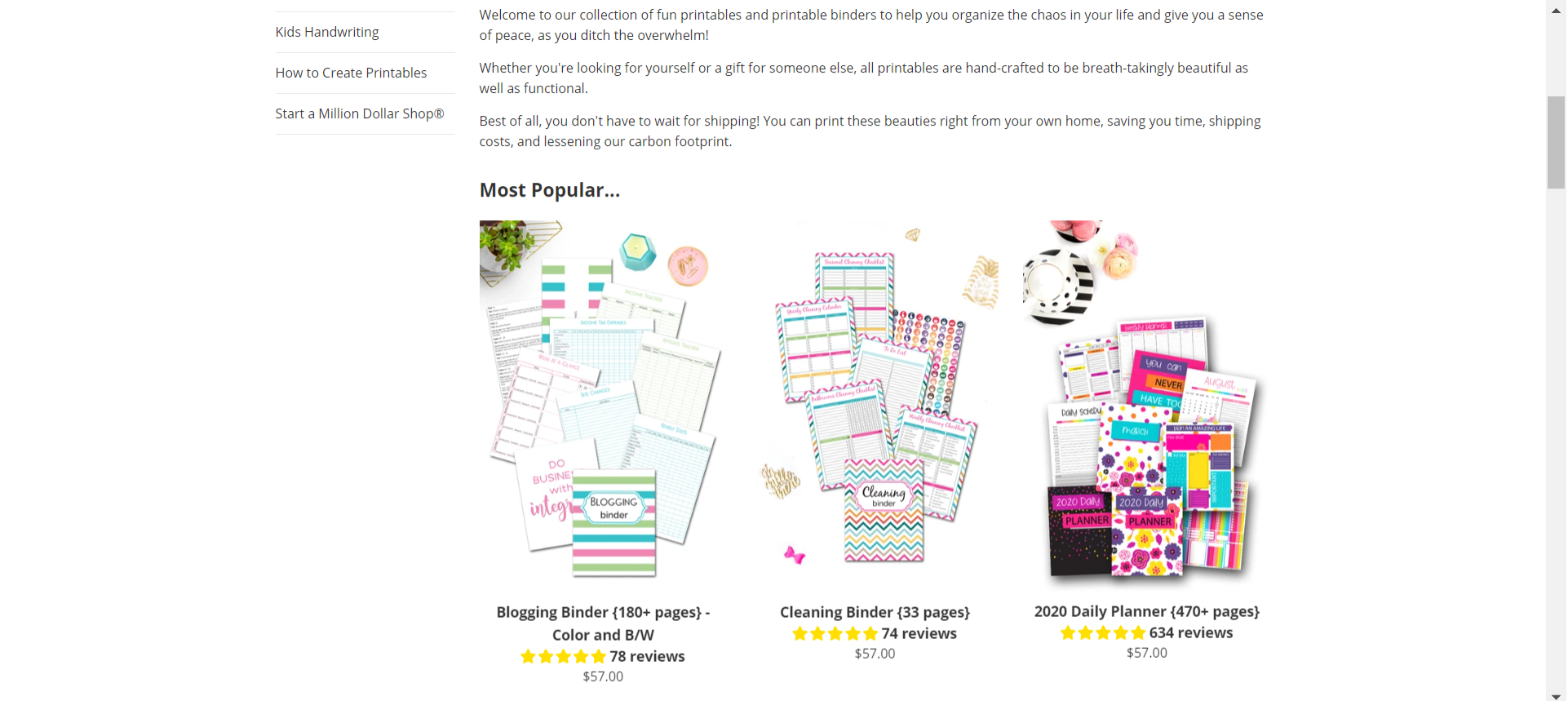 You need a balance of both. Show them who you are so they trust you, but you must be PROFESSIONAL TOO, so that they trust you. It's a two-sided coin. You need both to reap the benefits.
#2. Being Too Niched
You may repel new clients because you're being too niched. If customers only need your product one time a year, why would they keep coming back several times a year? It's important to not be too niched because you're trying to keep your Shopify store earning money year-round. Selling items in your Shopify store may require different items for different times of the year.
For example, while I SELL printables and that's the particular niche I go for, I'm not selling other things in there like bicycles or something, but the printables themselves are not niched down.
I have printables for moms, for business owners, for teachers, for students, etc.
I have printables for all seasons: Christmas, Valentine's Day, Easter.
I have different TYPES of printables. Kids handwriting practice sheets, hand lettering practice sheets, daily planners, coloring pages, wall art, stickers.
If someone is looking for stickers, I've got it. If they are looking for homeschooling practice sheets, I've got it.
If a mom is looking, I have stuff to appeal to them. If a teacher is looking, I have stuff to attract them.
I'm not so niched down that I only appeal to one type of person, but many.
#3. Not having your own product to sell
One thing you're doing to repel new clients, customers, and money for your Shopify store is not having your own products to sell. People are way more apt to buy your products than someone elses. Your customers trust YOUR products more.
You know, when I first started blogging, I got into affiliate marketing. I was doing really well. I took a really great course and did well with it. Started making like $60k from ONE company per year. Fantastic money.
But over time, THAT company has become a dinosaur and all that income is now only like $200/month income.
I can't CONTROL what others do.
Yet another company I was an affiliate for, they closed suddenly, declared bankrupt and I LOST $400ish!
Another company, changes the links all the dang time, so my hard work that I worked to get a post to be popular, the links have to be changed all the time and they don't give us warning. All the sudden, your income just *poofs*, it's gone.
Another company I'm an affiliate for, they raised prices by over double and now the amount I earned, which MUST be spent as store credit, doesn't get me very far.
If you REALLY think about it, MOST bloggers don't even recommend products they've actually USED. It happens all the time. So the trust level just isn't there with affiliates. Bloggers have abused it, and customers don't trust it as much.
Selling your OWN products, is way better. You'll make far more money selling your own products than someone else's. I'm not saying don't use affiliate links, definitely do, but there's a point where you'll want to make your own stuff. You'll have control over it. No changing links. No going out of business. You control it all.
Think about when you're in a store, you want to buy a real product, a product that a real person is selling. When you have your own product to sell, customers can ask you questions about it. You know the answers inside and out because you created it. So you become more knowledgeable to people. More trusted.
Create your own fan base
When you sell your own product, you also create your own fan base. When customers realize what you're selling, if they love it, they'll keep coming back.
Future proof
Something that can be said about selling your own products in your Shopify store is that your business is safe in the future, within reason. If you are selling someone else's products, there is no guarantee the products will be there in the future.
If you're drop shipping…99.9% of dropshipping are scams and the other 0.01% is a LOT of hassles and nightmares. Your name is on the line and when THEY mess up (a lot), YOU lose credibility and trust. There are far too many reasons to NOT do dropshipping. It's a nightmare and a half. Stay away from it.
More freedom with marketing
When you're selling your own products, you also have more freedom with marketing. If you're selling someone else's products, they may have limits on what you can or can't say or do when you are marketing.
The fine print is so stinkin' annoying. You can do this, you can't do that. You can't do this or that or the other. You can't mention our affiliate link in an email or on Facebook or…it's just a lot of rules and regulations. Promoting your own stuff is just so much SIMPLER!
#4. Trying To Do Too Much at Once
Just like human nature, when you own a Shopify store, you are most likely trying to do too much at once. This will easily repel new clients and keep the money from coming in. Good advice to follow for your Shopify store is to focus on a ONE thing at a time.
Don't try to install 5 new apps and do your GDPR stuff at the same time. Come on. It's just too much.
You cannot literally do it all at once. Customers can feel when you're not focused on them and it's not a good feeling.
Focus on one thing at a time. Do that one thing till it's done, then do another. The last thing you want your shop to look like is a road construction site!!!
#5. Not Nurturing Your Email List
As a Shopify store owner, you should focus your #1 effort on an email list. Building an email list will help your business in more ways than you've ever imagined!
Email lists invest in your followers
When you have an email list, you're able to invest in your followers. Spend time with your customers helps you know exactly what to create to help meet needs. Build that email list, so you can continue to invest in those customers and clients. Sending emails to your customers is a great way to show them appreciation with free items and great deals.
My recommendation is no more than once/week and no latter than once a week. haha. Email your email list once a week. Don't know what to say? You're not spending enough time with your customers! Follow them on Facebook. See what's important to them. Get to know them. Make those relationships.
Making sales reallly, is all about making relationships. Focus on the relationships and the best way to do that is through email!
I know that your Shopify store is important to you, but your customers should be even more important to you.
Focus on the PEOPLE, and the money will come by the hoards. So many people wonder just how exactly I make so much money. It's not rocket science. I have a system laid out on my shop and then I invest in people. If they need what I have to sell, awesome, if they don't, no problem. I try to help and serve as many needs as humanly possible. That's all there is to it.
So many people come to me and try to build it backwards. They see what I'm doing and are like, okay, well SHE does it, so I can too. How do you know????
Have you tried to see if people even WANT your printables? Have you showed them to anyone??
You need to focus on meeting people's needs. Even before I started blogging, I was meeting people's needs. That's WHY I got INTO blogging. Everyone wanted my saving money advice. I started a blog to save time. Explaining the same things over and over to multiple people took a lot of energy. I wanted to put up a post and send those people asking to it.
Your business, whatever you do in life, starts with meeting people's needs. The needs of those around you. If your shop is not meeting needs, you're sunk. I hope these 5 points provide useful Shopify optimization tips for your store!