The problem with being stuck in your home for a long period of time is that you get depressed. When people are depressed, suicide rates go up. It's SOOOO vital that we keep in contact with others, go outside (even if it's a few inches from your door), get a little sun (vitamin D deficiency leads to depression) and keep active.
I suspect this is going to be a new way of living for a lot of people (either by choice or it takes a while to pass). Thankfully, there are a lot of people who've gone before you.
Working from home and being a stay at home mom for over a decade is tough sometimes. That's one of the reasons I'm so thankful for YOU. It gives me purpose. Keeps me driven. I'm HELPING people. I'm serving. I'm useful. Find a way to FEEL useful.
Speaking of driven…don't forget to start your car every few days or the battery will die. 😉 lol.
Keep yourself motivated and inspired … especially when things get tough.
I have TONS and TONS of resources and strategies to do just that!!! These are great habits of how people stay encouraged when everything's falling apart! Use these printables (most of which are free) and you'll feel better instantly!
5 Habits of How People Stay Encouraged in Life When Everything's Falling Apart
The first thing I would encourage you to do is to download some encouraging wall art.
Put it all OVER your home, tape it to mirrors, get that stuff in your face so you're constantly confronted with "cheer" everyday. 🙂
Put it on your fridge, use them as binder covers, frame it and put them next to your bed. Be surrounded by happy things.
Habit #1: Use Wall Art To Get Encouragement In Your Brain Everywhere You Look
I have a set of 20 inspirational wall arts here for $1 in my shop on sale. It's a super popular product and everyone loves it. It comes in color and black & white so whatever your theme or decor it, it'll fit in.
Here's a set of wall art that was made from quotes from YOU GUYS! That's right. I went to your Facebook feeds and grabbed what YOU were sharing in the past several months, made a list and made these quotes from them. <3
Here's a Christian quote wall art set that I just love. It's so inspiring and comes in colors like teal, lavender, electric green, gray, and orange.
This wall art is awesome: A little progress each day adds up to big results. So many people ask me how I get so much done. That's how. It's batching work, working on one thing at a time, and each of my little steps each day add up to massive things. I literally just reinstalled my entire theme in my Shopify store yesterday and started a redesign on my blog. I'm not done, but I'm working on little bits every day and by time you read this, it should be completely done. 🙂
Bloom where you're planted wall art. This is great b/c it doesn't matter what we are going through, wherever we are, we CAN bloom. We CAN flourish. Stay the course, keep motivated. <3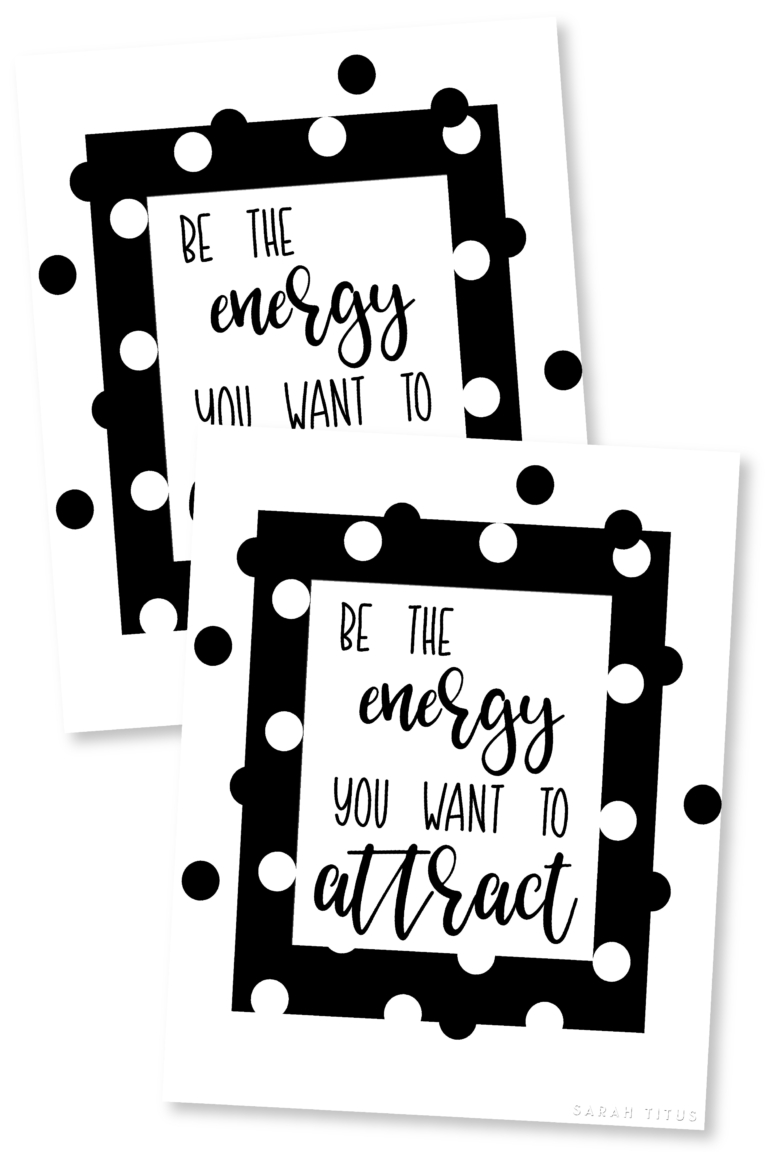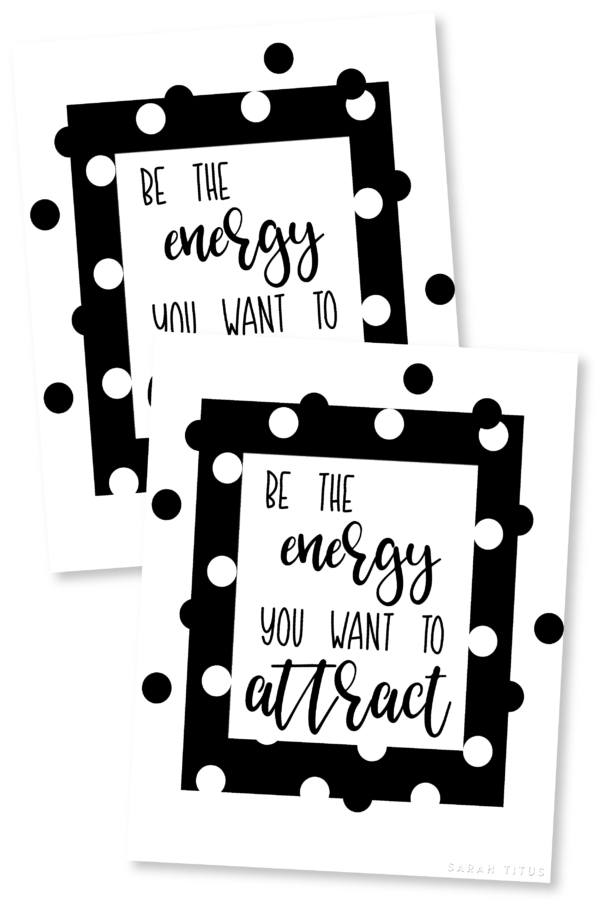 Be the energy you wish to attract wall art. I couldn't agree more. When I'm all depressed and cranky, my family is depressed and cranky. But if I try really hard to keep my spirits up, then I'm okay and my family is okay.
This wall art is really pretty (one is pink and one is teal). It says, "If you get tired, learn to rest not to quit". We all get tired. Especially as moms, always running around. This is a great time that we are being forced to rest. I think it's good for us to be forced to rest. We need to rest. We're going a mile a minute, all the time. It's not good for our health, it makes us cranky, short-tempered. We need time to spend on pampering ourselves too. It's a balance. You matter. Treat yourself like you matter- be kind to yourself!
She designed a life she loved wall art. This is so great. While we are resting, take a few days to really think about where you're heading in life. Is it where you WANT to go? Here's the thing. This is YOUR life. YOU get to decide what YOU want it to look like. Maybe God is wanting you to take a few minutes to see a better plan than where you're heading???
Take courage gold wall art printable. It takes COURAGE to slow down. It does. When everyone around us is rushing. That takes courage, but you SOOO got this. <3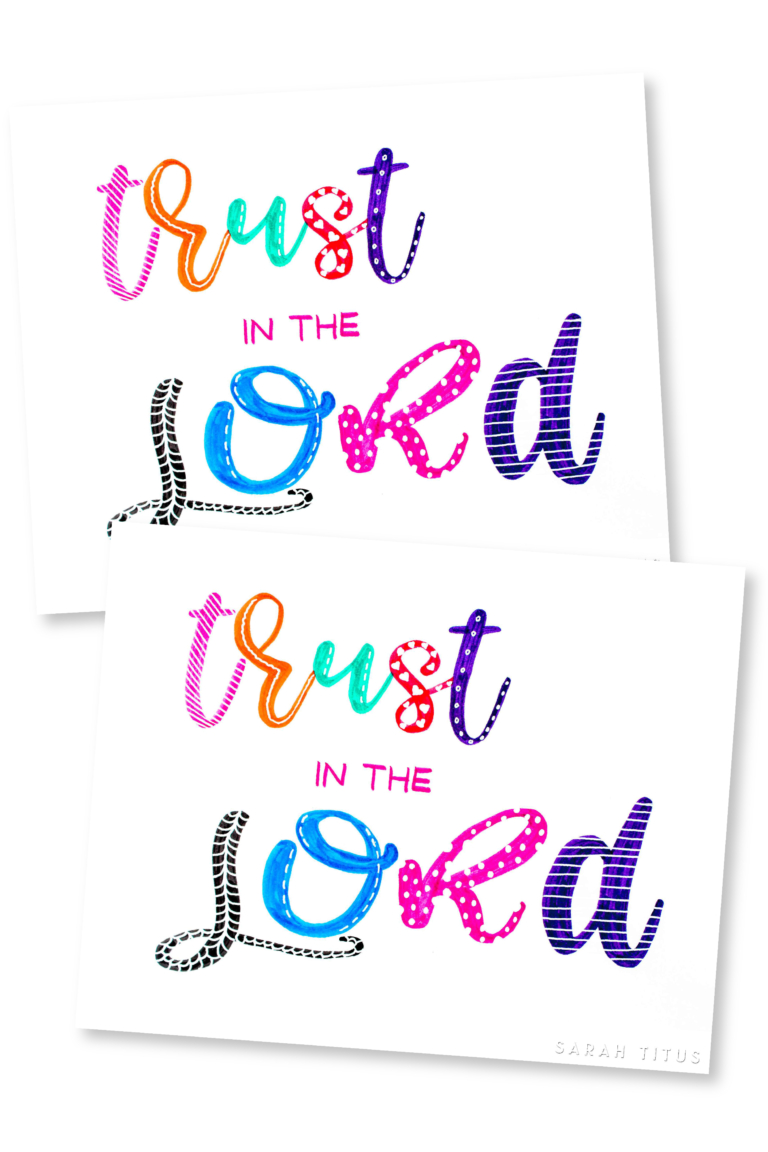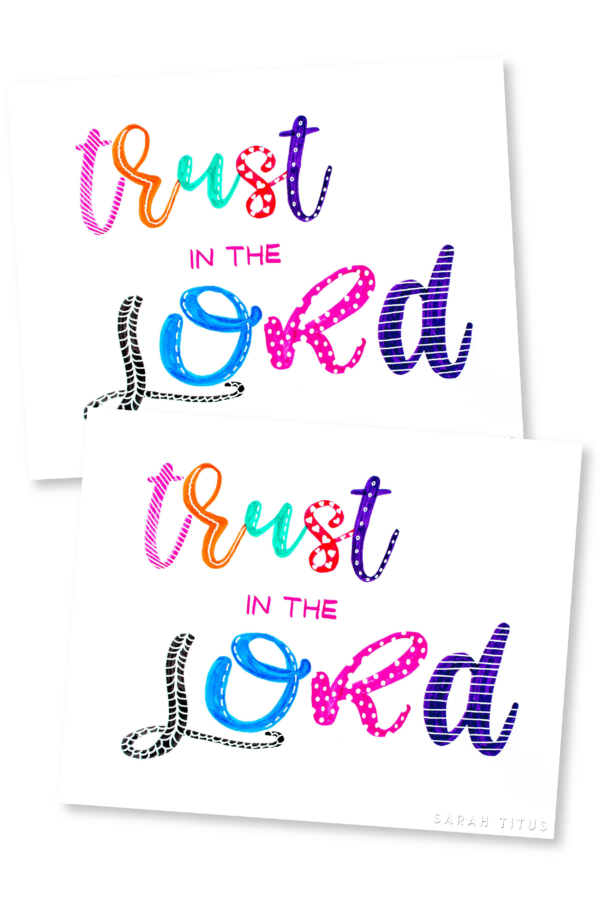 Trust in the Lord wall sign. I hand lettered these, which was really hard, but SOOO fun. Then I bought white gel pens (I use Uni-Ball UM 153 Signo Broad Point Gel Pen​) to color over the letters to make a cool and unique design. This is a GREAT sign to have on your desk on fridge right now. Trust. He's got this!
You can do anything but not everything wall art quote. I would add….and you don't HAVE TO! You don't HAVE TO do everything. The world wants to make you think you have to do EVERYTHING, but you don't. YOU get to choose. This is your life!
Next, after you have your home filled with inspirational, motivational wall art, binder covers, etc. it's time to start writing it. Hand lettering babeeeee! Hand lettering! Get some pens, whatever you have on hand is fine and just start writing. Practice trying to make pretty letters. It's a perfect time to start hand lettering, and it's especially a great time to work on the sheets with your kids!
Habit #2: Use Hand Lettering to Relax and Do Something New
Don't worry, I got cha covered here too.
30+ pages of hand lettering sheets to practice your writing with. Links are toward the top of the post, all the pictures at the bottom. You'll have a lot of fun with this!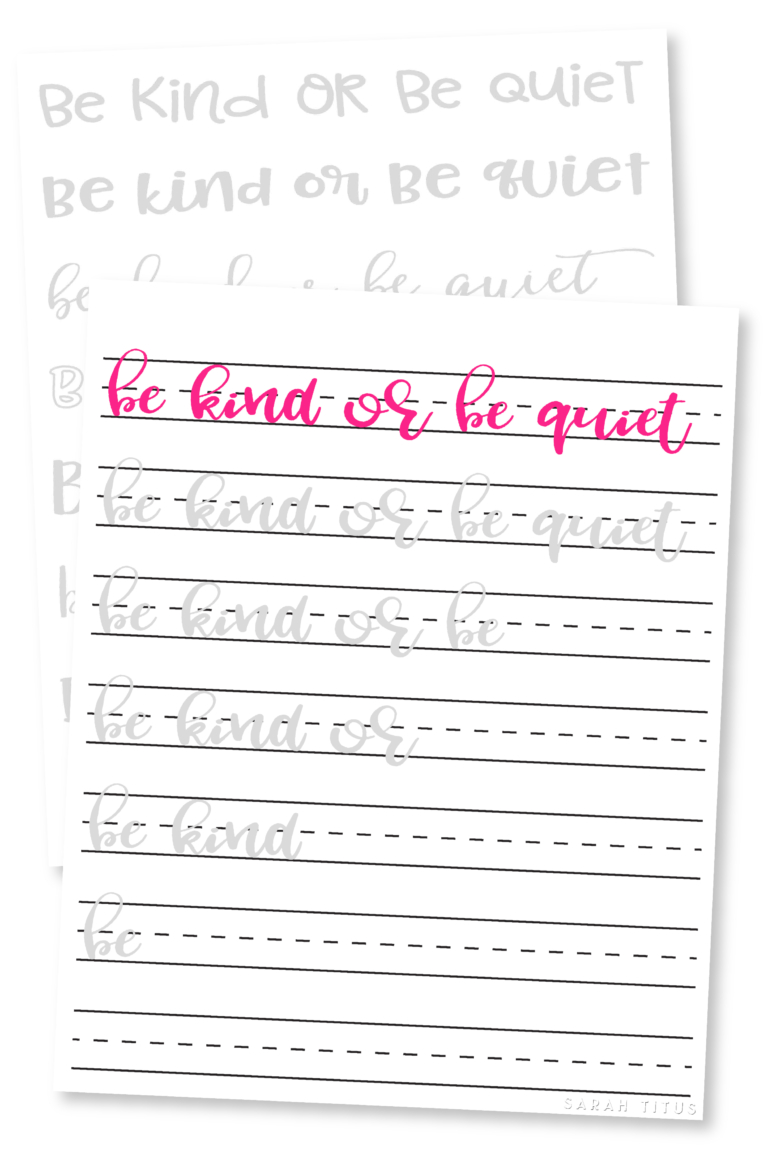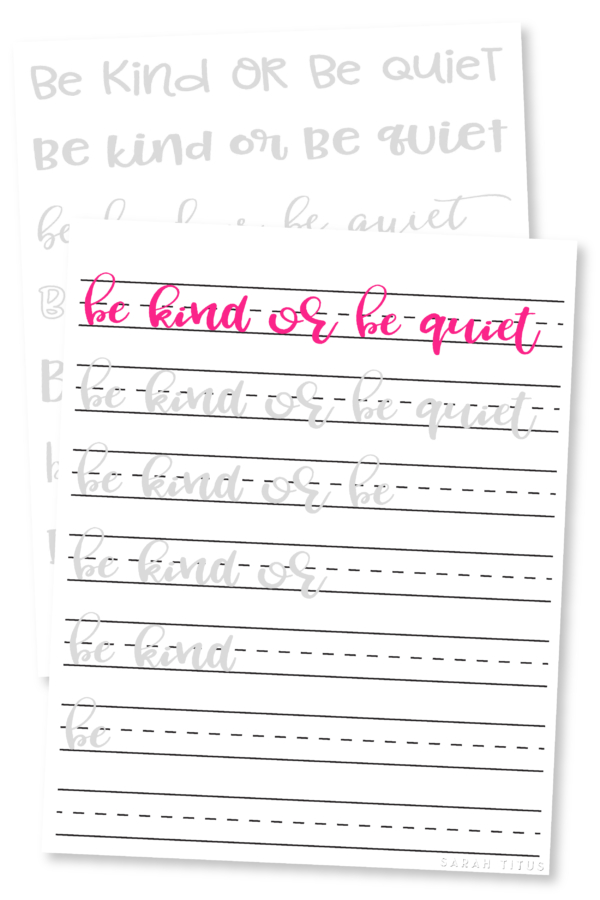 Be kind or be quiet hand lettering worksheets. I made these for my kids when they were acting up. They were so helpful. Maybe you can use them for the same?
Grateful and blessed free tracing printable. This was fun to create (one of my earlier works). If you make it, definitely show me a picture of it. 🙂 The swirls were a lot of fun.
Handwriting Practice Sheets (For the Kiddos)
If your kids are too little to practice hand LETTERING with you, have them work on hand WRITING.
Here's a Handwriting Binder you can get for your kids for only $1. It has 450+ pages, includes fun play money (use as a behavioral system?), dotted letters, bold letters and words, tracing, coloring, memory game, just TONS of stuff and you can't beat that price! 🙂
Here's more hand writing practice sheets for your kids:
Nope, not done yet. 🙂 There's ONE MORE thing you can do during this time to keep inspired and encouraged. Color!
Oh….MY….GOSH! I LOVE to color! It's so relaxing and peaceful and it's something I can do with my kids. I have all my favorite pens in a cup next to my desk and whenever I'm stressed, I grab a coloring sheet (or make one) and go to town.
Coloring is relaxing and if you are coloring inspirational words, it'll help boost your mood too!
Habit #3: Use Coloring Pages To Release Frustration and Center Yourself
Here's some fun Easter coloring pages your kids will love!
130+ coloring pages!! Check out this coloring book I made (it's free on the blog) that is all colorable. Just click the picture you want and it'll take you directly to the PDF to print. 🙂
Monogram coloring pages. I'm sharing these because these were my personal favorite monograms to color! Grab your kids and everyone can pick out a monogram to color and hang on their bedroom wall!
Be positive coloring sheets pack. Coloring positive statements like, "Stay Strong", "Be Positive", "Do what you love" and more will help you remain inspired.
Fun flower coloring sheets pack. Currently free and with cool quotes like, "The best is yet to come" and "You are my happy place", it's sure to cheer up even the most sorrowful of days.
Love quotes coloring sheets. These are so pretty. I colored several of these sheets. Some I did all different colors. Others I just picked two colors. The ones that I colored with hot pink and electric green was my favorite. Play around with colors and have your kids color these too. 🙂
Christian waves coloring sheets pack. Coloring Scripture verses is always sooooo soothing! Such great promises like: "When you go through deep waters I will be with you (Isaiah 43:2)".
Habit #4: Use Binders to Lift Your Spirits
This list would NOT be complete without binders!!! I've been creating a new binder each month for over two years now, so as you can imagine, I've got plenty, but the best ones to help you in this time are these…
Gratitude Prompts Journal. Everyone loves this journal. It is chalk FULL of inspiration and prompts gratitude in your heart and your children's hearts. Use it for the whole family and I promise you, there's no way you won't feel better after going through this!!!
Conversation Starters Binder. Think you know your husband? Your kids? I guarantee you, after going through these questions with your family, you will learn at least 5 new things about them you never even knew, no matter HOW long you been married! The questions are good and designed to dig deeper in a fun and exciting way. Connect with your family in a way you never have before with this binder.
Attributes of God Binder. This free binder is a great Bible study to work on (you and your husband together?) while you're stuck at home and want to be encouraged. The more you get to know God, the more safe and trusting you feel toward Him! <3 <3 <3
Happy Rainbow Journal. This journal makes you happy just LOOKING AT IT. Seriously. 🙂 Collect your thoughts, have your family write their thoughts. It's a really fun way to be HAPPY. Sometimes, we just gotta get stuff out (in a safe place) in order to move past it.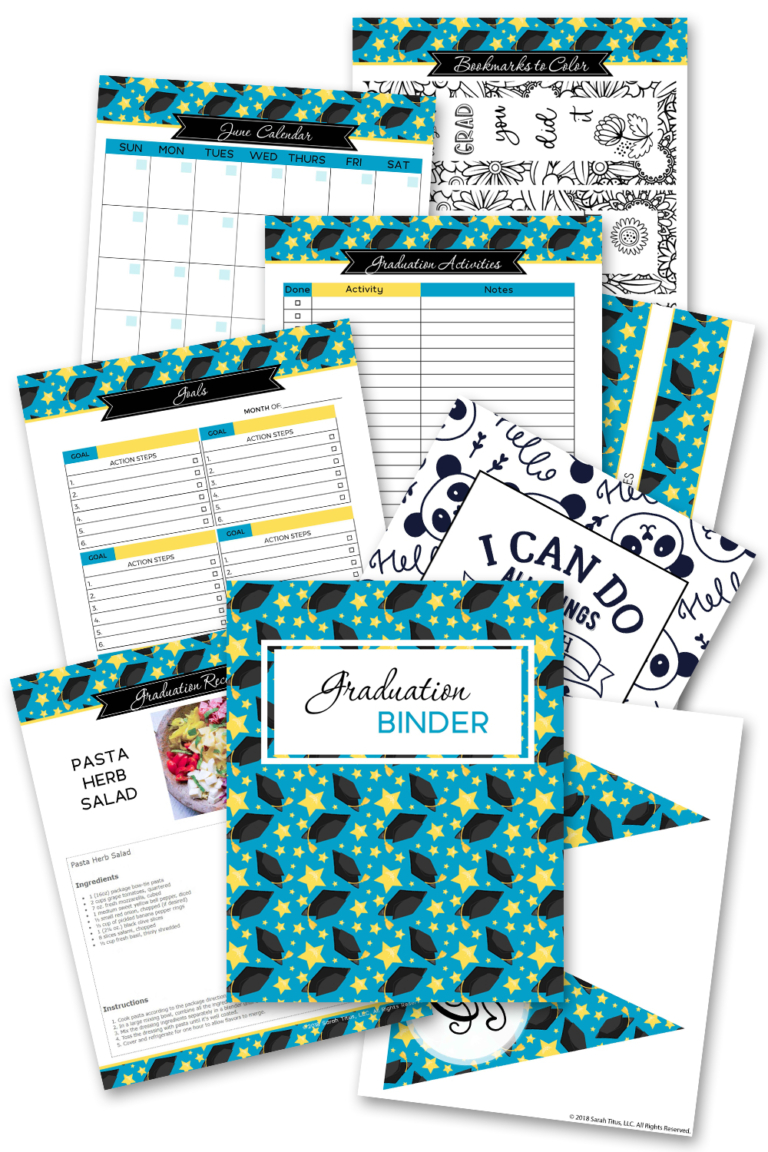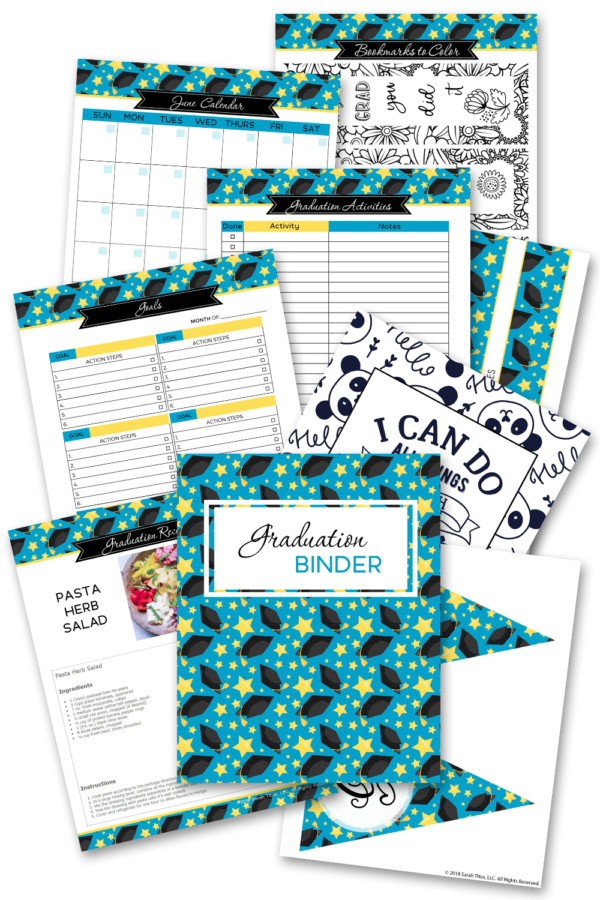 Graduation Binder. A lot of people won't be graduating this year (at least not having ceremonies). You can still make it SPECIAL for your kids with all the cool stuff included in this binder. From banners to certificates/diplomas, gift tags and cards, last day of school page, wall art, coloring pages and more!
Coloring Hope Binder. This is a cool (colorable!) Christian devotional that I wrote a few years ago. Anytime I get sad, I go through and re-read what I wrote. It's amazing how much we FORGET over time. It's so great to be reminded. Such a beautiful devotional that is full of inspiration and HOPE!
Fitness Planner. Exercising is a really GREAT way to stay happy during this season. When you exercise, your body releases endorphins and those trigger a positive feeling in your body. 🙂
ALL BINDERS ARE A WHOPPING $50 OFF DURING THE MONTH OF APRIL 2020!!!! So be sure and grab them while they are so cheap! 🙂
Habit #5: Listen to Uplifting Music
What you put into your mind is SO vitally important. I have a Christian playlist on YouTube that you're more than welcome to listen to. It's super upbeat and always puts me in a good mood when I listen to it. There's 55 songs on it, so you're bound to find something you like or haven't heard before!
Amazing questions to ask yourself while you're stuck in the house…
What am I grateful for this minute? Today? This afternoon? This week?
How can I love on my family more? How can I show them more love than I already do?
Who have I connected with today in a real and genuine way?
What expectations am I letting go of today?
Am I willing to let go of unrealistic expectations and adapt to a new norm?
Have I gotten outside today in some way?
What beauty am I creating in the world right now?
How can I be used to serve others right now?
Is there a new skill I have put off for eons, that I can now have time to learn?
How am I helping OTHERS stay motivated and positive during this hard time?
I hope you are super energized by now. If this post has helped you in any way, share it. Share it on Facebook. Share it on your Pinterest account. Get the word out that we don't have to be depressed right now. We can have hope, be happy, and live a life on purpose! <3