Here's something I decided to do a long time ago…spread positivity and light every day. I'm actively looking for ways every day that I can add something positive to someone's day.
Sometimes it's easy…it's something that's overwhelmingly needed.
Sometimes it's hard…it seems like there's so much negativity (even in my own household with my kids) that it's hard to combat and STAY positive.
Jesus tells us in Matthew 5:14 & 16 that you are the light of the world and to let your light so shine before men, that they may see your good works and glorify your Father in heaven.
The more of us that are spreading that positivity, that light, the more God is glorified. 💯
So today I'm giving you something easy to use to spread that light…some of the cutest digital teacher stickers to encourage those students in your life.
Whether you are a teacher in a traditional classroom or a mom working with your homeschool kiddos, these stickers will allow you to provide positive, encouraging feedback for your students. And it's easy. Just download the stickers and place them on students' work…or greet them with a message with one of these stickers attached and watch your students light up!
And YES! These stickers are pre-cropped for Goodnotes! 🎉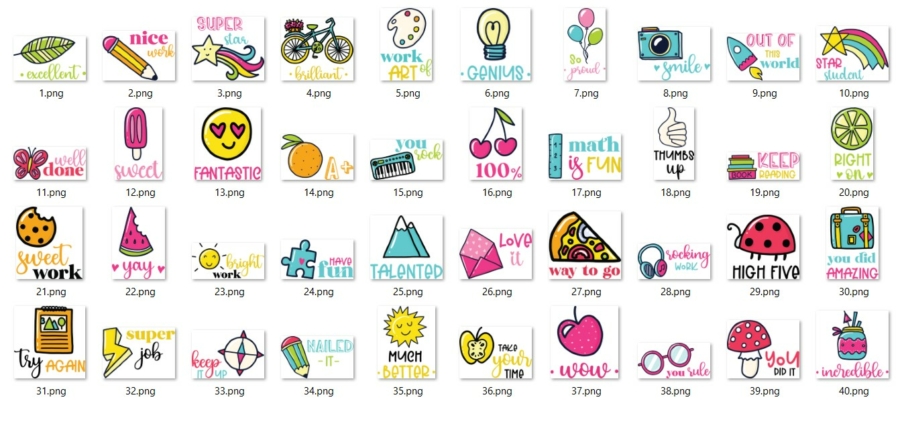 40 Super Cute Digital Teacher Stickers
With this large selection, these cute stickers will brighten any student's day. With so much work being done online these stickers make it easy to highlight work well done and spread that positivity.
And all ages love these – even the "big" kids!
Use them when you're grading, on new assignments to start them off with some excitement, or even on notes just to give your kiddos the encouragement they can always use.
It's easy to spread positivity – and these stickers make it even easier! Join me in spreading some light!
Sticker phrases include:
Excellent
Nice Work
Super Star
Brilliant
Work of Art
Genius
So Proud
Smile
Out of This World
Star Student
Well Done
Sweet
Fantastic
A+
You Rock
100%
Math is Fun
Thumbs Up
Keep Reading
Right On
Sweet Work
Yay
Bright Work
Have Fun
Talented
Love it
Way to go
Rocking Work
High Five
You Did Amazing
Try Again
Super Job
Keep it up
Nailed it
Much Better
Take Your Time
Wow
You Rule
You Did it
Incredible