After having made tens of thousands of dollars in profit MORE by doing a few, very strategic things, and then also when purchasing a house, looking for a place that DIDN'T have these things done so that I could get a good deal (I saved a TON in buying that home), it is amazing what a few things can really do to increase your profits by a LOT!
Today, I want to share with you some amazing tips and tricks I've learned in the process of both buying AND selling over the past 16+ years that will really help you get top dollar if you're selling your home or if you just wanna add value to your home.
30 Days to Get More Money For Your Home
But first things first, I would highly suggest finding someone with a ton of experience selling homes. I am VERY thankful that I was able to work with a realtor who's been doing this for over 20+ years.
When you are able to work with someone, who has decades of experience, YOUR experience will be a night and day difference! Everything will go a lot more streamlined, you'll make more money, and you'll be in fantastic hands.
Next, each house is different and you'll really need to look at your home through your buyers' eyes.
For example, a buyer looking in the $300k price range will not at all be looking at things that someone in the $2M range would be looking at. So you really need to know your buyers' expectations. What would YOU expect from a house in your price range? That's the first question to ask yourself.
Secondly, hire an inspector. Yes, BEFORE you list the property. It costs a little bit of money, but I can tell you with full confidence, that knowing EXACTLY what you'll be getting into is key to getting the most money when selling.
Why?
Because you want to be armed with information. If you think your home is in immaculate condition, you'd be wrong! Dead wrong. Those inspectors find every single crack and crevice. You wouldn't believe the detail they are trained to go through.
Long before I sold my house, I hired an inspector and I completed all the work on his inspection report! Yep, every bit of it, which brings us to day 1…
Day 1: Take care of EVERY little detail
You do not want to miss a single thing. Not anything. I don't care how small the detail is, take care of it, but within reason.
A good example of this is in my inspection report, it came up that there was fading on a sliding glass door. I got a couple estimates and it would be $1k to fix the window. For just a little fading, that's a lot of money to invest, so I didn't.
If something is a super small detail and it costs a large sum of money, then carefully consider doing it and talk to your realtor before you decide.
So there may be an exception to the rule, but for the most part, fix everything. 🙂
Another thing that popped up in my report for the house I was buying was that they didn't have a permit on the water heater. Now that I bought the house, I'm stuck with having to go through the process of getting a permit on it.
It's not too much money, but you do have to hire someone to sign off on it and make sure it's installed properly. I'm looking at a couple hundred bucks, but it is something that I will do as soon as we move in and get settled.
Having that inspection report makes me know EVERYTHING I need to do to take care of, because it IS my plan to buy low on this house, fix up the things in this training and then in 3 years, flip the property for a profit and move to another state, which is my dream.
Think about all the small details you need to fix.
Leaky faucets.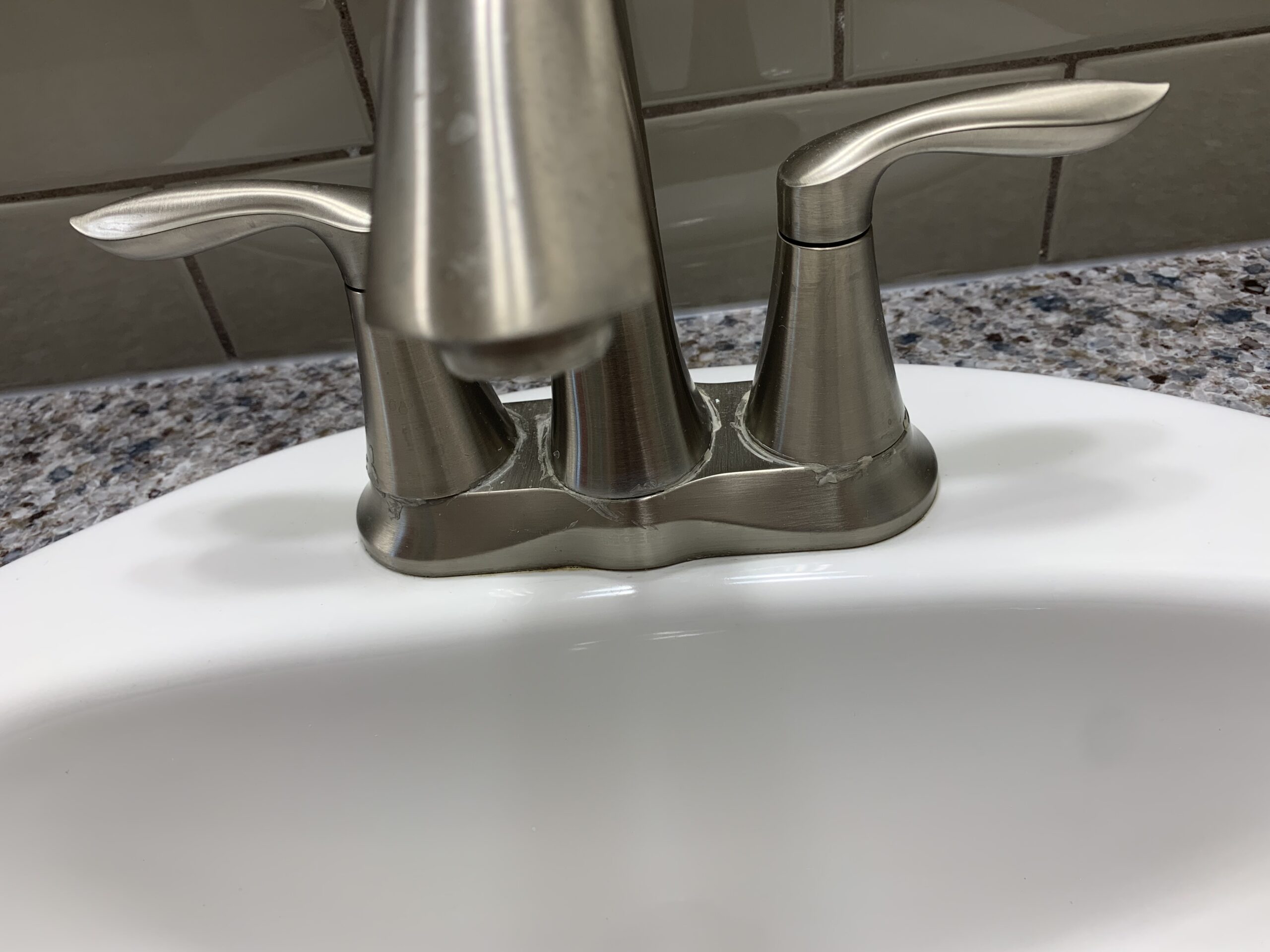 That crack in the mirror wood that is starring you in the face.
The spot on your hardwood floor that needs to be re-stained.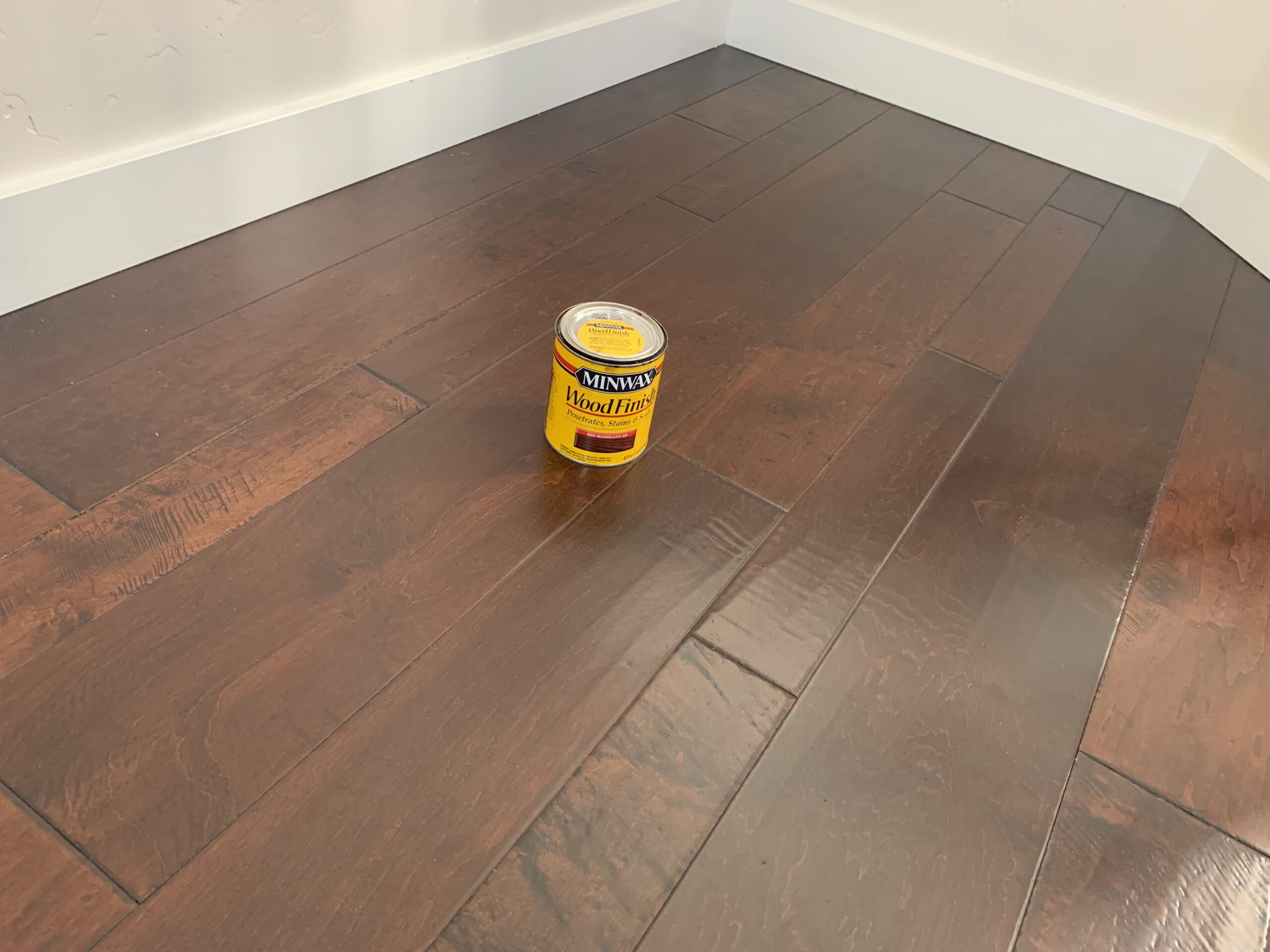 Those dingy light switches and face plate covers.
That mildew you have growing in the shower under the caulking.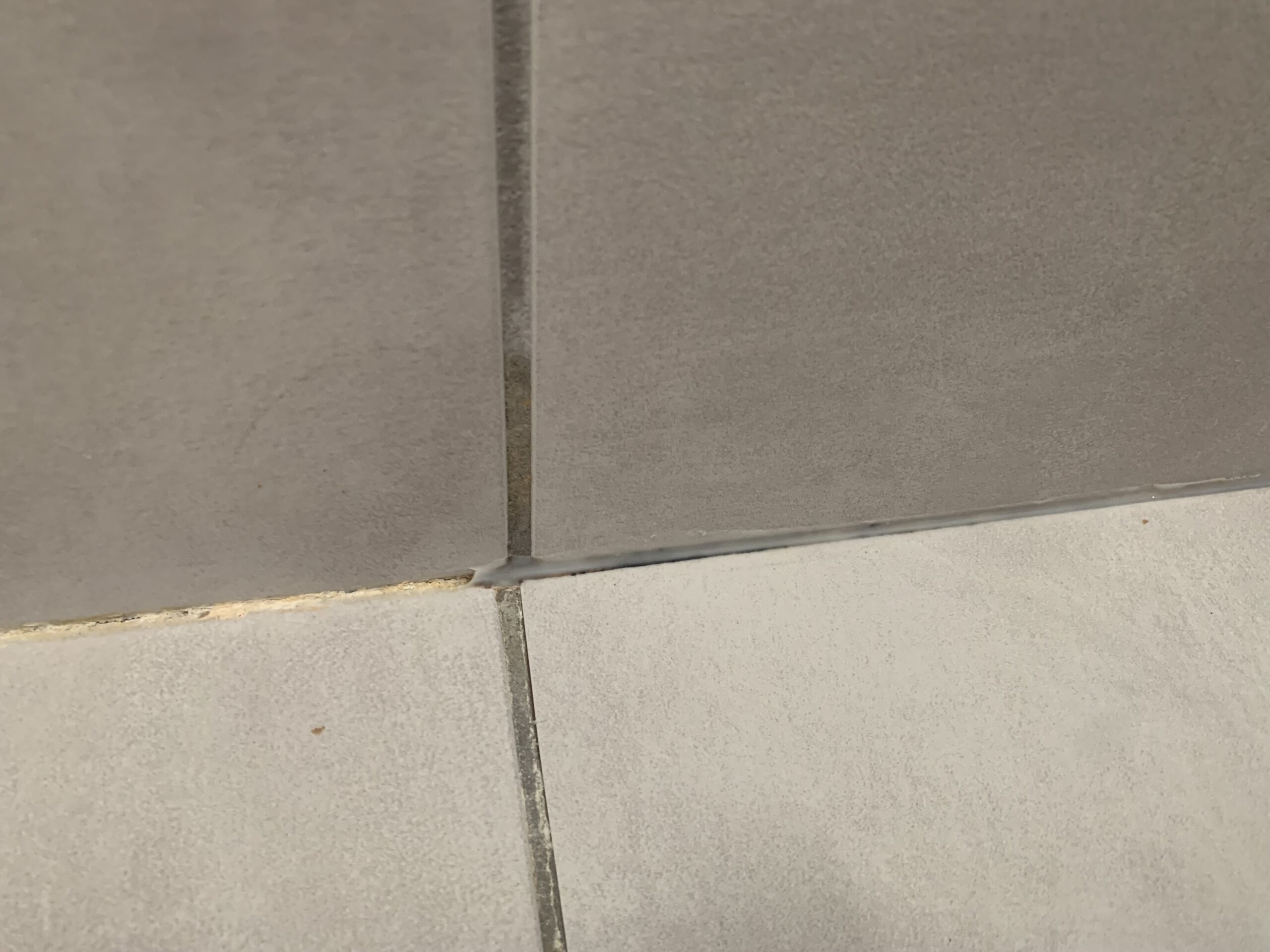 Fix everything you possibly can because a new owner isn't going to want to deal with all YOUR problems!
Day 2: Get a security system
One of my biggest tricks to getting more money is by getting a security system all set up and paid for, and then putting it in the sale that it is being left for the new owner, then leaving a business card to my security guy and telling them the cost is only $20/month, no extra fees or hidden costs.
When someone is looking to purchase a home, security is one thing they will notice, for sure! Having a security system instantly upgrades your home and sets it apart from others immediately!
In one home, we had a cheaper set up with Ring lights and Wyze cameras all around the house. In another, we had ADT and in another, I went through a local company. All the hardware cost me $500 and it's only $20 to maintain it monthly. Not too expensive at all and I think you'll see that money and more back in your home's value.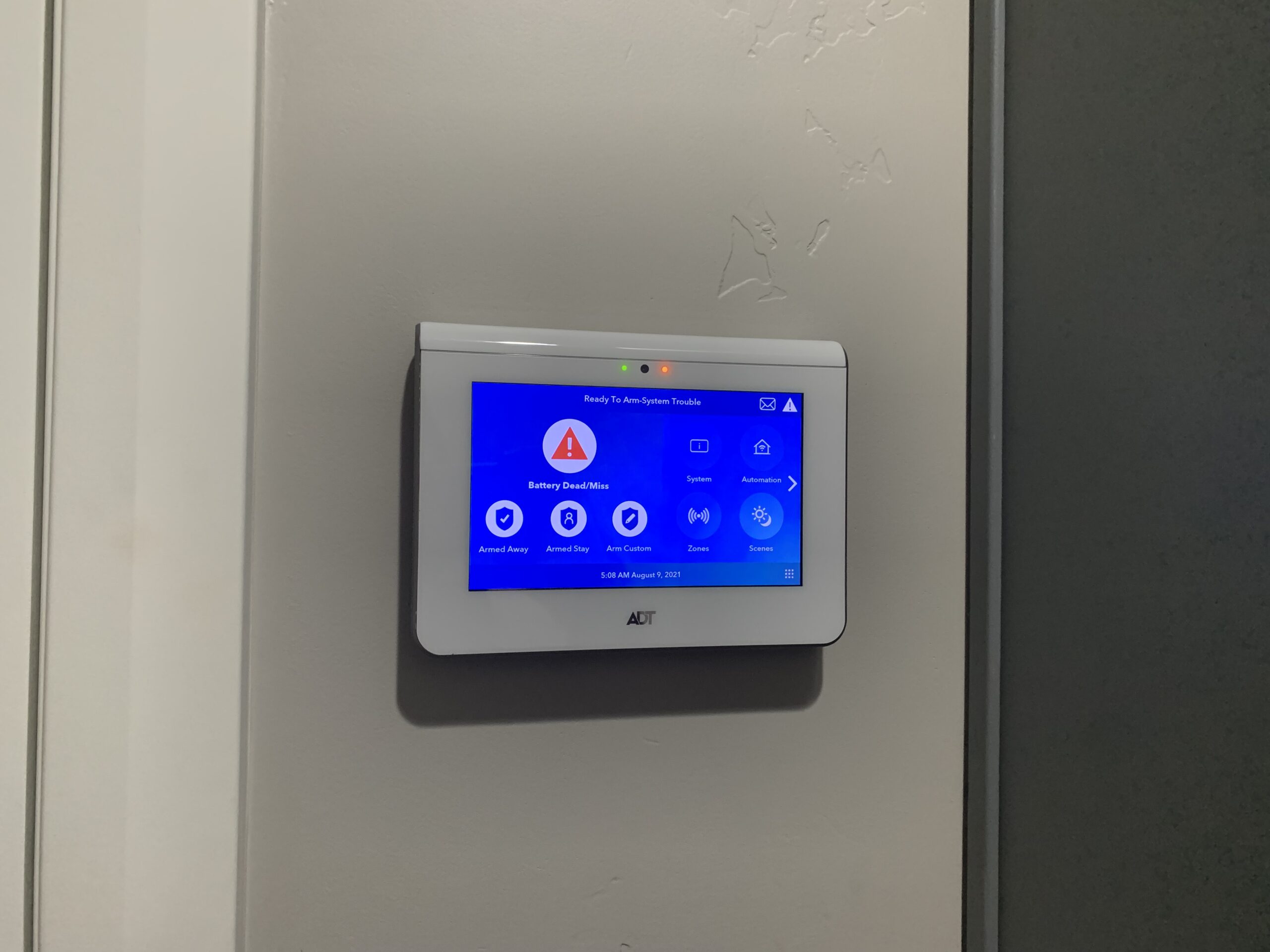 Day 3: Open up the space
In the house I'm purchasing, I am 100% convinced that the reason the sellers didn't get the price they were asking for, is because all these things weren't done, but the most glaring one, was the garage.
They turned the third car garage into a gym. They put floor padding in there, put walls and a door on it and converted it to a room.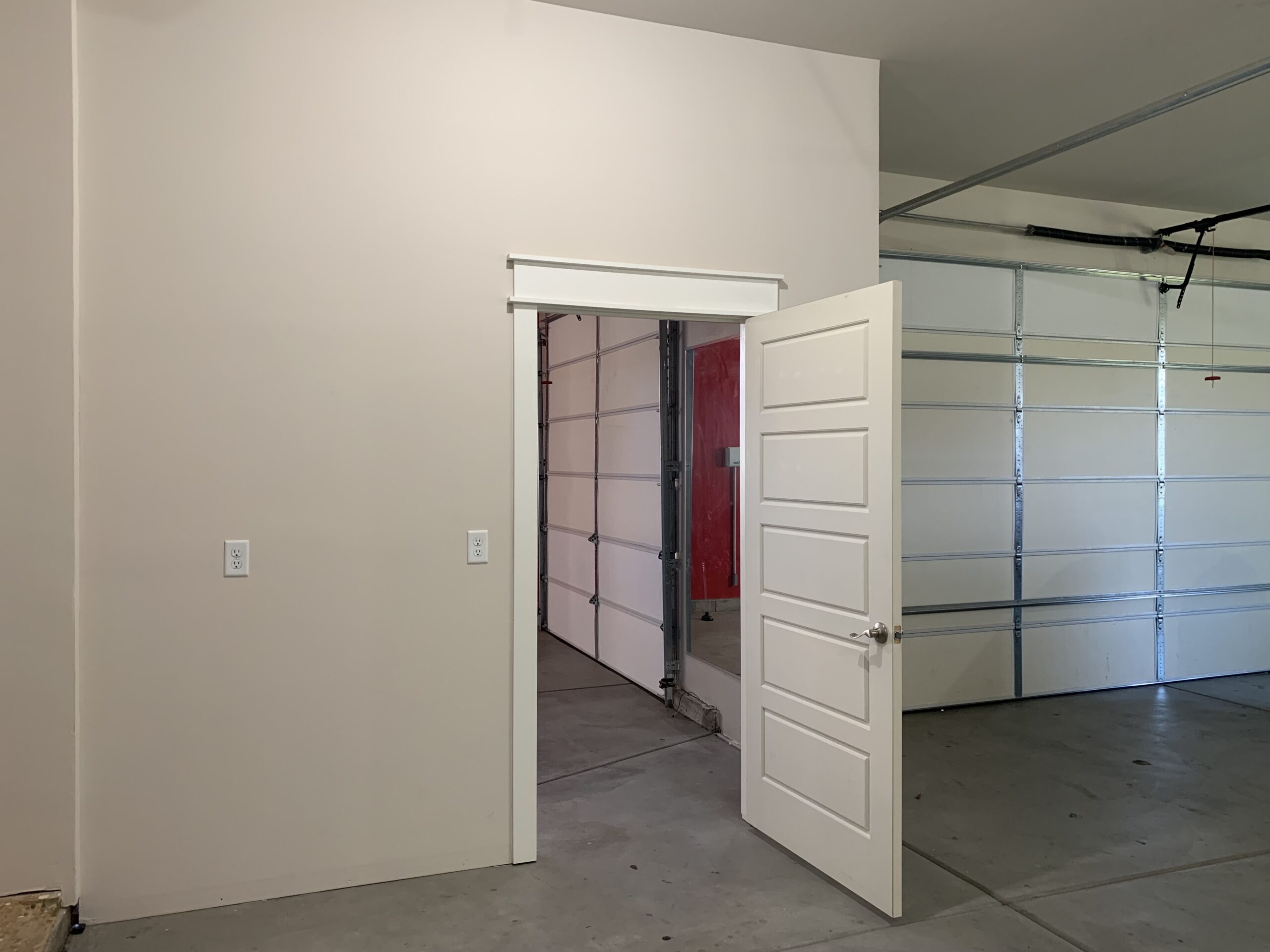 They painted the walls red and blue (not straight lines or professional job) and had a gym.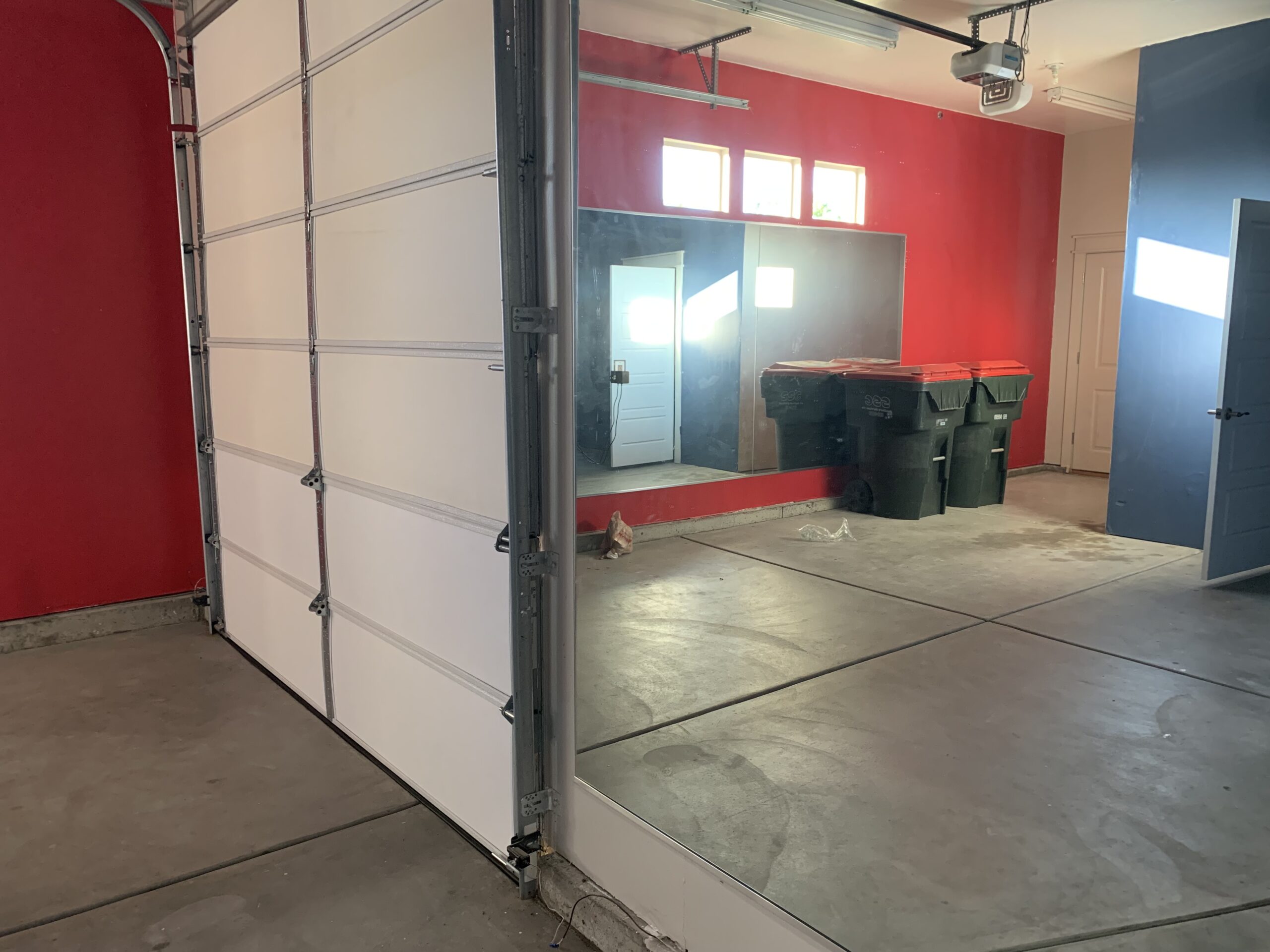 While this gym is perfectly fine for them (and cool for a lot of people), someone who is shopping for a larger home, is NOT going to want a 2-car garage. Let's face it. You get a 2 car garage with a $300k-$500k house; with a larger house, you expect at LEAST 3-6 car garage.
The potential buyers probably have kids driving, they want space, they want that opened up.
NOT opening up that wall, NOT painting that garage a more flattering, normal color, NOT taking out the flooring, killed their sale and I believe, cost them $200k that I saved in buying it.
While that is debatable, something that is NOT debatable is the fact that buyers want bright, airy, OPEN spaces, which leads us to Day 4…
Day 4: Paint it!
If your home is older than 5 years old, it should be painted with a lighter, neutral color. Painting a room darker, makes a room feel smaller, but painting it a lighter color, makes the house feel BIGGER.
In my case when I bought my home, they DID paint it a lighter shade and I will be 100% honest here, that's the only reason it worked for me. If they had not of painted it a lighter color and left it the original dark beige it was, I would NOT have purchased it. Because I want the walls gray, and it's too far of a stretch in my mind to go from dark beige to gray. However, going from a super light beige to a light gray is feasible and will work with the design of the house.
Yes, I'm painting it AGAIN, even THOUGH they just painted it. I love gray walls with white trim and I am going to modernize the home to flip it in a few years. That's the plan! 🙂
When I sold my home, on that place, I had the entire outside of the home painted. I had to work with HOA and get paint colors approved (even though I was using the exact same colors!) and went through the whole process.
I have to admit, I was pretty skeptical it would make such a difference. Painting the outside of the home the exact same color, seemed a little absurd to me, but I trusted my realtor and I have to tell you, it was a night and day difference. It made it look like a new home. It was just so stunning. I also hired a handyman to paint the fence from an old, dingy color to a bright cedarwood color.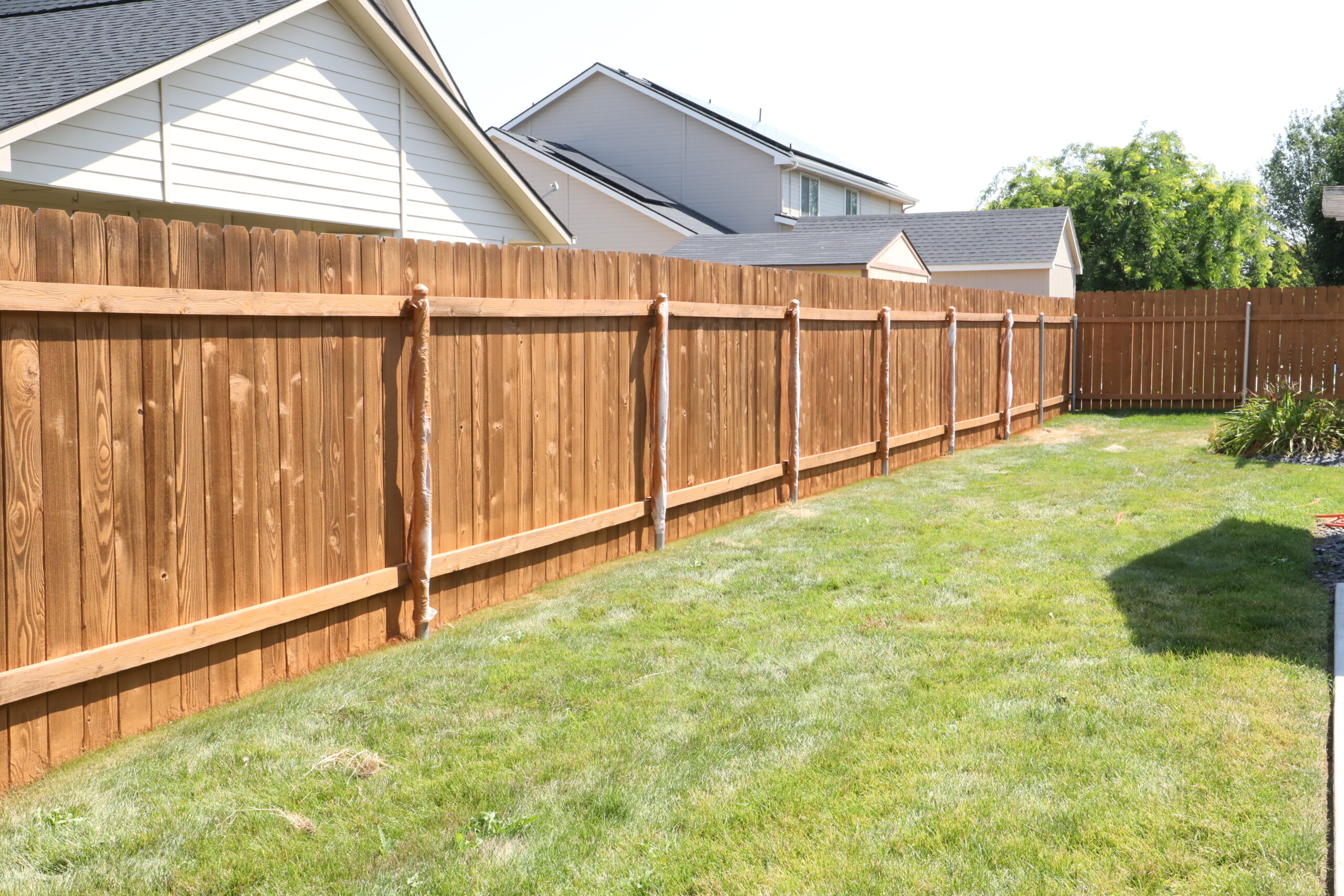 The stain that we used was Cabot Solid Color Acrylic Deck Stain. It comes in a neutral clear color and we had it pigmented the "Cedarwood" color. You can get it at Lowe's here and you can pick whatever color you want or have them pigment it manually as we did.
Between the house and the fence, it looked GORGEOUS!
Painting your home, inside and outside, and your fence is something you should consider doing for sure!
Day 5: Paint your door
Believe it or not, popular door colors change over time. Five years ago, red was all the rage and now, it's teal. Teal doors are "modern" and "hip". People want a newer home and they want it to be in style.
Painting your door the hip, trendy color will set it apart from your competition and help people fall in love with it right as they pull up!
Day 6: Change out the hardware
If you don't have any hardware on your kitchen and bathroom cabinets, add it. It'll make it look a lot more modern. If you already have hardware on it, change it out to something more modern.
Just be sure all your kitchen knobs and handles are the same ones you use for your bathrooms. That's important. You want the house to flow and look consistent!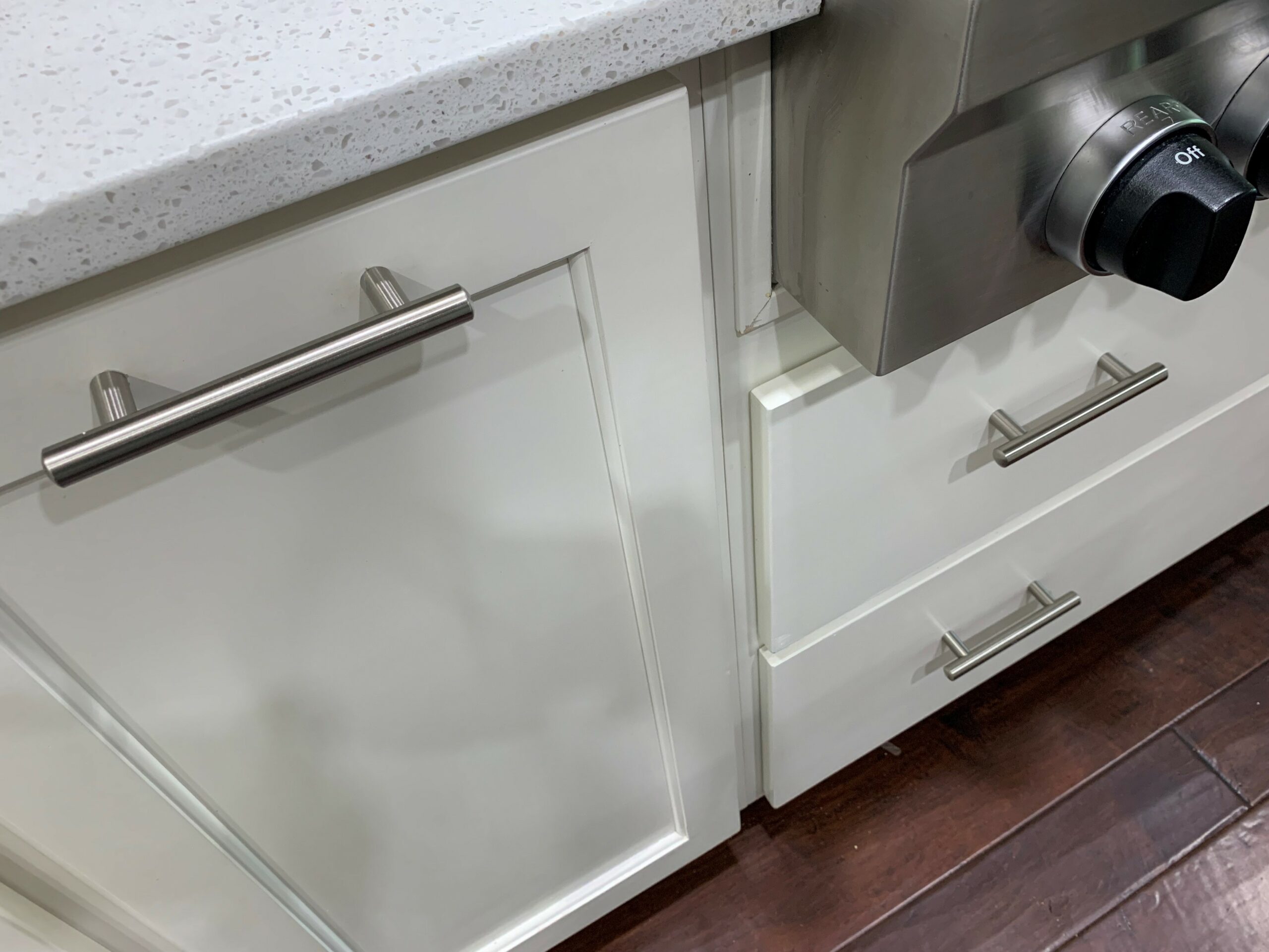 Day 7: Faucets
Faucets get a whole day to themselves because they are seriously THAT important!!!
You want your faucets, countertops, and sinks to SHINE. Clean your faucets and sinks really good and if your faucets don't come out clean enough, replace them. It's not that expensive and your buyer WILL notice.
In the house I just purchased, one thing I noticed was all the faucets. The master bathroom shower faucet is just really bad.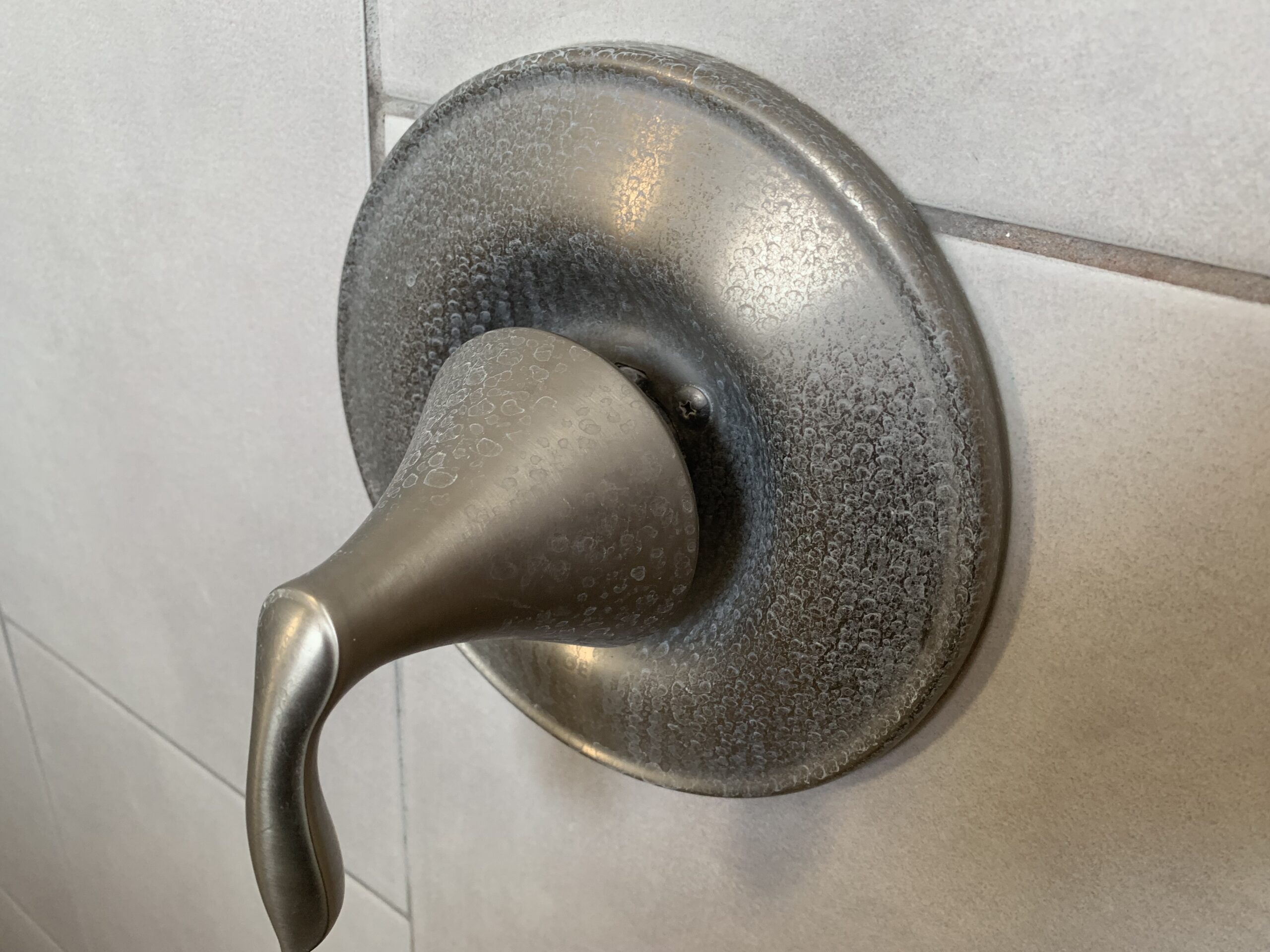 When people see something like that, they think you're not clean people. And if you're not clean, you're not taking good care of the house and if you're not taking good care of the house, there's going to be things wrong with it that come up over time and cost the buyer money. Think: the movie Money Pit.
It matters! So shine up all the chrome and stainless steel in your home, replace faucets as needed and make everything sparkle!
Don't forget to wash the aerator. Some people will notice grime on it!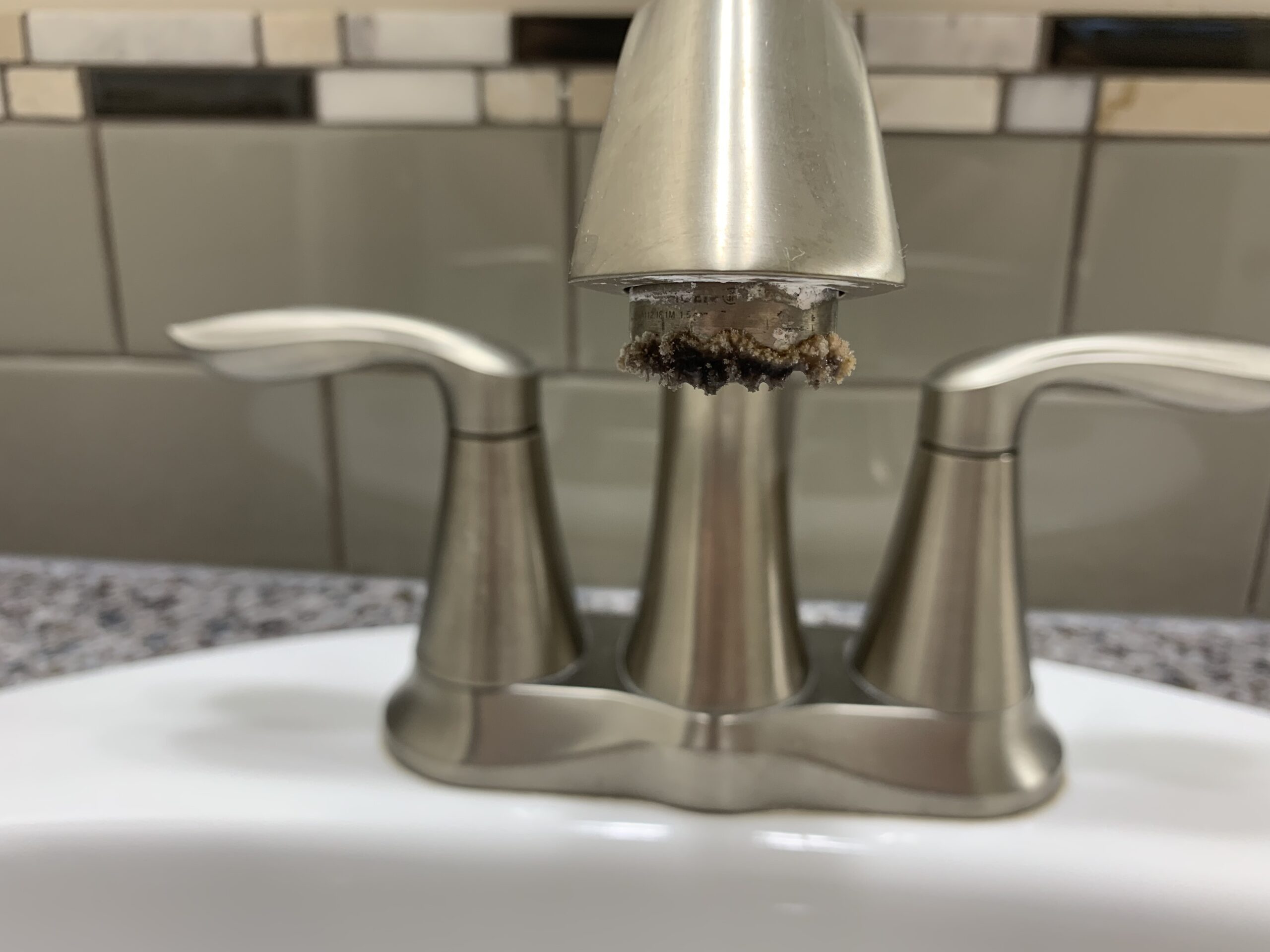 Day 8: Hire pest control
When I viewed the house, I saw a dead spider in the window seal of the bathroom. I saw a spider web at the door frame.
When I went into the back yard, their patio table set, while gorgeous, was COVERED with spider webs. Webs going from chair to chair.
It was just dirty and didn't give the impression that they had professional pest control.
Listen, when someone buys your house, they don't want instant tenants. Okay! lol. Kill those bugs!!! Hire pest control to come out and spray, knock down all webs and wasp/bees nests and spray everything really well. It's not that expensive, maybe $100 or so, depending on where you live.
Day 9: Invest in energy efficient upgrades
It's really NOT that expensive to increase your energy efficiency. I have a whole post on reducing your power bill here because I was trained directly by the power company and know EXACTLY what to do to reduce your bill super low.
When I sold my house, we included my power bills statements for the past couple months so that the buyer could see the usage and know about how much it would be. Educating a buyer, showing them real data is something that they just LOVE and helps you sell the home when you take concern over matters like that.
By my statements, I could show that my home was more energy efficient than the average home in our neighborhood. This would please ANY potential buyer as well as save you money while the property is still yours! 🙂
One thing though, DON'T invest in solar panels if you're selling. Solar panels only become worth the huge cost of having them installed and put up after the first 5 years or so. You'll lose all the money from something like that so definitely don't do it if you plan on selling your house.
Day 10: Take down all potentially offensive artwork/items
Something YOU may really love, may really tick a buyer off and offend them. I remember the very first house I looked at when wanting to buy. They had a picture of a nude lady in the bathroom. Just full on, completely nude. My daughter was with me and I kept her back so she didn't see and I was so upset, I didn't buy the house.
I thought to myself, if they have the audacity to sin so openly and grotesquely when there are children looking at houses, what gall they have, forget it, I do not, at all, want to work with that type of person. Done. Next.
Any houses that had anything of that nature, I did not go look at and that one I saw in person, I refused to purchase. Their house sat on the market several months before selling. Maybe that's not why, I don't know, but it sure steered me off of it!
Day 11: Power-wash your home and clean all the windows (inside and out)
If you're not painting your house, be sure to power-wash it to make it look squeaky clean. Also clean out windows, inside and out and don't forget to clean the windows track inside!
I guarantee your perspective buyer will look outside from the inside of your house and when they do, if they see your windows are dirty, it will make them think you're lazy and will deter them from buying. No one wants a super dirty house!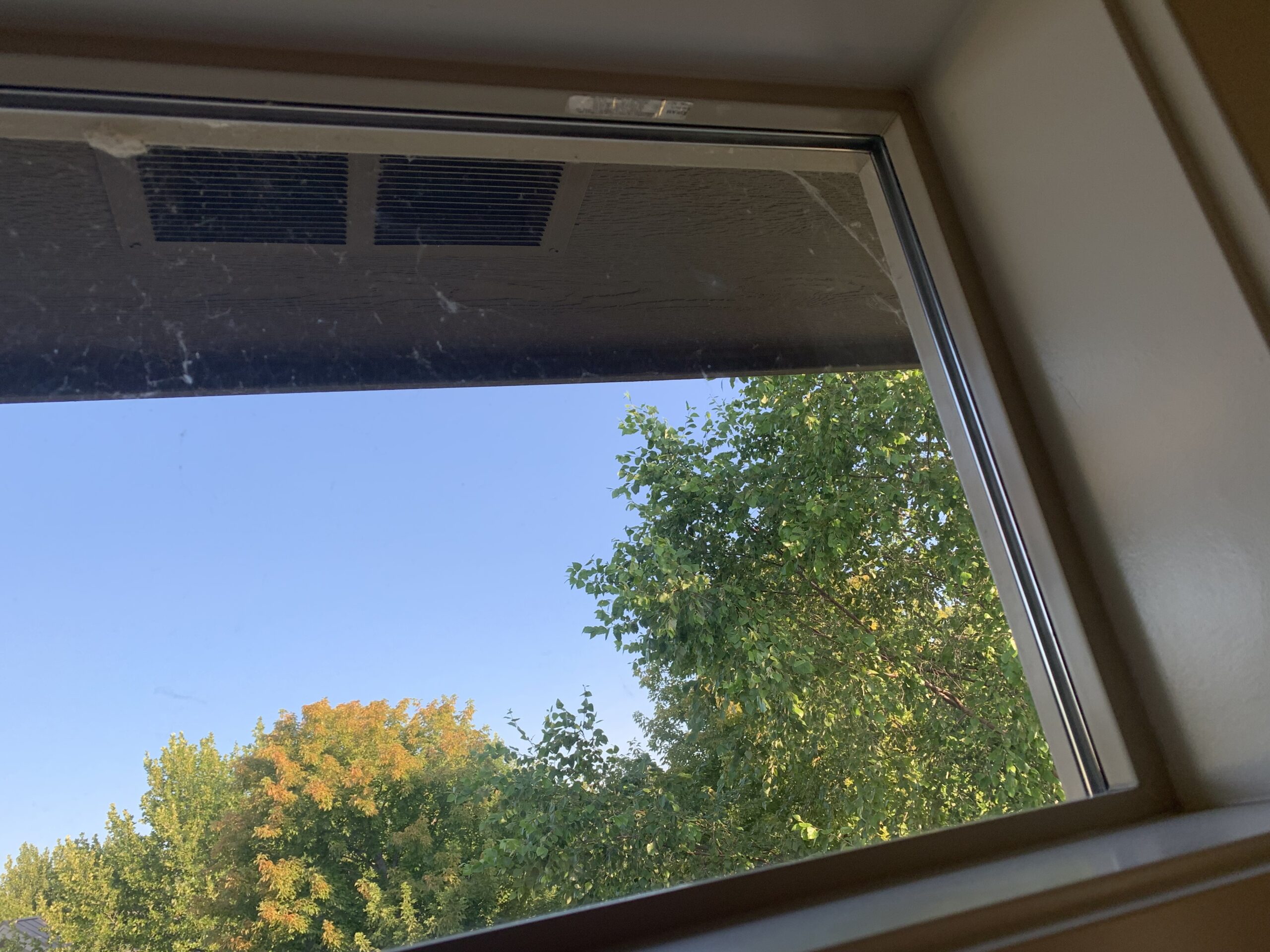 Having your outside windows professionally cleaned is not too expensive. For a 2,300 square feet home, it cost me around $100.
Day 12: Keep your lawn immaculate
If you are selling your home in the summer months, depending on where you live, it can get super hot and just fry the grass.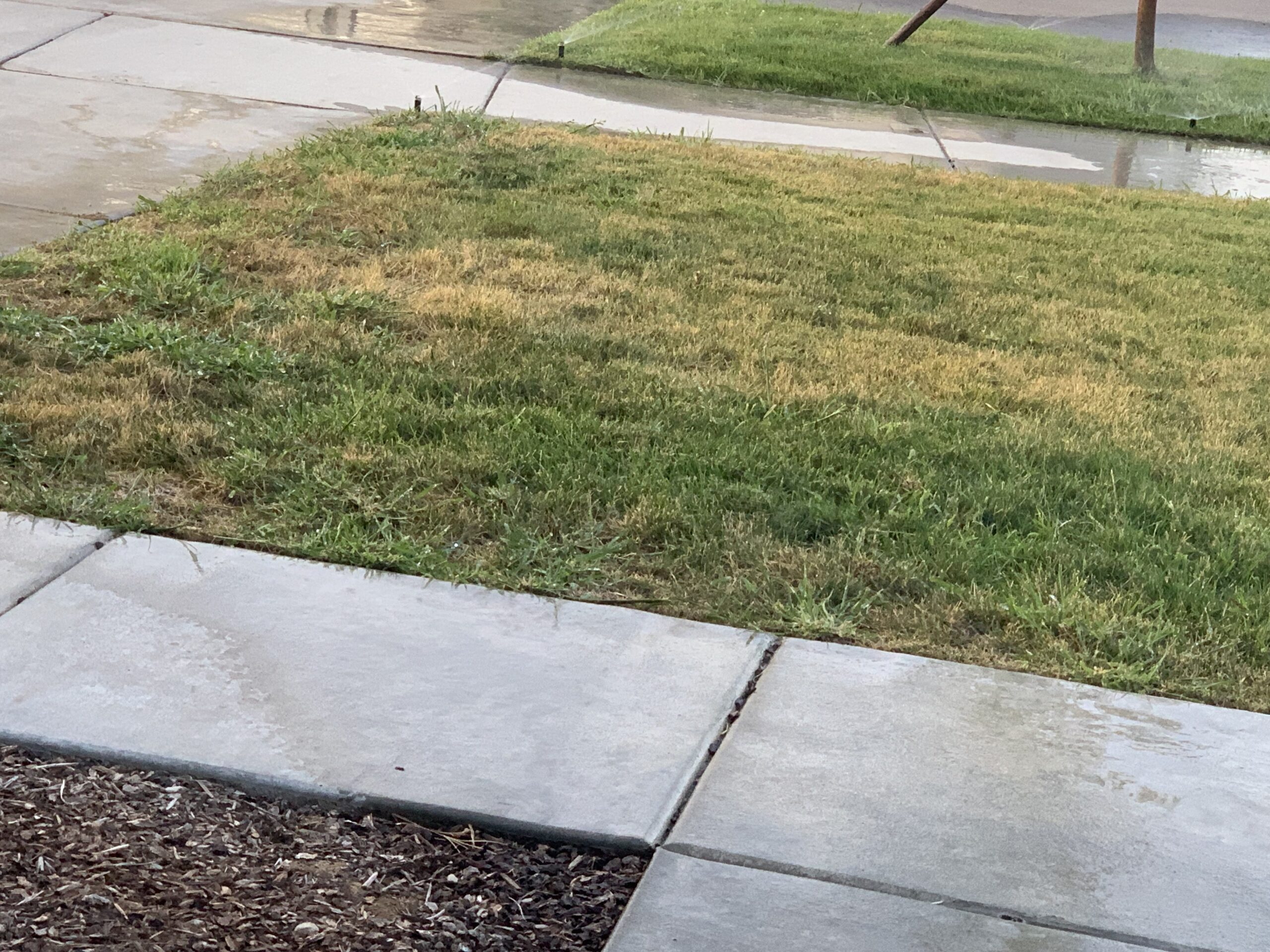 You want to make sure that your grass is adequately watered. Ask a local gardener, landscaping company, or garden supply store what you should set them on as each state/area is different. Newer lawns take more guidance than older, more established lawns.
If you know you're watering enough, the next key is fertilizing. Here's a schedule of the proper way to fertilize your yard to keep it free of weeds and thriving through out the year (each area will be different so go by the one in your area, but this will give you a good idea)…
Round 1: March-April
Balanced fertilizer (nitrogen, phosphorus, potassium)
Micronutrients: sulfur and chelate iron
Pre-emergent crabgrass and broadleaf control
Post-emergent broadleaf weed control (including dandelions)
Surfactants to enhance application results
Round 2: May-June
Balanced slow release fertilizer (NPK)
Micronutrients: sulfur
Post-emergent broadleaf weed control (including clover)
Round 3: May-June
Performed at the same time as round 2 application
Systemic turf insect control for Billbugs
Round 4: July-August
Balanced slow release fertilizer (NPK)
Micronutrients: sulfur
Post-emergent broadleaf weed control (including spurge)
Round 5: October-November (grass will store nutrients over the winter for more vigorous growth in the Spring)
Balanced slow release fertilizer (NPK)
Micronutrients: sulfur
Post-emergent broadleaf weed control
Fertilizing with weed control and getting ample water will produce a beautiful growing grass.
In the house I just bought, they took EXCELLENT care of the lawn and outside shrubs. It's just gorgeous and well-cared for. So thankful!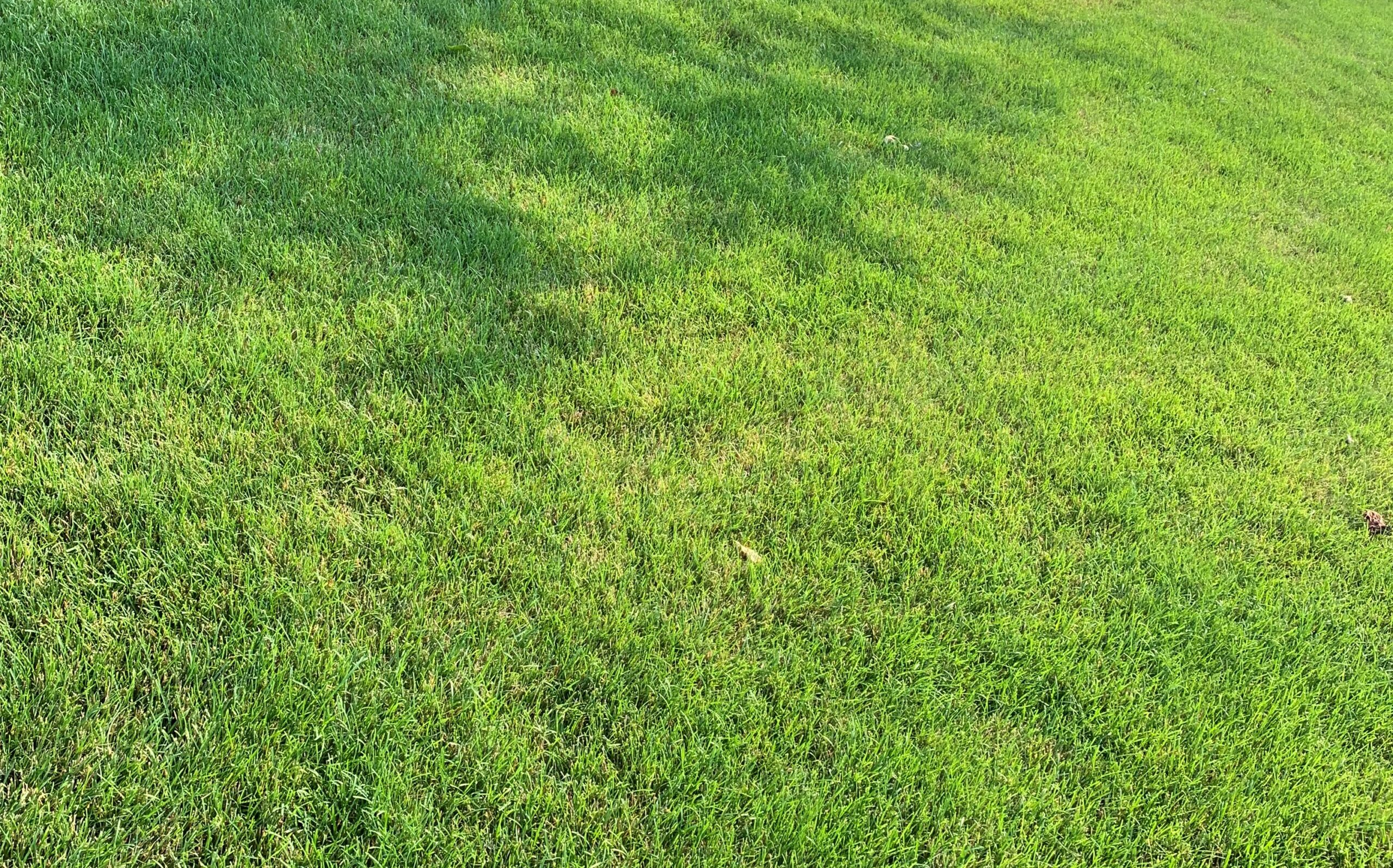 Day 13: If you don't have grass, install it
If you go the bark-chips option or just plain dirt and not grass, you'll have a super hard time maintaining it, unless you're constantly working it and adding more bark chips regularly.
It's better to have grass. Put in sod or have it hydroseeded. If you don't know what hydroseeding is, you can see what it's all about and see the pro's and con's of it here to determine if it's right for you. Either way, you want grass. Well-maintained, beautiful grass. 🙂
Speaking of grass…
Day 14: Trim your shrubs and trees
You want a perfectly, well-maintained yard (the front of the house is usually the first thing they notice!) In order to keep everything maintained, you'll want to trim your shrubs and trees.
I hired a company to trim a couple trees and remove two smaller volunteer trees completely and it only cost me a hundred bucks for everything. I had my landscaper trim all the shrubs and it was not more than $60.
Everything looked spectacular after it was done. Such a simple way to make a house look new and beautiful!
While we are talking about the outside of the house…
Day 15: Repair roof
Another thing you wanna do is have a roofing company come out and inspect the roof. The home inspector will kinda take a look up there and see if there's anything, but if the home inspection guy finds something to fix, have a roofer come out and fix those things and get a couple quotes. Definitely always get at least two quotes for every major thing you do like that.
A lot of times, companies will be competitively priced and so you can pick the best of the companies, but yet still get the best price, OR one person will say one thing and another will say another thing and you'll need to get a third opinion.
If it's a lot of money to fix the roof, you'll want to go through the process and do that so you can keep as much in your pocket as possible.
Any roof repairs will either be required by the buyers lender or gone back and forth in negotiating price, so it's honestly just better (and simpler for everyone) if you do those kind of repairs before you list the house. 🙂
Day 16: Hire an HVAC company to check things over
This is also something that will pop up in an inspection while trying to sell the house and can become a major bargaining chip in the buyers hands, like the roof, so it's something you'll want to have looked over before you list your house on the market.
You can just have any trained heating, ventilation, and air conditioning company come out and make sure your systems are running properly. You should be getting them checked out every year, ESPECIALLY if you have gas! There could be leaks and it's super dangerous. Having them serviced every year is the best.
You also want to clean out your air conditioning unit outside. Just shut off the power at the breaker and then hose off the entire thing really good on all it's metal parts, including the fan inside and wash it all out. If it gets too dirty, it'll start running sluggish and can cause major problems down the road. You want it nice and clean and you want to do that once/year before the heat season.
When I had the house I'm buying inspect the furnaces and the air conditioning units, they found that one of the air conditioners wasn't working properly. It needed Freon and so the guy checked both units and filled them up. He said that they are only supposed to be filled up once, but sometimes when a home is built, they don't fill it up how much it SHOULD BE filled up to try to save money.
When there's not enough Freon, you're A/C unit has to work HARDER to cool your space and it can make the unit die faster. Now, I'm a BIG, BIG fan of saving money, but not if it's gonna cost me MORE in the long run. So I filled up the Freon and it wasn't too bad, price-wise. The air conditioning units for upstairs and downstairs are now working great and I can definitely tell a BIG difference!
Day 17: Install a water softener
Whenever I'm moving to a new house, either renting or buying, I look for a water softener. It's a great thing to have and a lot of people will like the house MORE if it has one in it.
They are not TOO expensive, around $1,500 on average. If you make even $30k more than you were going to, because you are doing all this work beforehand, it's a drop in the bucket compared to what you will make.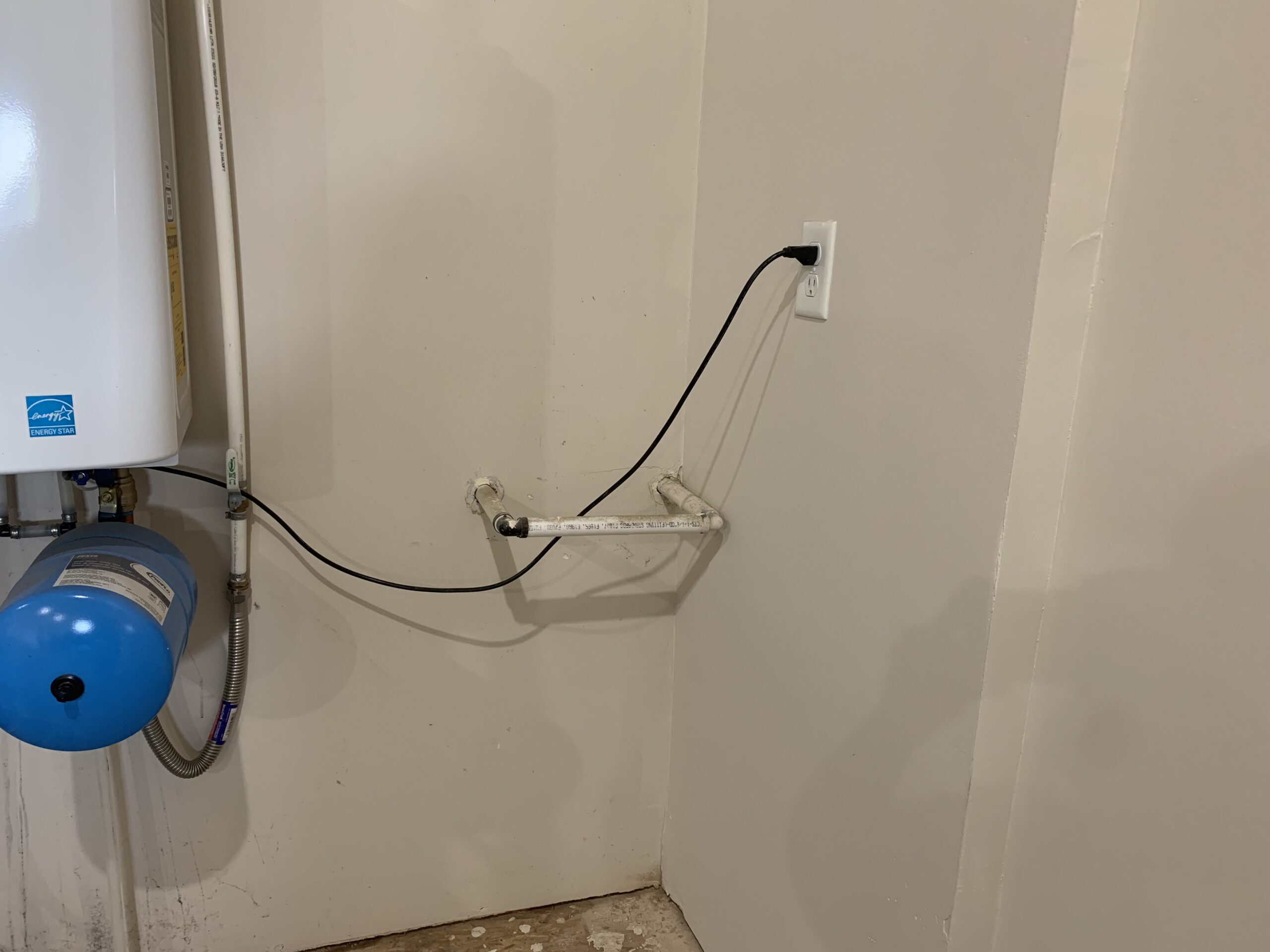 Day 18: Install a central vacuum
This really only makes sense if you have a large home. It costs about $1,200-$3,000 on average and depends on your area.
Like the water softener, it's a luxury item and you want people to feel like they are getting a luxurious home. More people will want it! Who doesn't like luxury?! I mean, really! 🙂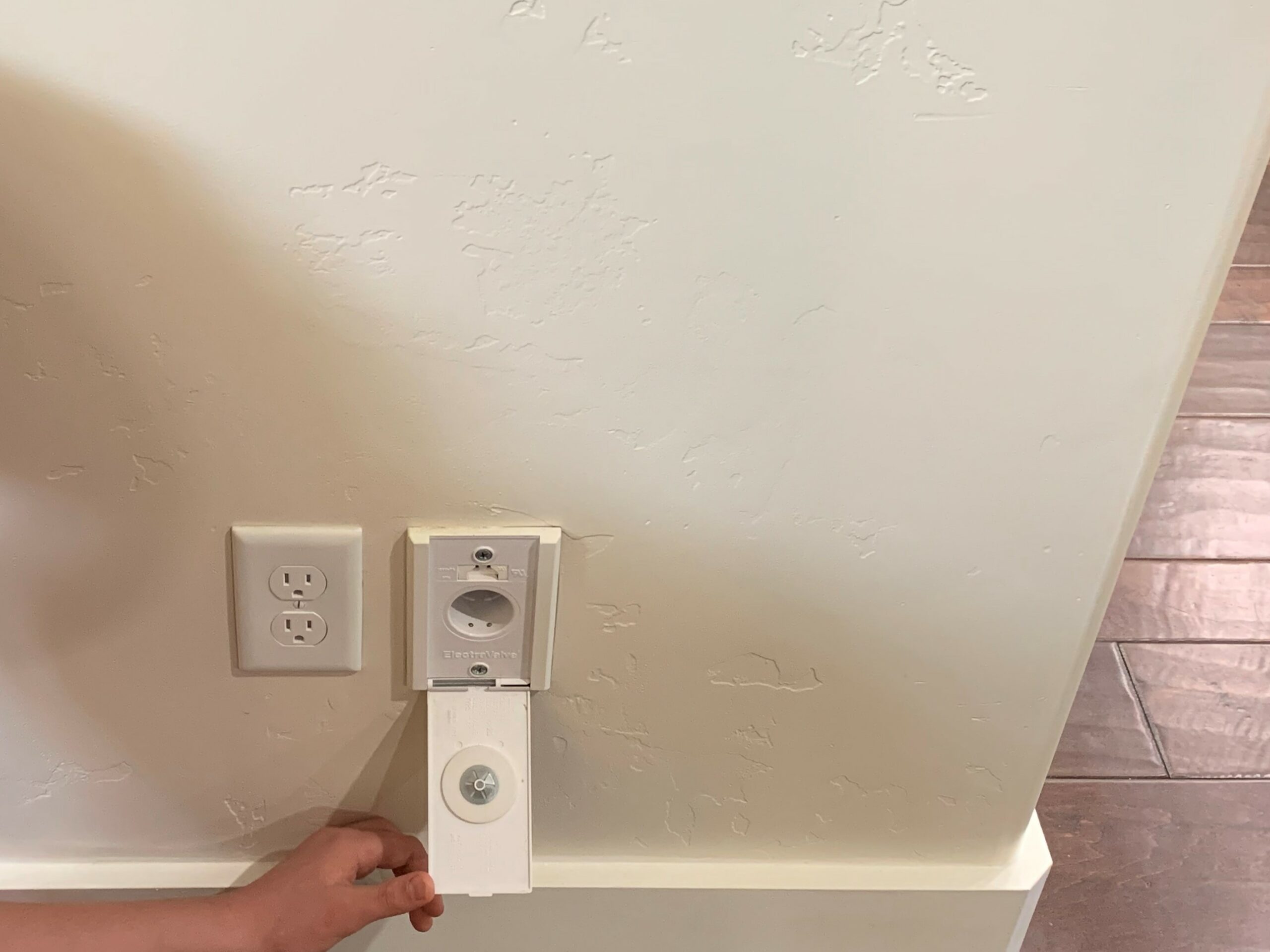 Day 19: Finish that unfinished basement
Nothing is a bigger turn-off than an unfinished BIG project. When someone sees it half finished, they think something like, "This person couldn't afford to live here and lost the house. Otherwise, they would have finished. If THEY lost the house, I might lose it too if I got it."
Immediately it plants an idea in their head that you don't want there.
Definitely finish any big projects you have started, like missing chandeliers, not finished basement, etc. You'll be glad you did!
Day 20: If you don't have sprinklers, install them
There's no one in the world, who wants to move around a hose and manually water their lawn. I've been in situations where I've had to do that and NEVER AGAIN. It's just so rotten.
Other people are thinking the same thing and if you think they are not looking at your sprinklers, you're wrong. They are!
If you DO have sprinklers, awesome! Make sure all the sprinkler heads are in good, working order and that they do exactly what they are supposed to. If anything is broken, fix it right away.
Day 21: Replace carpets (or clean them immaculately well)
One of the biggest things prospective buyers look at is the carpets. Are they clean? Are they fresh and new? Fortunately, in the house I bought, they replaced the carpets and it just looked SOOOO much better than the ugly carpets that were in there previously.
I remember walking into the house and me and the kids, all of us were like, "OHHHH! These carpets are SOOO soft; they feel like walking on sand." When we walked on such luxurious carpets, it was a major selling point for us. Dare I say, it was probably the #1 reason that I was interested in the house.
As crazy as that might sound, it matters. People WANT luxury and carpets are a great way to provide that luxurious feel and they WILL notice!
When I sold my previous house, one of the things my realtor told me straight away, "Replace those carpets!" I did that. I ended up purchasing through Home Depot as they were the most cost effective in my area that had a very similar color to the color in the upstairs. I didn't want to replace ALL the carpets in the whole house, just the downstairs, where foot traffic was a lot higher.
When you're purchasing, depending on your selling price, consider getting really THICK carpet padding. The thicker you get, the more luxurious it will feel to your prospective buyers!
Day 22: Increase curb appeal
Look at the houses in your neighborhood that are selling quick. Look at the front of their house. Get ideas of what you can add to your own home.
For me, I'm thinking about this and I want to install curbing. Maybe something like this: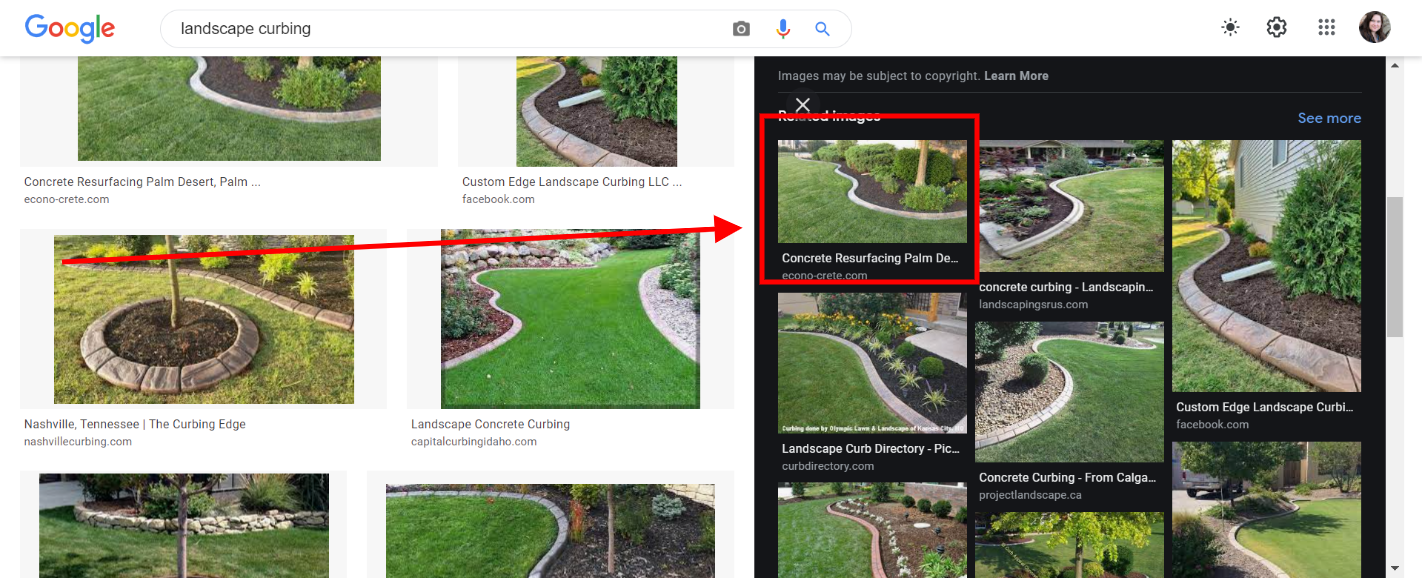 You can run a google search to find some good curb appeal pictures and just think through what would look pretty. For me, the curbing will cost around $1,600ish. It's definitely not too much to pay to really make the house POP. I've looked at a couple neighborhood houses and they have it and it looks so finished.
Definitely put some thought into the house at the front, because it's the first thing people see when they pull up. The outside of the house either invites them in to see more or makes them wanna leave!
Another thing you can do to the front of the house is to install outdoor lighting. You can get lights that are like plant stakes type of thing and solar powered and just put them along your walkway if it'll look good. Something like this would be pretty, depending on the color of your home.
Day 23: Upgrade bathrooms and kitchens
Anything you can do to upgrade or modernize your bathrooms and kitchens is a plus. Maybe that's changing out an old, outdated vanity and mirror set up, maybe it's installing a tall, vertical cabinet between a double vanity for more space, maybe it's replacing all toilet lids.
We just replaced all our toilet lids with these slow close Kohler ones in the entire home and I love them; these are elongated and you'll need to figure out if you have elongated toilets or regular round ones first before you buy them. Elongated toilets have a more oval shape and the round ones have more of a circle shape.
They are SUPER easy to change out, so easy a kid can do it. In fact, my daughter changed out all ours! It makes such a huge difference and looks so much cleaner, whiter and brighter!
Another thing you can do in the bathrooms and even the kitchen is to change out the faucets and upgrade those. Our faucets are gross and terrible and need to be replaced. The sellers didn't do it and that's totally okay. Remember, I got a fantastic deal on the house BECAUSE I'm willing to do these things and I couldn't be happier! 🙂
For the kitchen, we have a nice faucet already, but I want to upgrade to a semi-pro faucet. Found this one at Costco that's on sale at the moment and gonna purchase it.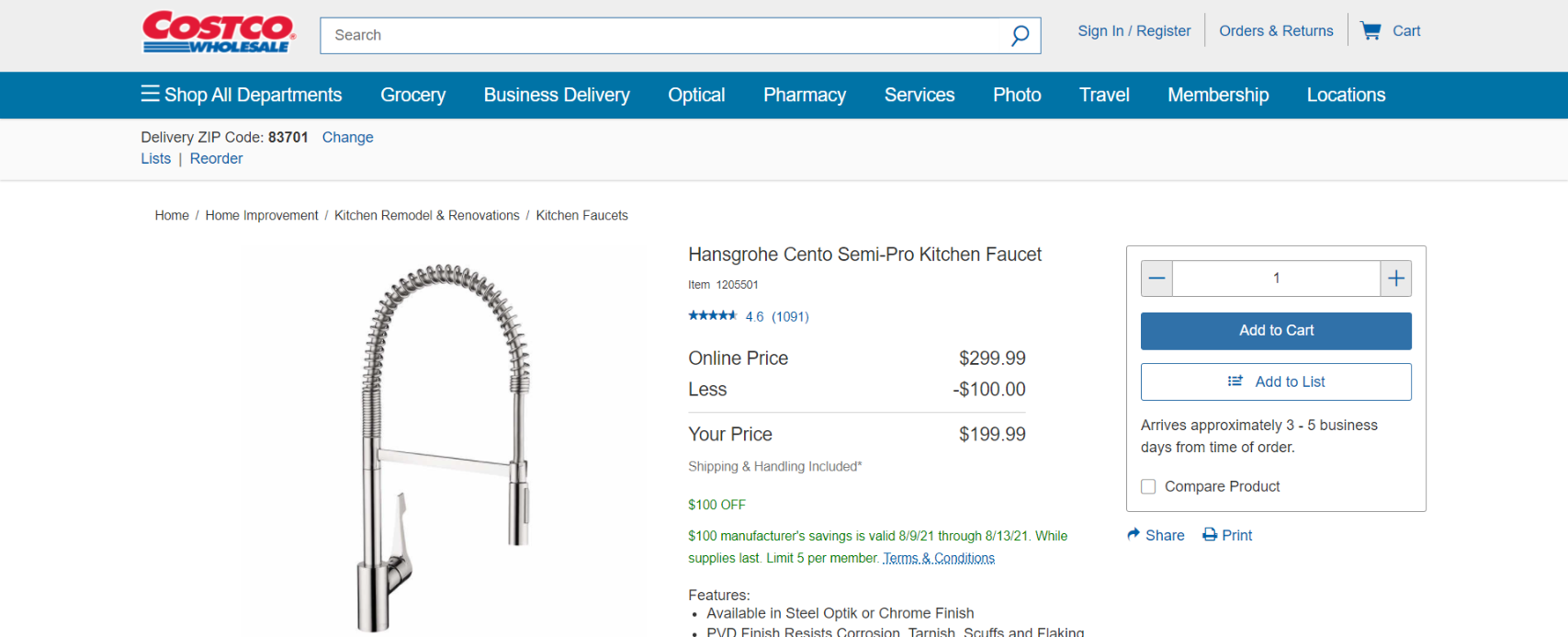 I think it'll make the kitchen look more luxurious and pretty for SURE!
I'm not sure what I'll replace the bathroom faucets TO, just yet, but I'm thinking about these. Look how cool these faucets are (see them here on Amazon)!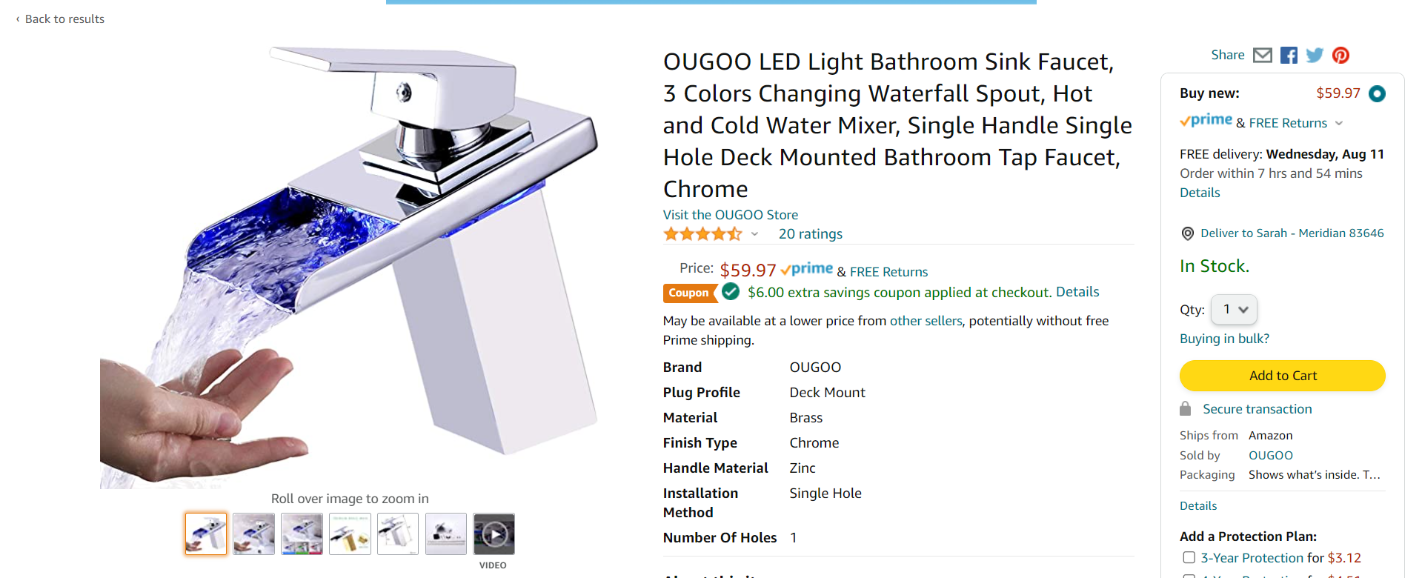 The lights change color! Blue when cold, green for warm water and red for hot water.
Can you imagine a buyer turning on the faucet and seeing THAT cool thing?! They'd fall in love instantly!!! Obviously you want to make sure that type of modern design goes with your house style, and definitely pick out ones that are right for you, but replacing faucets are a good idea. Anything that makes your home seem more luxurious, even if you're only selling it for $400k. ALL types of buyers in all types of price points want luxury.
Day 24: Create an inviting patio area
Just like the front of the house, the back of the house is also important. I remember buying one house several years ago, the reason I fell in love with the house the most is because they had a pergola in the backyard!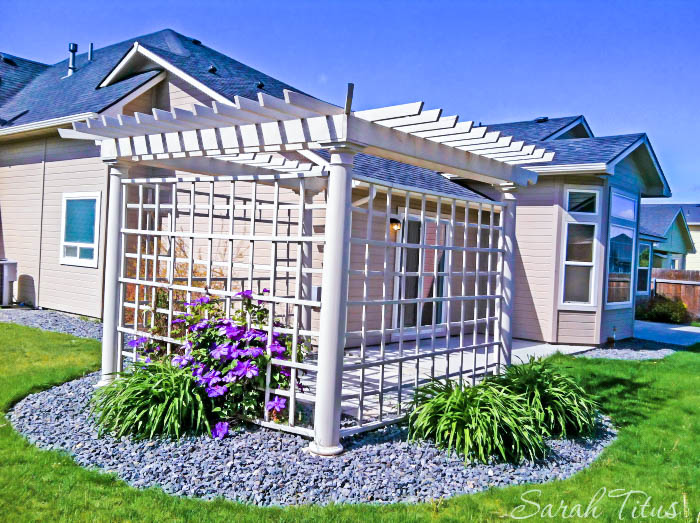 It just looked breath-takingly beautiful. I imagined putting a table and chairs bistro set out there and just hanging out for hours in the summer. It WAS really pretty. The people before me, had a sauna spa out there under the pergola so you could literally do a few different things with it. But it was a huge selling point to me!
At the new house, they have a section where I want to put a barbeque pit out there and wall it in to match the existing rocks. I think it'll "class it up" and make it more valuable to someone who wants to grill and spend time outdoors.
I also want to try to get curtains of some sort to put in the back there. I'm not sure if curtains AND the BBQ grill can go, for fire safety, but we'll see when I get there.
You can do a google search for patio curtain ideas, but something like this is SO beautiful!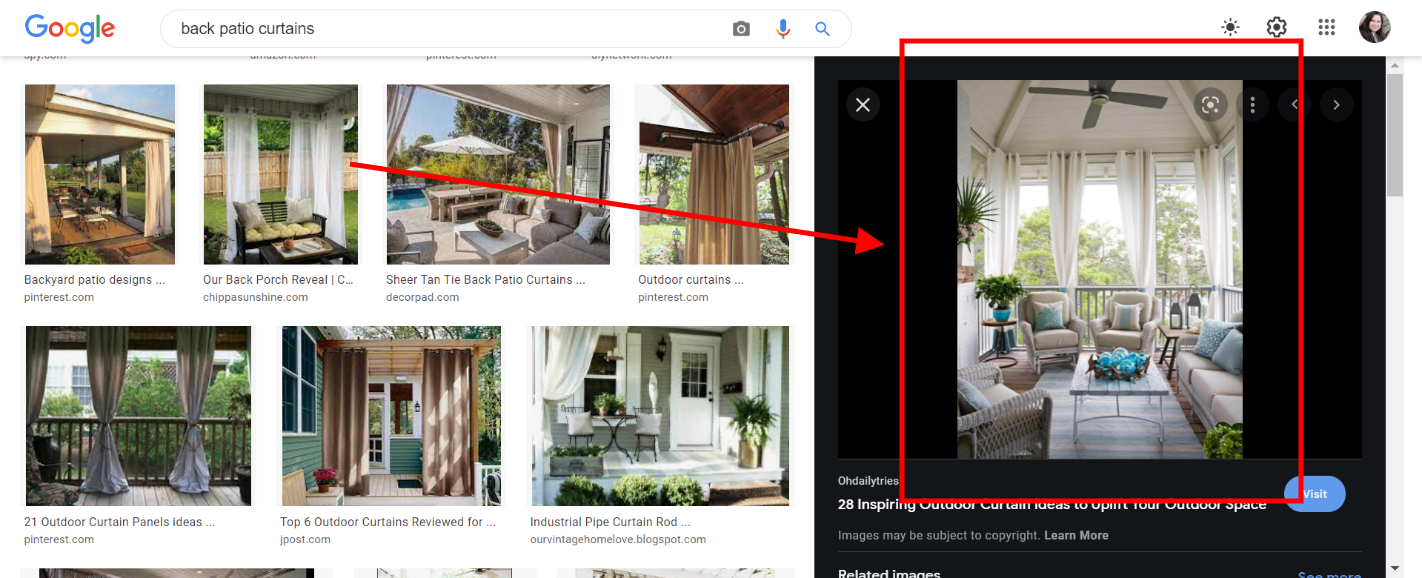 The point is, think about your space and what you'd love to see there. How YOU would intend to use the space and create it for them. You could string outdoor lights, put a TV out there, just anything to make it a beautiful hang out space, especially if you're selling in the summer. People are looking at that kinda thing MORE so in the summer months!
Day 25: Organize your entire space, declutter, and delete
One of the biggest things you can do to make more money when selling your home is to delete out as much as you can. Declutter and organize EVERYTHING. Top to bottom.
If you have an unorganized garage for example, people will think that you don't have enough cabinet space in the house and it will make them feel like all THEIR stuff won't fit EITHER! So it will deter them from making an offer.
You can get a garage organizer for pretty cost-effective. There's one at Costco at the moment, a super fancy one: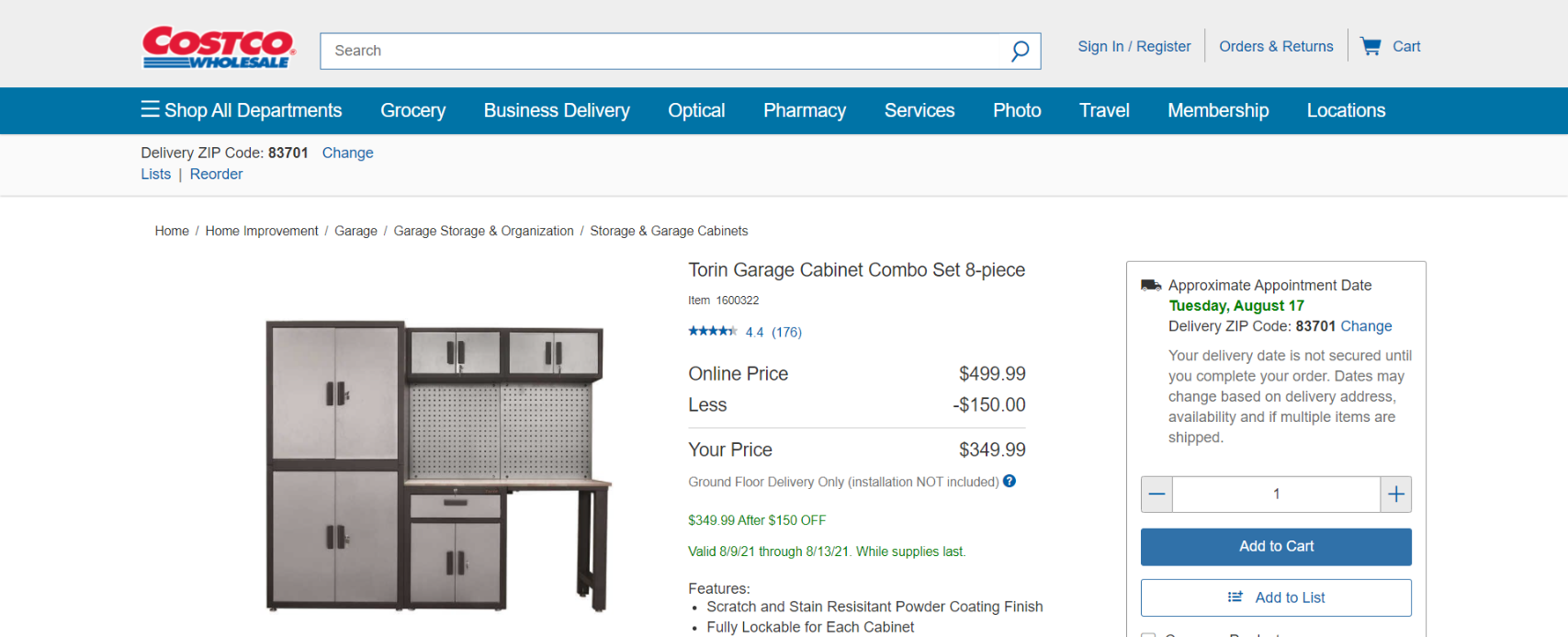 You can even get some white pantry's at Home Depot or something to make it uncluttered in your garage as well: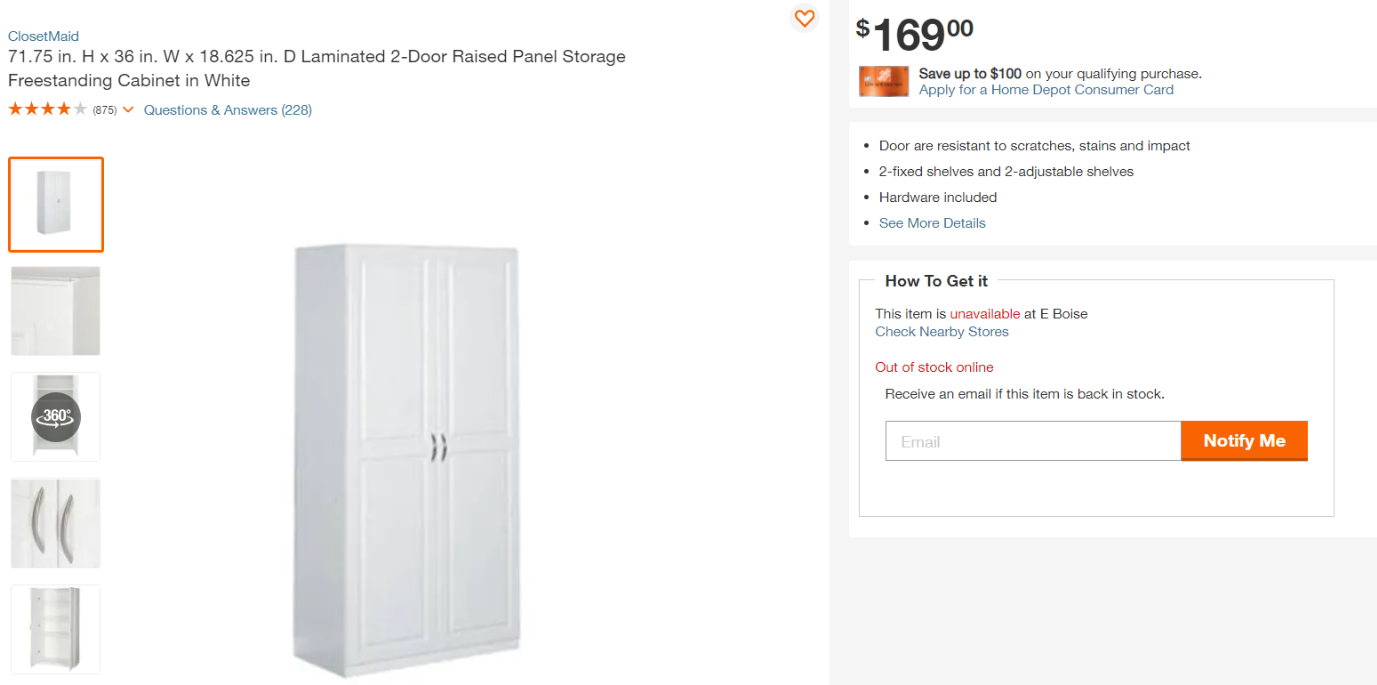 They can get kinda spendy if you're not careful, but if you look on Craigslist and Facebook Marketplace, you can sometimes find ones for lower cost that'll tidy up that space.
This is DEFINITELY that time to rent a storage unit and just store everything at a separate location of everything you don't need. Remember, they aren't buying your clutter! Just use a few pieces for decor and keep it extremely simple. Not only will it make it easier to clean if you're living there while you're selling and dealing with showings, but it'll also attract more buyers.
While you're at it in the garage, make sure your floors are nice and clean…
Day 26: Fix unsightly garage floors
At the house I just bought, the floors are really terrible!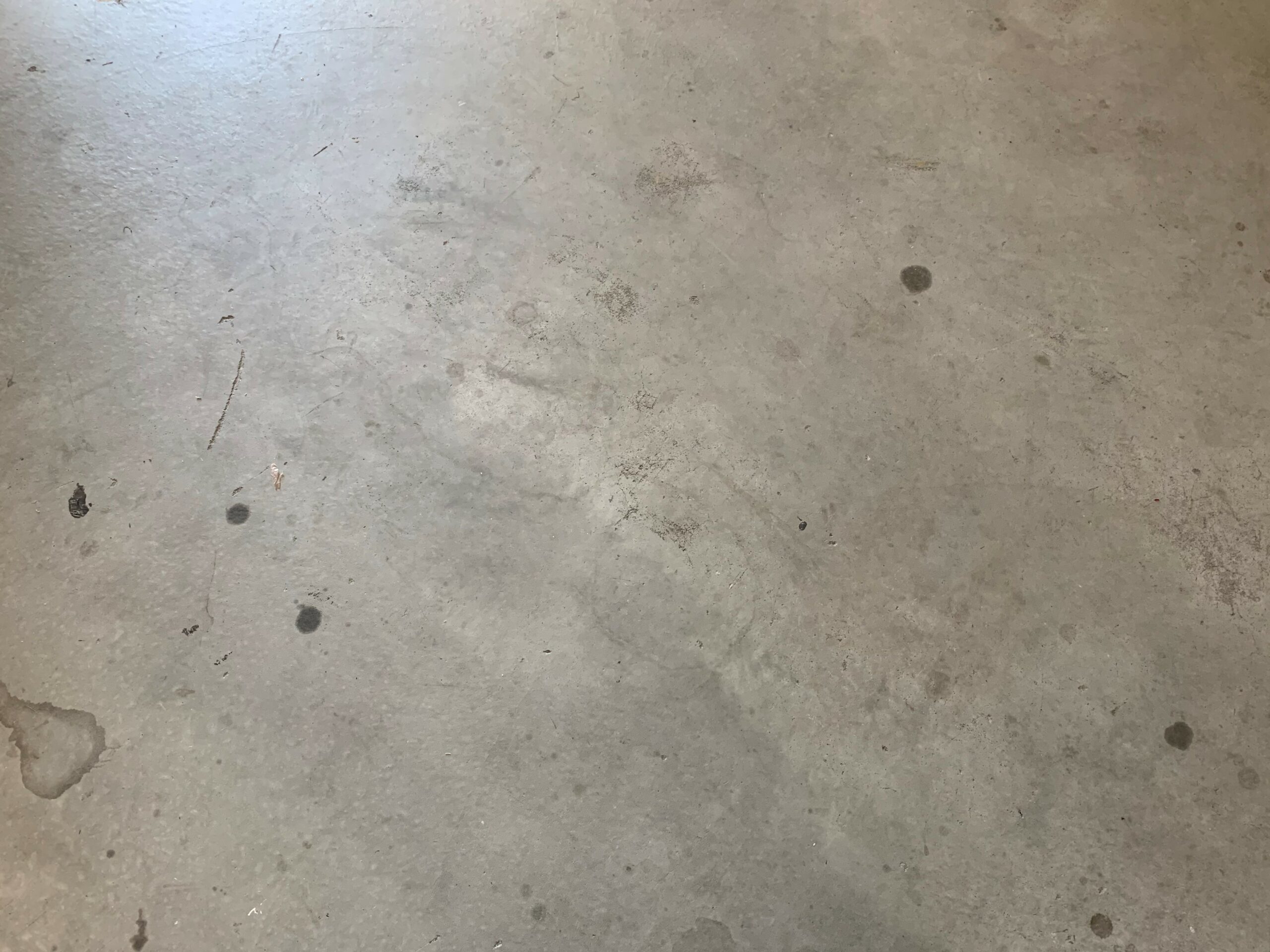 Use degreaser to get off any unsightly blemishes. Scrape off old gum, etc.
You can also epoxy your garage floors, though I wouldn't because the cons of it sound terrible from my online research, or you can use acrylic paint made especially for garage floors to make them look beautiful. I plan to go the acrylic paint option for mine. 🙂
Day 27: Don't forget garage doors
First, you want to have a garage door opener fob. If you don't, you want to get one. No one will want to manually open the garage door because you lost the fob key. It's best to have at least two, but one is okay for each door, at minimum.
If your garage door is outdated or just plain ugly, it'll detract from all the beautiful work you're doing on the house. Consider replacing the garage door to something more modern OR have it painted with a fresh coat of paint. Doing this will make it SEEM new and just more fresh and better.
Day 28: Changing out lightbulbs
One of the BIGGEST things you can do for your space is to change out lightbulbs. It sounds SO simple but lemme teach you this nifty trick because seriously, it will change EVERYTHING!!!!!!
Lemme give you a few examples of how I've seen it change things.
Where I rent, the landlords had all yellow bulbs in their house. Why not, right? The house was brand new, just built and the builders put in the lightbulbs. Unless one burns out, no one really thinks to change it. It's just not something you think of.
And the house they rented out, sat there for 10 days on the market. No one was renting it. There wasn't even any showings on it. I had saw it the very first day it went LIVE, but I had passed it over. I felt like it didn't look like a place that was nice. It had gray walls, but they looked beige and outdated and it just didn't look good.
But I called about it because I really needed to find a place, around 7 days after it was listed. And I got to see the inside of it. Thinking, "Well, maybe I can make it work."
I went to view it and I was completely blown away. The house was GOR-geous!!!! I felt like I had stumbled upon a jewel. I applied and through God, was able to get the place and moved in.
Knowing better, one of the first things I did was change out all the yellow lights to white daylight lights.
You want to have daylight lights in all rooms EXCEPT bedrooms. The jist of the reasoning is because people look better in yellow lighting and in the bedroom, you wanna look good for your husband. Let's just leave it at that! lol.
But everywhere else, kitchens, bathrooms, living spaces, you want it to be the daylight, bright white lights.
After I changed the lightbulbs to the daylight lights, my pictures came out PERFECTLY gorgeous. You can see that house here in my home tour. Just look how bright and airy and beautiful it looks and it's ALL because of the daylight lights!
Same thing happened with the house I owned previously. There were yellow lights in it and when I was going to list my house for sale, the realtor told me to change the lights. I was a bit skeptical, I have to admit. Daylight lights are spendy and is it REALLY going to matter THAT much?
Well, I followed her advice and afterwards, I could not BELIEVE what a difference it made!!!
If you don't believe me, try it. Just try it in one room and see if you don't fall in love with the house in a whole different way!!!
Day 29: Replace old light fixtures
Along with changing out the light BULBS, you want to update any older style light fixtures (depending on your house style). But definitely newer, bright looking light fixtures can make all the difference!
Imagine you have a million dollar home and in the master bathroom, instead of having a regular light fixture, you installed a chandelier. Imagine how much attention that would get. How much luxurious of a feeling it would give the buyers coming to look at the place.
They would feel the home is well-kept, taken care of, luxurious and as we all know, people PAY for luxury! It's why cars have base models and then an upgraded, luxury model. Some want the base model, they can't afford the luxury, but EVERYONE still WANTS luxury! No matter what you're listing your house for, if you can make it feel luxurious, you'll get so many offers, you won't know what to do with all of them! 🙂
Another side note for the bathroom, if you don't already use a more luxurious toilet paper, while you are selling the home, change all the toilet papers to something like Charmin Ultra Soft. It's just a more fancier toilet paper and if someone uses the bathroom while viewing the home, they will notice that (and a lot more people use your bathroom during a showing than you'd think!).
Day 30: Buy a house at a discounted rate
I saved the best for last!!! The #1 BEST way to get more money for your home is to buy it low.
For example, I was actually driving through the subdivision I wanted to live in, looking for houses when I was looking at one. I noticed the neighbor across the street, was carrying things to her car. At the time, something inside of me was like…she's moving or maybe she'll list HER house for sale. It's a pretty house.
Then later on, they DID end up listing it. They were asking a lot for it, though.
So I was praying to God, like I just can't pay it. It's too big of a jump, what if I crash and burn? I don't feel comfortable to go over a certain amount.
I let the house sit there for a while. They were asking way over what I was personally comfortable with and so, it wasn't the right house, right?!
Then, after it sat there a while, they reduced the price $100k. NOW I know they are willing to work with me. So I put in an offer shortly after they reduced it. I put the offer $100K under their reduced price. They denied it.
I was so confused. Because I really felt like THAT was the house God wanted me to be at. I had watched it since before it was even listed!
Well, turns out, after a couple weeks or so, they came back to me and said they'd accept the offer! So I sent in the exact same offer and we started closing! I was so happy and I seriously got such an amazing deal. I know that in a few years, I'll sell it and make some money. I'll do all the things in this post and fix it up, modernize it, make it all spiffy and I'll get more money as the economy and housing prices go up here.
It made more sense to me to buy a house and sell it in 3 years, rather than to just rent for 3 years, not getting anything back on my investment for 3 solid years. This way, I'll profit. Whereas renting for 3 years, I wouldn't profit.
Then in 3 years, I really want to move to the area where Alistair Begg's church is. That's my heart. I just want to be in an area with a good, solid church and I've looked for YEARS and there's no good churches here! They are either super legalistic, super contemporary with rock-style concert music, or so boring my kids fall asleep and the church is so apathetic it's sad.
I know church is important and I know I have to compromise and pick the best one I possibly can, but I'm so on fire for God that it's not where I want to end up! I want to be in a church on fire for God and if that means moving to another state, so be it!!! It's all about God and the church! 🙂
My advice is that if you want to get a house cheaper, wait at least 30-45 days before making an offer and then offer less. Don't be offensive like offering $300k on a $600k house or anything, but there is wiggle room if it's not selling.
Be willing to pass a house up if it's not the price you want to pay. I was willing to move onto another house and God worked it all out that I got this one and I'm so happy. The sellers were so amazing and sweet (they left a nice fridge and an in-ground trampoline absolutely free and sold me a bedroom set). Those things helped me SO much and I'm so appreciative of that sell. They were seriously so nice; I pray God blesses them for their kindness!!!
Either way you go, getting a house for less than it's worth, will obviously instantly increase your value of the home! I KNOW the house I just bought is worth the money. I got such an amazing deal. God is so good! But definitely look for something you can instantly add value to your home on, by getting it for less than it's worth right off the bat!
One last thing…if you want to make more money selling your home, be sure you stage it properly if it's empty.
You can put gift bags in closets (I bought a Tiffany gift bag on ebay) to stage with.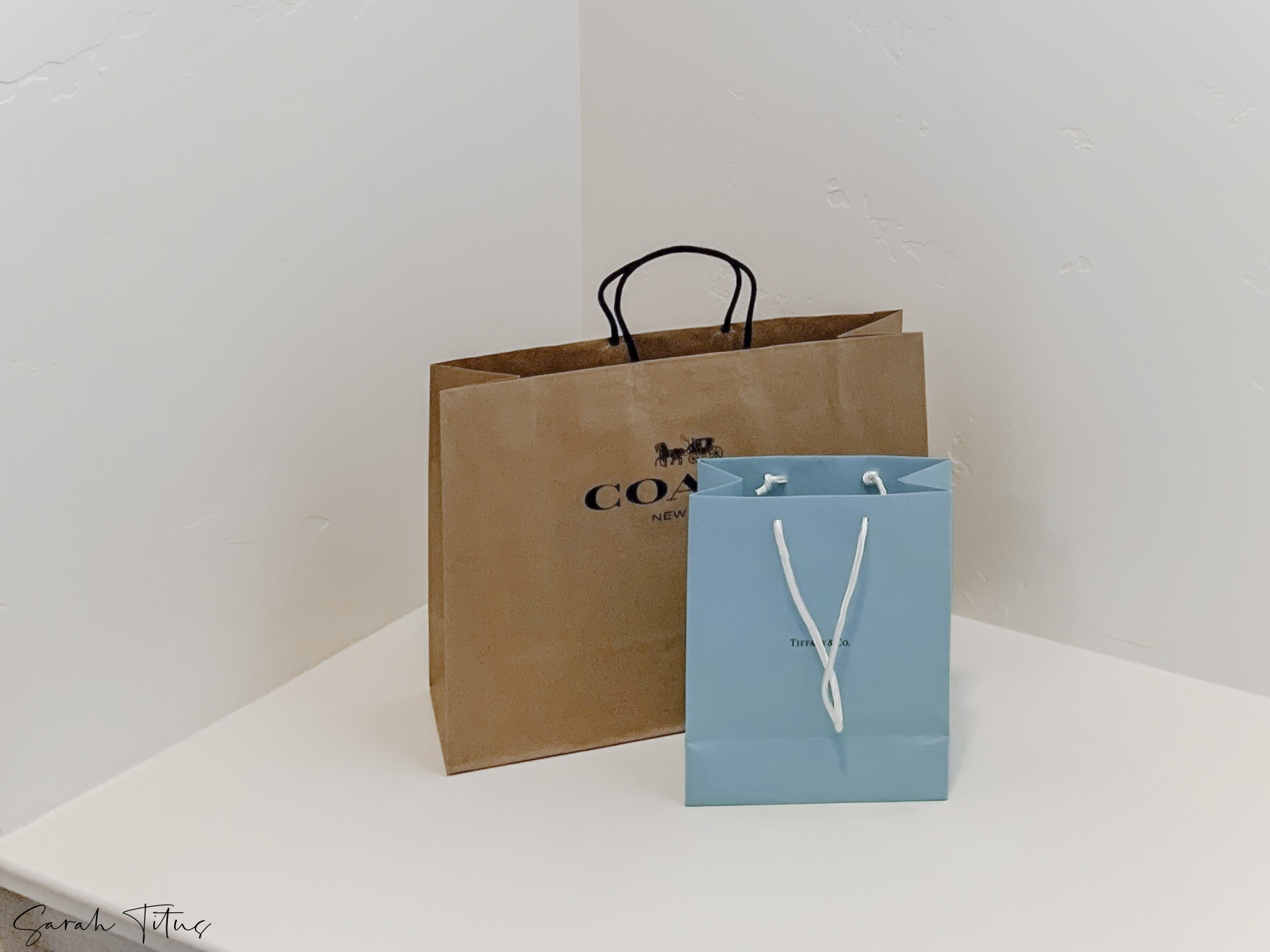 You can put candles on the bathtub and maybe a few rolled-up washcloths.
You could put a recipe book on the kitchen counter.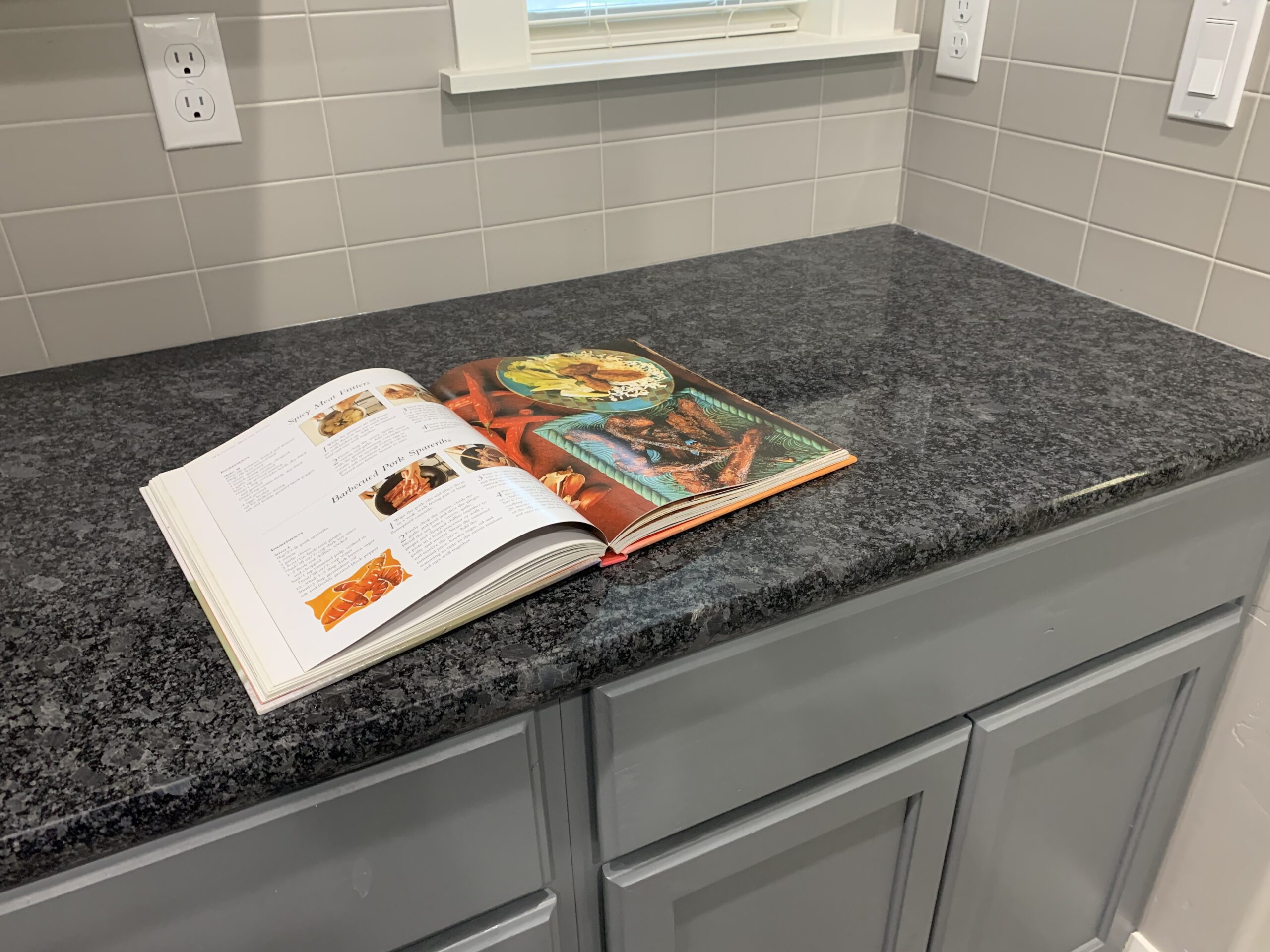 Maybe a tall, very nice plant in one of the bedrooms.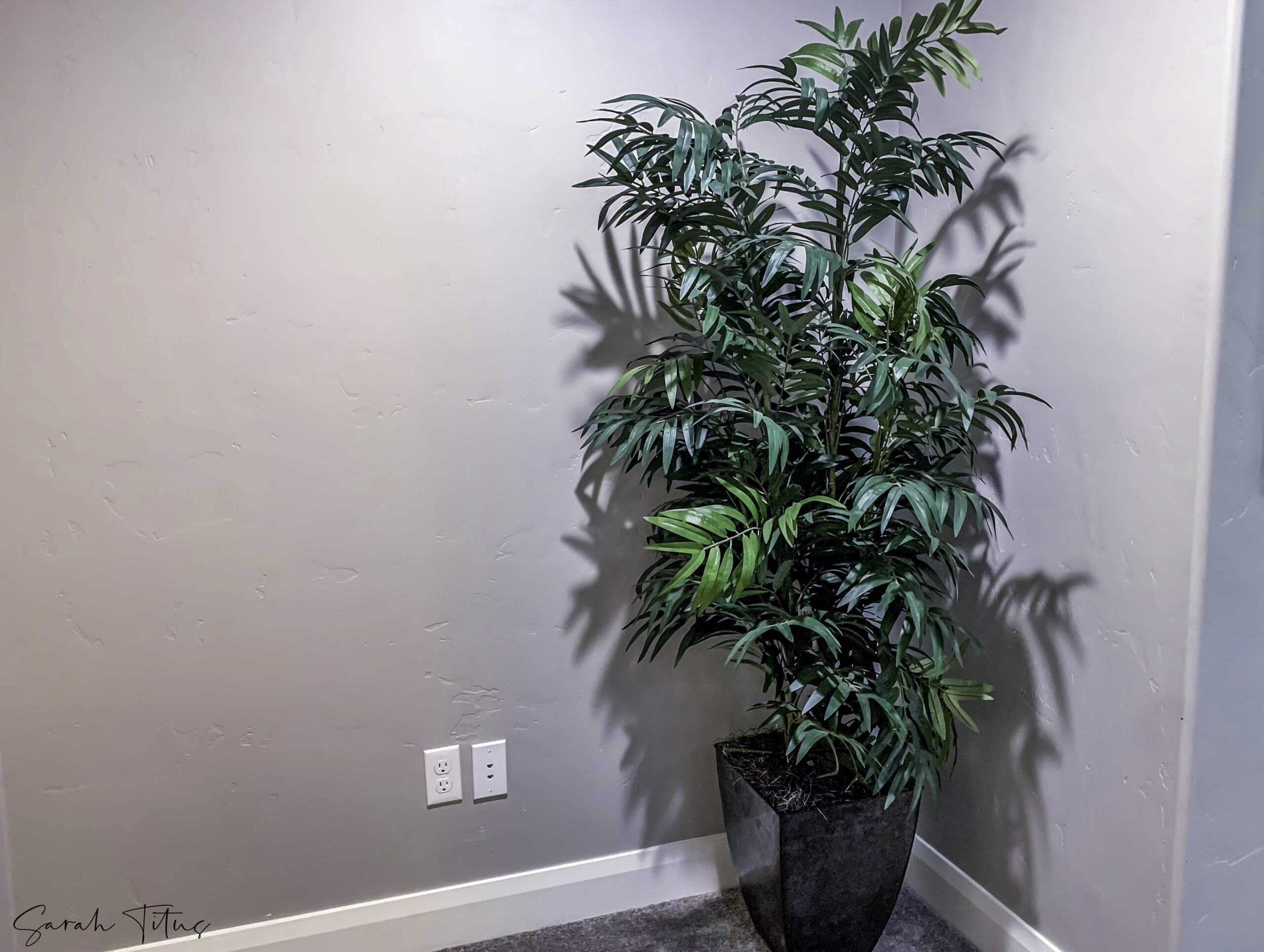 You could find a little decoration to go on the fireplace.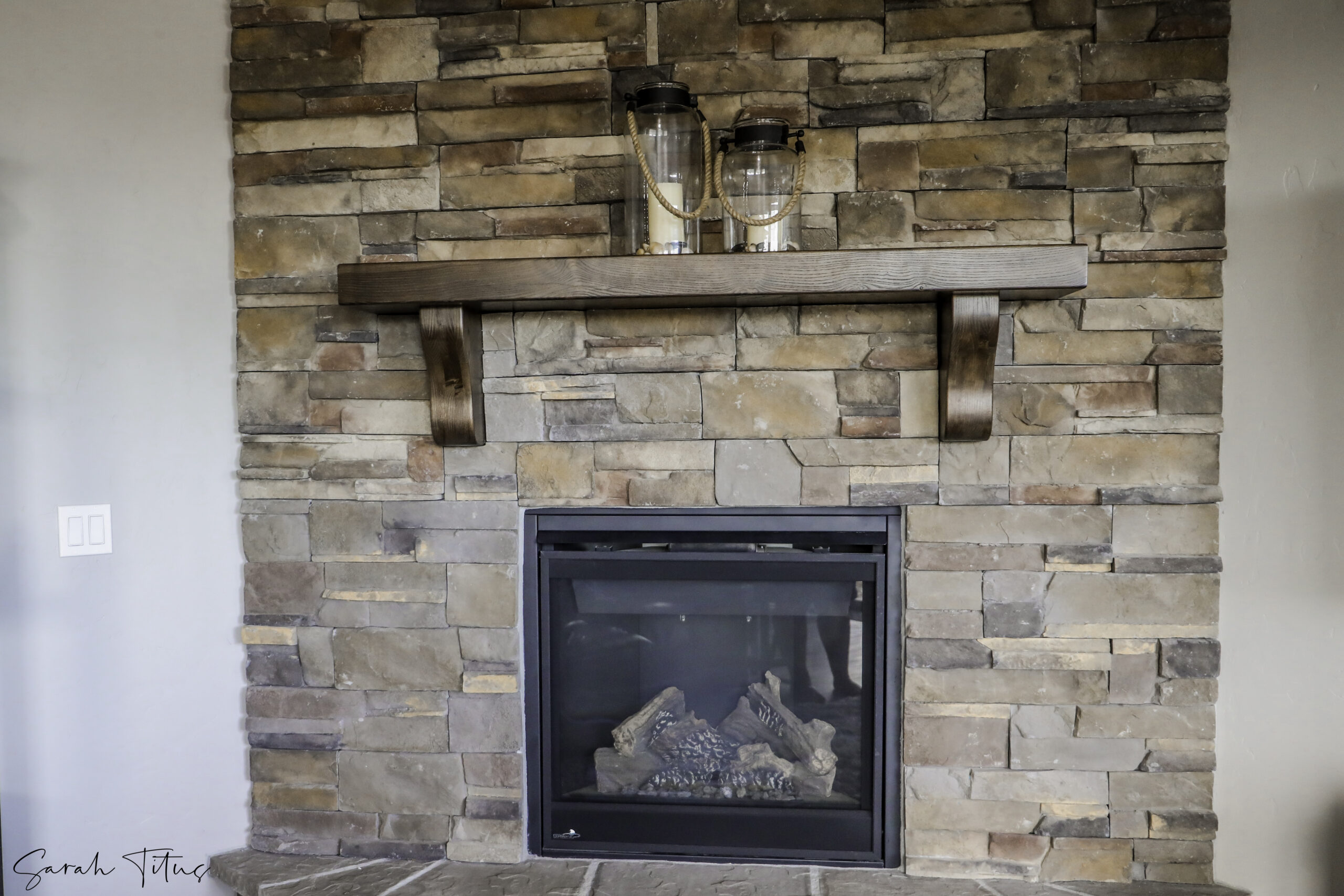 It doesn't have to be major decorations, but very lightly, but DO stage a home if it's empty for SURE! You want the place to feel "homey" so it makes them feel comfortable and they see themselves living there.