*Please note: None of this post is sponsored by any company in any way, shape, or form. I do not do sponsored posts.
One of my missions is to provide a sanctuary for God and my family. He dwells among us and I want our home to be a nice place, pleasing to Him. A place my family can spend time, make memories, laugh, have joy, and know that God is with us.
A beautiful home is important to me. I've taken a lot of time to decorate it and many people have asked to see my home. So today I'm sharing some of my favorite places…
Home Tour
I just moved. In my old house, all the walls were beige. The trim was beige. The outside of the house was beige. Everything was beige. It was pretty, but after 5 years, I got sick of the beige on beige on beige and wanted a change.
There was this amazing house and it has GRAY walls and white trim. I was so excited to be able to move to a place where there was no beige! haha.
But I quickly realized that I would have a lot of interior decorating to do, like getting all new furniture, all new decorations because brown just wouldn't work in a gray space.
I'd been aching to redecorate for years and I finally got my dream.
Moved to the gray walls house and went to work decorating.
Decorating is a fun process, but it IS a process. It became about purchasing one or two items at a time, putting them in the space, then seeing what would work from there.
I've been here about a month now and my home decor is looking really great and I wanted to show you how I did it so you can be inspired for your own home as well!!! <3
Right as you walk in, there's a beautiful contemporary archway that I absolutely adore!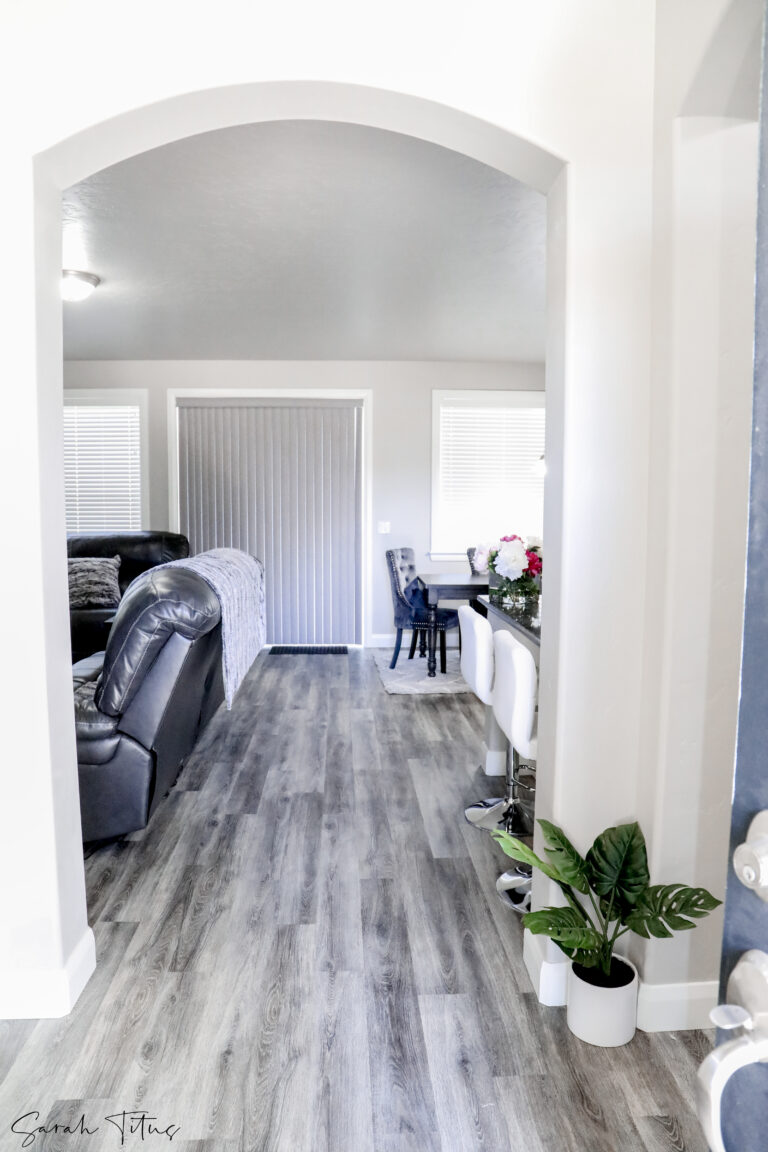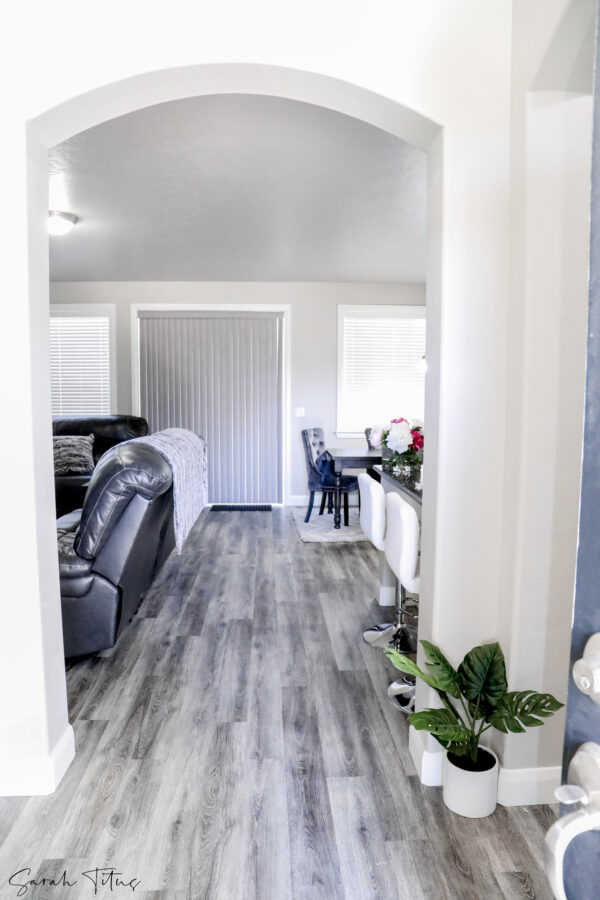 The plant, I got at Target a long time ago. It was $30ish I believe.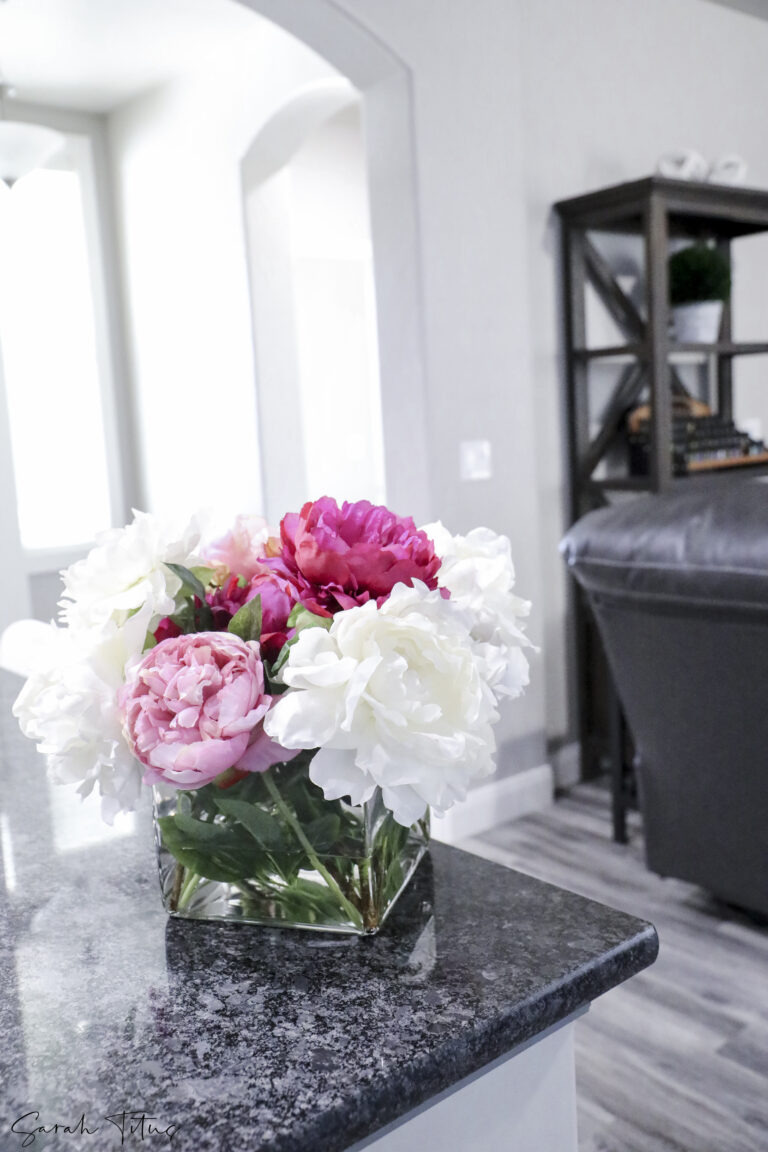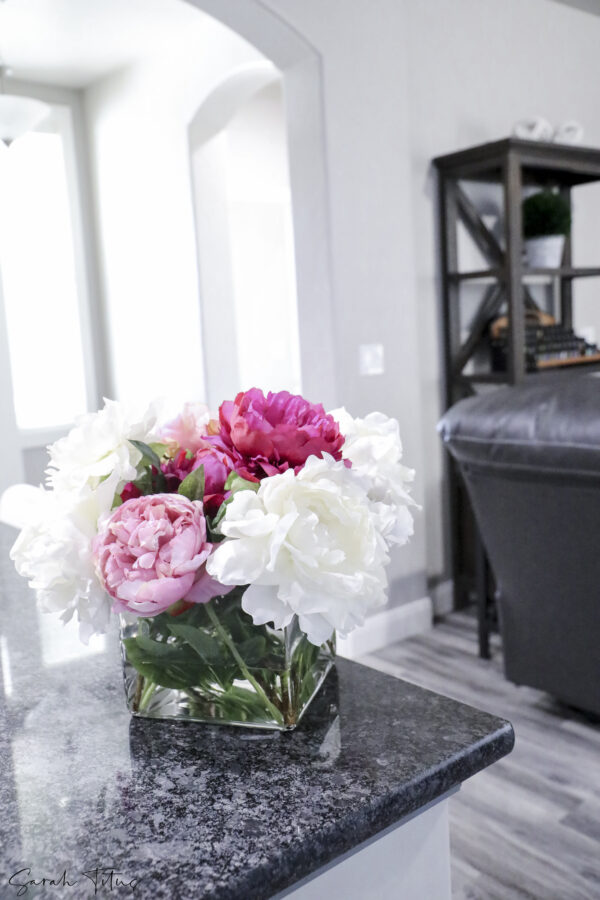 I'm so excited to show you the place. Ready?! 🙂
Let's start with the living room…
LIVING ROOM
The downstairs open floor plan is definitely my favorite part of the house. My only adjustment is that in having an open floor plan, where the kitchen is completely open to the living room, you can't really run the dishwasher and watch TV at the same time. The dishwasher won't have any sound "buffer" like a wall would provide, so it's something I'm getting used to.
It could be the dishwasher makes more noise than normal. Not really sure. It's a newly built home and I do think the builders didn't use top quality appliances and I get that. So if you move to an open floor plan, one thing you'll want to check is how loud the dishwasher is. It's not too big of a deal. We just usually stop the dishes when we want to watch TV and for some, it may not bother at all, so it really just depends on what you like. 🙂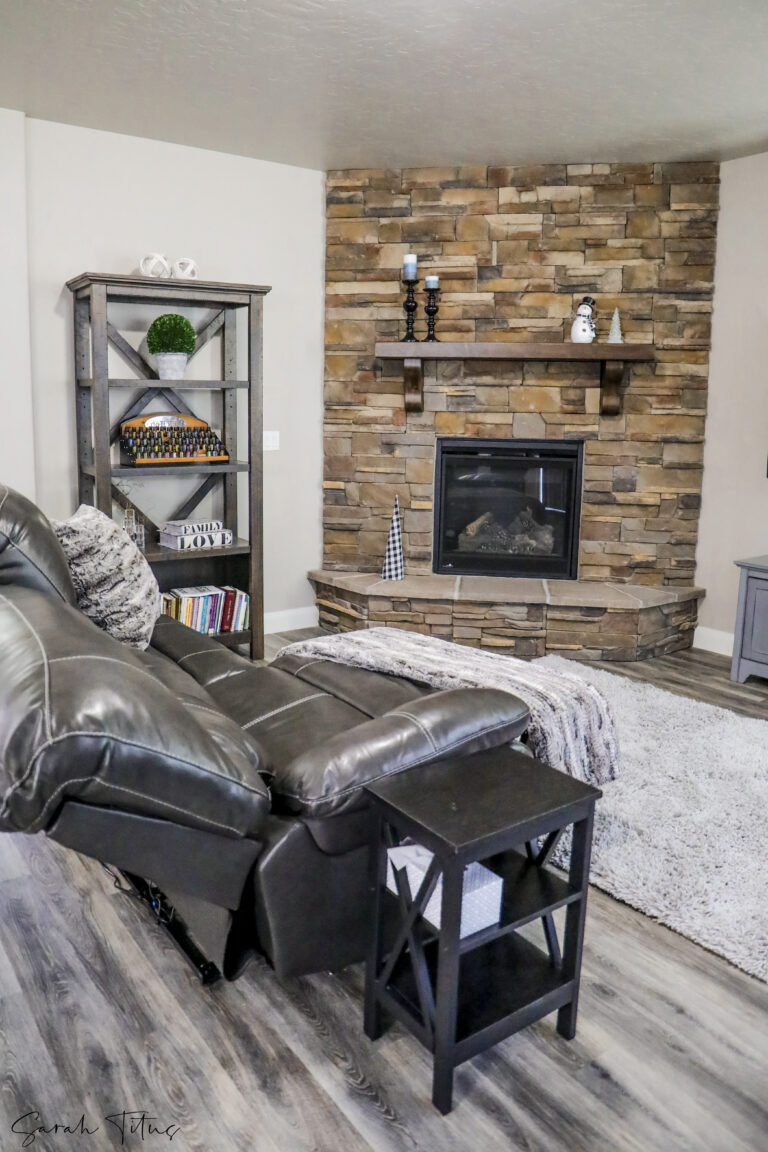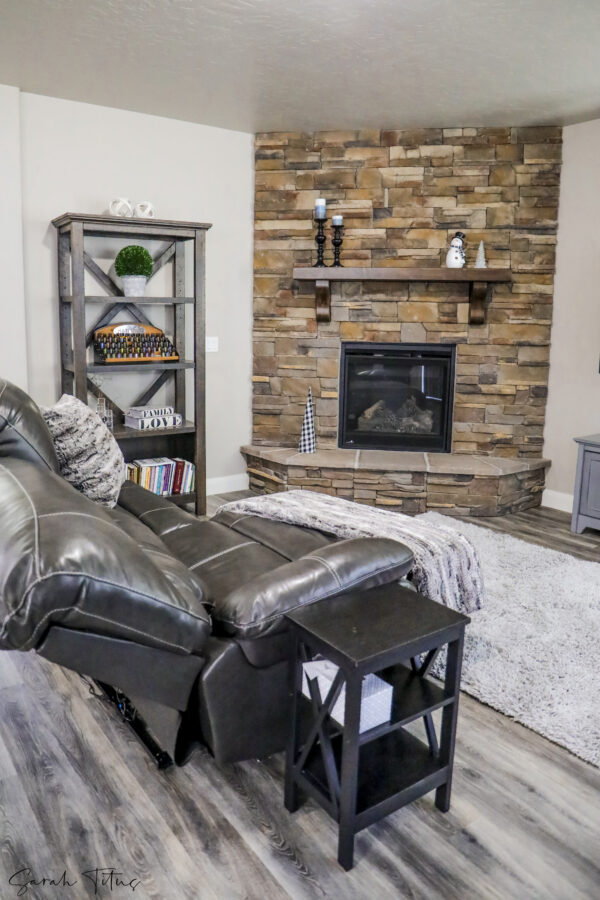 Here's the color palette: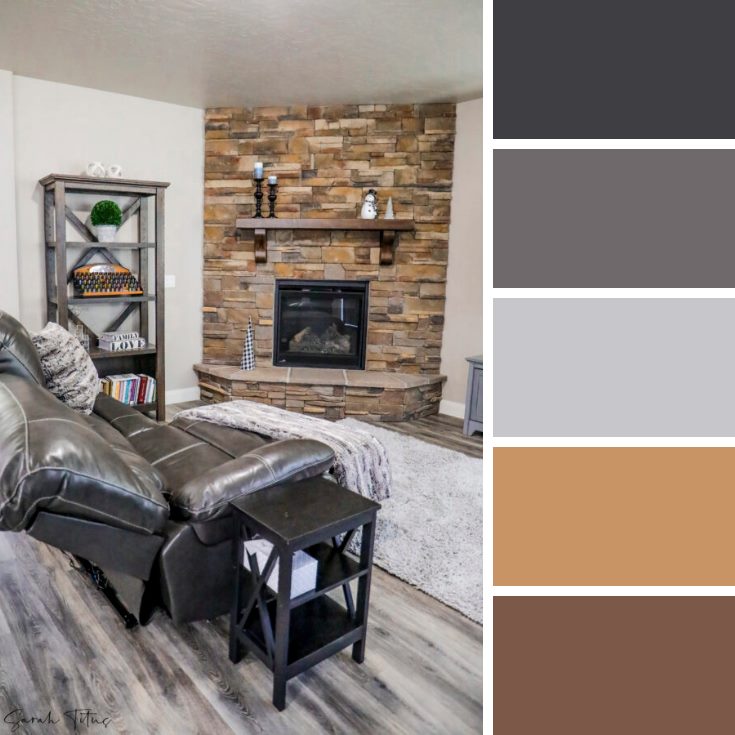 Colors:
Dark Gray: 3F3E43
Medium Gray: 6F696B
Light Gray: C7C6CB
Sandy Brown: C89465
Medium Brown: 7C5848
The fireplace in the corner of the living room is really pretty. I had a nice fireplace in my previous home, but it wasn't brick/rock like this and having the rock brings so much more life to the place. More earthy, homey feeling. 🙂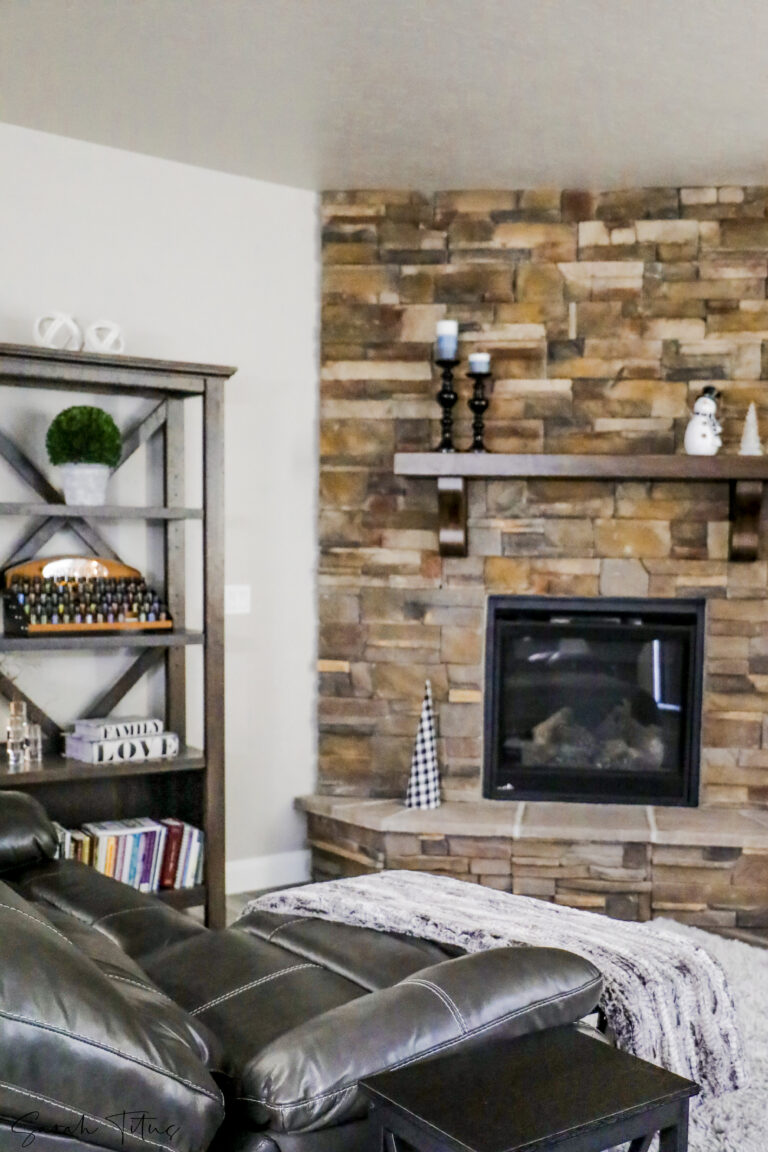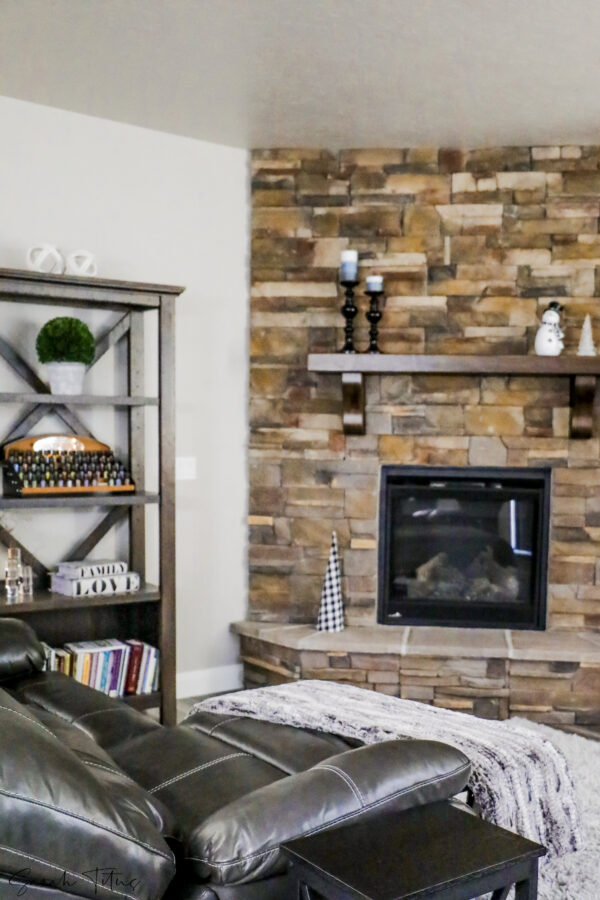 Because the fireplace hearth is brown, I was able to grab a brown shelf and tie in a little brown (the only brown) into the room. In different lighting, the gray hardwood floors are brown and in some lighting, it's gray, so that definitely helps.
I got the brown shelf at DeMeyer Furniture for $300. I don't recommend shopping at that particular furniture store. Long story short. They only care about money, they are sharks and not people you want to deal with. They scam people and I just wouldn't recommend them.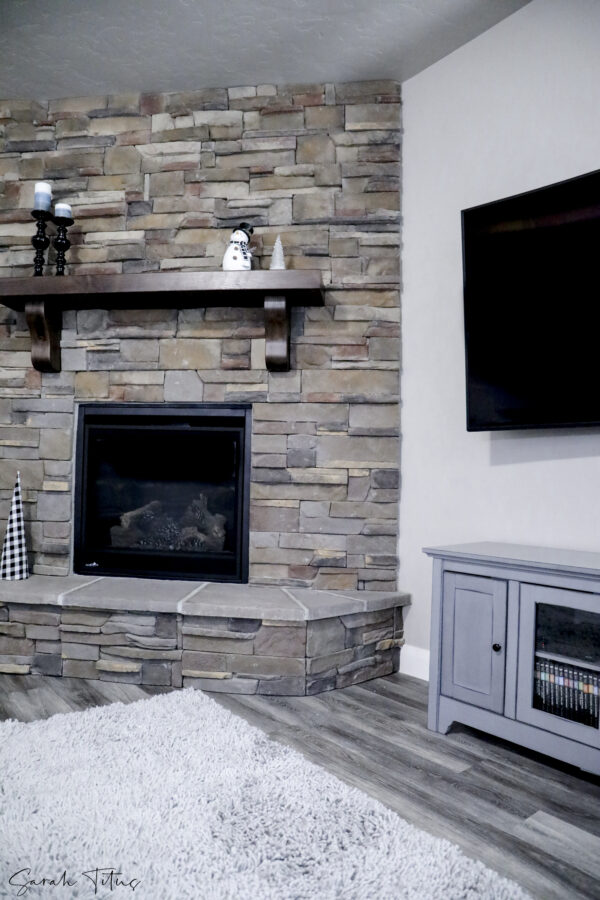 The candles I found at Target. The blue candles match the blue in the kitchen on the cabinets as well as the ET center I found on Amazon. The candle sticks I got at Ross. The littler one was $7.99 and the bigger one was $8.99.
The snowman and glass light-up Christmas tree were something I already had. The black/white Christmas tree at the bottom of the fireplace, I got at Hobby Lobby. It's 20″ high and about 5.5″ wide. It was $9.99 regular price but they were having a sale of 40% off their Christmas stuff when I purchased. 🙂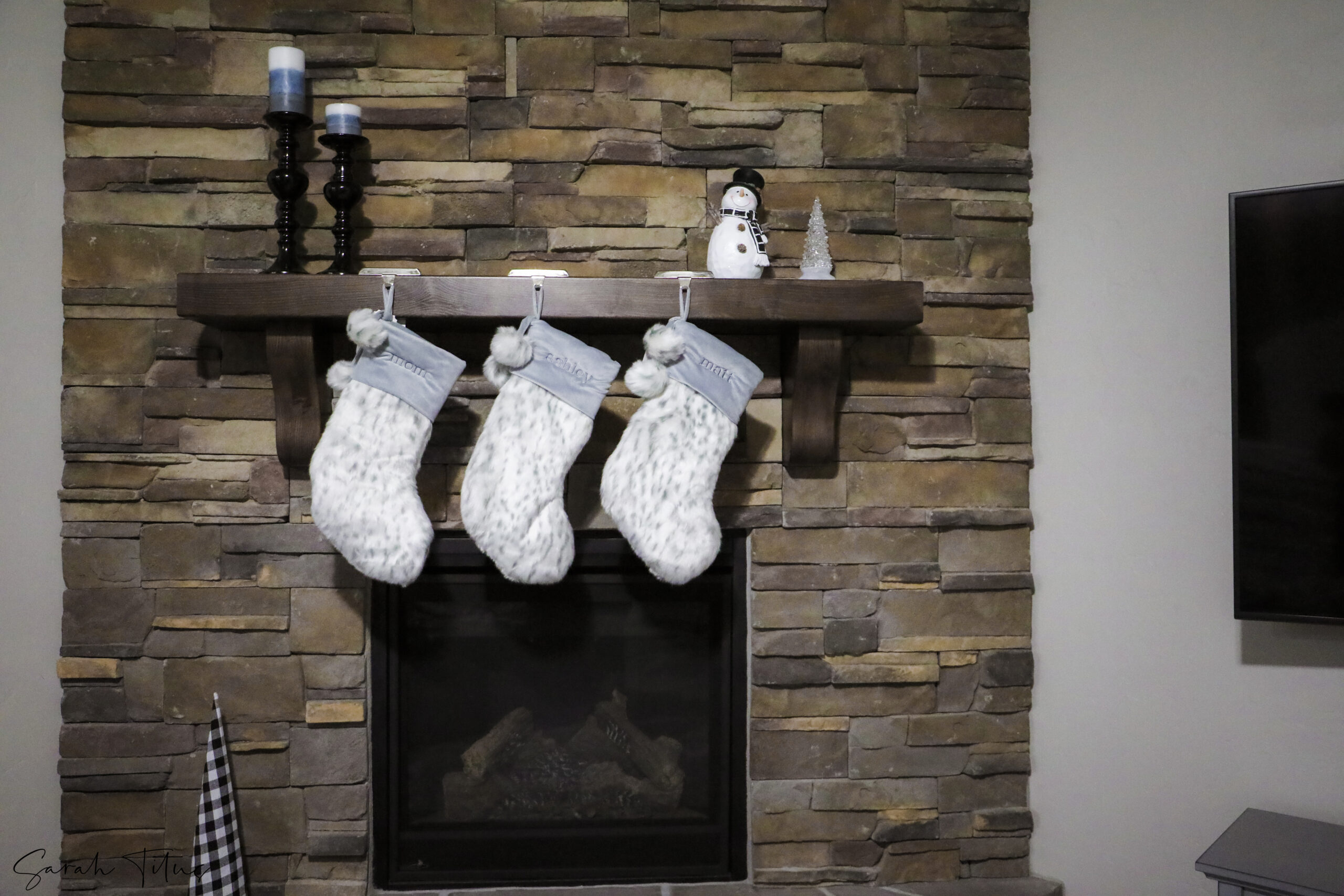 I got these super cute and high-quality, personalized Christmas stockings from Pottery Barn. They aren't available on their website at the moment, but around Christmas-time, check them out because these are GORGEOUS!!! They are so thick and honestly, I can't rave about them enough. I'm in love with them!!!
If you're looking at painting, the walls color is Sherwin Williams Colonnade Gray #SW 7641.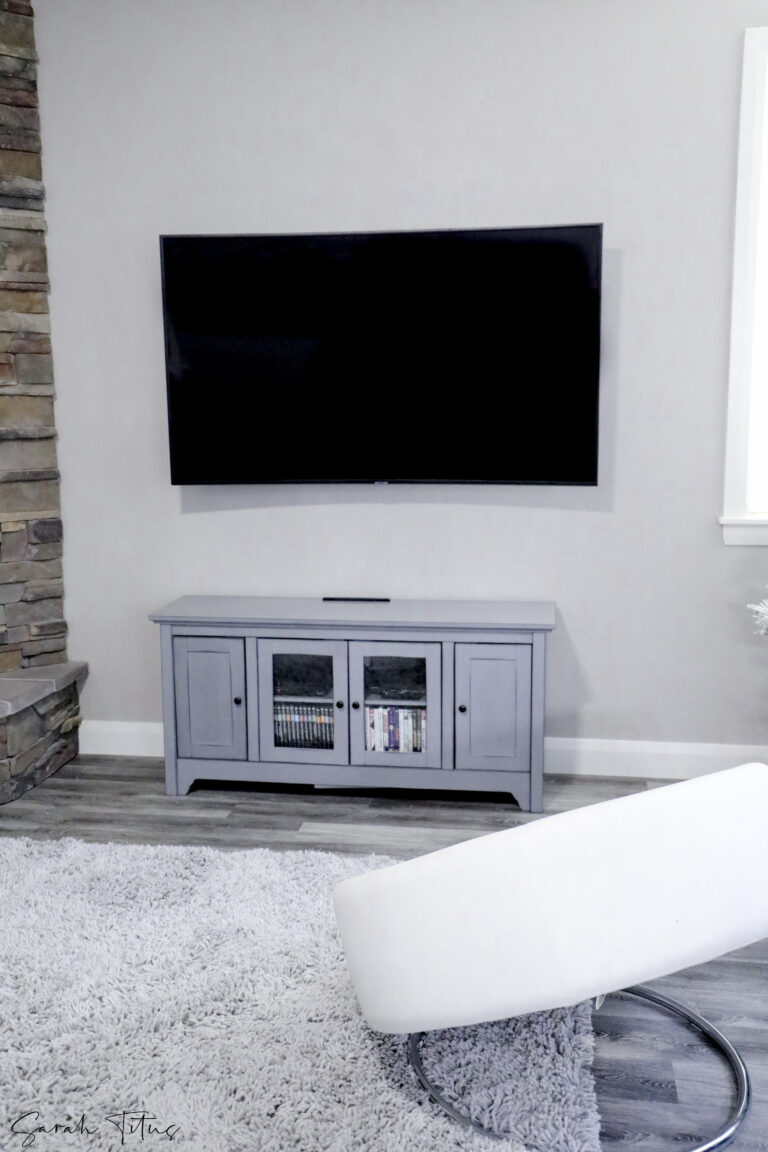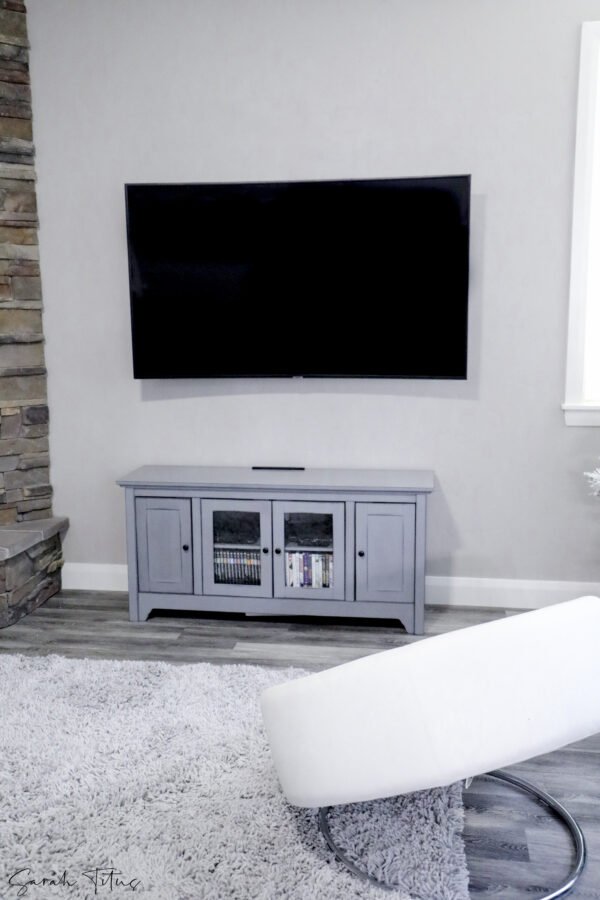 The TV is mounted on the wall (cords ran through the walls). The TV is a Samsung 65″ curved that I bought on Amazon. I paid $654.54 for it including tax.
The white donut lounge chair is super cool. It's heavy so it doesn't move and it's really stable. It's great when you (or your kids) are playing video games. I scored that on Facebook Marketplace. She said she paid around $400 for it and I got it for $200.
I also got a Pottery Barn beanbag chair (not shown) that's gray off Facebook Marketplace. She was selling it brand new, sealed for only $20. Apparently, they had sent her two of them but she only ordered one. Those beanbags are a good $100-$200 on the site, so it was a total score. We can take the bean bag chair out whenever the kids are playing video games and put it out of the way when they are not. 🙂
The furry gray rug I got at Ashley Furniture. It was 50% off and such a great deal. It regularly retailed for $300 and I only paid $150.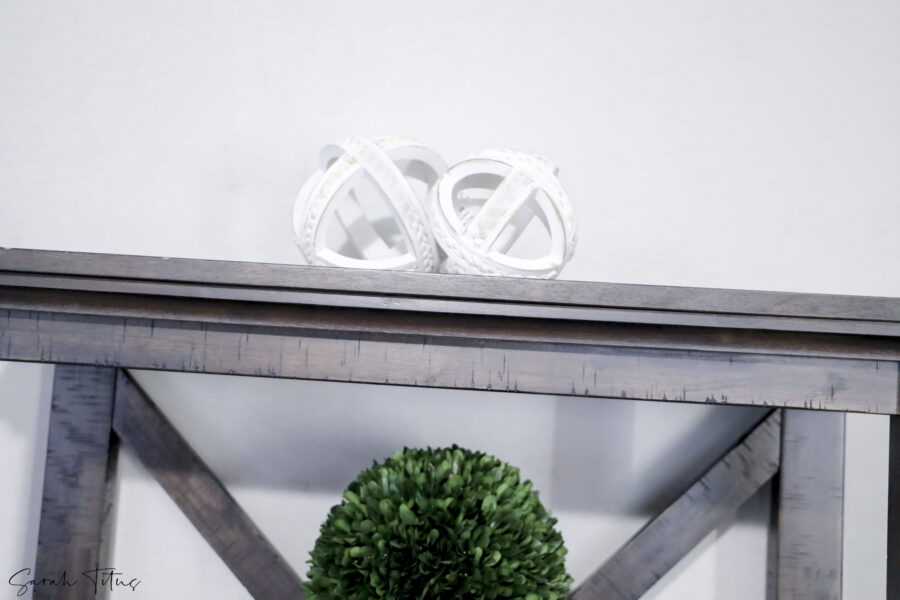 The two white decorations at the top of the bookshelf, I got at Hobby Lobby. They were $17.99 and $19.99 but they were 50% off on sale, so I got them for $8.99 and $9.99.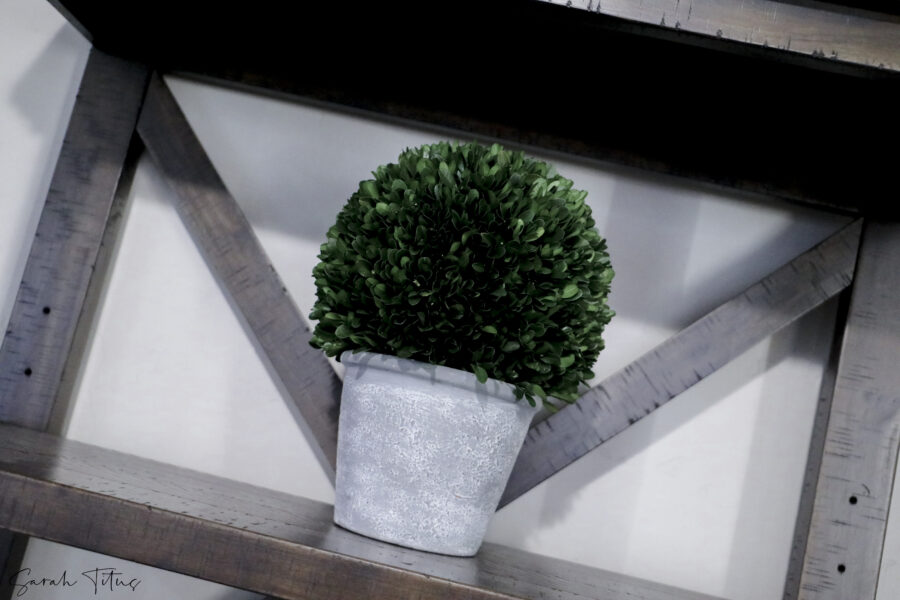 The plant, I got at Tuesday Morning. It was on clearance. The original price was $49.99 and it was on sale for 60% off ($20 total!)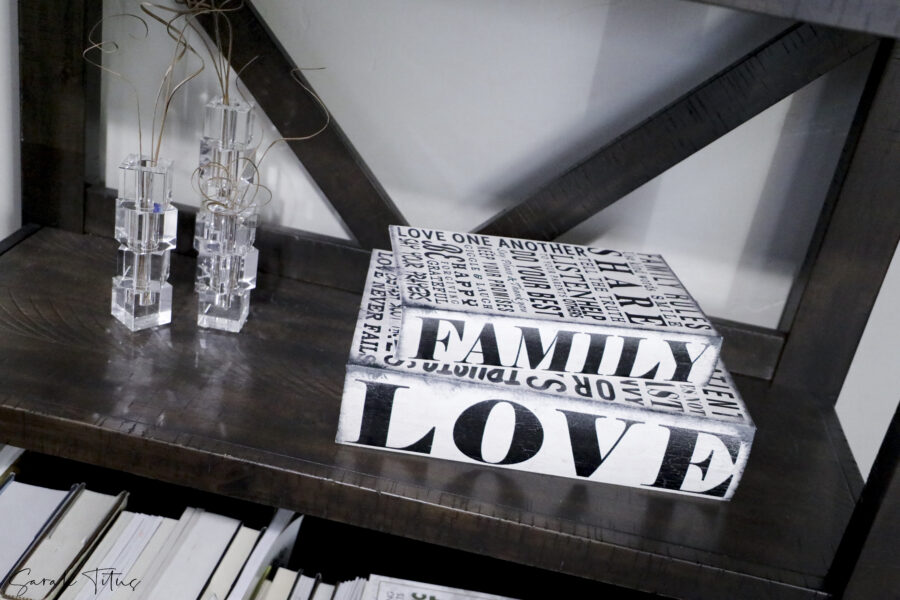 The candle sticks (they are called bud vases) I got at Bassett Furniture. The stock numbers for them are: 881730, 881731, and 881729. I'm not sure if that's a stock number for just my city or a worldwide type of thing. They were $79, $49, and $109. But they gave me 20% off my entire purchase because I purchased so much. 🙂
Out of all the furniture stores I visited (and I purchased from all of them in my area), I liked Bassett Furniture the best. They treated me amazing and made me feel like a queen.
I bought a ton of decorations from them for the office and everything just worked out so well. Very pleased with them as a company. You can tell they value their customers!
The candle sticks were spendy, but I saw a design like that before and I kinda fell in love with it. 🙂 I think they are intended to be vases for one flower but you could also use them for candles. 🙂
The FAMILY and LOVE hardback books open up in the middle and I got those at Hobby Lobby. I think they were $17.99 and $15.99. They were spendy little boogers but I really liked them and knew they would match well, so I got them.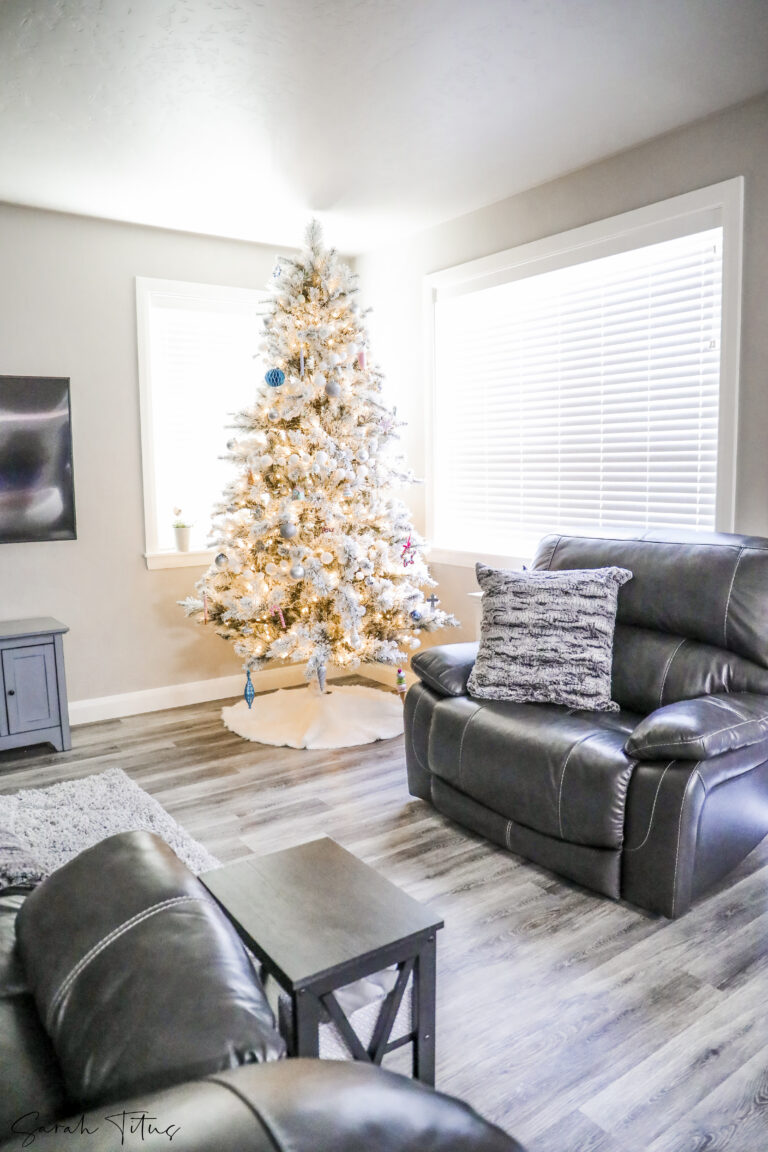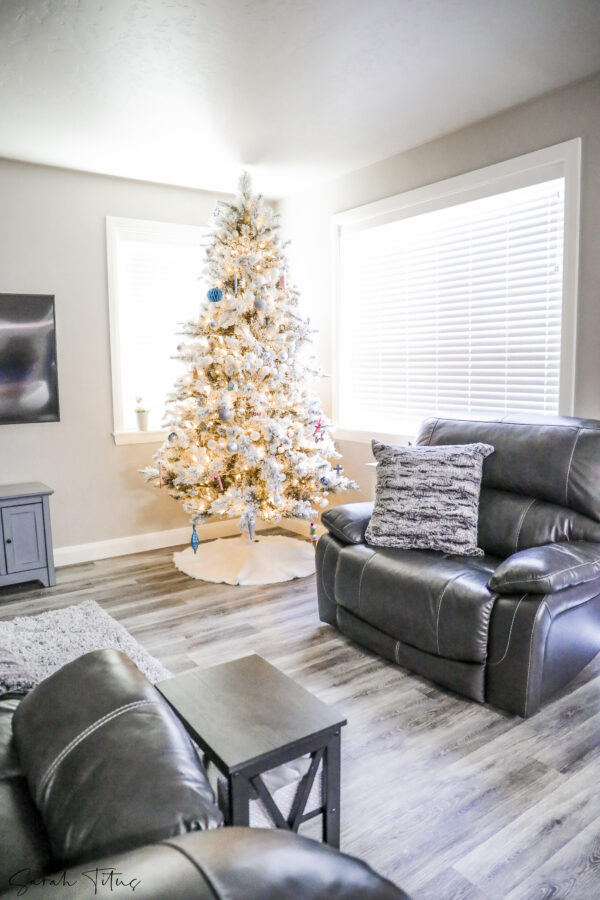 The couch set is an Ashley Furniture brand. They are power recliners and the model name is: Hallstrung. One is a couch and the chair is in between the size of a love seat and big, wide recliner. I paid $2,049.90 for both of them ($1,149.95 and $899.95) on sale.
The end tables (2) I got on Amazon. I'm not really a fan of the end tables. I wouldn't recommend purchasing them because they are not high quality. But if you need something quick to get in your living room now, which is the situation I found myself in, I would just grab them while you wait to find something that works a little better and is nicer quality. I paid $105.92 including tax for both of them.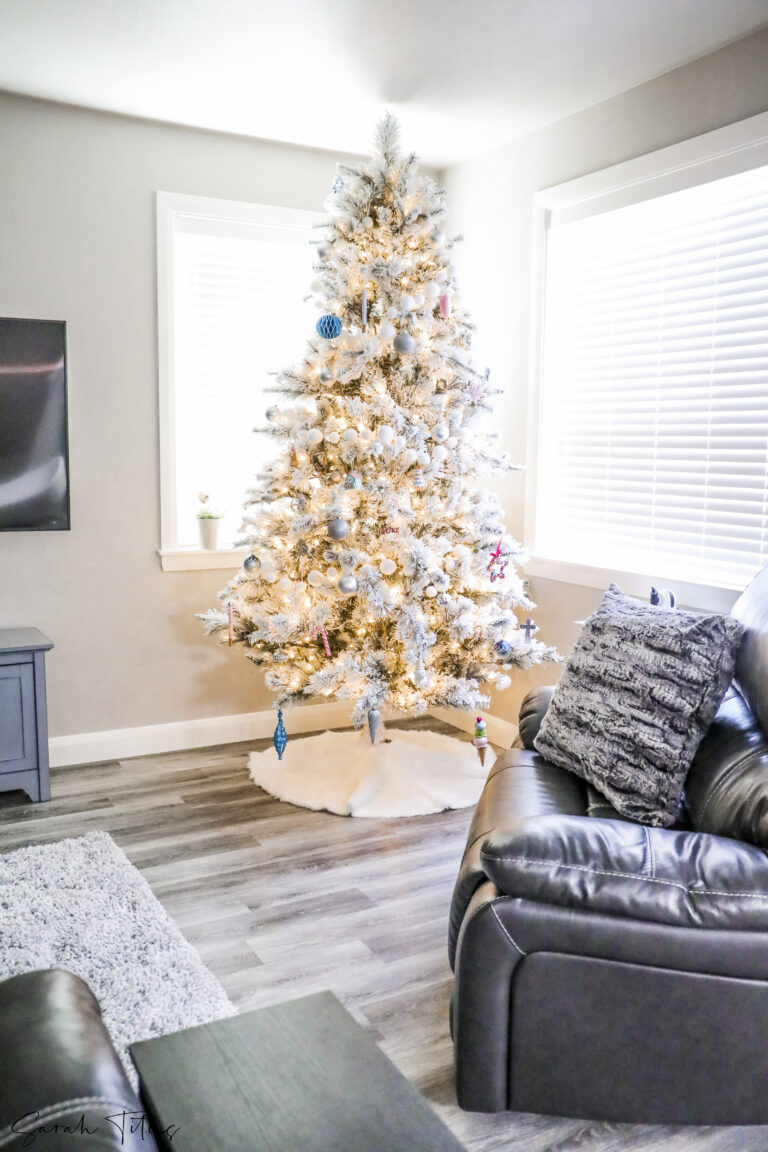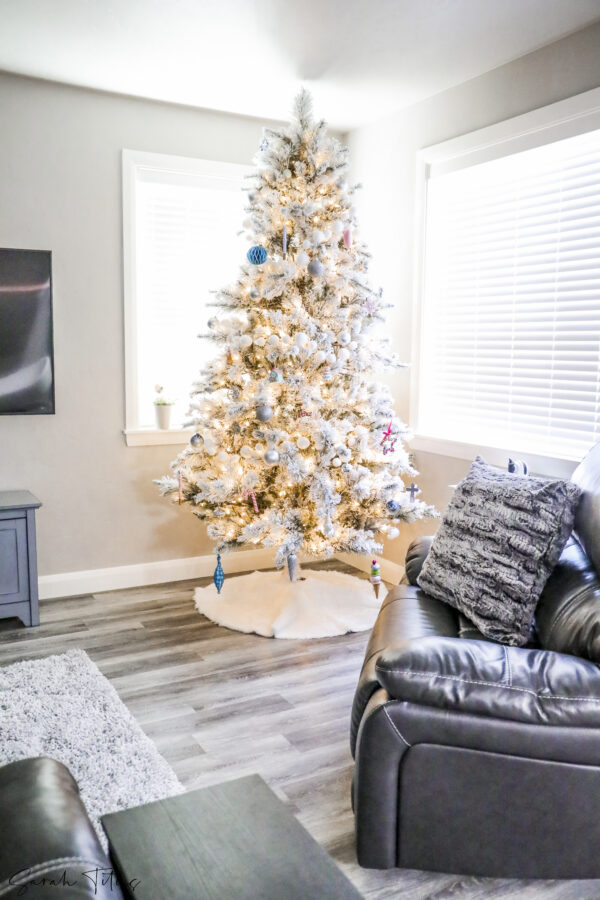 The Christmas tree is the MOST GORGEOUS thing EVER!!! I scored it at Hobby Lobby on sale for 40% off! It was originally $699.98 and with the 40% off, it brought it down to $419.99.
For the tree, I purchased the white ball garland at Hobby Lobby as well. It was regularly $12.99 for each strand (I purchased three) and it was 40% off those as well.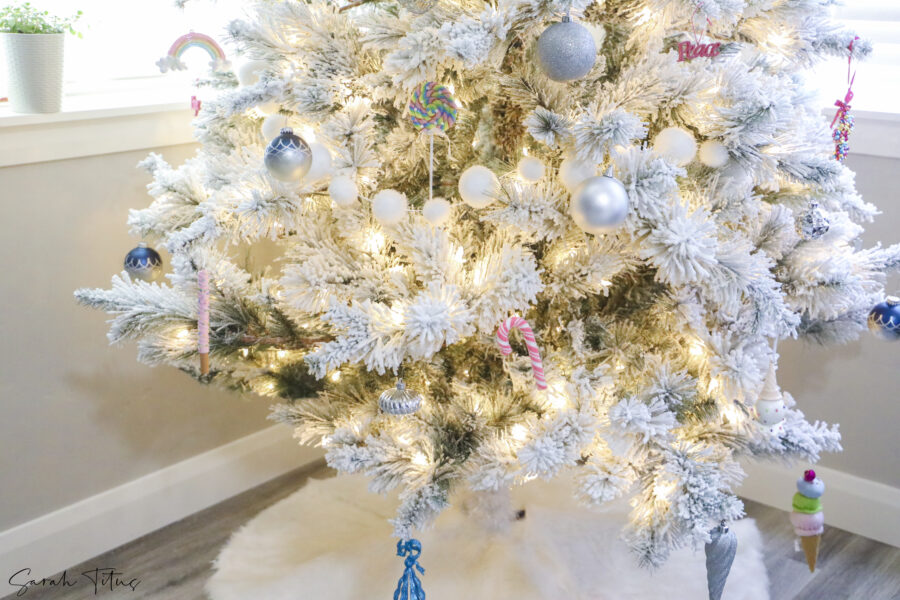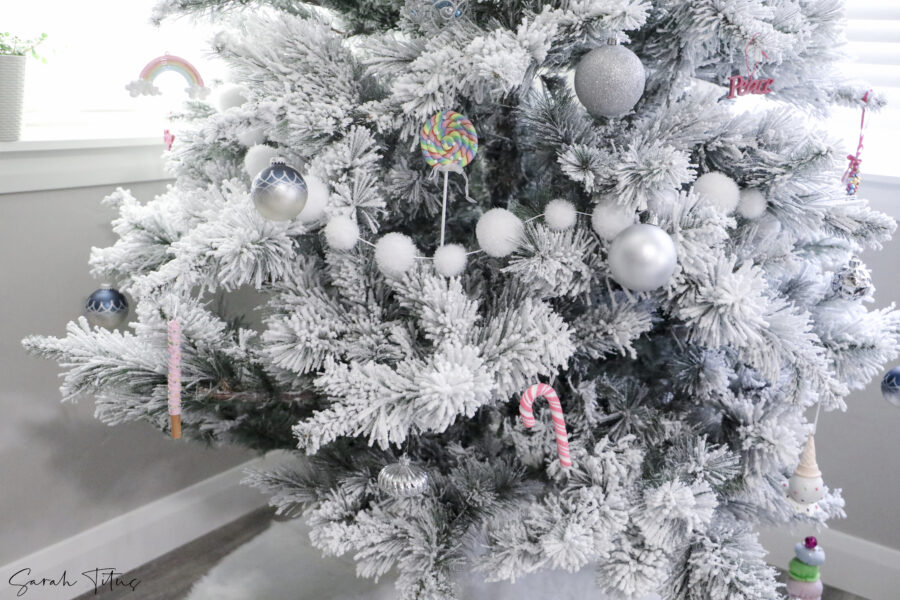 I purchased the faux fur white tree skirt there at Hobby Lobby as well. It was $49.99 regular price and on 40% off, it came out to be $29.99.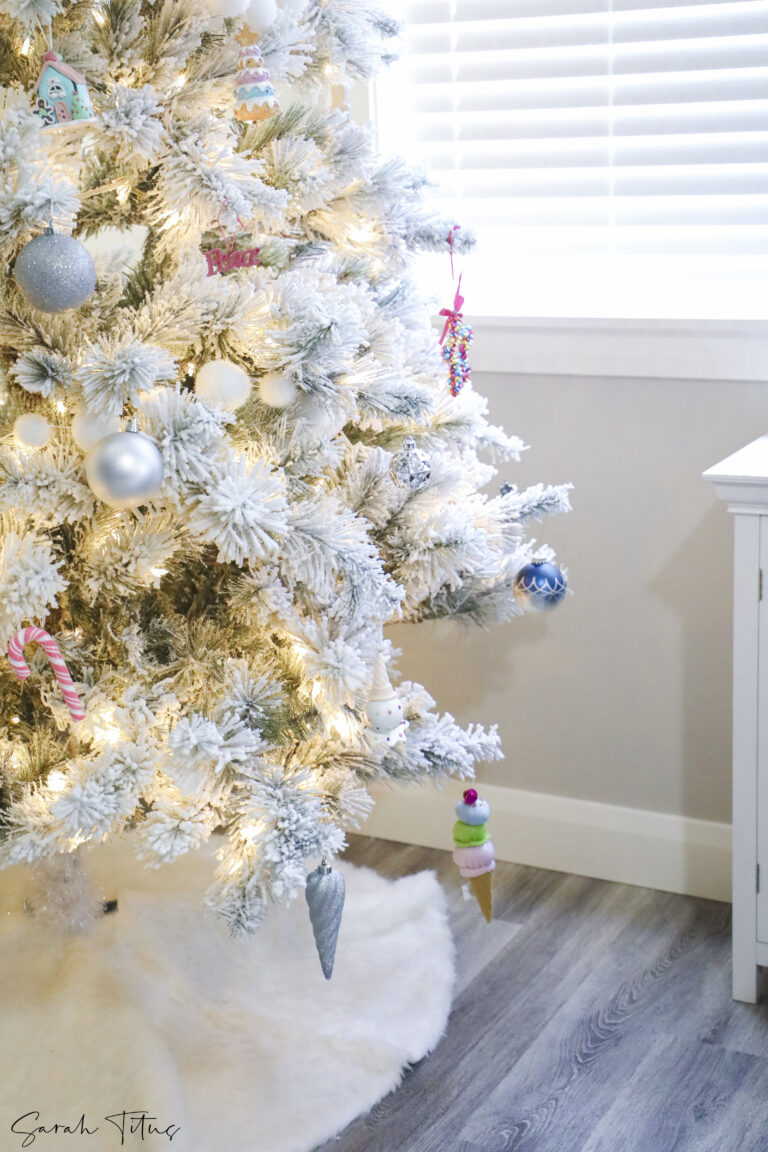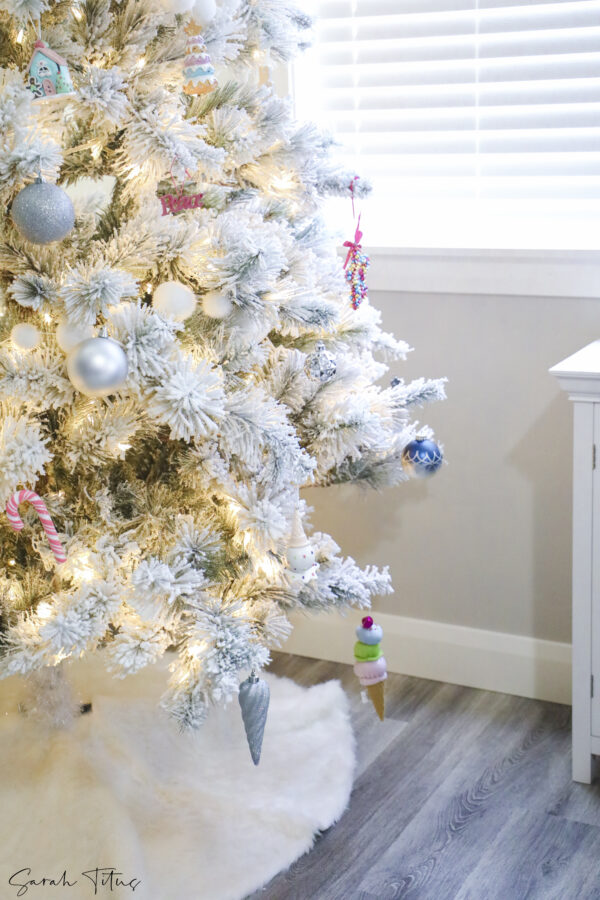 Since they were having a 40% off sale on all their Christmas stuff, I grabbed a bunch of cute ornaments for the tree as well. 🙂
DINING ROOM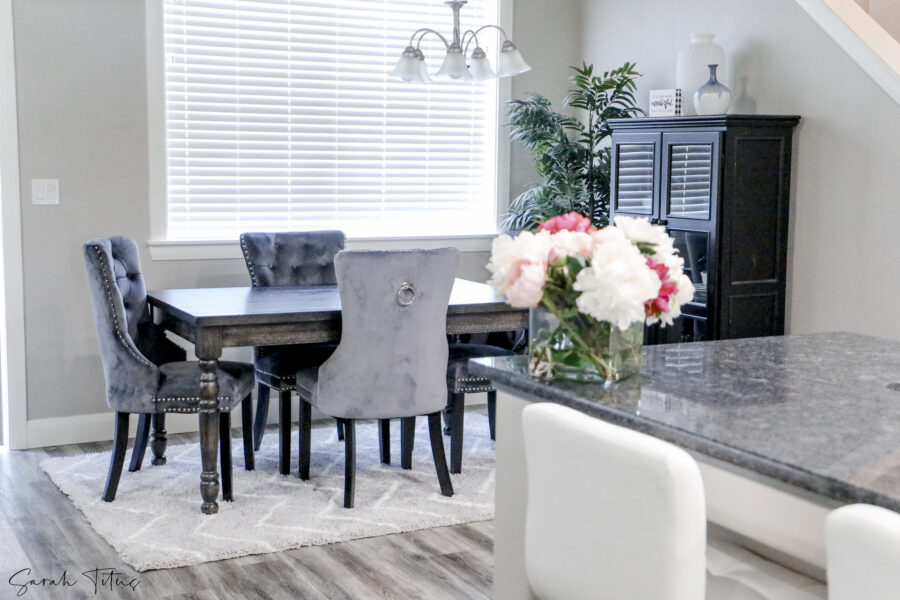 Here's the color palette: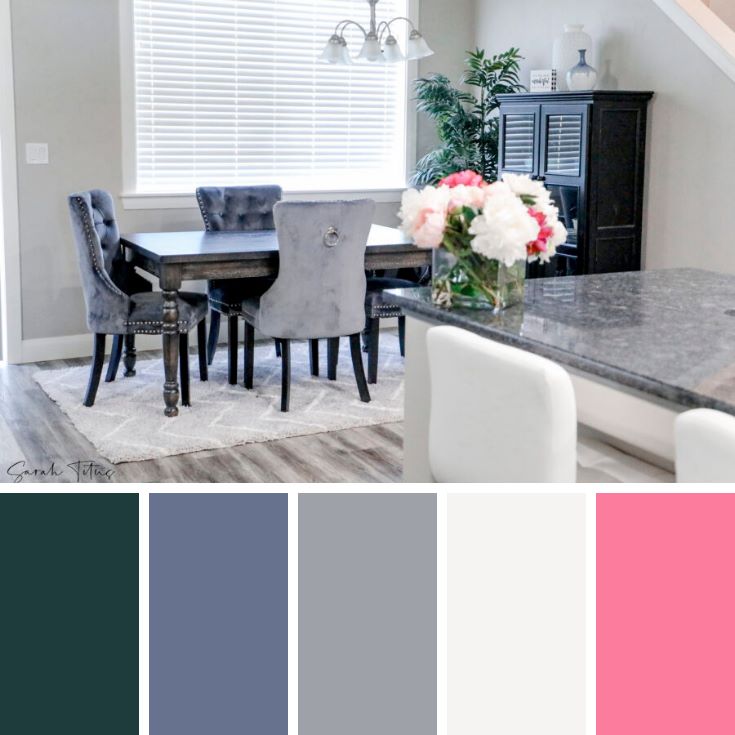 Colors:
Green: 1E3C3C
Slate Blue: 67728E
Gray: 9EA1A8
Off White: F5F4F2
Pink: FC7C9D
The dining room was a little more complicated to decorate because it can't really center the table underneath the light, because the builders made it to be a smaller little nook type thing, but there's no other dining room in the house, so if you have more than 2 people, you really need a larger table.
I could have gone with a round table, but I didn't think it would look good, plus I already had this beautiful, brand new Progressive dining table I got for free (I ordered an end table from Progressive and they delivered this dining table and told me to keep it free).
I was going to sell it, but then when I found out I might be moving, I kept it, hoping the new place would be gray and it would match. Sure enough, it did!!! <3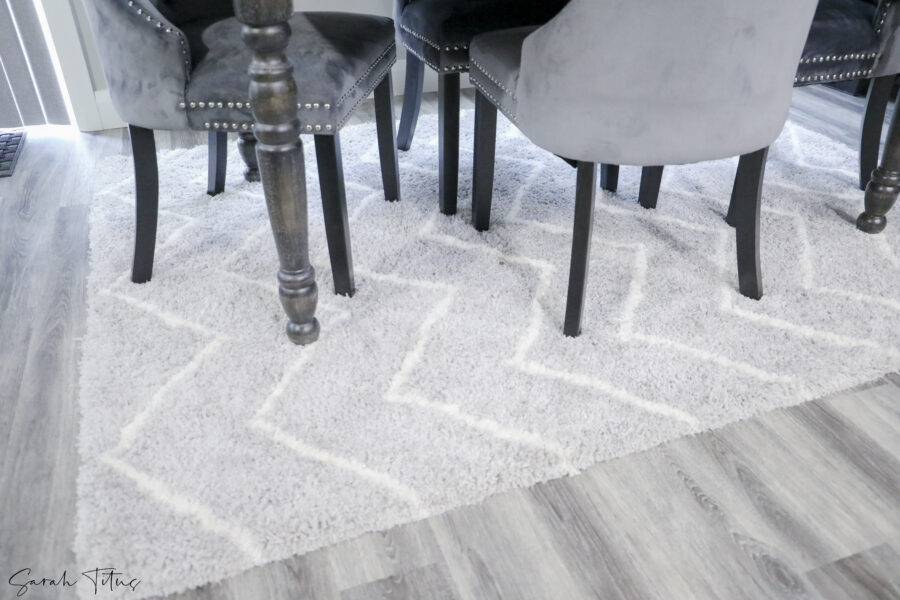 So to anchor the dining room in an open space floor plan, I purchased a rug. It really does the trick well. I got the rug at TJ Maxx. It is Rachel Zoe brand and was $59.99.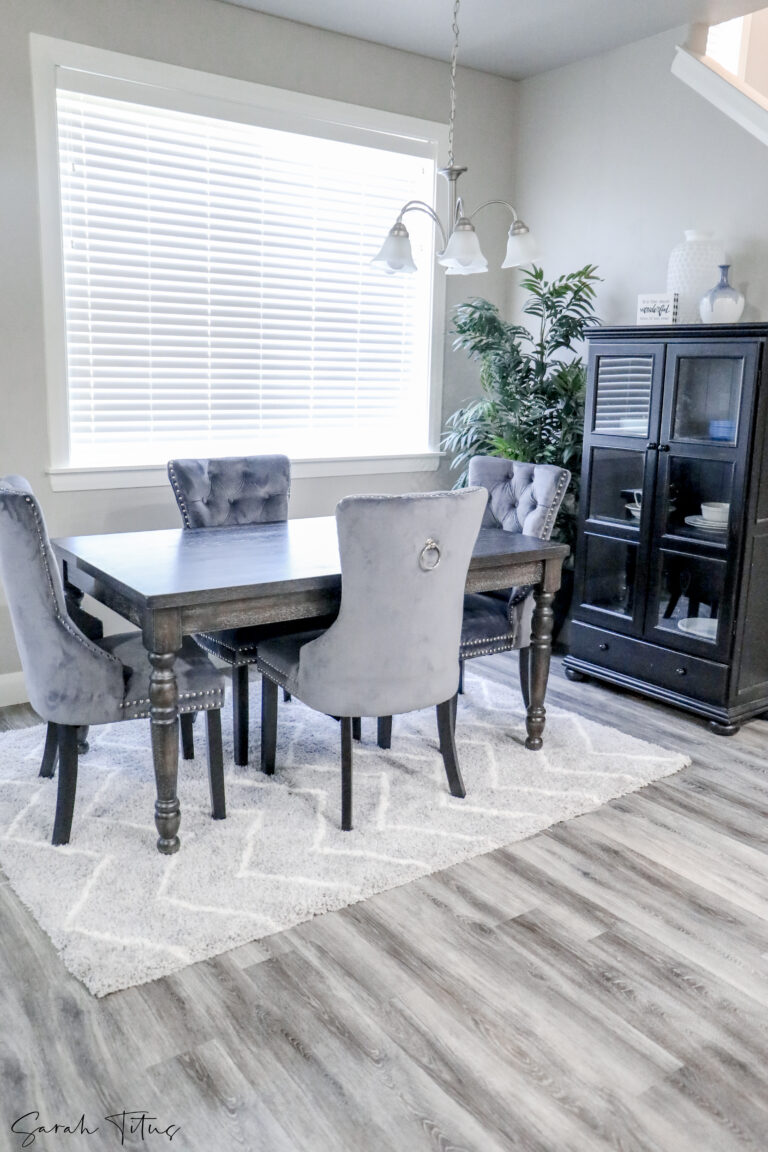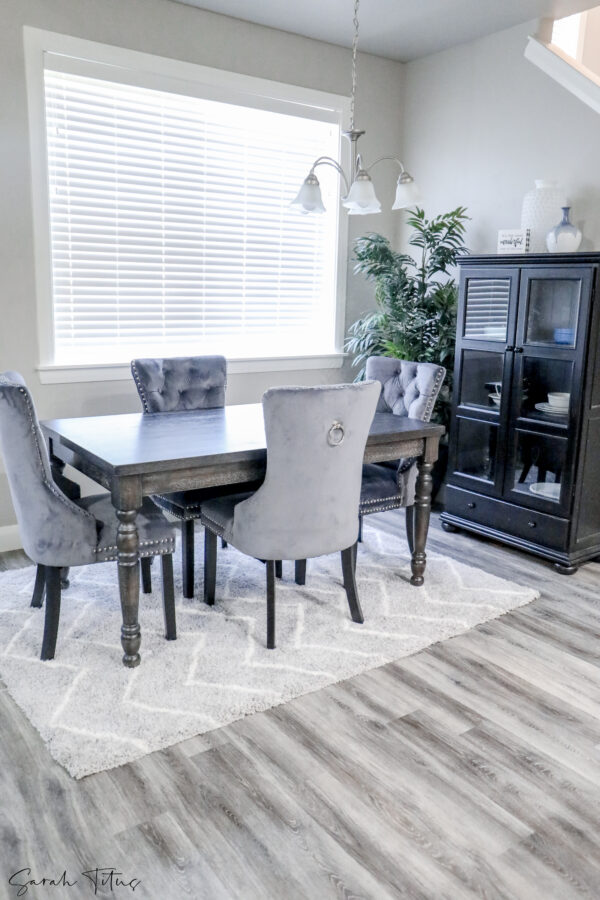 The gray dining chairs I absolutely ADORE! They are so amazing!!! I paid $610.54 including tax for all four of them. You can get them here on Hayneedle.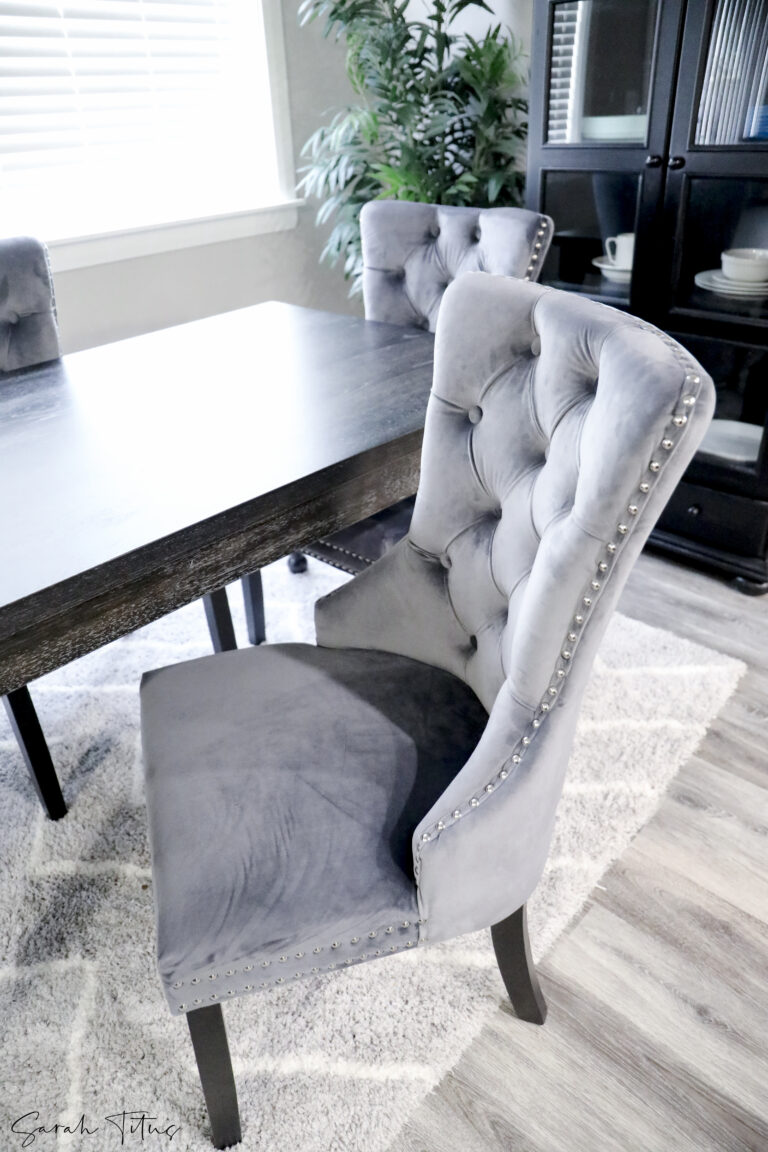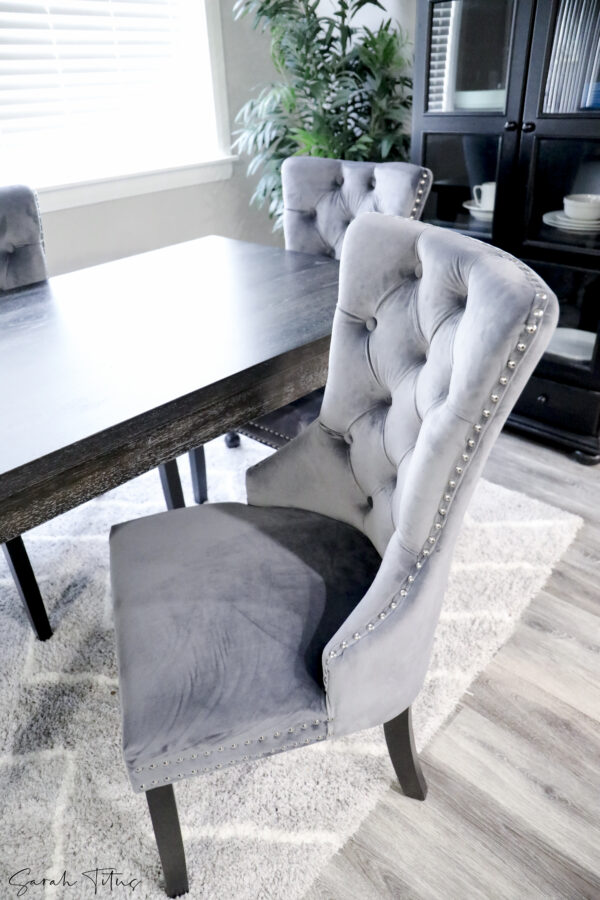 The black china cabinet I have had for a long time. I originally got it off Craigslist for $100. That was one of the only pieces I brought to the new house.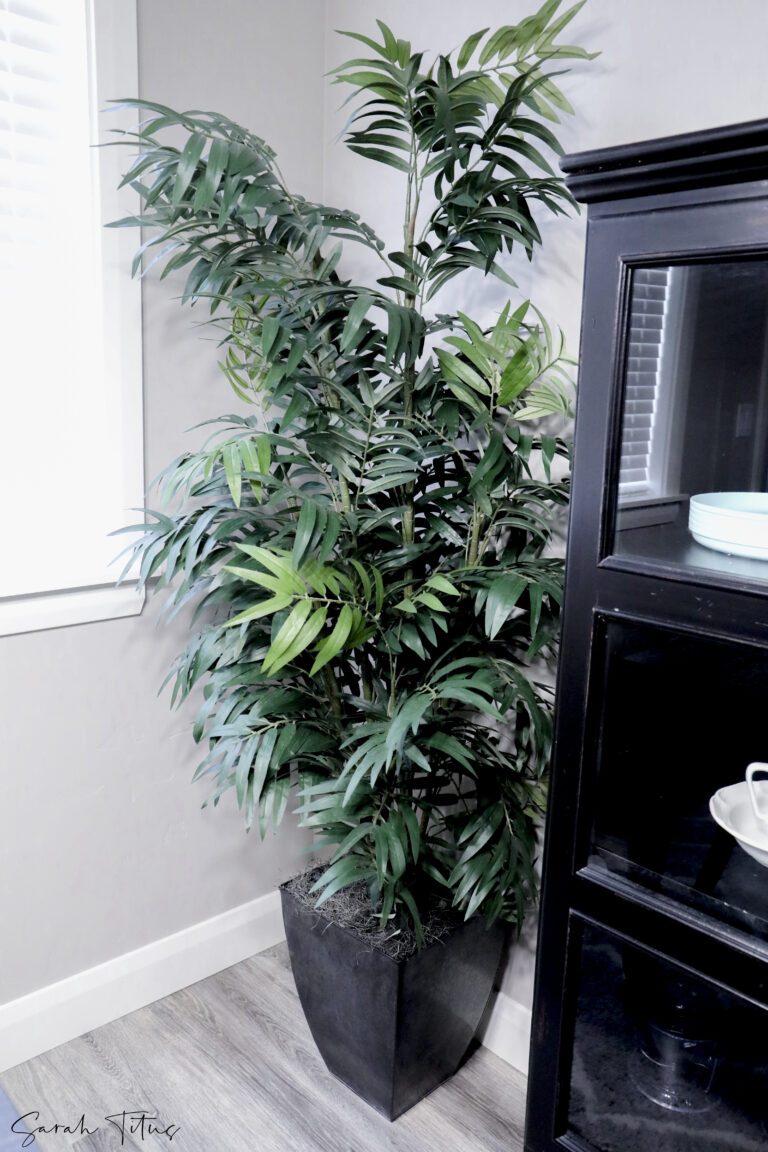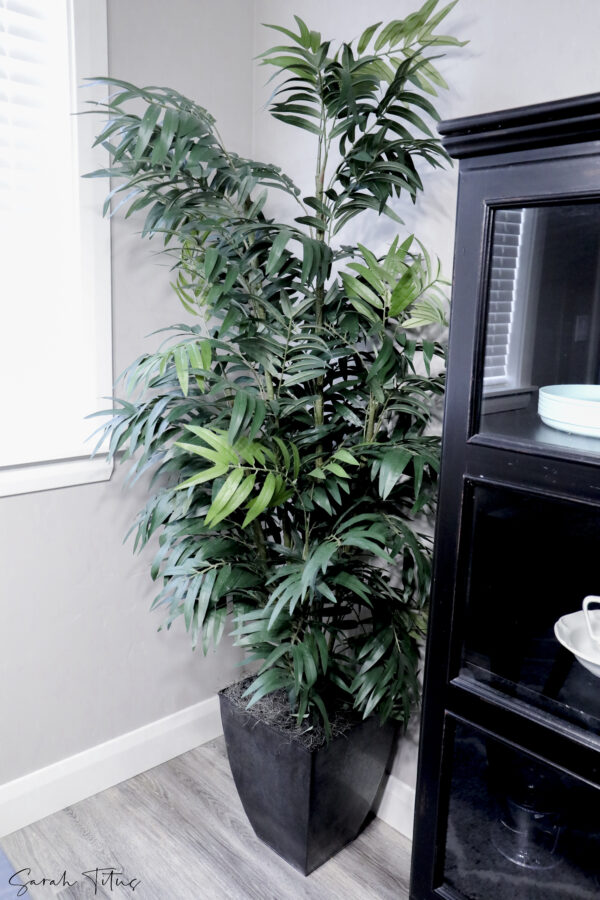 The tree I got at Ashley Furniture. It is a 7-foot Phoenix Palm tree and it retails at $149.99. It was 45% off so I scored it for only $82.49. It was a pretty good deal. If you go to places like Michaels, etc., and try to get a tall tree, they don't look as realistic and they are more spendy than that, so it was a great deal. 🙂 Green is also a gorgeous accent color with gray walls.
The decorations on top of the china cabinet, I purchased at various places. The black/white box picture that says, "It's the most wonderful time of the year", I got at Hobby Lobby. It's part of their Christmas decorations sale.
The beautiful white vase in the back, I got at Bassett Furniture. LOVE that store!!! It was $169 retail but I got it on sale for $99! Honestly, I fell in LOVE with that vase, so I was very happy to score it. 🙂
The blue/white vase next to it I got at RC Willey (SKU: 111839874). Just walking through their bedroom sets, there was the vase and the blue matches my kitchen cabinets, which is a hard color for me to match. It was $29.99 and I got a little discount on it ($4.50) for being a Blue Rewards Member (which gives you free delivery on all purchases for $69/year).
KITCHEN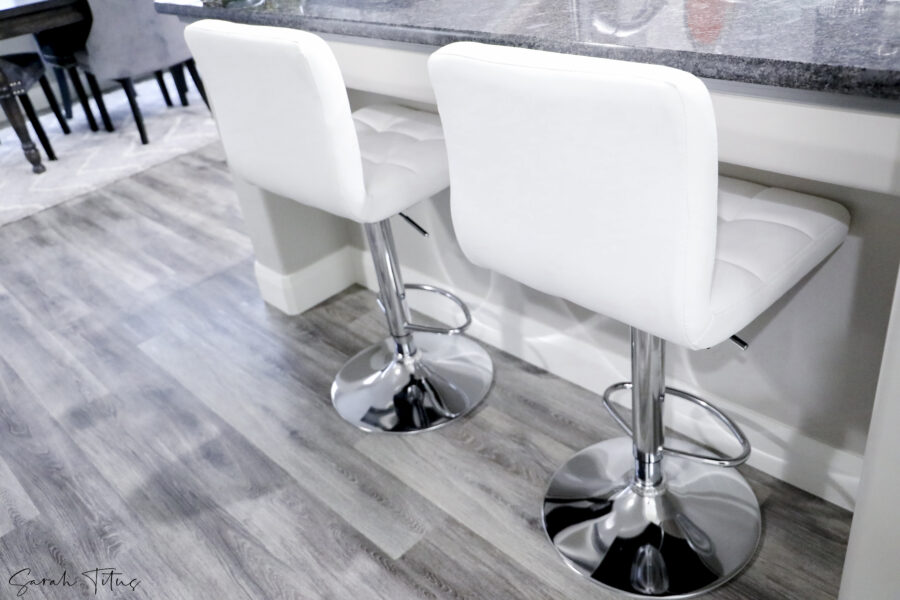 These barstools are SO awesome. I got them at RC Willey here (SKU: 110724224) for $229.99. So worth it. They really make the space come alive and add a more white/bright/clean feeling to the room.
The flowers on the counter, I got at RC Willey (SKU: 111970407) as well. They were SPEN-DYYYY ($299.99), but they look gorgeous! VERY realistic and I'm so happy to have gotten them.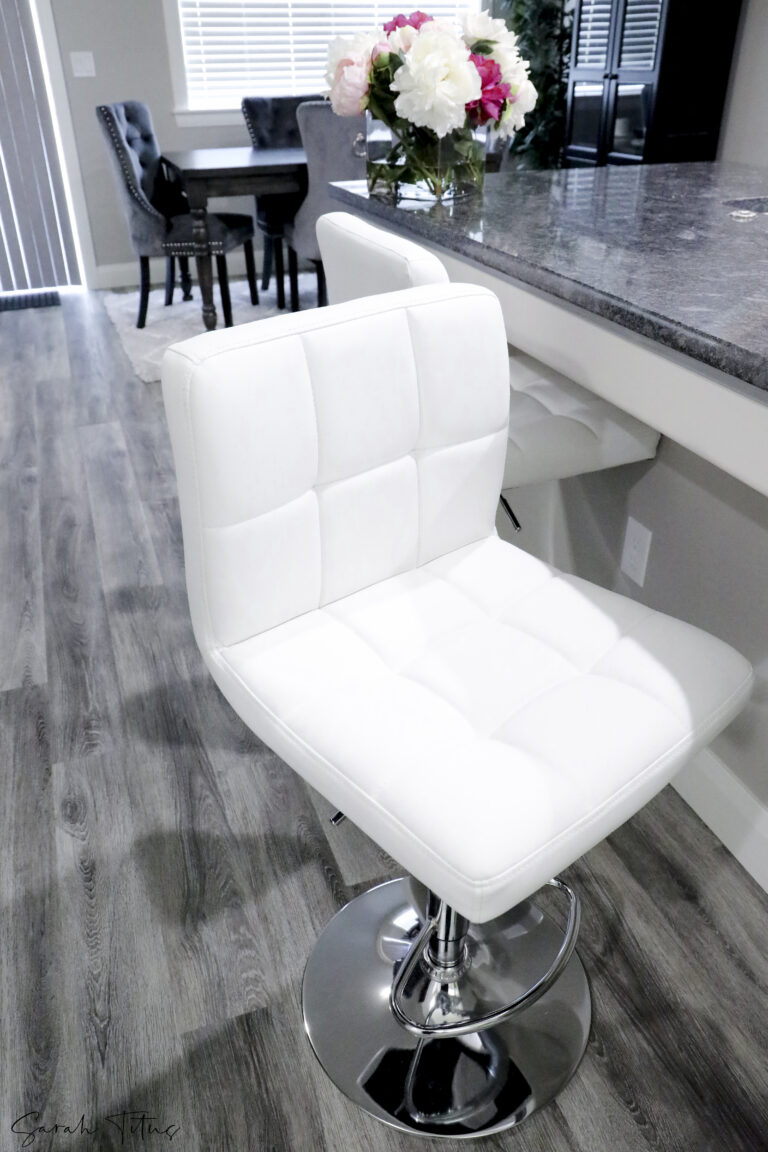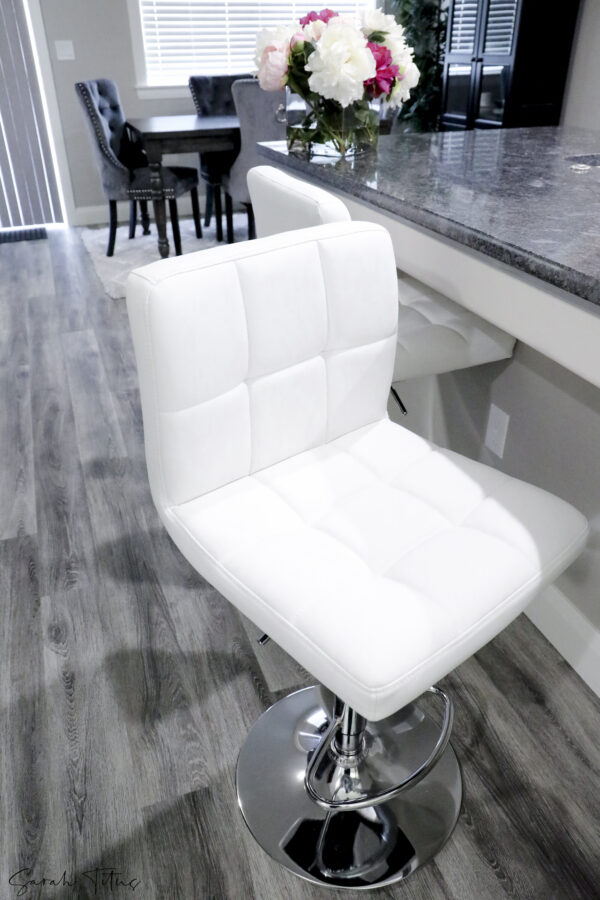 The countertops are the most gorgeous black granite and then gray with blue cabinets and white trim. So gorgeous!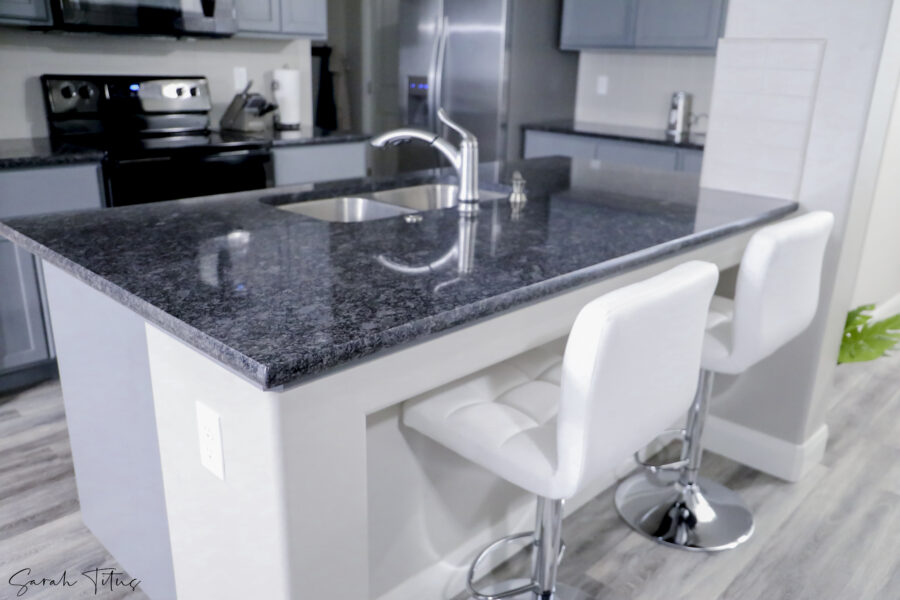 Here's the color palette: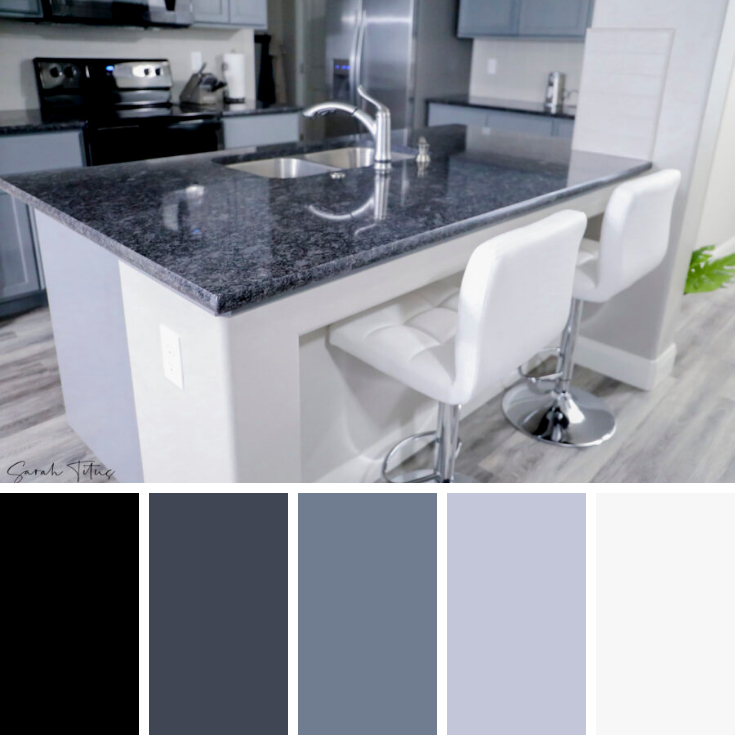 Colors:
Black: 010000
Dark Slate Blue: 404654
Slate Blue: 707D90
Light Blue Gray: C3C6D9
Off White: F7F7F7
The black and white check rugs (2) I got at Hobby Lobby. The SKU # is 1956895. The regular price is $24.99 each. They were running a 50% off sale when I purchased them.
Update: I wouldn't recommend the checkered rugs. They pile really bad and after only about 2 months, they look really bad and I totally wasted my money. Not sure what kitchen rugs to purchase or where, but if you have any ideas, lemme know! 🙂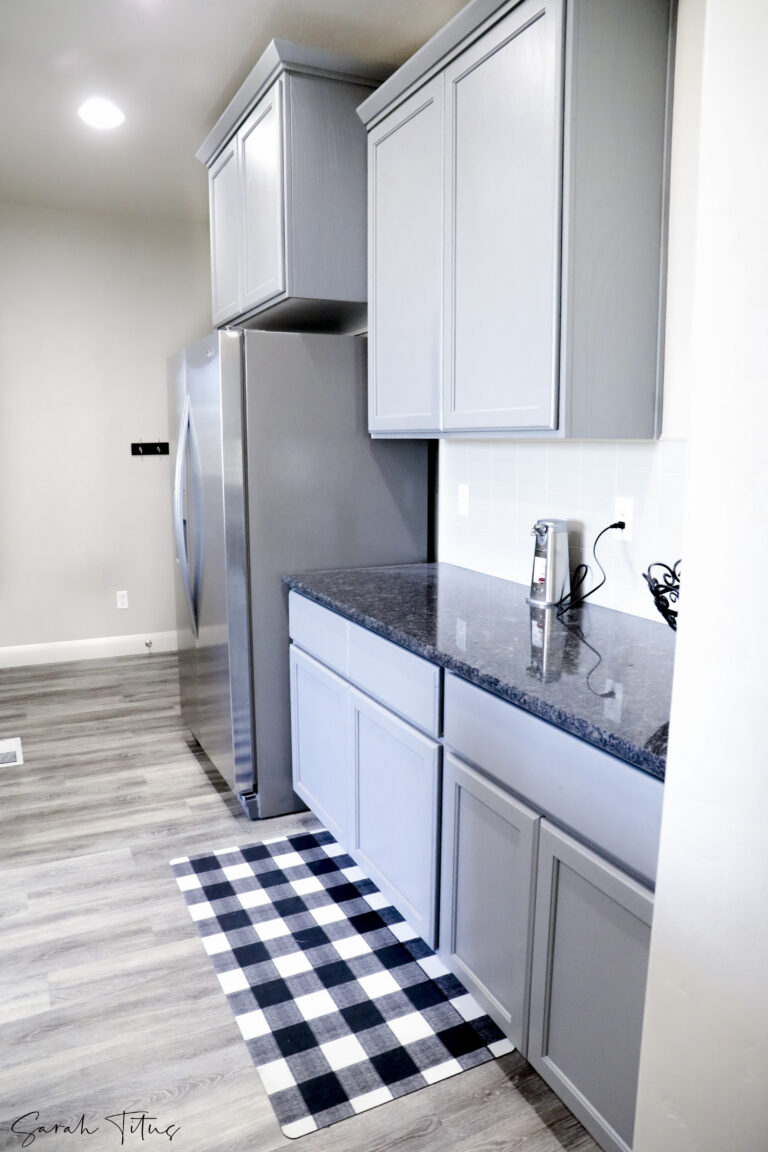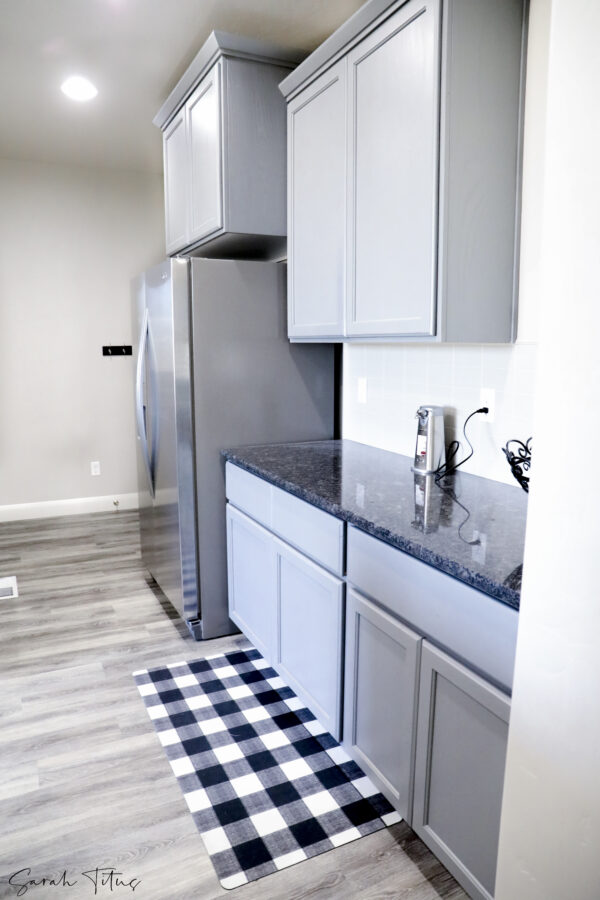 The gray can opener is Cuisinart and I got it on Amazon.
I made some buffalo plaid wall art for ya (inspired by my kitchen rugs.) 🙂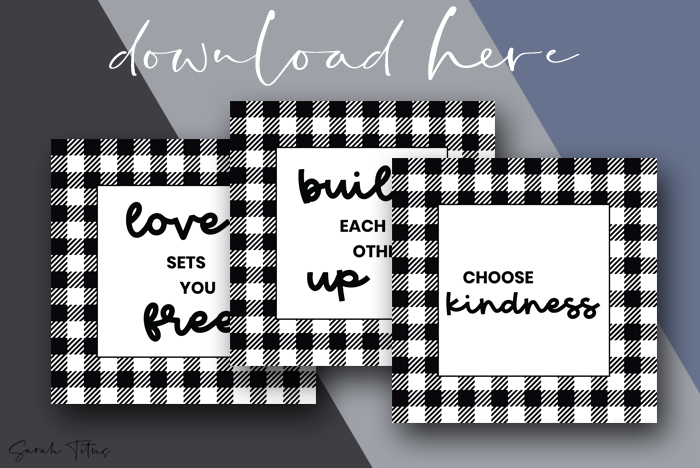 Download the Buffalo Plaid Wall Art here.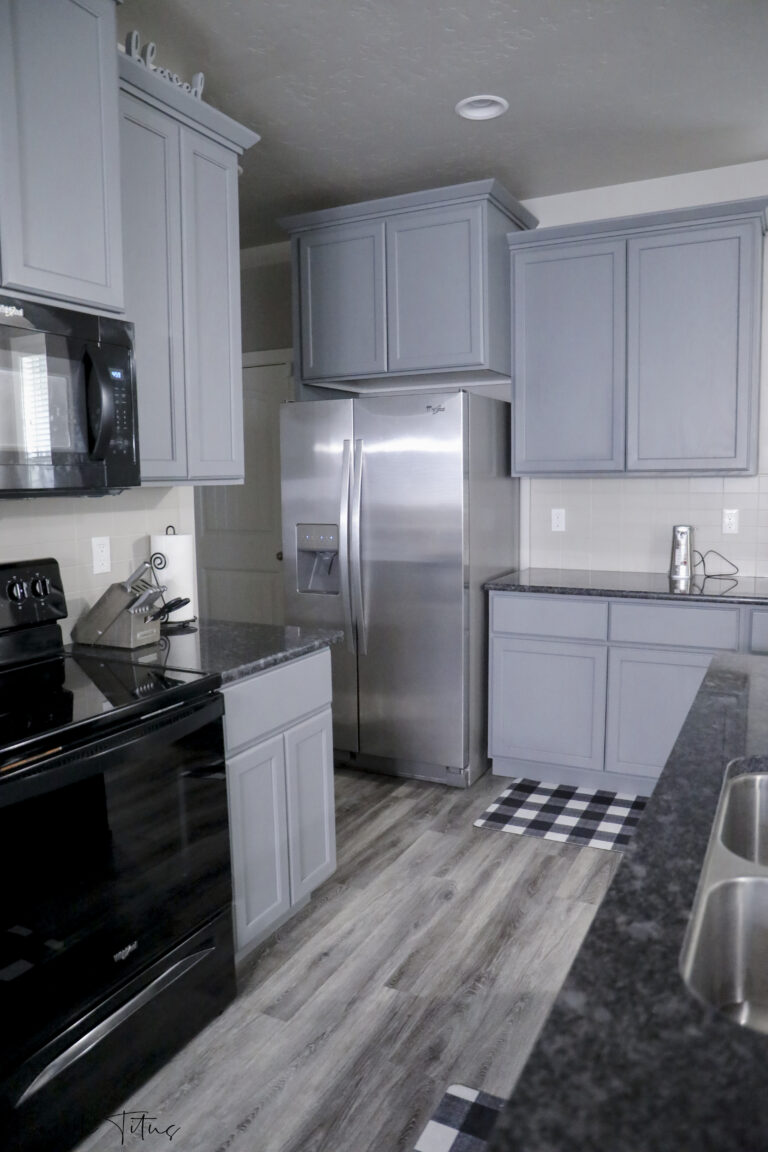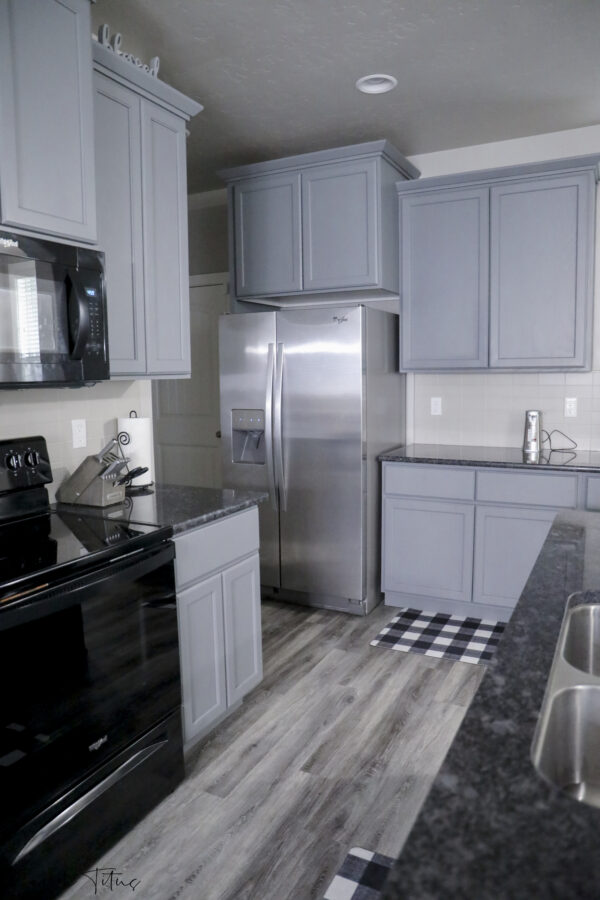 The kitchen cabinets are a gray/blue color. If you're looking for the paint color, it's Shermin Williams CityScape #SW 7067.
The paper towel holder I got at Ross years ago. I've also seen similar ones at Target over the years.
The knife set is Calphalon. I got it years ago at Macy's (I believe) on sale. Usually, on Black Friday, nice knife sets are on a good sale. 🙂 You can also get it on Amazon right here.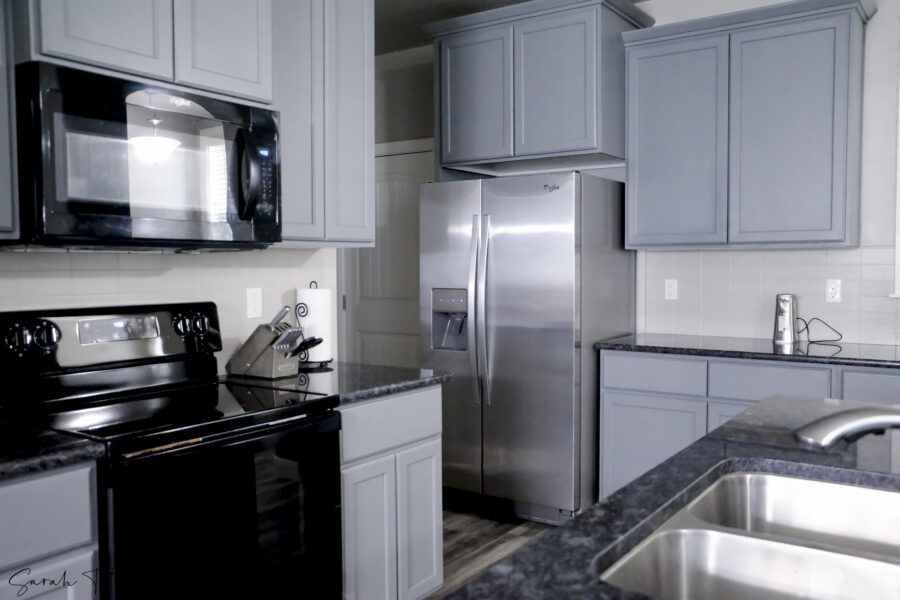 The gray lettering wood blocks at the top of the kitchen cabinets (blessed and thankful) I got at TJ Maxx. They were $7.99 each and I grabbed three (the third one is in my office and it says "family").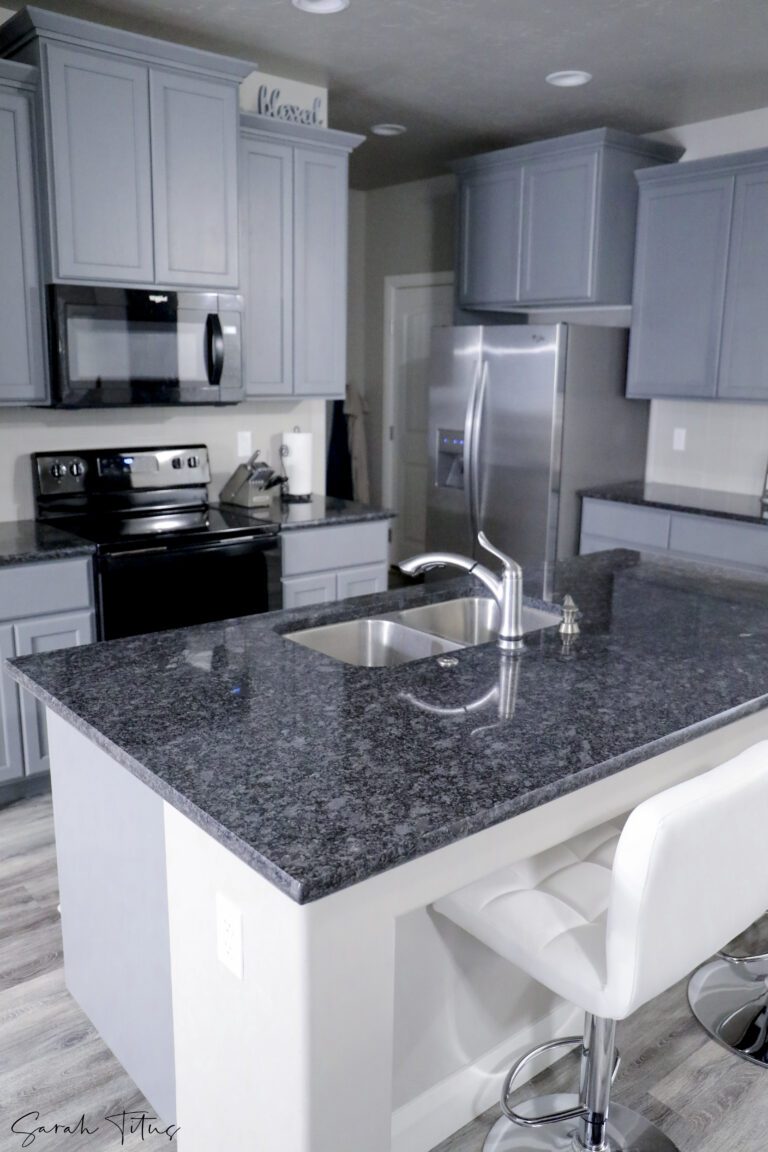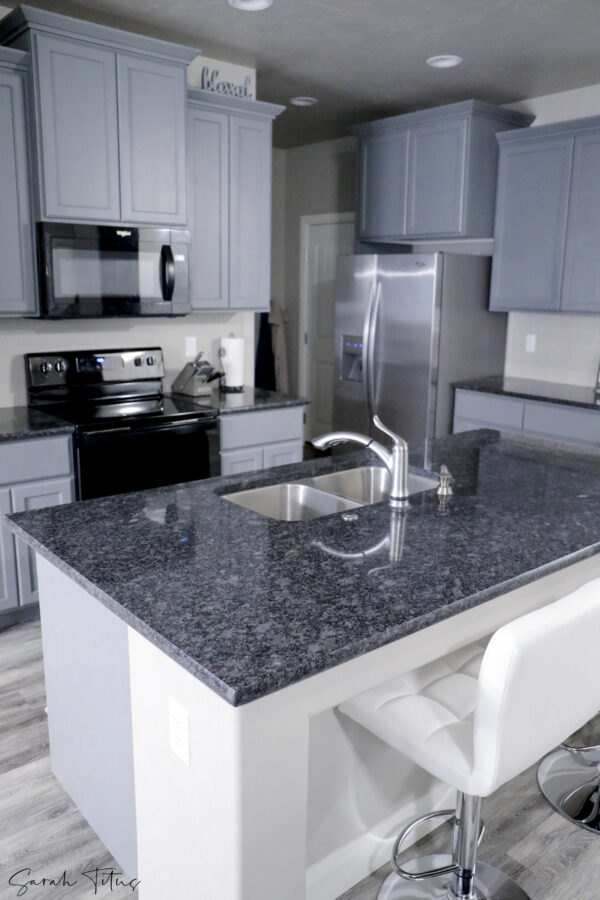 At the bottom of the stairs landing, is a cute nook. There's a door there that wraps all around the back of the stairs. We use it for the kids. I have board games in there that they can play or take out and we play as a family.
In the nook, I have the computer area for the kids, so it's like their little section there. 🙂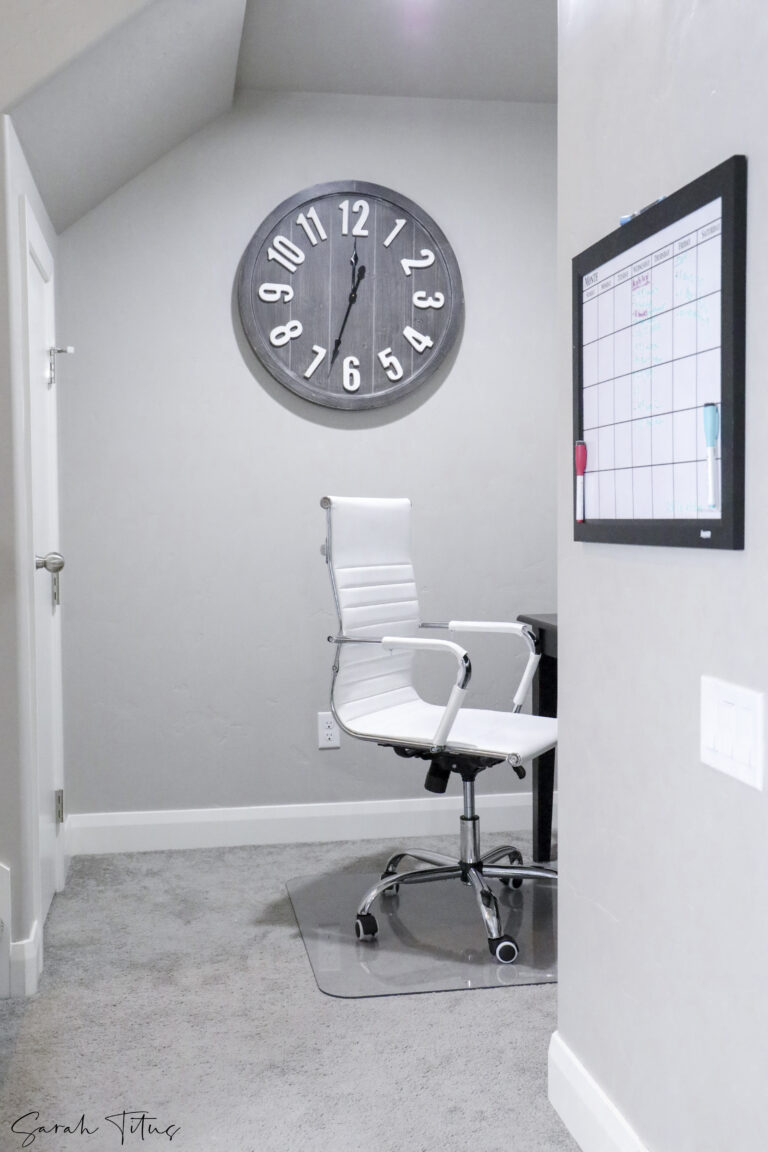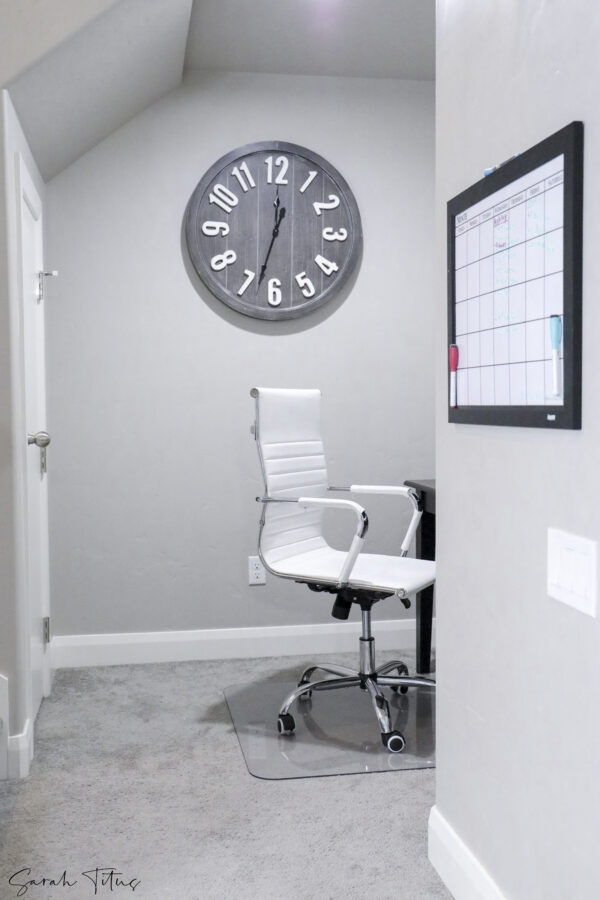 The black dry erase board is The Board Dudes dry erase calendar. I got mine at Target a few years back, but you can get them here on Amazon too. It's very helpful. We use ours for family messages and to keep count of the kids' money when they spend it, etc.
The clock is something I saw and fell in love with. I got it at Hobby Lobby (SKU#1805522). The original price is $99.99 but it was on sale for 50% off, so I grabbed it for $49.99.
The computer chair is something that I'm not sure I would recommend to others. If you need one super quick, you could grab it, but the width on the seat is not that big, so it is not for a chubby girl like me. 🙂 It also seems pretty poorly made. Not that stable. It LOOKS great, but not that great functionally. If you're just looking for something for looks or for kids, I got it here on Amazon (I paid $100.07 including tax for it).
One thing I'm thinking about the chair is that it could just be the Amazon brand that's not that great and if you purchase the chair through another retailer, you may get a higher quality one.
The glass computer mat is something I really HATED when I first got it from Amazon (I paid $57.99 for it, not including tax). It's definitely prettier to look at, I give you that, but it's totally a preference thing. It is glass and so it rolls you when you don't want to roll. You slide sometimes. For no reason. Out of the blue. It's a little annoying.
With that said, over time, I've really come to love it. It doesn't seem to roll me out of the blue so much anymore. Perhaps it just needed to be "broken in", not sure. But I do actually really love it now. 🙂
OFFICE
The office is my favorite furniture in the house. I got the set at RC Willey and paid $2,796 for all the furniture. There are two sides of desk units on both sides of the room.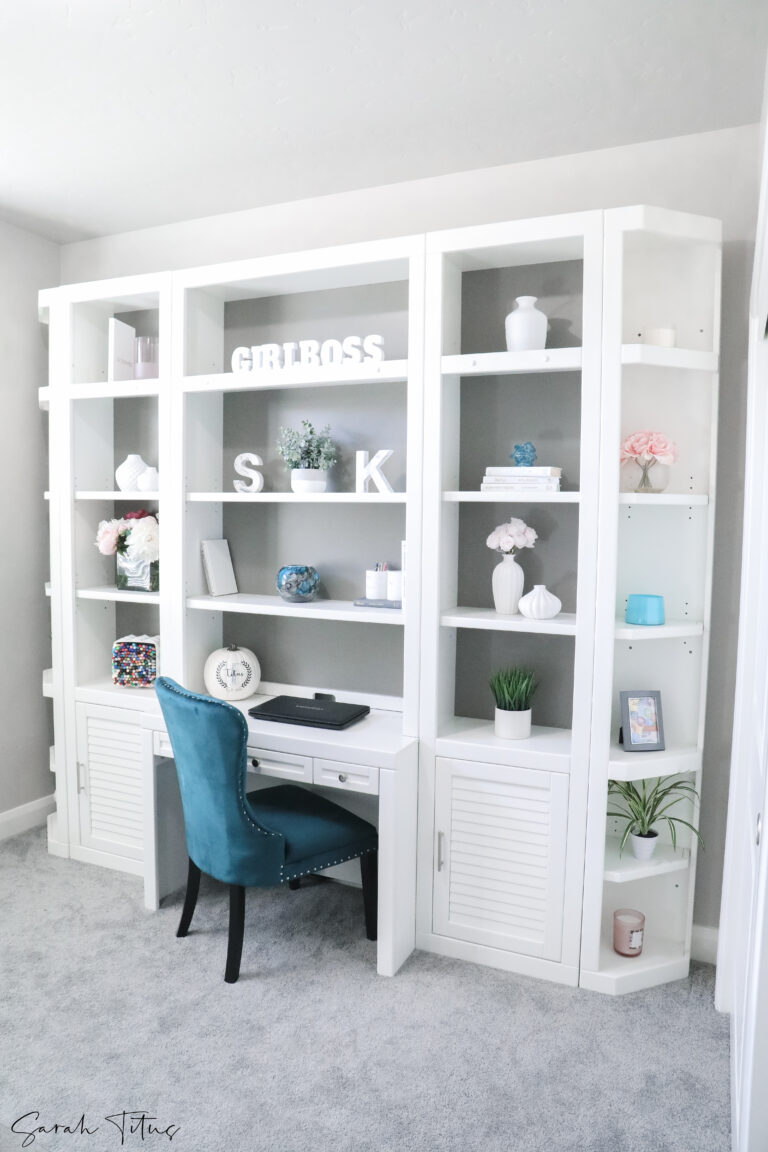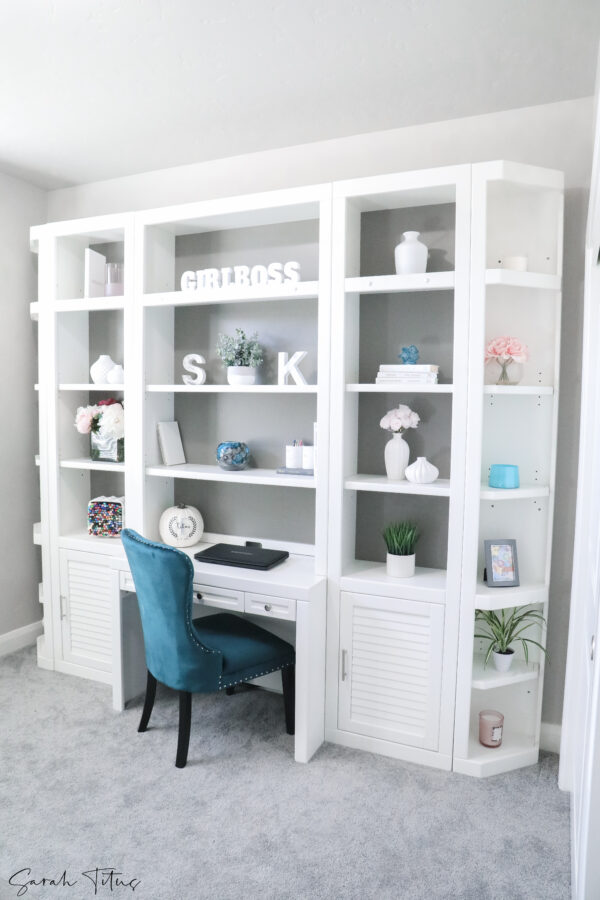 Someone asked me about the pumpkin with my name on it. I found it on Facebook Marketplace. There's a local girl here who makes them with vinyl stickers. I don't have a Cricut machine but I do have some free personal use SVG's on the blog (I enjoy making them).
She just makes them custom-made and then puts them on various things and sells them. Pretty nifty side-business. 🙂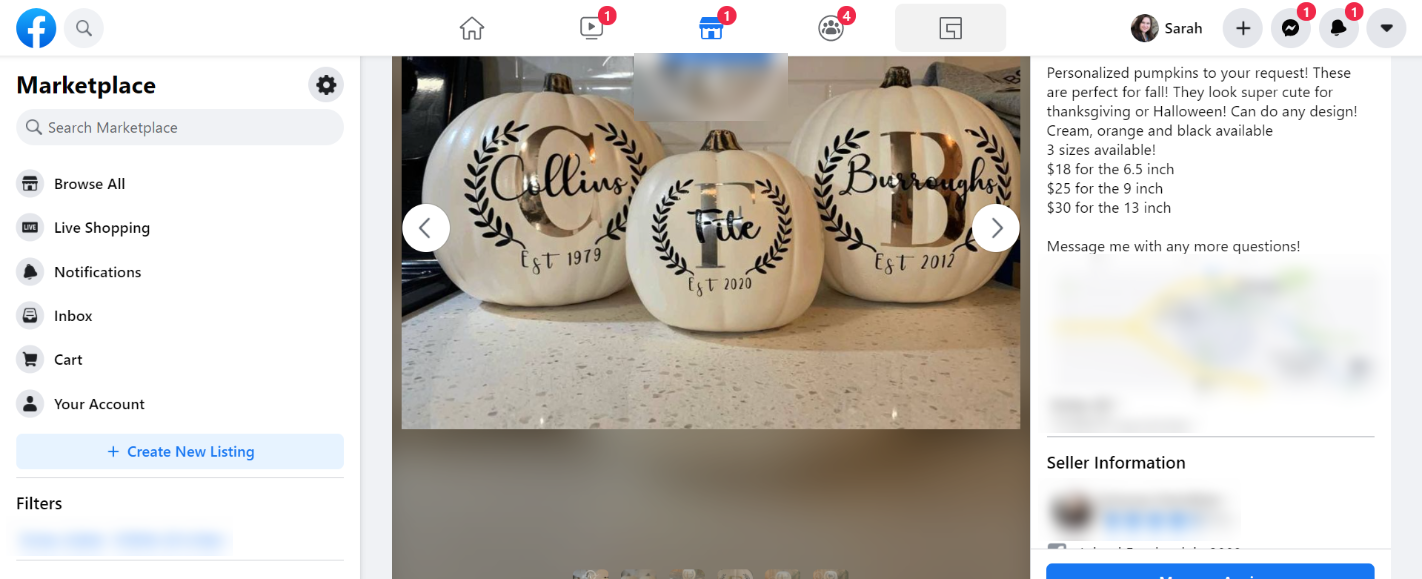 I blurred out the location and seller + her logo on there for privacy reasons, but if you check your local Facebook Marketplace, sometimes you can find ladies doing custom made things and it really helps other moms out! I've bought several custom pieces like this for decor and I've been very pleased with the results. 🙂
Another person asked why I have the stock photo in the frame instead of a personal picture. You know…I'm just not sure what to put in there! haha. When I shot these pictures, I had just moved here and was decorating. Some of the items still have price tags on them (hidden of course). haha. I will have to find a picture for it this week though. 🙂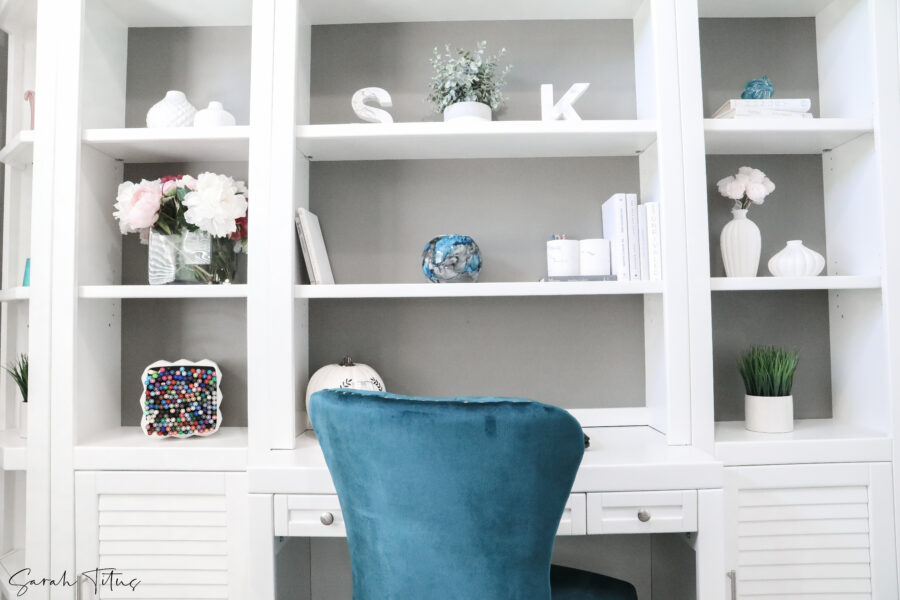 My office furniture is definitely my favorite furniture in the house.
The office is a hang out spot for my family at times. The other day I was taking photos and my son photobombed me. 🙂 Love being able to be home with my family! I'm seriously so blessed.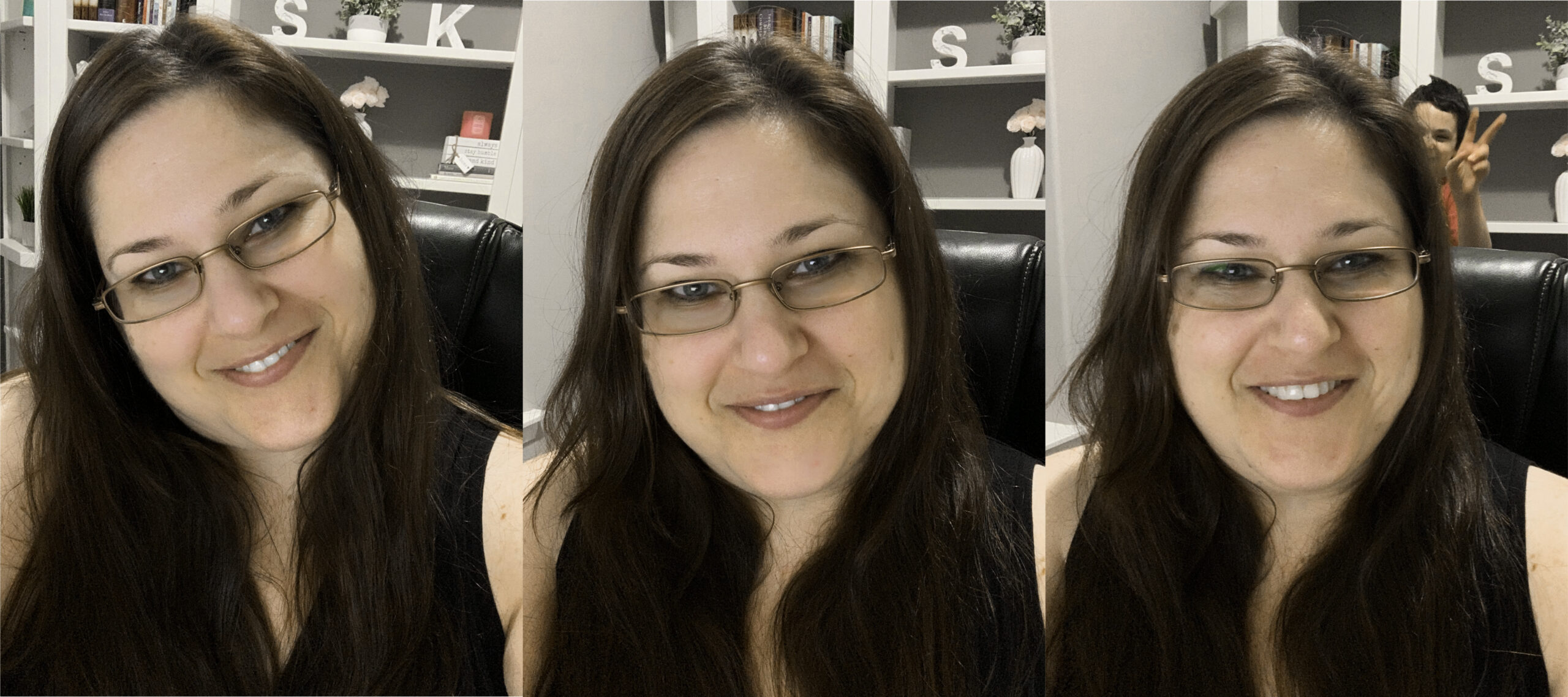 TEEN GIRL ROOM
Here's my daughter's teen girl room. Doesn't it look so crisp and fresh with the gray, white, and pops of pink?!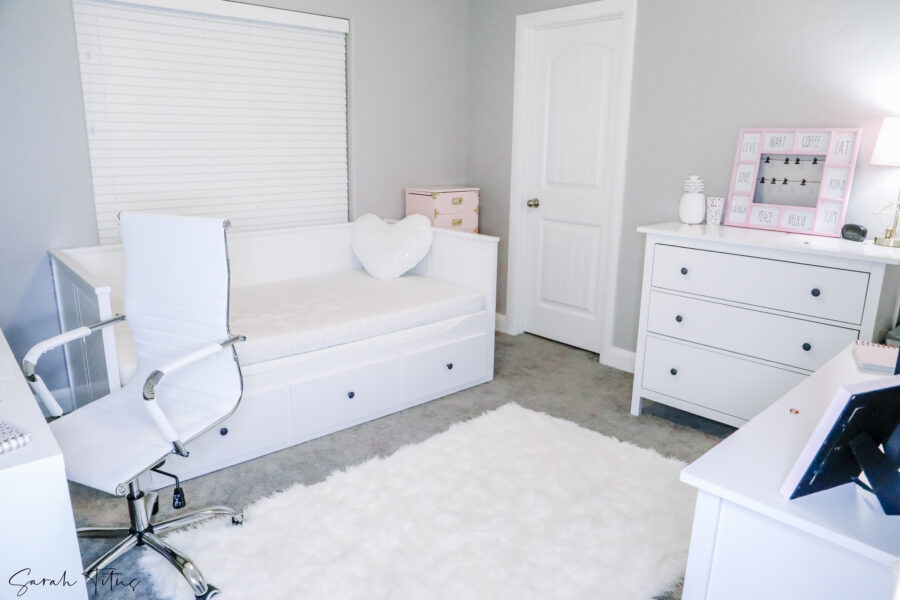 The simple and modern white furniture is from Ikea. The bed is the Hemnes daybed frame with the 3 super useful storage drawers…you can never have enough storage space for a teen girl! The white Hemnes 3-drawer chests are a beautiful mix of traditional and modern.
As for the cute pink jewelry cabinet beside the bed, it's from Hayneedle and is called the 'Belham Living Campaign Trunk Jewelry Armoire in High Gloss Blush'. It's so pretty and is the perfect storage and organization space for all types of jewelry and other things (she uses it for beauty supplies). I love the finishing touches of polished gold handles, hooks, hinges.
The adorable heart pillow on the bed and the cozy, fluffy rug are both from TJ Maxx.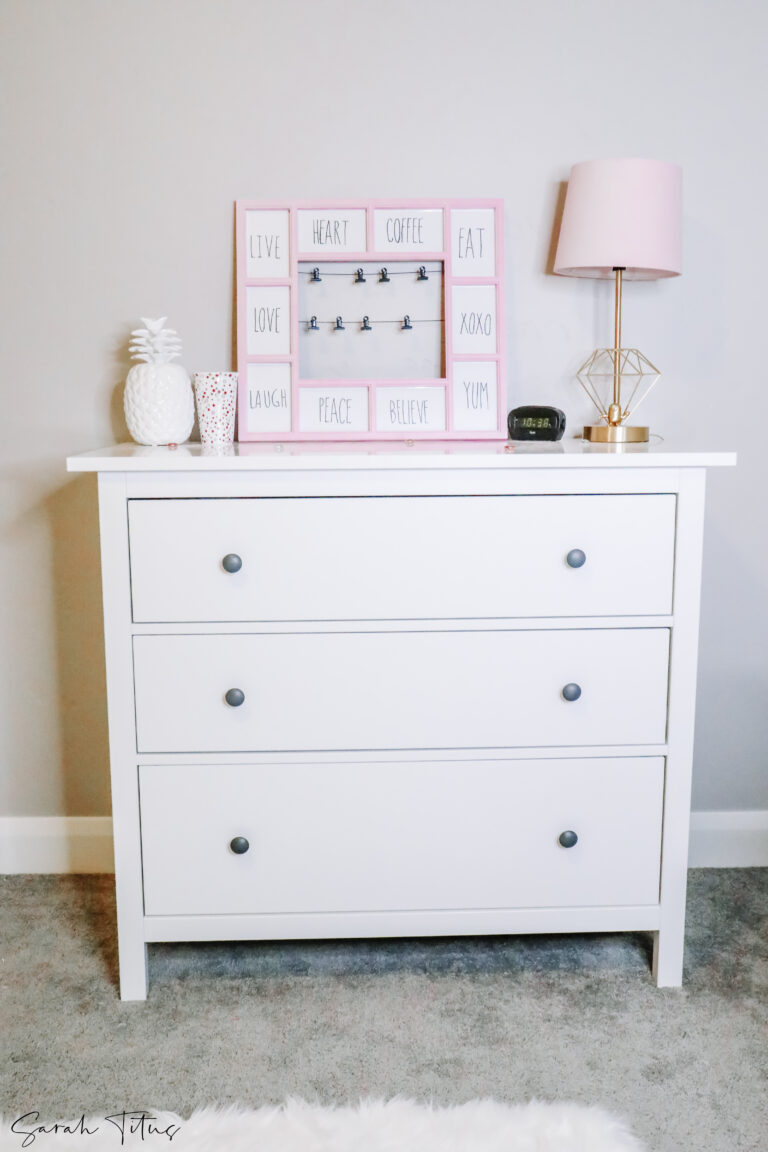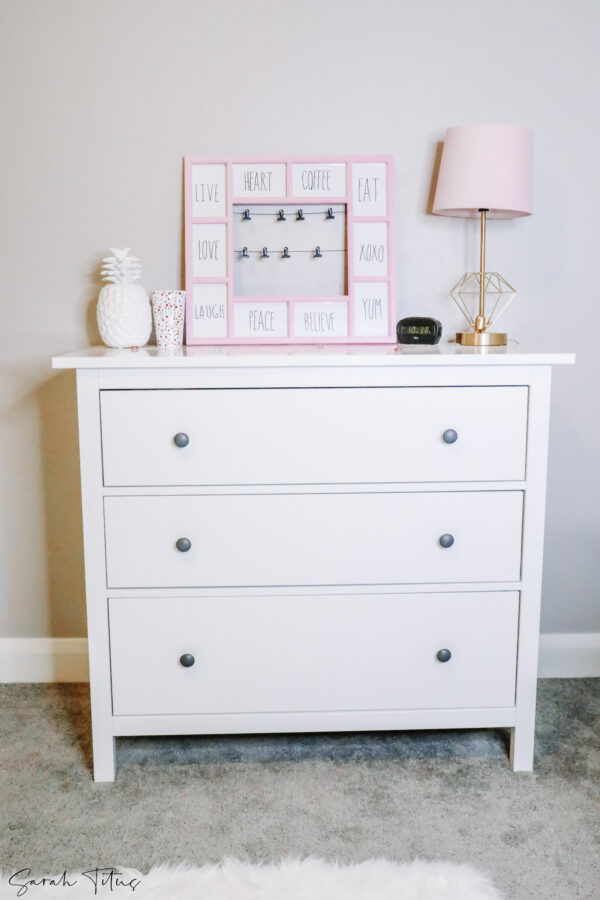 The contemporary pineapple ornament was another cool find from TJ Maxx. And the gorgeous, unique pink/gold lamp was from Target called the wire diamond table lamp by the brand Pillowfort.
For the funky picture frame, it was from Burlington Coat Factory, and the clips are such a fun way to display photos, then you can swap them out easily with other photos when you want a change.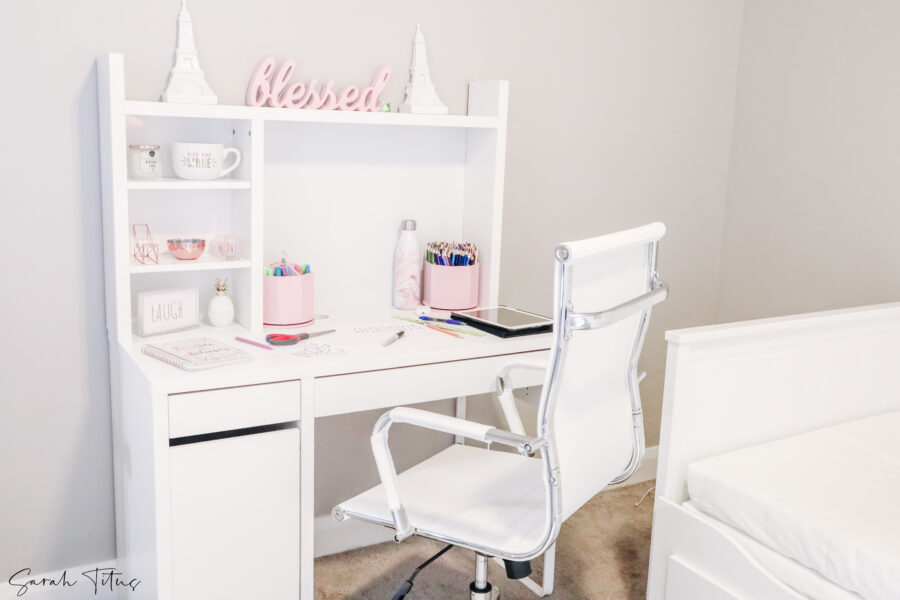 The desk is Ikea (Micke). The one we got, the backboard of the desk is a dry erase board (not sure if they are all like that or not), but it makes it fun for her to draw and write on it.
The desk chair is from Amazon but I checked and sadly it's no longer available. There are plenty of similar styles though if you shop around.
The accessories like the pink blessed sign, pencil storage spinners, birthday cake candle, Eiffel Tower statues, and the pineapple ornament are all great finds from TJ Maxx.
The large rise and shine mug was from Ross. The quirky clear/rose gold stapler and the stylish rose gold tape dispenser were both from Amazon, and the trendy rose gold paper clips holder on the same shelf was from Tuesday Morning.
GARDEN