So often, bloggers are afraid to tell each other the truth, because they don't want to offend someone.
That's great, but how can you possibly LEARN and GROW when no one will tell you the honest truth???
It's MY responsibility, as a successful blogger, to show you the blind spots that you may not see on your own blog, in order that you make more money and grow far above your peers.
There are many things that a pro-blogger does that you may not be aware of.
Today, I'm going to teach you a few of the most common, foundational mistakes that you need to know about in order to grow your blog. Because I am TIRED of moms failing when they don't have to!
You have a gift of blogging, so let's get you where you should be! I'll hold you hand the entire way and walk you through why you're not making money like the pro-bloggers.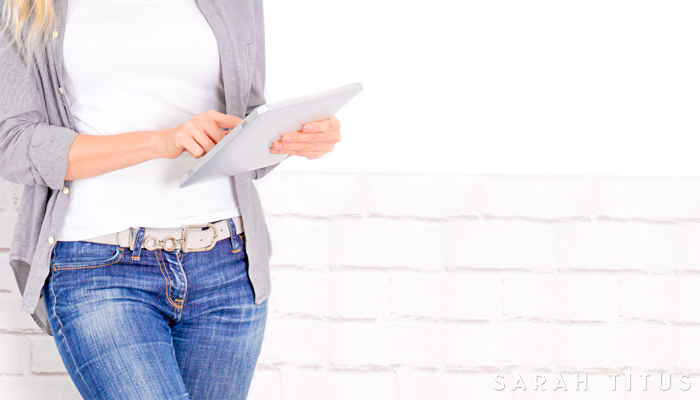 Why You're Not Making Money Like The Pro-Bloggers
The #1 reason you're not making money like the pro-bloggers is…
Reason #1: You Haven't Professionally Designed Your Site
If you want to make pro-blogger level money, you have to LOOK LIKE a pro-blogger.
A long time ago, Ruth from Living Well Spending Less, told me that it's best to have a very plain site, rather than a bold one. The plainer the better she said. Her reason is because there is so much there content-wise, ads, text, ebook, etc. that fills up a site super quick, and keeping things plain is better, so as not to overwhelm your readers.
I must admit, that I never listened to her advice. Sorry, Ruth! I just wanted my bright, girly colors, but I had to take a step back and when I really thought more about what my audience wants than what I want, I realized she was right. Yes, I want my site to remain girly. I do this very specifically for a reason, and I also want my personality to show through the pages of my site, but at the same time, I don't want everything to be a cluttered, jumbled mess and that's what my site had become….at least in my eyes. I had to go back and really think through every single design element and delete a lot!
In doing so, I came up with some great solutions that are actually working BETTER for me than before!!! I did end up going a plainer direction as Ruth suggested and my bounce rate went down 8% and my traffic is up and overall, my readers are staying longer!
A professional, clean and crisp design is so vital.
Although I've had a professional theme since nearly the beginning of my blogging journey, that's exactly why I can tell you how monumentally important it is to have one. Sponsors, other bloggers, basically the whole internet, takes you a lot more seriously when you have a personalized theme. It may seem like a really huge investment, but really it's a drop in the bucket compared to what you get in return.
My favorite parent theme is Genesis. For a child theme, Studiopress has some gorgeous options.
When you are designing, be sure and use fonts that are classic and won't date your blog; fonts that withhold the test of time. Also, be sure to take Ruth's advice and go more plain than wild and colorful. Make it a place that everyone will want to come and not feel crazy-sick inside. The second they feel cluttered or jumbled is the second they leave and never come back!
Remember, you only get one chance to make a first impression. Make it count!
Reason #2: You don't buy quality stock photos or take brilliant ones yourself
One of the biggest lessons I learned from selling on eBay for over 18 years was how important pictures are.
When people are ordering online, they want to know EXACTLY what they are getting. You have to picture the item from every angle. They don't want to chance ordering something only to have to return it. They are out time and money in a return. They want drama-free, stress-free, easy shopping.
So, you answer every question they could possibly have in your ad and you take pictures of all angles of the item and make the pictures gorgeous….like drop dead gorgeous. This will ensure YOU get the sale and you can ask for MORE MONEY than if you didn't take these steps!
The same is true in the blogging world. You have to have drop dead gorgeous pictures. It's mandatory; it's not optional.
You can slide by your first few months on free pictures, but really, after that, the sooner you buy stock photos (or if you know photography and can produce stock-picture-quality-photo's, then do that).
Either way, you HAVE TO have beautiful pictures on your site. It's not enough just to write amazing content, you must have amazing pictures as well. Not having beautiful pictures is like giving someone an empty gift box and trying to pass it off as a present. There's nothing inside.
You need a gift box AND a present to make up a gift. In blogging, you need fantastic content paired with fantastic pictures because no one is going to want to trust their debit card information with a site that is not super professional looking.
The best, and most cost-effective place I've found stock photos (that doesn't require attribution for blogs) is IngImage. I've been with their company for a really long time and have never had any issues at all. They are wonderful and their pictures are PERFECT!
Reason #3: You're not taking the time to pull your stats
Listen, if you're not researching data daily, your dead in the water already! There are certain things you should be tracking and some things you don't have to. In my new Blogging Binder, which you can get in the Honest Blogging Bundle here, there's an incredibly helpful printable called, "Yearly Stats." These are the crucial stats you keep track of on your blog each and every month.
This one printable alone is by FAR one of THE most important things I've done for my blog to create income for myself. I've kept accurate records since the first month I started blogging and I gotta say, it's really helped me tremendously over the years, not only in seeing my growth in numbers that we CANNOT go back and get, but also to see patterns, leading me to higher traffic conversions!
It'll help you see things you CANNOT see without that sheet. And it's all there for you so you know exactly what to fill in and track every month with spaces to track more stats of your choice.
If you want to make money like a business, you've got to treat your blog LIKE a business. This is what businesses do. They track the heck out of everything. You must teach yourself to get good at tracking things.
Reason #4: You spend 20 hours a week or less on your blog
I hate to say it, but if you want to make pro-blogging income, you aren't going to be able to just put in 20 hours a week or less. For pro-bloggers, it is a full-time job.
In order for me to get to the point of making $10k/month within my first year blogging, I was working my blog mor than full-time (meaning 80-120 hours a week–yes, you read that right, a WEEK) for a year and a half. I definitely don't recommend it; I basically did not sleep.
I wanted to fly quick. Kinda like hit the internet hard and keep running. That's kind of just my personality, really. While you don't need to work THAT hard to get traction, 20 hours a week isn't going to get you in the fast lane either. You have to put in 40 hours.
You want to be extremely focused with your time too. What tasks can you do that get you the most traffic, the most income, and so on. Do those tasks first.
All the tasks that fall by the wayside and don't profit you in time or money, you have to let them go. You want to be extremely focused so that 40 hours online on your blog really COUNTS.
One of the biggest time sucks in the blogging world in my opinion is Facebook. For that reason and for the reason that there are just too many meanies and drama on it, I stay off of it altogether.
Keep in mind that you will grow according to how much time you put into your blog. I've heard bloggers say, "I only spend 20 hours a week on my blog." I happen to know they are not counting social media time in which they are hanging out on there all day AND/OR they have a team of 5 other people.
One of my favorite bloggers works her blog 60 hours a week personally and has a team of 5. If those 5 helpers are even at part-time, you're looking at 160 hours a week of blogging time total. Of course her site is gonna blow everyone away. Of course she's going to make millions and have millions in traffic. You could too if you had another 10 arms!
If you can't do that, that's okay. I can't either. 🙂 But eventually, your goal is to hire out as much as you can so that you can focus YOUR time on the stuff that really makes the big bucks, like product creation.
Reason #5: They invest almost all their money the first year back into their blogs
Pro-bloggers know that they have to spend money to make money. Whether that's on a great theme, a blogging binder to help them organize their blogging life, or investing in education and courses.
Whatever it may be, you can't be a pro-blogger without knowing when and where to invest. Will you make mistakes along the way? Sure. We all do, but pro-bloggers track their data and see if something is worth the return on their investment.
Hint: Education is ALWAYS something you should invest in. You can't grow without learning, period, and most of the free stuff out there, can only get you so far. There's just not enough room in a post to go into the detail that say a course or personal coaching would.
Reason #6: They run A/B tests on literally everything
I am an A/B tester fanatic. You don't even understand. I am ALWAYS testing absolutely everything. It really all comes down to branding and I'm a self-proclaimed queen of branding. Gosh I seriously LOVE branding. I've been not only formally trained in my career BEFORE blogging, but also personally trained by A/B testing.
I cannot tell you how incredibly VITAL it is to A/B test everything. Every single little change you make to your blog, you have GOT to A/B test it.
What is A/B testing? Simple, for about a week, you do one thing and test the results. The next week, you do another thing and test the results. Then, simply compare the results. I do this a lot with my sidebar. I'm always testing out which pictures and wording gets more clicks. I also go back in email courses and sequences such as these and see where you all are clicking. If something is not getting any clicks, I delete the link.
Why?
Because I don't want to put ANYTHING in front of your eyes that is not 100% helpful to YOU. You don't have time to waste and I want to be known for giving great content without a lot of clutter…call me a minimalist at heart. 🙂
Get into the habit of A/B testing absolutely everything you do. In my blogging binder, I have a printable sheet called, "Site Changes." I use this sheet to track every change I make on my blog and the results of these tests.
Reason #7: Pro-bloggers research the topics that get traffic like crazy
When you first started blogging, the absolute best thing you could do is to do what I call, "sending out pings." You ping Facebook, you ping Pinterest, you ping your readers, your friends, your email, everything. You write posts on a variety of subjects, just sending out "pings" to see who answers.
The posts are nice and short and sweet, around 500-750 words. After a while, and you have built up a great reservoir of posts, you will start to see a pattern.
THIS is where it gets FUN!
Many people in my audience love saving money articles and organizing posts. So, I wrote a lot of saving money and organizing articles. But, after a year and a half into blogging, my audience started asking for making money from home articles and so, I write about that because it is my passion as well.
I am determined to help every woman who wants to stay home with her kids, be able to do just that on any income. That means, she needs to learn to spend money wisely and that might also mean, she needs to make money from home to add to her family's income.
Since I've been making money from home for 18+ years at this point, it comes very naturally to me and I love teaching it. In fact, this is my biggest passion and direction for my blog.
BUT…you have to find your passion in the midst of what they want you to teach them.
If that sounds hypocritical, it totally is!
Let's say your readers love recipes, but you HATE to cook. You can't teach them about recipes because you will just be bored and miserable. So, you have to find that balance. You want to know and find your own voice, all the while, serving your readers needs.
I know that's difficult, but I promise you, that the longer you blog, the easier it becomes.
SO how does that relate to income?
Well, if you're not teaching them what they want, they are not going to find products or services they want to buy!
You want to know your audience so well that you can give them what they want, then recommend products that are in line with what they need. In order to know what they want, you have to do your research. Some questions to ask yourself are:
Which posts are popular?
What are they asking you for?
What do your friends want to learn from you in person?
Using your heatmap, which articles and new posts do they click the most?
What kind of articles do well on Pinterest?
On Facebook?
Reason #8: They study, in-depth, one thing at a time
There is no way you can learn everything all at once, whether it's blogging or anything else.
My first step in my blogging journey was ads. Once I got that down pact (making $5k/month in ads revenue alone), I started focusing on traffic. For me, I saw a lot of potential (and love) Pinterest, so I started there next. I ended up blowing up my Pinterest account (to over 200,000 followers) and now I coach others on THEIR Pinterest accounts.
After I spent a good year learning to ROCK my Pinterest account, I started focusing on affiliate income. In my first month diving deeper into affiliates, I added $1,350 income! Within my first year of working on affiliates, I added $89,885.41 to my income portfolio. Not too shabby, eh?!
Next, I started to work on my newsletter. Within 2 months of starting that, I went from getting 600 email signups every month to over 10,000 email signups a month by switching to ConvertKit and digging deeper into patterns that I wasn't able to see in my old email provider, because of the lack of technology they had.
Are you seeing a pattern? I'm completely blowing up each thing I'm working on.
It is a lot of fun taking on just ONE thing at a time and incredibly profitable too. I highly suggest it if you want to earn more income.
Yes, it takes longer just doing one thing at a time, but blogging isn't really a short-term thing. It isn't a get rich quick thing either. Blogging takes years to hone and a lot of that is just time spent learning. A simple way to cut down on that learning curve is by getting personalized one-on-one coaching, and yes, it HAS TO BE personalized one-on-one.
Be sure not to skip ahead onto something else until you've completely MASTERED that one thing you are working on. So far, I have ads, Pinterest, affiliate marketing, and email signups under my belt. Now, it's time for product creation and I'm super excited!