See my Million Dollar Shop® courses Here.
Maybe you've been wanting to start a store, but don't know where to start or what platform to choose.
Maybe you're scared to start an ecommerce store because you don't know how you'll possibly be able to drive traffic to it and make it profitable.
Maybe you already have a store and can't understand why you're not making anything but chump change in it.
Maybe you've spent some time on your store and seen only crickets in traffic.
Maybe you've tried other platforms like Etsy, ebay, Amazon, Creative Market, the list goes on and on and have seen a little bit of money, but know there's more out there for you.
Whatever your situation is, you're in the right place! The power of a Shopify store is beyond what you can even imagine!
The Power of a Shopify Store
Most of you know that I've been selling on ebay for over 20 years now. Back before they were even CALLED ebay. 🙂 I was just a teen back then, but really realized the power of selling things online. It was a whole new world for me. An exciting world.
But there are several things I've always LOATHED about selling online.
I HATE to ship products.
I hate keeping track of inventory.
I hate keeping everything perfectly organized to sell.
I hate not being able to find something right as it sells.
I hate following someone else's rules.
I hate when they CHANGE said rules and I have to go back through all my ads and completely redo all of them to comply.
I hate feeling like I have no ownership over the store. Like I'm powerless.
I hate not having the capability of making certain sales the way I want them to be, instead of working with the basic tools they give me.
I hate being at the MERCY of a customer who does something shady and leaves bad feedback and everyone thinks it's ME who has done something bad. Or competitors who leave negative feedback to ruin you (yep, it's happened!)
So, while there's a lot of good things about selling on a platform like eBay or Etsy, there are also a lot of bad things you MUST accept in order to sell on someone else's "turf."
I sold on Amazon, I've sold on Creative Market, I've sold on ebay, I've sold on a membership site, I've sold on a stock photo site, and I've sold on Shopify.
For me, out of all the options I've tried, the Shopify platform is, HANDS DOWN, the best way to go.
It happened one night, in the middle of the night on June 1, 2017. I was creating a product and I had the option to put the product somewhere. I was with a membership site at the time called Podia and loved them, but this product I was creating (a Blogging Binder) didn't FIT the Podia platform very well.
I remember debating in my head.
Is this what God wants me to do?
How do I know what platform He wants me to use?
Do I start a store?
If so, which one?
What do other people use?
I've never ran my OWN store before.
I'm NOT technical. How do I solve the problems when they come up?
What do I do?
I was mulling all this over in my head when I said to myself, "I'm just going to go for it. I'll open a store. If it sucks, it sucks, but I can at least try."
Those words still make me cry every time.
I simply put a "SHOP" link to my Shopify website in my navigation bar on my blog website.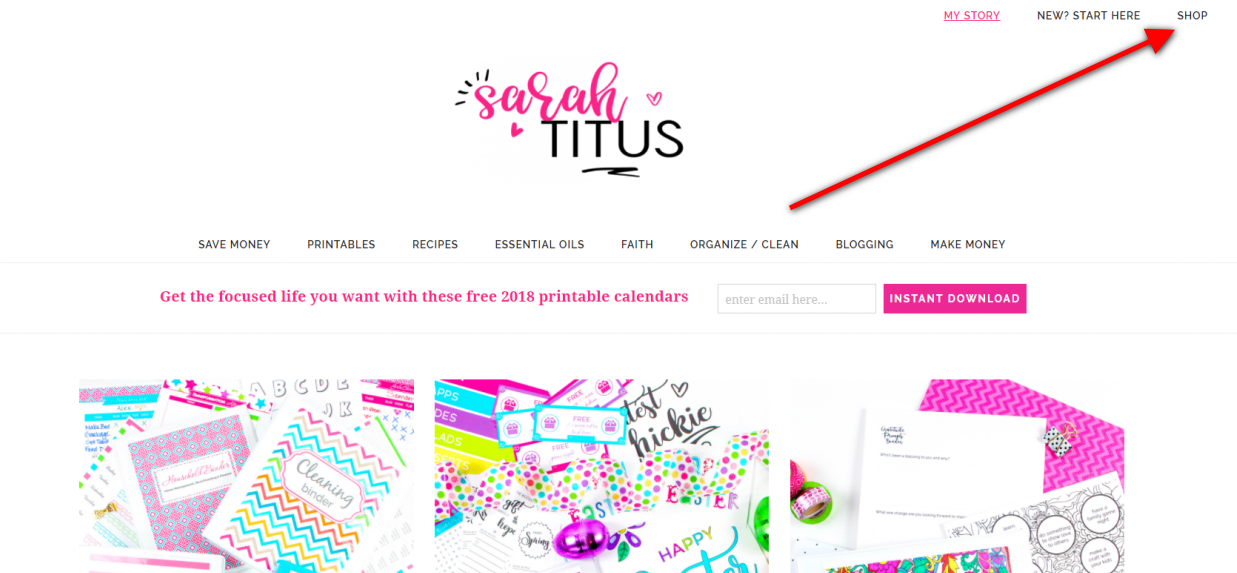 That was it. Nothing else at all.
I started noticing super quickly, that I was getting 100 visitors a day to my shop just from my blog. I had one product. My store was completely empty and there were all these people coming to look. I was astonished by the amount of people so quickly checking it out.
My first 8 days, I didn't make any money.
Day 9, 101 visits, no money.
Day 10, 85 visits, $81 in sales.
Day 11, 97 visits, $5 in sales.
Day 12, 146 visits, $30 in sales.
Day 13, 578 visits and $1,454 in sales (without any promoting to any social media or paying for ads). In fact, I didn't start promoting on social media until November 12, 2017. I pinned one ad on Pinterest. Since then, 5 months later, I still haven't pinned but maybe 15-20 ads this whole time, and I've never paid for ads.
Day 13 is when I knew I hit on something major.
THAT'S when I started really knowing that this could work.
$1,454 in ONE DAY!
I….WAS….SHOCKED. Literally and utterly shocked.
From then, I went on to start making significant money in my store.
My first month having the store (June 2017), I made $52,060 and got 7,233 in traffics.
Most of my free work time went to the opening and learning of the new store (I always just work 1-2 projects at a time so I'm not scattered).
Conversion rates that first month were between 8%-23% on the promotional emails I sent. One email, believe it or not, got 1,524 clicks and 1,399 of those clicks, purchased, which comes out to be a 91.79% conversion rate.
Seriously 91% conversion rate, that's like unheard of! Average conversion rates are between 1%-3%! Obviously, I priced the product too low and have upped a few prices in the store already by a little bit. After I upped the prices, they are still selling like normal, so I feel I'm still really fair in prices.
The products that have made me the most money to date are:
My second month having the store (July 2017), I made $69,707 and had 8,153 in traffics.
From June 1, 2017-Oct 31, 2017, a good, solid 5 months of stats, my store has had $537,996 in revenue and a total of 53,013 in traffics. My repeat customer rate for those months is 26.08%.
My top LANDING page, believe it or not, is my calendar set, which I'll definitely get more into later on.
My store, within 4 months, is now a million dollar a year business. It makes me more money than my actual blog! So, if you have been contemplating opening a store, do it.
If you are new in your store or it's not making what you want, carve out the time for this and really implement and apply everything I'm saying. It works! I have walked through my exact system with several friends and clients now and it has worked for ALL of them! They have seen TONS of growth from their original starting point!
I want to share my journey with you, because I think it's so powerful. I want to take you deep into what I'm doing, so that you too, can mimic it and have your own, extremely profitable store.
So get ready, because we are truly going to FLY!