As I mentioned in previous modules, when I first started my Shopify store, the only place I really promoted was my blog.
I just simply put up a link in my navigation bar and started getting 100+ in traffic clicks the very first day I did.
Not a lot has changed since then in promoting from my blog, however, there are a few things that I do that I want to share with you, these key elements to advertising your Shopify store on your blog can provide a lot of great traffic and generate good income.
The Key Elements to Advertising Your Shopify Store on Your Blog
When I first started, I simply put a link in my top navigation bar that says, "SHOP".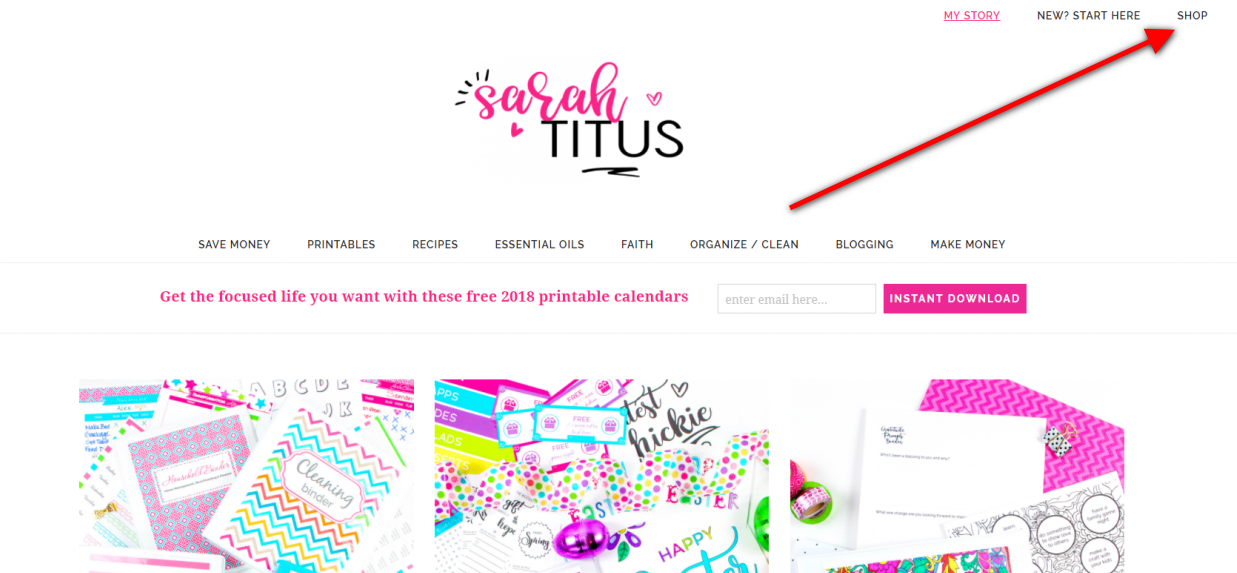 Doing this, instantly led me to 100+ traffics/day.
The next thing I did was put, "$1 Deals" next to the word SHOP in that same navigation bar.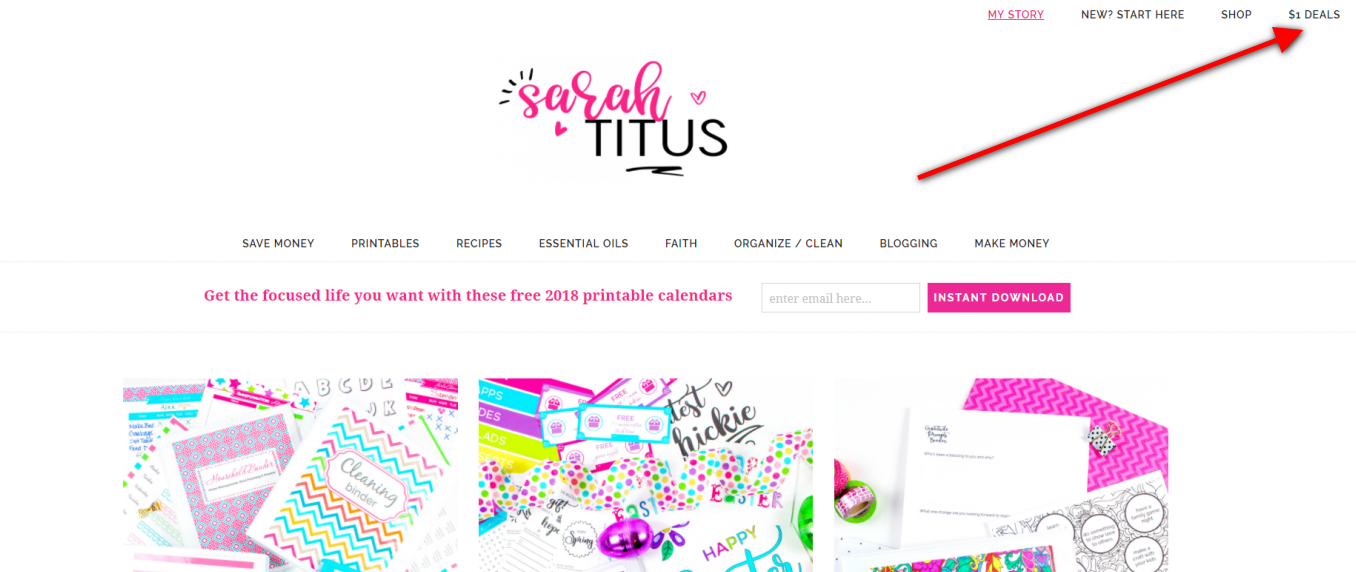 According to my heatmap, my "SHOP" link gets more clicks than my "$1 Deals" link does, by more than double!
Don't underestimate the click link power of a simple word like, "SHOP".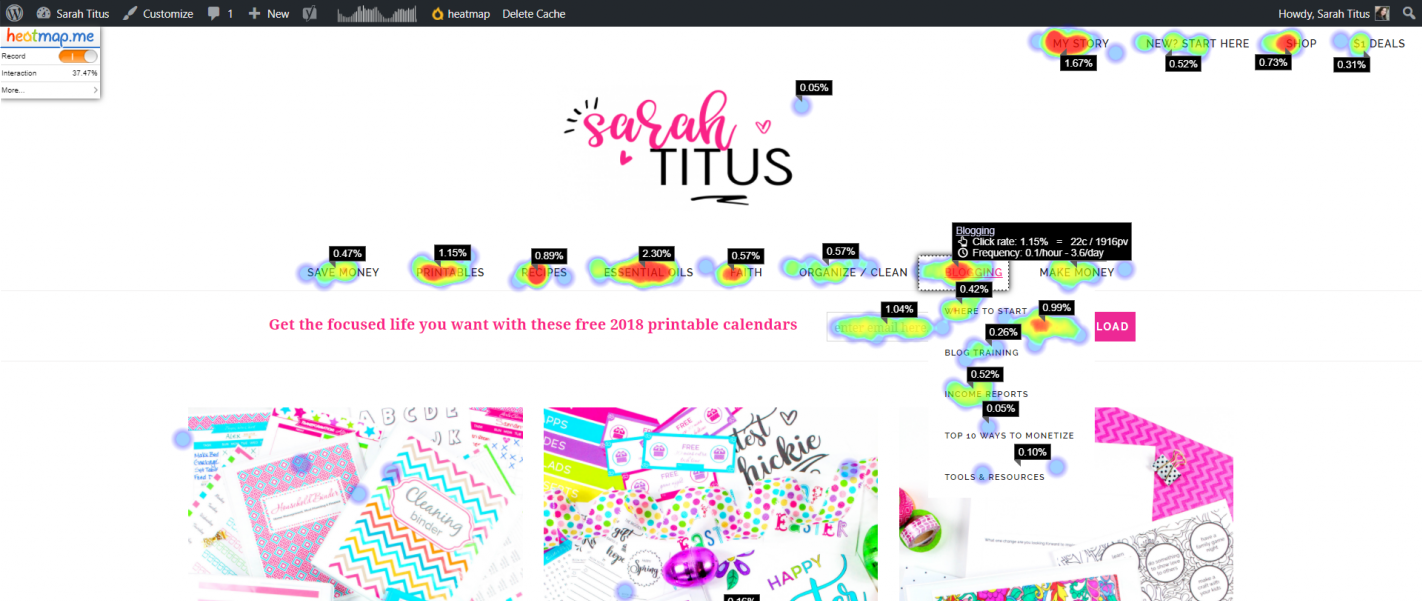 You can clearly see that the Shop link gets more clicks than some of my other content! Things like Faith, and Organize/Clean, and New? Start Here, don't get as many clicks as that simple, but highly effective Shop link.
I also tested the word, "Store" instead of "Shop" in my navigation bar, but for me, Shop got more clicks than the word store, but you might test it on your blog as well.
On my blog, I have all my free products, binders, etc. all going to Leadboxes. So, there wouldn't be many clicks directly TO my Shopify store from my blog. My method is more indirectly:
Offer something free, they sign up, I give them the discount code in the email to order it through my store. This gets them to my store and comfortable with the ordering process.
However, there is another place, a more secretive place, that I have a link directly to my store and that is within my calendars posts.
My calendars posts ranks very well with Google and so all that traffic that comes in, some of it filters to my store.
On this calendars post here, you'll see that I have an upsell image within the post. The upsell calendars are $1. I have them incredibly cheap.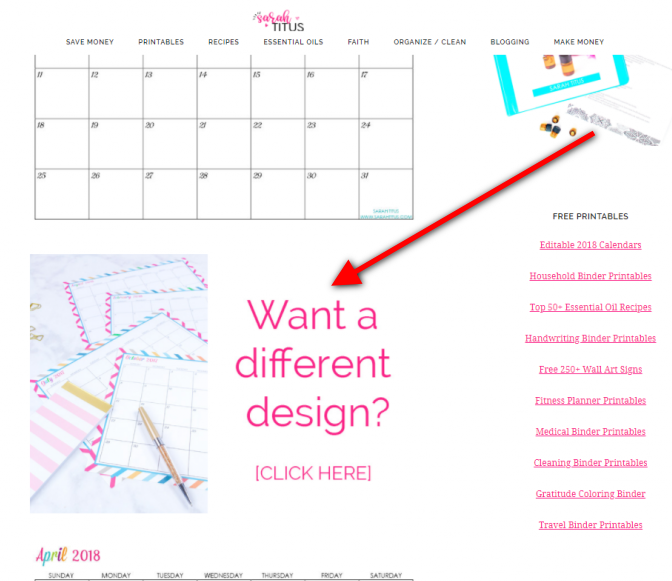 So far, since adding that upsell link into the calendars post, I have profited $302 on that ONE item.
Now, maybe you're thinking that is a small amount to concern yourself over. Here's what I want to say.
It's not.
I put in about 2 hours worth of work to create those calendars in my store, create the images, take the actual pictures, and set up an ad. I have made $302 in profits for those two hours of work SO FAR through the year. It's April 2018. I still have well over 6 months to go to sell these calendars. Let's say, hypothetically, they make me $600 total profits this entire year.
I will have earned (projected) $600 for 2 hours of work and have gotten a lot of people over in my shop who are buying MORE stuff than JUST those calendars!
I'm getting traffic, I'm getting more sales, I'm getting sales on those actual calendars, and in turn, I'm getting more email subscribers.
I don't know of any job on the planet that makes $300/hour. Maybe there are some, I'm sure, but that's a lot of money.
So is it worth it? To me, yes! Now imagine you do that with EVERY product.
Let's say you make your blog post and upsell something for a buck. You promo your blog post like normal and in one years' time, you earn $600 per product. I have 67 products in my store, so let's say I do that for 67 products. Just on those posts alone, in 2 hours of work for each post, a total of 134 hours, that's $40,200/year.
I'm sorry…how many jobs can you work that will profit you $40k? And how many hours will you NEED to make that $40k/year? Probably a good 30-40 hours a week. Low-balling it, that's 1,560 hours of work to make the same amount, I just made in 134 hours. Plus, it's extremely hard to earn that kind of money from the comfort of your own home.
You are literally working 1,426 hours a year more than me.
Listen, it's not rocket science. You don't have to sell a bunch of your products at astronomical prices. You can make a lot of good money at the $1 range. You just need to promote them on your actual blog, the ones you want to sell and do it like that.
Think of things you can upsell.
I have a tuna melt recipe that does pretty well. You can see it here. I just created a Recipe Binder. I'm going to put that Recipe Binder in that recipe. The recipe currently has 351k shares on it. I'm upselling right then and there from my own viral post. *I* control it! That post is mine. I don't have to buy an ad. I don't have to spend money on upselling or creating new posts. I simply sell things that ALREADY do well as posts, and then upsell.
Which posts on your blog already do well? What can you upsell to them for an incredibly affordable price?
Right now, I only have two ads my entire site that are like that. In the very near future, I'm currently looking into a plug in that will add images to entire categories of posts (if anyone knows of one, please let me know!) But think about it. If I put in my Recipe Binder upsell in EVERY recipe post I have on my blog…I have 89 recipes posts on my blog right now, with more going live all the time.
Think about all those upsells I can create, all those links, all that traffic and sales. Maybe you could do the same thing. Create a recipe book! Upsell it on every single recipe post on your blog, but here's the thing, make the upsell cheap. Don't sell your recipe book for $10 okay, less people will buy it. It's better to sell dirt cheap and get more sales (more people on your newsletter), than to sell expensive and just get a few sales.
If you have a blog already generating traffic, why pay for Facebook ads or Pinterest ads or even Instagram ads? You generate your OWN sales FOR…FREE!!!!! Just use your existing content! Create products that upsell what your most popular posts already are. Take your 50 most popular posts and start creating products for those posts specifically. See how much more money you can earn in just doing that alone!