I remember that being a student was extremely hard.
Although I was in the top class for most of my high school years, it wasn't without HARD work. I had many friends who were super intelligent and smarter than me. So, as you can imagine, I had to work REALLY hard to continue to stay in the top class.
I'm sure I can recall good times like going on our wonderful school trips and laughing a lot with my friends in high school. But unfortunately, what I remembered most was that I felt extremely stressed during those years.
I don't know much about the education system in the US. But in Malaysia, students were given tons of homework, on top of our after-school activities, sports, clubs or society meetings, not to mention extra Math/English/Malay tuition classes. Though these were not compulsory, most people I know including myself would at least have one or two extra classes outside of school.
And believe it or not – we were also given tons of homework during our holidays.
"Man… how they like to torture us." That's what I always thought to myself.
In Malaysia, we have subjects imposed on us all the time. We had 7-10 subjects to study for the year and most were compulsory for us to take even though it doesn't make any sense to us or help us in any way for the future. 🙁
The teachers never really gave us a break either. They sometimes did but probably only a handful of times. Plus, we were considered lazy and were punished if we did not complete our homework after the holidays.
Phew, glad those days were over.
So, when I finally graduated high school – you can just imagine how I felt!
I was BURSTING with joy! I danced, jiggled, did the hokey-pokey or whatever you call it..
I was SO happy that I was almost bursting at the seams because I felt like I'm finally out of a prison cell!
Adios! Sayonara! NEVER going back there again..
Phew…
Sorry for the very stressful opening of this post – but it's the truth!
So when I started my design education in a cool university in Malaysia and then went to NZ to further my education in graphic design – I was the happiest I had ever been because I could finally be in my zone of genius, doing what I LOVE and am naturally good at.
Later on, my kids started going to primary school and I was pleasantly surprised to find the education here is nothing like back home. To be honest, it was a breath of fresh air! I don't know much about the US, but I believe that it may be similar because it still falls under the Western education system.
I really LOVE the education here because it feels much more humane and civilized. I don't want to compare schools or generalize all schools in NZ or in the Western world. However, I can only share from my perspective and experiences from my kids' school.
The first thing I noticed is they care a lot about the mental and emotional health of the kids here. Secondly, they are very strategic in their teaching and focus on what will be most beneficial to the kids of their age groups. Thirdly, they help the kids to focus on subjects that interest them and encourage them to pursue them further.
Wow, I was VERY impressed and wished I had that kind of education. If I did, I think I would have loved going to school more often, instead of dreading it most of the time.
No matter WHERE you live or what kind of education your kids receive (homeschooling, online charter, or traditional), to help them in their schooling education, I have created 10 of the best free student planner printables for you to download!
Best Free Student Planner Printables
Free Printables Reflection Planners
I like to start off with reflecting on my past wins from the year before. And then, write down 5 things you want to improve on for the current year. See that I left the area for the year/month blank so you could use it for any year or month. Use these printable templates to keep track of your main goals, so you will continue to stay focused throughout the year.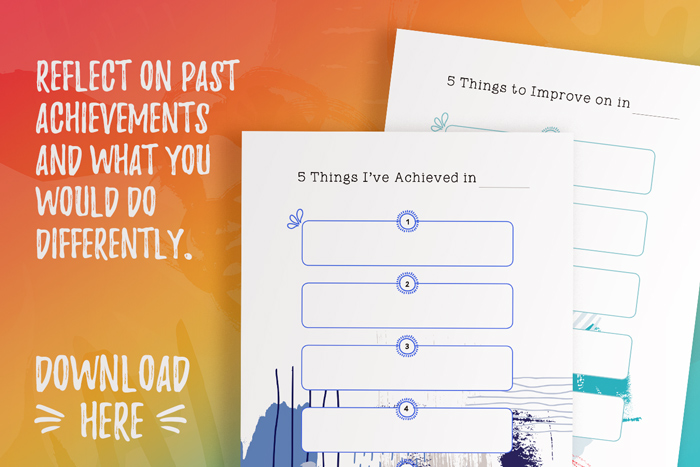 Download the Free Printable 'Reflection Planners' here.
Free Printable Class Timetable Planner
This is one versatile planner. Who doesn't like a cool-looking timetable like this one? If you don't like your current timetable, then download this cool timetable printable below to help with planning and organization.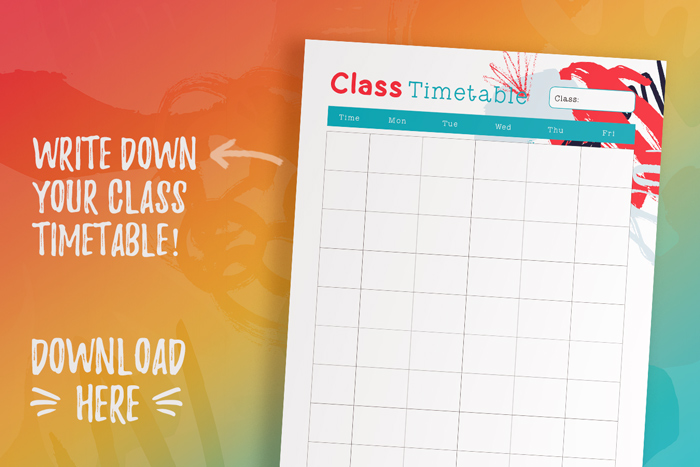 Download the Free Class Timetable Planner here.
Free Printables Monthly Planner
This undated monthly planner can be used every month for any year. Just fill in the name of your class, the month of the year and insert the dates in the small boxes provided in the planner.
The best part is that it comes in two options. One starts on Sunday and the other on Monday. Pick and choose what you prefer best.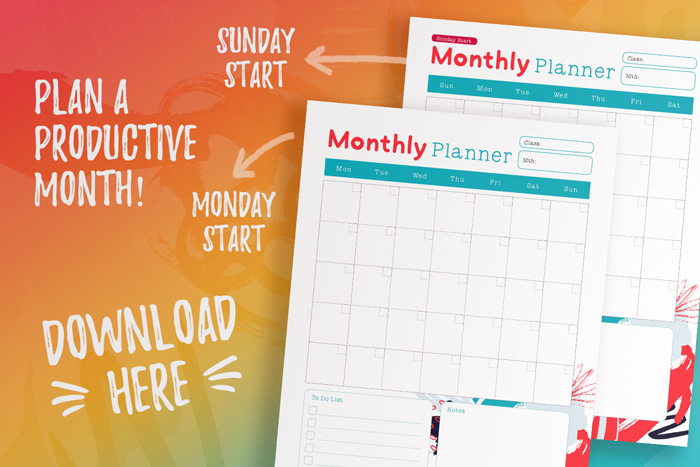 Download the Free Monthly Planner – Sunday Start here and the Free Monthly Planner – Monday Start here.
Free Printable Project Planner
Are you feeling overwhelmed juggling and planning multiple projects at a time? Then this planner would be an absolute MUST to have by your side!
This planner will help you plan your project in detail from start to finish. And if you have multiple projects going on, then print out a few more of these and prioritize which one you should focus on first.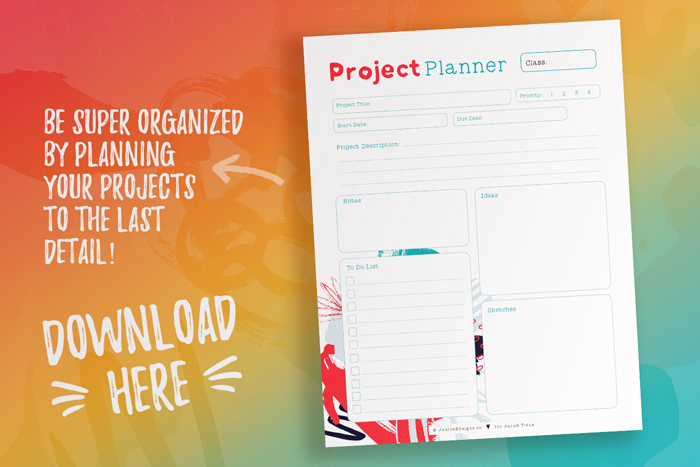 Download the Free Printable Project Planner here.
Free Printables Weekly Planner
Here's another well-loved planner – the weekly planner. After planning your month and projects, let's put them into your weekly plan, shall we? A little semantics here. So how do you eat an elephant? Well, one bite at a time! 😉 So let's break that big goal into small chunks to work them one at a time, while you fit them into your week.
Again, we have two options for you to choose, either the Sunday start or the Monday start sheets.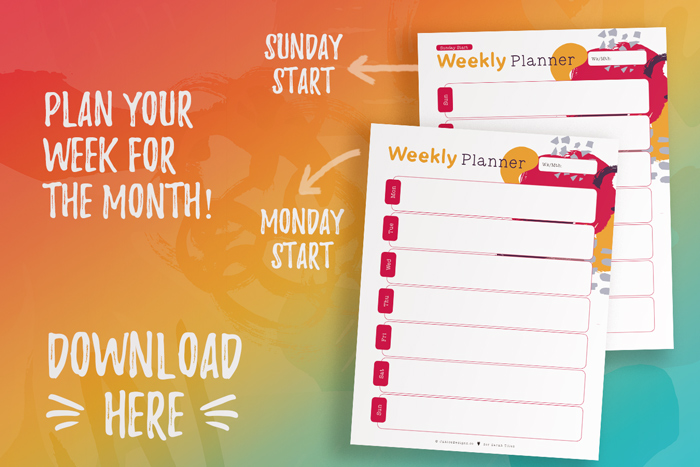 Download the Free Printable Weekly Planner – Sunday Start here and the Free Printable Weekly Planner – Monday Start here.
Free Printable Homework Tracker
Ah, another infamous – ahem, I mean popular planner is the homework tracker. Well, if you have tons of homework (like I did back in high school), then you will find this planner extremely useful!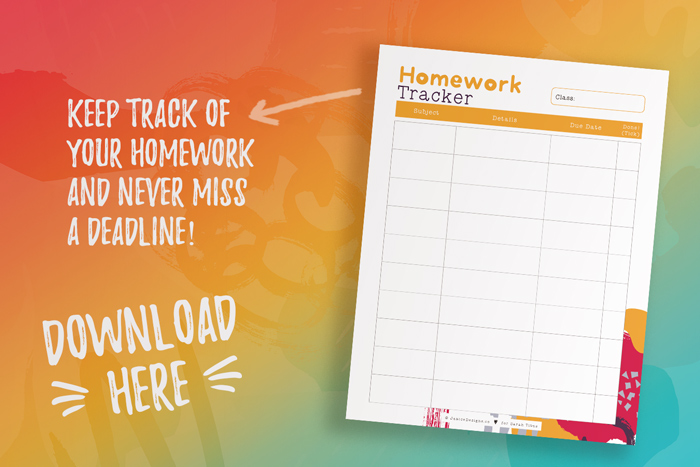 Download the Free Printable Homework Tracker here.
Free Printable Exam Timetable Planner
Ready for your exams? Then download this exam timetable planner. Go ahead and insert your timetable into this lovely planner.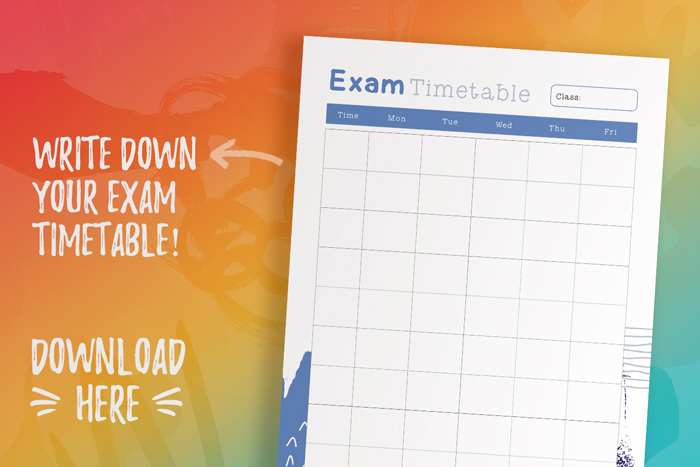 Download the Free Printable Exam Timetable Planner here.
Free Printable Grade Tracker
Are you someone who wants to do better in a subject you're not good at? Then this grade tracker is for you!
You can track your grades by writing down your goal, your final grade and finally your thoughts about the examination/assessment. Then celebrate your wins or strive to do better!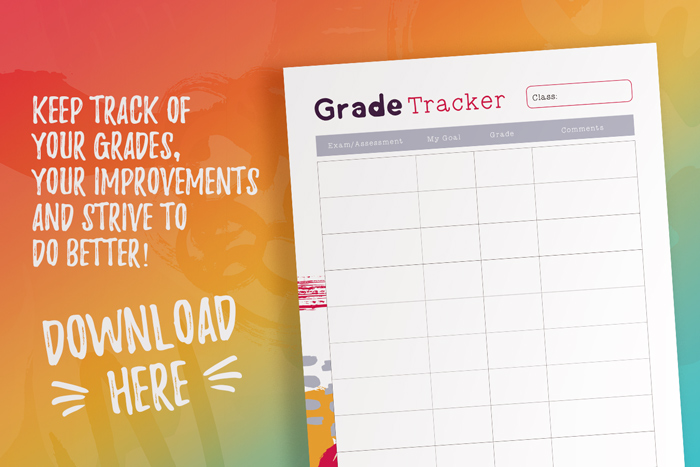 Download the Free Printable Grade Tracker here.
Free Printable Sports Schedule Planner
Last but not least, here's the sports schedule planner. Are you active in sports? Then, this planner is great for you to plan your sports/games activities during the week or weekend. And since this planner is undated, you can re-use this planner for every week of the month.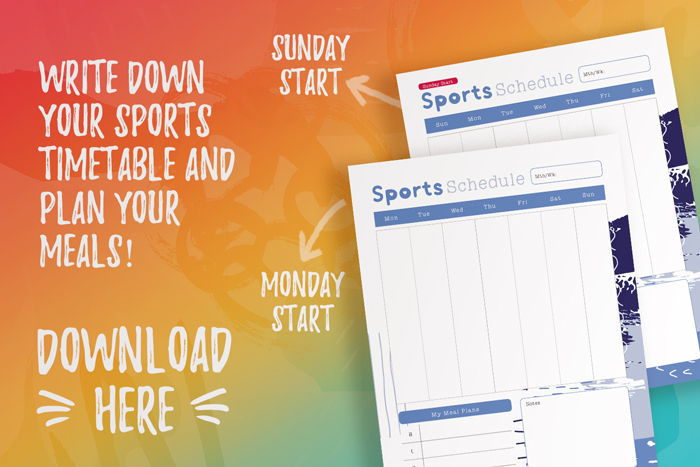 Download the Free Printable Sports Schedule Planner PDF – Sunday Start here and the Free Printable Sports Schedule Planner – Monday Start here.
Looking at this set of printable pages, I wish I had them in a cute binder when I was back in school. I think they would have made a difference in helping to organize my life better, track my homework, exams and other school activities I had.
I hope you will find these printables useful to help simplify and organize your school/college/university life!