Our goal here at SarahTitus.com is to be a support system for Christians in all areas of life. Whether it be through printables for homeschooling moms, parents, teachers, or churches, or whether it's through in-depth blog posts teaching the Word of God and edifying all those around us.
We are a group of women who strive to work hard to serve others in our daily lives as well as in this online ministry.
Your support is vital!
After climbing to over $6.8M in revenue (not profits) per year in my Shopify store alone, I felt the Lord leading me to give it all up. 😮 There are so many broken-hearted people out there, some persecuted for their faith, some without a Shepherd, a church, a home. Many are hurting, and many more are struggling financially as prices everywhere are skyrocketing through the roof. UGH!
Struggling to pay bills.
Struggling to survive.
Struggling to be godly in such a nasty, cruel-hearted money-grubbing world…collectively as a whole, we need help.
We need a Savior. We need Jesus Christ and we need Him NOW!
Not tomorrow, not next week when we get our paychecks.
NOW! Today, this instant.
God has ordained me to lead such a great nation in this endeavor and it's both scary and exciting at the same time. It is requiring a massive amount of faith, to just, overnight, give up so much of my income. I'm a single mom. He just led me to purchase a very expensive house. I was perfectly content at my other house, which was around 1/5th of the new one! It's faith.
Not only is He convicting me to give it all up, but He's also telling me to HIRE MORE. Get a bigger house, hire more, and give up the majority of your income. Huh?
Wait…what? 🤔
Lord, you do understand that I don't have much in my bank account, right?! You saw me while I was making so much, give it all away to help others. I never hoarded, I was always found to be giving.
And yet He convicts me to do this. To trust in HIM, not in a bank account and trust Him I WILL!
Sometimes, God asks us to do something that seems incredibly CRAZY.
👉 It's not our job to question Him. It's our job to OBEY!!!
So that's what I'm doing. I don't have all the answers. But I know that my GOD DOES!!! 🙌
If you want to be a part of what HE alone is building, here's some more information of how you can get involved…
How to support God's ministry
Thank you for your desire to support God's ministry! It means a lot!!! This is a God-driven ministry, and we're so happy you're a part of it!!! I can tell you, from what I've seen with my own eyes, anyone who stands by me, supports me and Kyle being together and this ministry has been/will be blessed. Those that have chosen not to support what He is doing in my and Kyle's life (in the way that they attack us or try to prevent us from doing God's will), I've watched them one by one be scattered in His punishment. Sound crazy? It is. But…
👉 Make no mistake, God is very clear to show the world, HE, and He alone, is behind me and this ministry.
Knowing that, your support, in any way you deem fit, literally means the world to me because it means that you stand by and support God Himself!!! 🙏 Here are some great ways to get involved and stand by us, but first, in full transparency, here are our expenses as they are at the time I'm writing this…
Our costs
We have lots of bills to pay. and I'll note some below so you can kinda get a grasp of the inner workings of this ministry. It's not an exhaustive list, but it's the jist of it. 😊 As a business, we have to make around $25,000 each month before we can begin giving to, serving, and helping those around us in our communities and online.
Sarah Titus – President/CEO – $8,000/month
This is my personal income that I transfer from the business to personal funds for monthly living costs.
Assistants – $7,550/month
Without this team, I wouldn't be able to accomplish HALF of what I do! They are absolutely vital to this ministry and bring all sorts of spiritual gifts and abilities to the table. These are hard-working women just like you and I who are committed to furthering the kingdom of Christ.
Jacqui – Jacqui is my right-hand girl and without her my life is not so streamlined. She's a new mom and takes care of many loose ends and little details for me, writes intros, creates graphics/pins, cleans up spam emails, helps with the courses platform (Kajabi), and so many other things I can't possibly mention in an hour. 😂
Becky – Becky is a school teacher and proofs my writings and writes some intros for printables, svgs, etc. Her proofing my work saves me a lot of time (as I'm not great at proofing). 😜 I'm a speed reader. 😂
Richie – Richie is a godly (and newly single mom) who's working super hard to get through a tough transitional time. She's using her writing skills and love for Christ to provide for her family, and it's AMAZING how God brings all of us together to really help each other! 💖
Michelle – Michelle is the newest on the team and seriously kicking butt. She is writing around 5-7 posts a week and is helping add so much valuable and super godly content to the blog. I adore reading her posts because I'm learning (and convicted) TOO! 🥰
Margaret – Margaret is HUGE on evangelism, and you'll see her posts she's writing very, very soon on the blog. She has such fantastic ideas for us all to get involved in evangelizing the lost. Some in incredibly simple ways. Her ideas are truly mind blowing 🤯 and I can't wait till you guys get to read it all!
Ashley – Ashley is my daughter who is starting to get involved in the blog more. She wants to blog when she's older (booyah!) and loves all things crafts. Eventually, she'll probably do Cricut and crafty things for the blog, but we're starting her off slow (trying to teach her consistency at the moment). Right now, she's creating digital stickers with me and helping out with a few emails here and there.
Matt – Matt is my son and he does some proofing for me (not paid; he prefers to be paid in Wii time). 👌 He loves technology though I don't let him touch my blog. 😂 Not yet, anyway. Matt wants to be a Pastor when he grows up (has since he was 3 years old)!
Both my kids are homeschooled and help around the house to keep things streamlined and organized. My son will do the dishes and take the garbage's, etc. My daughter cleans the house (she enjoys doing it, which is great…because I LOATHE cleaning 😂 and she's paid well for it) and helps me with a lot of misc. things.
Without all these amazing people on the team helping, I would NOT be able to do what I do!!! 💯 Remember that, the Proverbs 31 woman had help. It's OKAY for you to have help in your life as well!!! God's intention for us women is NOT to carry everything ourselves as society is so great at making us believe is true.
This varies, but is around 35%-40% of profits
Blogging Expenses – $4,635+/month
This is things like:
Hosting ($120)
Advertising (none- we do not do paid advertising at this time)
Email host (ConvertKit for 109,000 subscribers – $739)
Affiliates (Million Dollar Shop – $300)
Shopify hosting + apps ($94)
Office supplies (varies)
Tech support ($57)
Graphics/Fonts for Printables – $70)
Blogging insurance ($130)
Travel ($125)
Photography ($3,000)
Misc. and other expenses (varies)
Purchase things using our affiliate links
We get a small commission when you do. You are not charged any more than you'd normally pay for the item you purchase when you purchase through our affiliate links. Here's a few of our main affiliates:
Share our stuff with your friends
If you see something you like, if something's helped you, if you enjoy something, if you want to support us and spread the gospel, share links to our pages and shop products. Obviously, don't share the actual download of the product you purchase in the shop free, but DO share the link you got it from. Share blog posts, share it all to everyone.
Share it with your friends, share it on social media, share it with your churches, your neighbors, get the word out! We are here to serve!
Also, if there's anything your church or you are looking for specifically, TELL US! 🥰 Lemme know so that I know what to create and that what I AM creating is something that you guys will use! I want to create things you guys will love and enjoy, as always!
If you've been following us for at least 2-3 years or have a Million Dollar Shop® course, share the word about our courses. This not only helps YOU, but it helps us as well. 😊 If that's something that interests you, please contact us here.
Purchase courses on Million Dollar Shop®
There are courses to learn how to create printables, how to open up and run a Shopify store that actually gets you the income, how to make money from home, how to blog in an honest, legit God-glorifying way, and more!!!
Serve with us on the team (writing)
If you're a genuine believer, there is opportunity to volunteer your time on our team writing. Here's more information about it along with an application to apply.
Include a tip in your shop purchase
As mentioned, all shop products are now 100% FREE! This is a great witness to the world as it opens up conversations about Christ to strangers!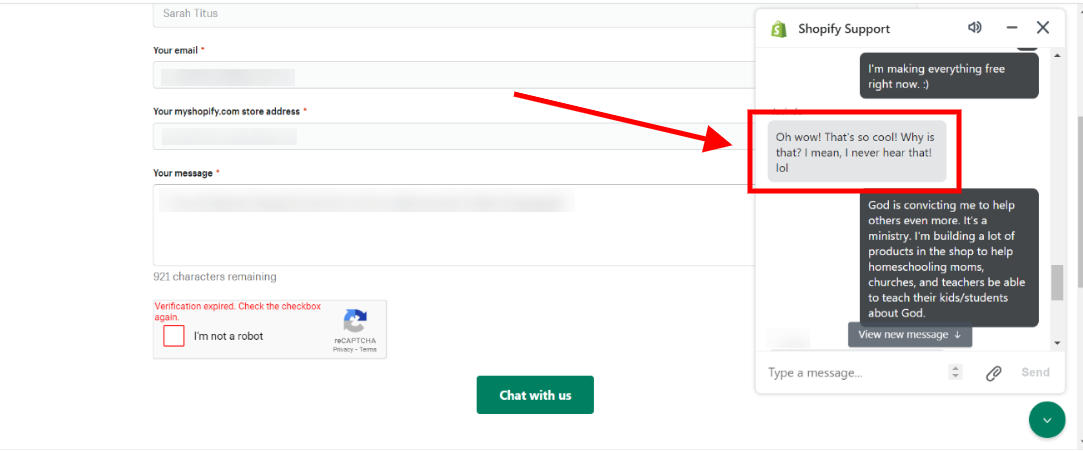 I was able to go on and share a little bit of my story and what God's done in my life, and it was a great (and quick) conversation while she helped me with some technical things in my shop, specifically, setting up the tipping system.
Instead of charging for products now, we allow for tipping. Some people have asked how to donate to this ministry, and it's so sweet. I didn't have a way to do that, so this is a great way.
As you're purchasing your free products in the shop, you'll see a tipping section here: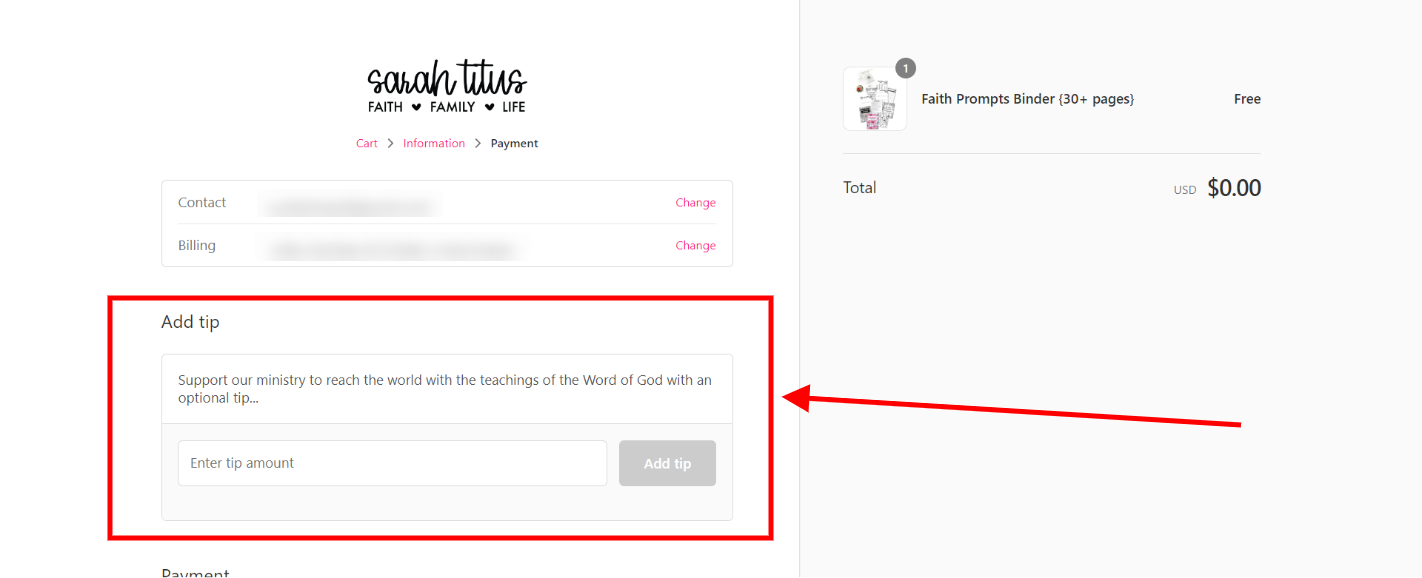 Tip as much or as little as you want and know that God will bless it and multiply it! 💖 This tipping section will go to the general fund. If you'd like to give to a specific fund, you can find that here.
There's options to support:
General Fund
Helpers / Assistants
Blogging Expenses
Ministry Outreach
Benevolent Fund
Scholarships (Million Dollar Shop)
Pray for us and hold us accountable
We are a team who wants to be held accountable, in all ways of godliness, in order that we are able to serve, minister, and witness to the world at large and within our own homes and communities. Please pray for us as we seek to glorify the name of God and reach the lost and to edify the saints, whether online or in person.
Thank you for your prayers and support! If you prayed for us, or supported us in any way, let us know in the comments below. Our team sees these, and it's very encouraging to our hearts as we work hard for the glory of God! 🥰
Who we support
You might be wondering who WE support. While there are a variety of ministries, both in person and online that I'm involved with, here are a few of the places I support personally. 💖