Are you ready for a fun printable that is "outta this world?"
I'm talking all about these cool space coupons for your kiddos. 😊
They are perfect for birthday gifts or using as a rewards system!!!
Check out these super fun printable space coupons for kids below…
Super Fun Printable Space Coupons For Kids
Are you looking for a way to express some love to your kids? Maybe you want to create a rewards system for your kids?
These space coupons are not only a great way to show appreciation for your kids, but are really adorable too! Besides the fun activity listed on each card, the looks of them are just as fun. 😊
Truly your kids will LOVE getting these!
Kids need encouragement as much as adults do, especially in this negative world we live in. As parents we want them to feel safe and at home when they are with us, and these coupons are just an extra way to show them that love. You can use these for your kids for tons of things – "just because," birthdays, rewards for good grades, doing chores, etc.
I included some blank ones for you to customize and make your own too!
Every child is different and you can use this opportunity to make it super personalized to what YOUR child will love. 🥰 These are sure to bring a smile to your kids' faces, whether they are 2 years old or 12!
Coupons include:
Free toy at the store
Your choice of dessert
Stay up 1 hour past bedtime
Family fun day
Free ice cream treat
Free pass on one chore
Free movie night marathon
Free extra storytime
8 blank coupons to add your own ideas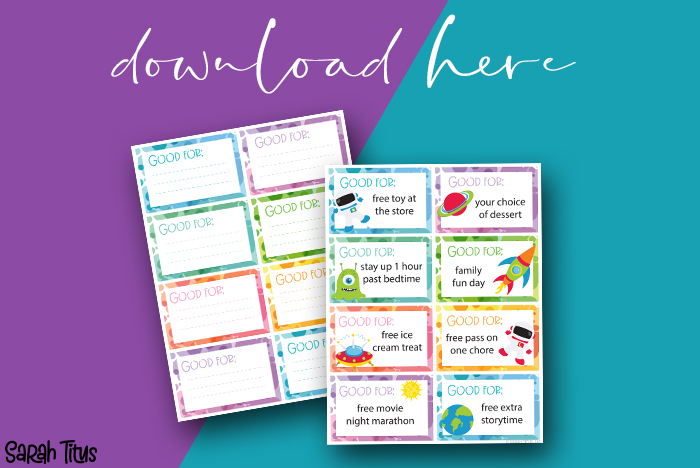 Fun Ways To Use These Coupons
I touched on it a bit earlier, but here are some great ideas for how you can use these fun space printable coupons for your kiddos…
Special Occasions
Does your child have a birthday coming up? Or maybe you're reading this and Christmas is right around the corner but you haven't had the chance to shop yet? Don't stress! These make perfect gifts for any special occasion that your child has coming up.
You can wrap these just like you would a gift card, with some pretty paper and a ribbon to tie it off. They also make cute gift envelopes that would fit these great. It would be really fun to print all of these and gift them as a complete set! No expiration date of course. 😊
Now, this doesn't have to be the only gift you give, but can definitely help fill the gaps and be easy on your budget because remember, they are FREE! You could use them as stocking stuffers and so on!
Use During Tough Transitions
I just recently moved myself and my two kids' belongings to a new place… it was a tough transition for everyone! Maybe you have recently moved, or your kids have started at new schools, new classes, new activities, or are going through a loss; regardless of the reason why, kids deal with tough stuff too just like we do. These would be the perfect gifts to bring a little joy to your kids' faces during tough times.
You can even give them a couple of blank ones and let THEM choose something they would like and help ease them through whatever transition they are going through.
Let The Whole Family Use Them
Encourage your kids to bring joy to others by getting the whole family involved! Have them fill some out to give to their siblings, church family, moms, dads, cousins, friends, uncles and aunts, grandparents…it doesn't have to stop at your kids! This could be a great opportunity to lead by example and teach them how to show kindness to others, in a super fun way.