My blog post on deleting pins that I wrote a couple years ago, went viral very quickly. Within 2 days of my publishing it, the post hit Alexa's top 20 most popular pages of the entire internet that day.
I was floored. There were many people who agreed, said they've been doing that for a long time. Many others who disagreed, and many others who willingly gave it a try.
Quickly after my post released, Pinterest changed up the way they did things. Instead of showing the number of times a pin was pinned individually, they now only show a total pin amount for each pin, making it even harder to track and determine just what is popular and where that popularity is coming from.
So, I've gotten a LOT of follow-up questions….should you still delete your pins? Yes or no?
Today, I'm going to tackle that question head on and I'm going to share with you some pretty big news that I believe, MOST bloggers DO NOT KNOW ABOUT!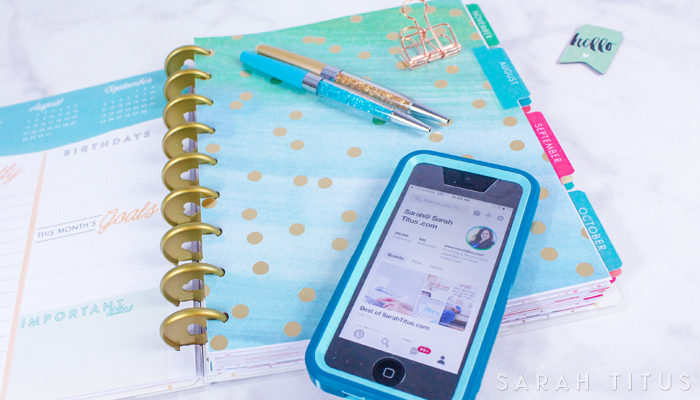 Should You Still Delete Pins on Pinterest?
To put it bluntly, I still 100% believe in deleting pins. 
It's pretty widely known that we should always be publishing and promoting things that are super relevant to our audience. It's also widely known that regardless of what social media platform you're on, you want to share things that are ALREADY popular. Why? You want to give your audience the absolute BEST.
If something is already popular, it stands to reason that people like it. The more people like it, the more you are giving your audience exactly what they want.
So…if you just started on Pinterest, after this change of just seeing the total amount of pins and not individual numbers, and you've only been pinning pins that are super popular and nothing that's not (say 10,000 repins and above), then, no, you have no reason to delete pins. You're already giving your audience exactly what they want.
However, if you have an older account (pre-late 2016), and you have pins that are underperforming or not popular, then yes, you want to go back and delete the pins, whether they are your own or someone else's.
It's simple.
As a blogger, my favorite key is the back button. I'm CONSTANTLY editing myself. Constantly testing my stuff. In fact, just today, I deleted 2 of my most popular ebooks off my sidebar. Why in the WORLD would I do that? "It's income," you say. Because every single element that I put in front of my audience better be something that knocks it out of the park. If it doesn't, it shouldn't be there! And a $4.99 book does me no good for my audience to go to some other platform and leave mine to buy. $4.99 is not worth those 5 seconds I get with that person. Likewise a few pennies from ads aren't either! Thus, why my site has no ads (well, that's one of the reasons, anyway.) 🙂
Still not convinced?
This month, I have deleted just about 500 (yes FIVE HUNDRED) posts and pages off my blog and have another 70 posts scheduled to be 301 redirected.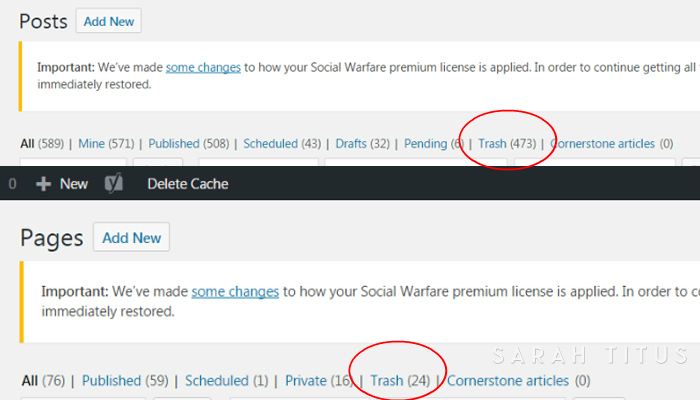 Why would I do this? Again, it comes down to putting THE most relevant and best stuff in front of my readers. If it's not performing well enough, sorry but, it's gone! It does MORE HARM to keep it than to delete it!
We only get seconds with each reader and we need to make it count. There are eyes on the other side of those pins on Pinterest, looking at YOUR stuff. If they can't find the good stuff, the diamonds, because it's all buried under a bunch of junk, they surely will NOT take the time to weed through all that. So, YOU need to.
For me personally, because I'm more advanced in my Pinterest account (200,000+ followers), I pin a variety of popular posts as well as things I know my audience will like, but may not be popular "yet." And because I've ALREADY gone through my entire Pinterest account to delete off everything that wasn't helping my target audience, I have no need to go back and delete again.
If you've NOT already cleaned up your Pinterest account and boards, yes, you'll want to go back through and tidy them up and that means, you'll want to delete some pins that are not according to your audience's preferences.
Listen, it's not about tricking Pinterest into liking you better by playing some game with them, okay. It's about putting your BEST, your absolute BEST foot forward on ANY social media platform.
Same with my Twitter account, if my posts don't get at least ONE retweet or 3-4 likes, after 7 days, I go back and delete them. If someone is scrolling my feed, again, I want them to see the absolute BEST.
Do I delete email subscribers that haven't opened my emails once within 6 months? Absolutely. I just deleted over 20,000 subscribers a few months ago!
Delete should be your best friend.
The whole mentality that "a pin can go viral so don't delete it" is bunk. I know EXACTLY HOW to MAKE (yes, force) a pin to GO viral. It's NOT, NOT, NOT, NOT, NOT chance. It's NOT, "Well, it "could" take off after a year." Listen, that's crap. Okay. If you're good at what you do, you can very well force a post to go viral. I do it ALL THE TIME! I have a system. I know EXACTLY what to do. It's not chance. It's not fate. It's not pulling some number out of thin air.
You think it's coincidence many of my posts go viral after 6 months to a year? No. It's not chance. It's not fate. It's me working and MAKING them go viral using my very unique and specialized system, which later on this year, I plan on sharing!
If you don't know what WILL go viral and what won't, you need to do more homework. I've spent an insane amount of time figuring this stuff out and working to get to the point that I CAN make a post go viral. Because, yes, it does take a lot of time to build up to the point of making your OWN STUFF go viral instead of DEPENDING ON fate, chance, and hoping some big blogger comes along and pins your stuff.
BE that top blogger. BE that top pinner, making other people's stuff go viral. When you get there, give back. And if you think it's just because a pinner has 200,000+ followers, that's not it. It's about being methodical from start to finish. I have that many followers BECAUSE I'm methodical!
Do NOT believe the lies that blogging is all chance and luck. It's not. It takes hard work, but you can do it. Clean up your Pinterest account. Clean up Facebook and Twitter and your blog posts, and gasp, even your email newsletter. Clean up everything…CONSTANTLY editing yourself. Constantly putting ONLY your best stuff forward. You get to that point and you won't NEED to delete pins anymore. But until then, sorry, you do.
Now, don't go wild and delete a bunch of pins, okay. Be methodical in what you're allowing and what you're deleting. Know WHY you're deleting something.
Does it line up with your future goals?
Is it a distraction to your audience to find what they are REALLY looking for?
Is it helping you accomplish your monetary goals?
Does it line up with your vision of what you want to convey to your audience?
Is it spammy? Pinterest does NOT like spammy content. They are FAN-tastic about catching spam and deleting it themselves! I love this about them.
Have you actually visited the post you're pinning? Would you want your audience member to visit that post, see some lude stuff and think you're a jerk because YOU pinned it? You have to think about these things! You're not just randomly and wildly pinning. Pin with purpose, just like you blog with purpose.
Is the pin respectful of community rules? Pinterest rules? Do you KNOW Pinterest rules???
Is the pin something your audience would love to see and read?
These are some of the questions you will need to ask yourself as you go through and tidy up your account.
Make your account something to be PROUD of. Something you'd PERSONALLY love to spend 30 minutes on, just scrolling through.
Make it good….make it count.
Your name, your brand, your identity is on the line. Stop putting junk in front of your audiences eyes and wondering why your GOOD stuff ISN'T going viral. And don't listen to anyone who says this is all random fate. It's not. You better believe that the pro bloggers are meticulously calculating everything out. It's not luck. It's hard work.
Should you listen to those who say don't delete pins?
People who tell you not to delete your pins fail to realize several things.
One of those things is that there's a cap! Did you know that???
They may not have done their homework, but you need to. They manage a few accounts and see success, so they immediately believe themselves to be an expert and get caught up in the hype. The truth is, that anyone can see results on Pinterest when you work hard to see results. But it's not ABOUT TRICKING Pinterest. It's not about some magic formula, do this or do that, so that Pinterest will smile upon you and give you traffic.
It's about obeying the rules and being a part of their community. If you're going to obey the rules, you must know them.
Did you know that Pinterest has a cap on pins? You should never pin a ton of pins all willy nilly like. That's silly. That's like shooting darts in the dark. You must be far more strategic in your pinning strategy.
In fact, any blogger who says NOT to delete pins, is going against Pintrest's own advice! Here's an article that shows Pinterest encourages you to delete pins when you are at that cap.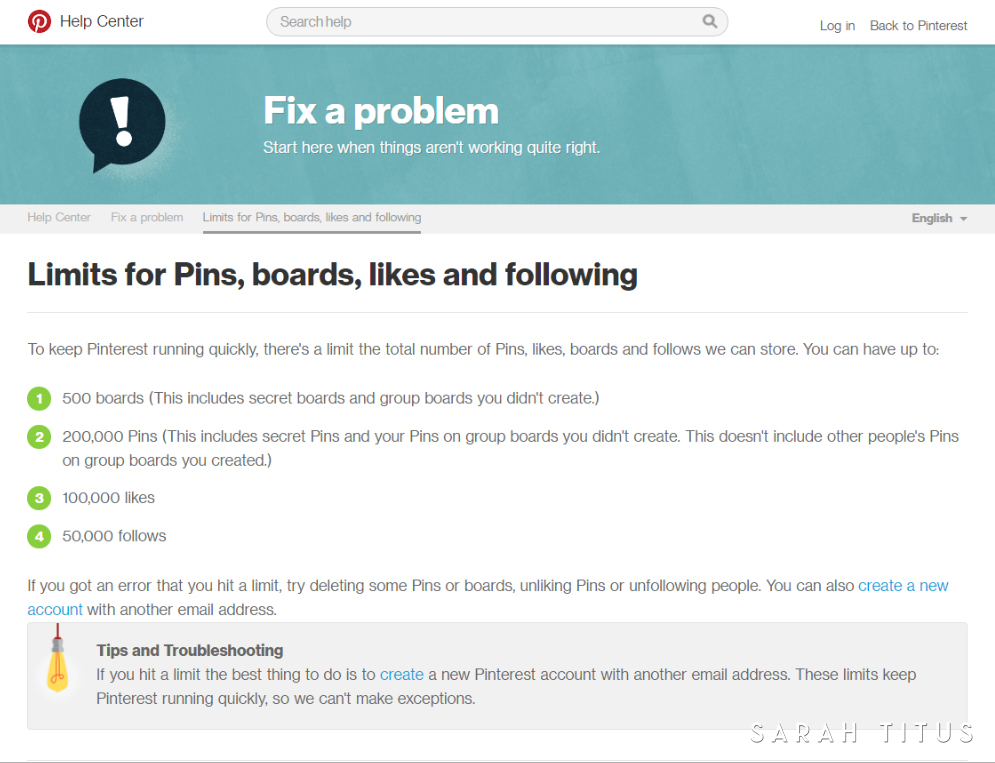 It's why the delete button is there. Sometimes as a blogger, we make a mistake and need to delete, some bloggers get to the cap (200,000 pins) and need to delete. Just recently, I deleted 14,644 pins and 9 boards. I lost followers due to deleting boards (which is fine with me, it's not a numbers game for me), and my Pinterest account is now healthy and doing BETTER than before I deleted (by about 40%!)
For over two years now, I've watching even the top power pinners ebb and flow with followers and traffic. Yet mine, remains pretty steady. As soon as my followers count starts going down, I delete pins and it's like a jump start on Pinterest and helps me gain my momentum back. The reason those power pinners are seeing ebb and flow is because they are NOT deleting. I really don't care what other people say. My account speaks for itself. Out of all the bloggers I watch on Pinterest, my account is 3x-4x better than any other colleague I've ever found.
But that's not without hard work and obeying rules that Pinterest sets forth, many of which, don't even KNOW the rules.
Be very careful who you follow. If you follow a lot of people, you're going to get a lot of bad advice on blogging in general. You must only follow those that are truly leaders. Because there are some bloggers that just take what the true leaders write, and recycle it into their own words, passing it off as their own. We must be diligent, as bloggers, to know who those true leaders are.
Follow them and take their advice, but only if it works for you. Meaning, YOU know YOUR blog better than anyone else, and unless it's personalized coaching, one on one (or a really killer top-of-the-line course) it's really hard to get any deep answers that are going to change the way you blog and bring you considerable income.
The Bible calls it, following every wind of doctrine and in the blogging world, it is very much the same. You can't believe everything you read, hear, or see. You must be diligent to know what is truth and what is recycled. It is YOUR job as a blogger to trust YOURSELF and your gut. Believe me, you know far more than you think you know, regardless of age of blogging!
Trust yourself. Dig deep and go get the results you want!