See my Million Dollar Shop® courses Here.
Setting up my own Shopify store has been one of the best decisions I have ever made in my blogging career. Although you can make money from ads, affiliate marketing, etc. I think that having your own products adds so much more value to your audience and positions you as a leader in your market space.
Ever since I set up and filled my store with beautiful and useful products, I have been able to enjoy life more. Whereas I was working 80-120 hours a week (not a typo) for over 4 years, NOW, I only have to work 20-30 hours a week and I make 7-figures a year in revenue from my Shopify stores alone (here's my printables store and my stock photography store)!
This is not even counting any blogging, personal, or misc. income.
The point is that, I don't have to be online 100% of the time anymore. I can work very little and make great income because the income is passive. Once it's set up, it's set up and you don't really have to do anything after that except maintaining things.
If you want FREEDOM, if you want to take CONTROL OF YOUR LIFE, if you want to make money in a more passive type of way and are not afraid of the hard work it takes to set UP that passive income in the beginning, the first step is to start your very own Shopify store.
Below you'll find the Shopify plans and pricing, so you know which is right for YOU and your business!
Shopify Plans and Pricing
Opening your own Shopify store doesn't have to be hard or complicated! It's actually really simple (this coming from a girl who is NOT technically-inclined AT ALL!) 🙂
Step 1
The first thing you need to do is to go to Shopify.
Once you're there, go ahead and enter your email address and click on, "Get started" in the blue button.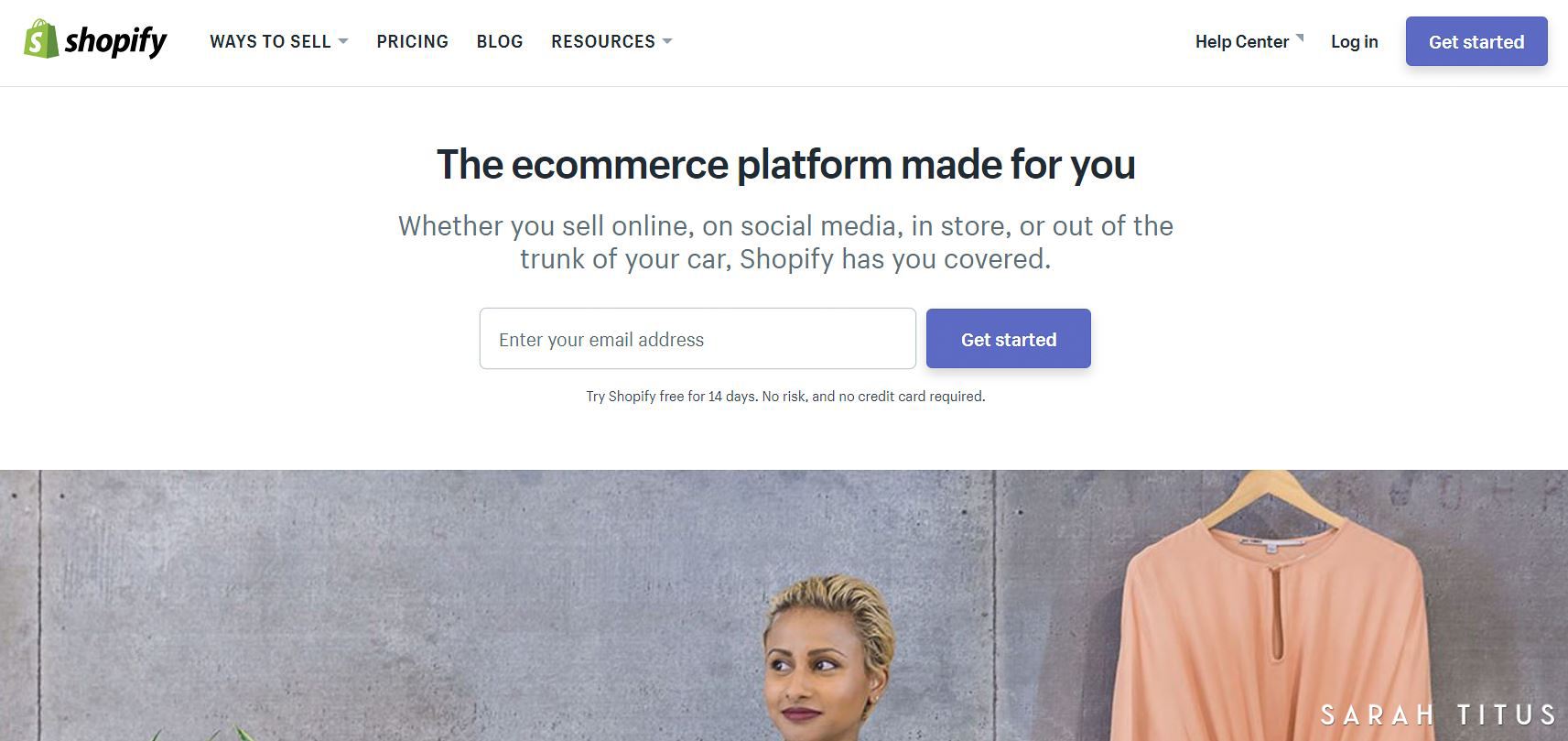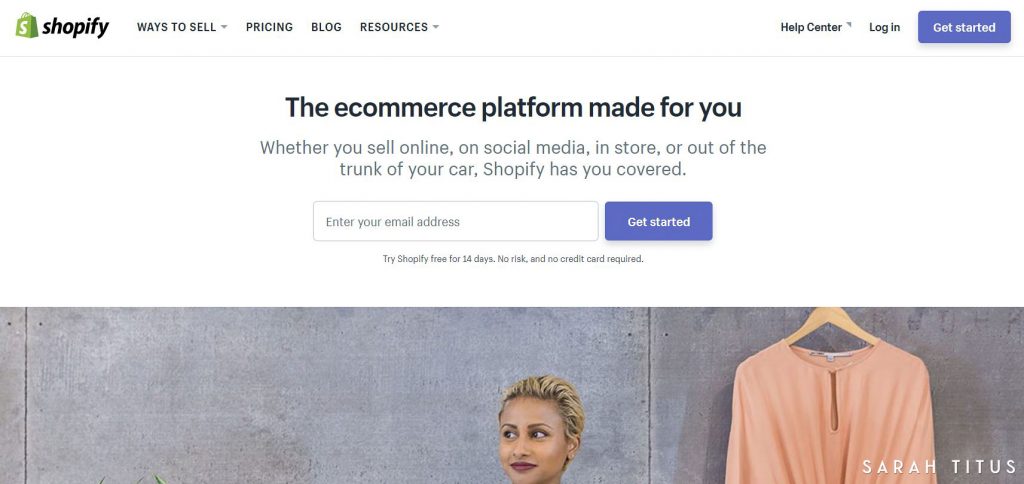 Step 2
Here's the cool thing about Shopify, they give you a free 14 day trial. When setting up your shop, this is awesome because you get to mess around in there and really learn the system before even having to pay for it! And you don't need to add a payment option to do so either!
So once you're on this step, just fill up the rest of the form and click, "Create your store".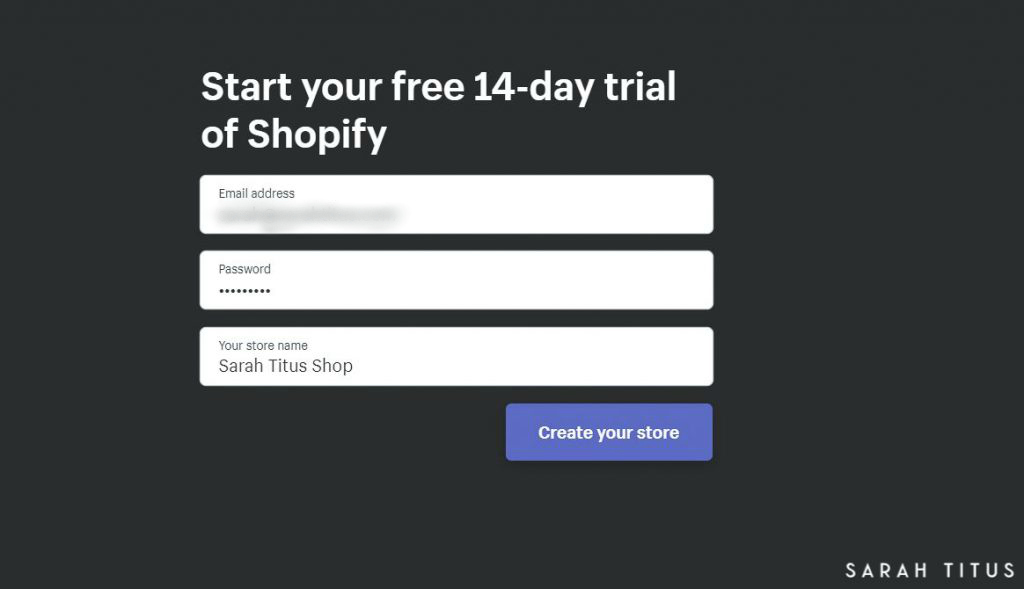 Step 3
Next, Shopify will ask you some questions about the store you're creating.
Go ahead fill out this information and select what is most appropriate for you.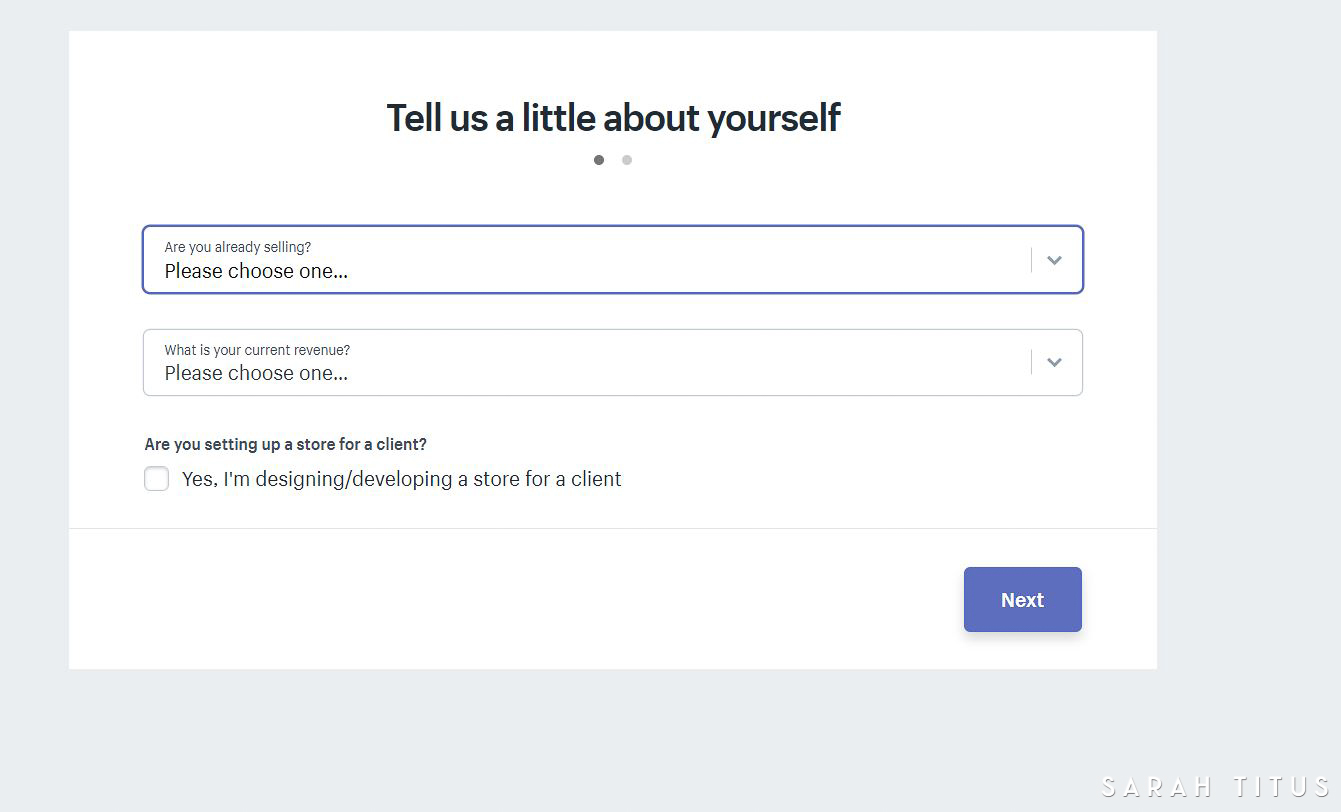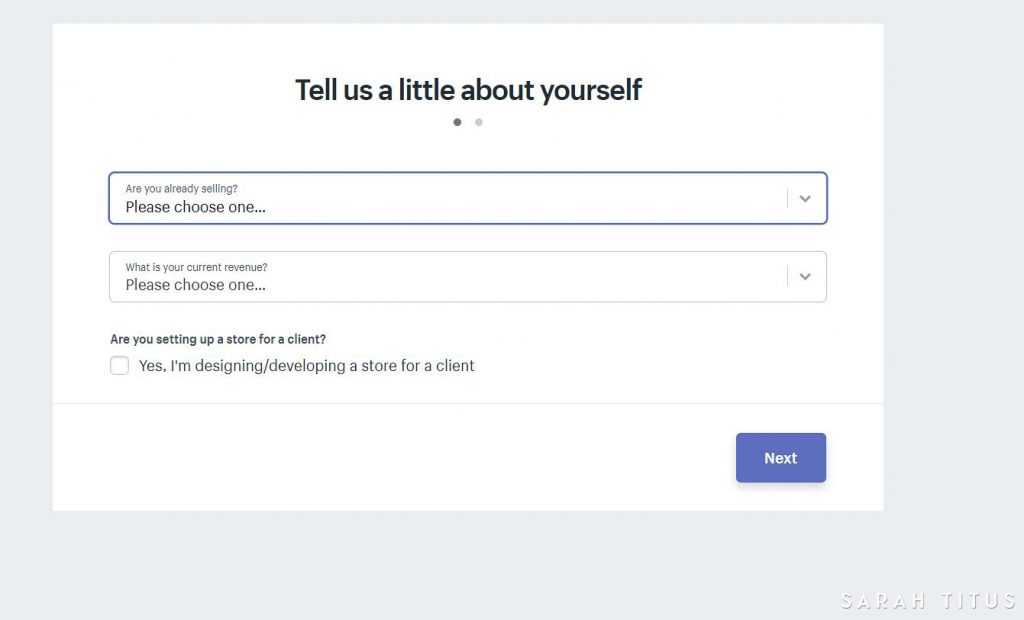 Step 4
This step is where you give your information so you can get paid! Very important you fill it out correctly.
If you have a business PO Box, use that address, otherwise, your home address is just fine.
If you plan to ship items, you'll want to enter in the address that you'll be shipping FROM in here.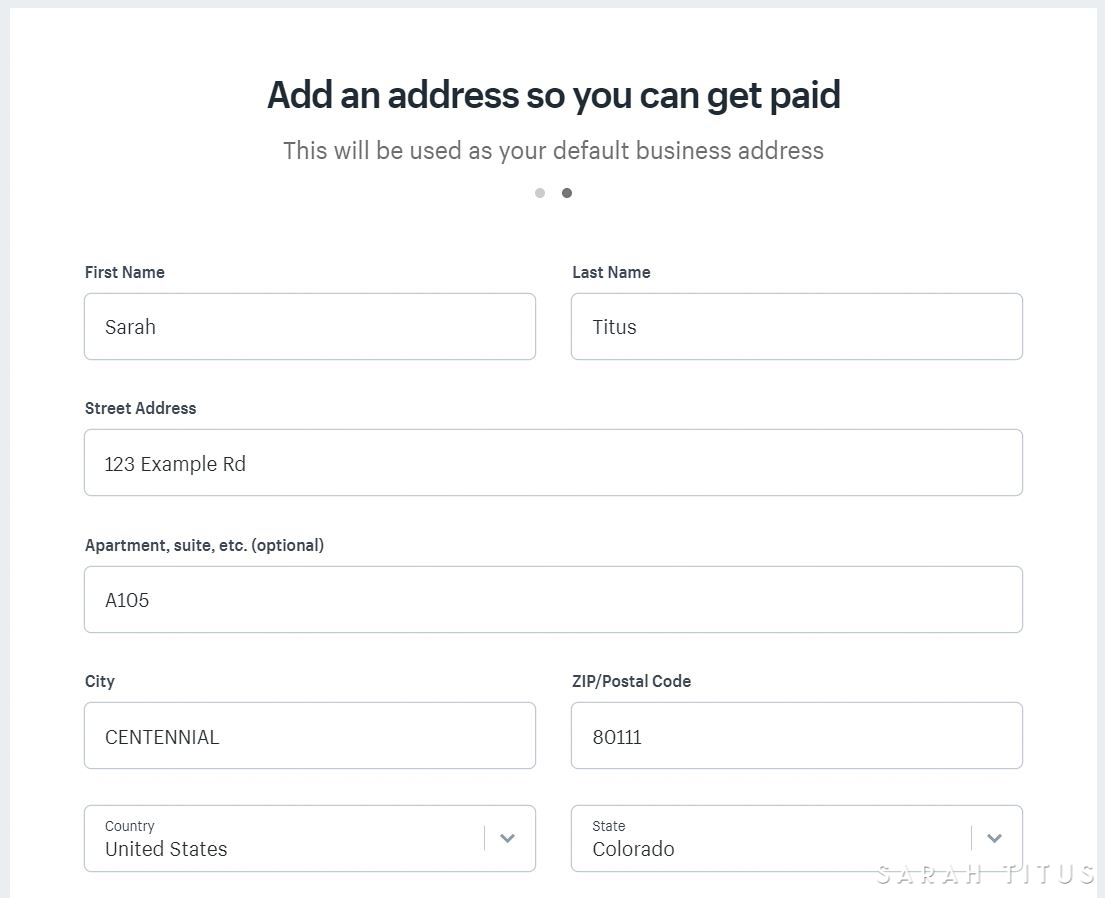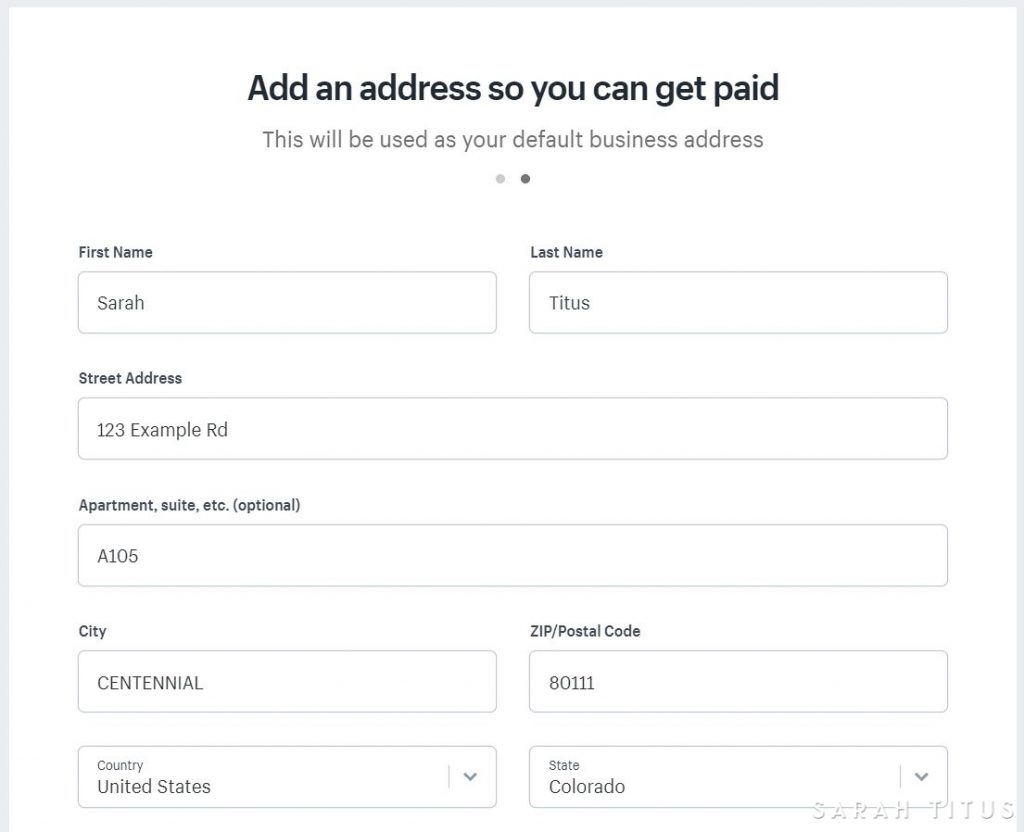 Step 5
Next, Shopify will show you their current prices. This will be the price you pay AFTER your free 14 day trial ends.
Here's where it can get a little tricky. Beings that you've never been on Shopify before, you may not be sure at all what to pick or what's right for you and your business.
Shopify Plans Explained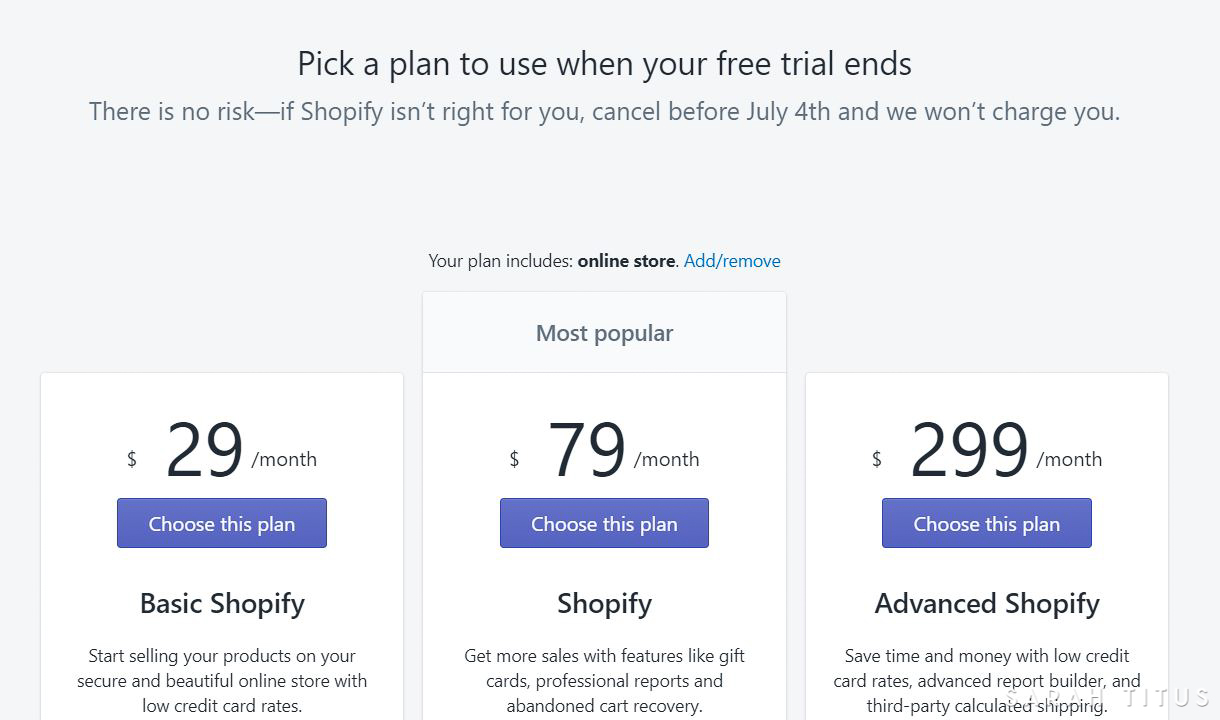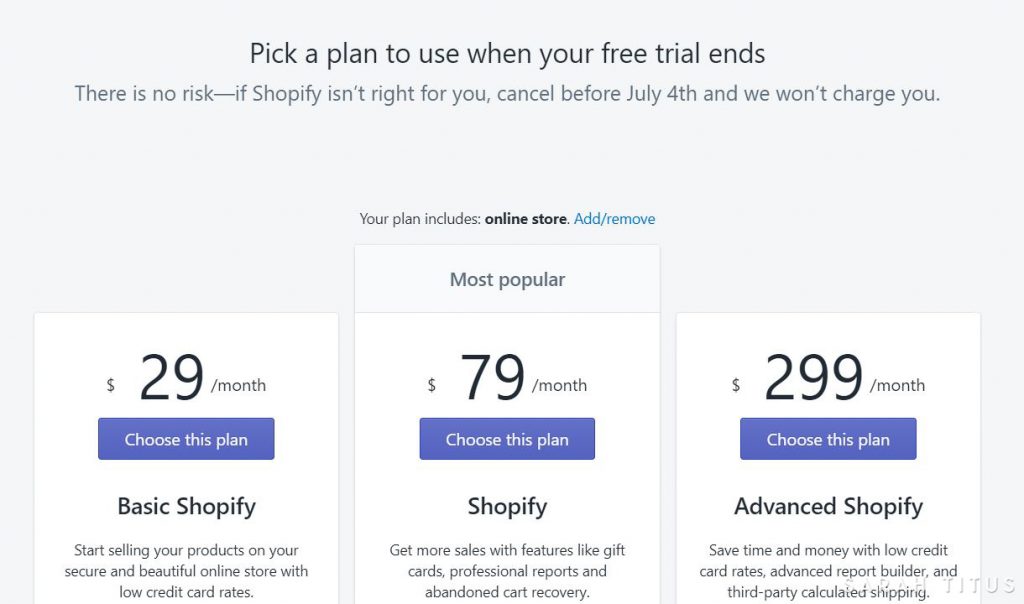 You'll definitely want to go through and check out what each option has and does.
Let's discuss some of your options to determine what's right for you.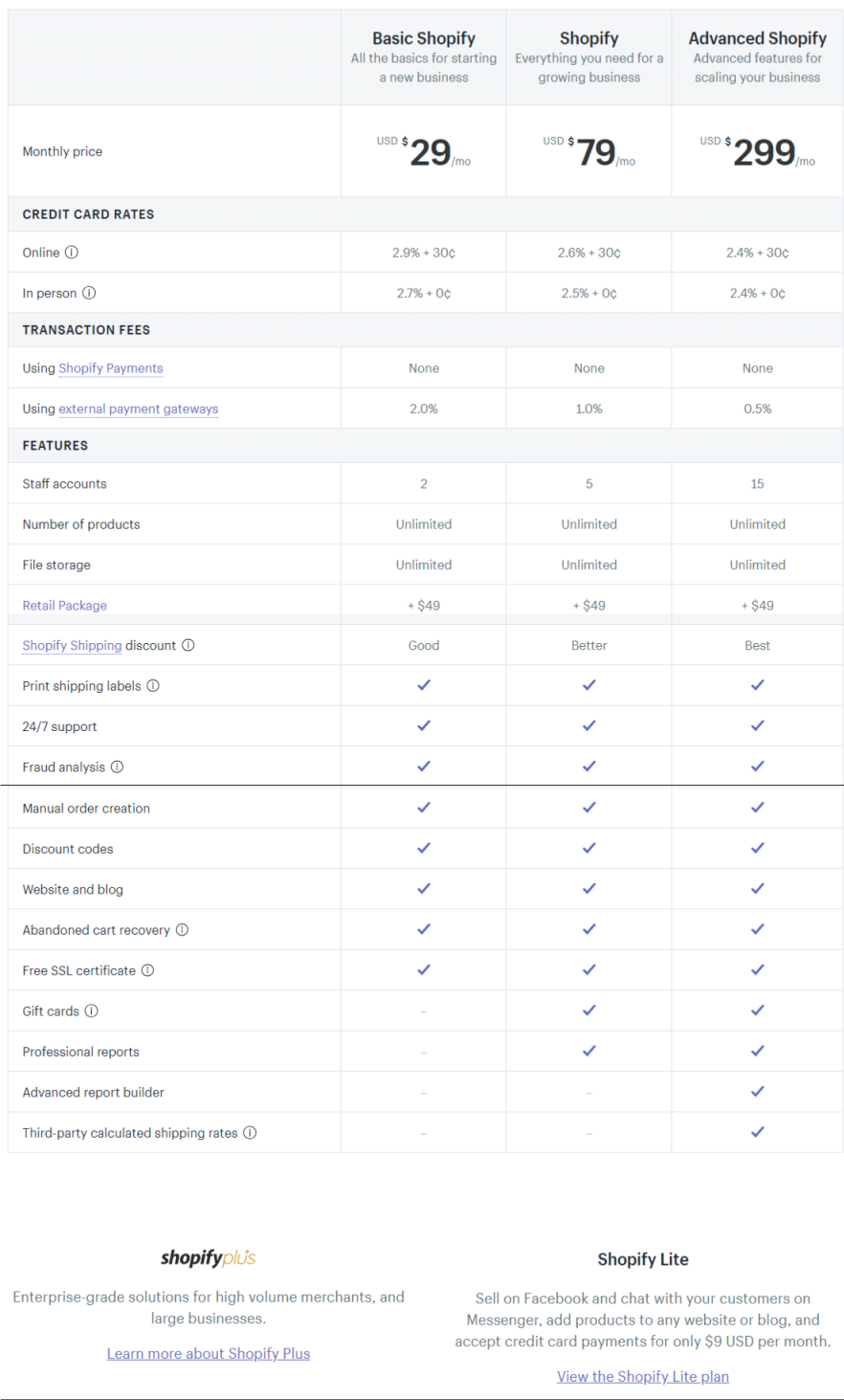 The last thing you'll notice on the screenshot above is a Shopify Lite plan. Since this is the cheapest option, this is where I first started my research when I wanted to open up a store and it took me several days to really figure out if it would work for me.
I started out my printables store as the Shopify Lite.
Once in there, I realized very quickly that it WASN'T for me. For the Shopify Lite, it's basically for people who want to add buttons to their own pre-existing sites. You can also sell on Facebook in there, but if you're something like a coach, you can get FREE buttons from Paypal! So, this is not needed.
However, if you have a couple things you just want to add to your site, this is a good way to go. It's comparable to SendOwl or E-Junkie.
If that's your intention and you just wanna add a couple things to your blog or Facebook page, then this is a great option over competitors like SendOwl and E-Junkie.
If you want your own shop like mine, you'll need to go with one of the other plans ($29/month, $79/month, or $299/month).
Note: Going with a Shopify plan, you'll get a completely separate store from your pre-existing WordPress website, if you already have one. If you have something like the Genesis theme (which I have and love) on your WordPress website, you'll keep that. They are completely separate. You won't be adding on Shopify as a plug in on your WordPress site, you'll just add your Shopify URL link in your nav bar on your WordPress site.
Shopify Plans and Features
Shopify's Basic Plan, the $29/month plan is just fine to start with. I had that plan for a VERY long time in my printables store. I would always suggest going with that plan.
Then, WHEN you are making enough money to justify the Shopify plan ($79/month), I would upgrade. When you start bringing in $100-$200/month in profits from your store, it's a great time to upgrade.
The Shopify plan will give you an abandoned cart feature.
For me, emailing abandoned carts, has led to some good revenue. I hang around the 17%-21% range of recovery.

I opened my printables store on June 1, 2017 and March 2018 was my first month in testing out abandoned carts.
In my very first month testing out abandoned carts, I regained $92 in profits (at 17% recovery rate), so that's definitely worth the upgrade in Shopify plans from $29/month to $79/month.
If you do have that option in Shopify plans and have the abandoned cart feature, you can access it under the "Order Processing" section.
But again, if you're just starting a store now, you will want to wait until you have a collection of products in your store for them to buy. The cool thing is you can always downgrade Shopify plans later if it's not worth it to you and Shopify credits you the difference in price (pro-rated)!
The other nice thing about having this particular option in Shopify plans ($79/month) is that, the analytics are MUCH, MUCH better. Like day/night better! I couldn't live without the upgraded reports in my printables store, honestly. I get far too many sales.
These reports break it all down for you by product. This is extremely helpful because obviously, you want to re-create the products that are doing well. For example, my Blogging Binder did so well, I decided to put my Household Binder in the store as well. Those both did so well, I went on to create more and more and more binders.
Binders for everything from graduation to medical, gratitude prompts, a Christian coloring devotional, recipes binder, and tons more.
You need to see WHICH products are selling the most so you know which direction to go into and what to sell more of. The reports are incredibly valuable and worth the upgrade of the store monthly cost.
As for the Advanced Shopify in Shopify plans ($299/month), I make well over $2 million/year in revenue and I've not yet needed to upgrade to the higher store cost yet, so I'm thinking you probably won't need that plan either.
After you choose which plan you want to go with, you're done.
You'll be taken straight to your homepage and you can start adding products, picking a theme, adding apps, etc., which we'll get to next!