One of the great things about lettering is that you can do it anywhere, even on your iPad! If you like hand lettering worksheets, you are going to love this one! 🥰
This She Is Rooted Hand Lettering Worksheet is specifically designed for use with iPads, so you can letter right on your device. You can use the Apple Pencil, other iPad stylus, or even your finger to letter with this worksheet just to have fun. 🎉
The best part is that you can use this worksheet over and over again since it's digital!!! BOOYAH!
This means that if you make a mistake, no problem! Just erase and start again. This is a great way to practice your hand lettering skills, and you'll be able to create beautiful pieces of art that you can be proud of. 💖
Keep your mind on the Lord as you hand letter His Word. Let this be a time of meditation for you as you reflect on what He says about you in His Word.
You are strong. You are brave. You are loved. You are HIS!
There is a specific verse I have always loved about being "rooted and grounded" that you can study and dwell on as you do this beautiful hand lettering worksheet on your iPad or in Procreate.
Ephesians 3:17 – "so that Christ may dwell in your hearts through faith—that you, being rooted and grounded in love,"
It was the inspiration for this hand lettering text. 😊
This verse means that when our hearts are filled with Christ's love, we will be rooted and grounded, stable, steady, and secure. We will have a strong foundation in Him no matter what life (or others) throw our way!
So if you're looking for a fun and convenient way to letter, be sure to check out this hand lettering worksheet for iPad!
She is Rooted Hand Lettering Worksheet for iPad
Hand letter your stress away with this fun hand lettering worksheet: She is rooted and grounded in the love and mercy of the Lord.
Grab it below!!!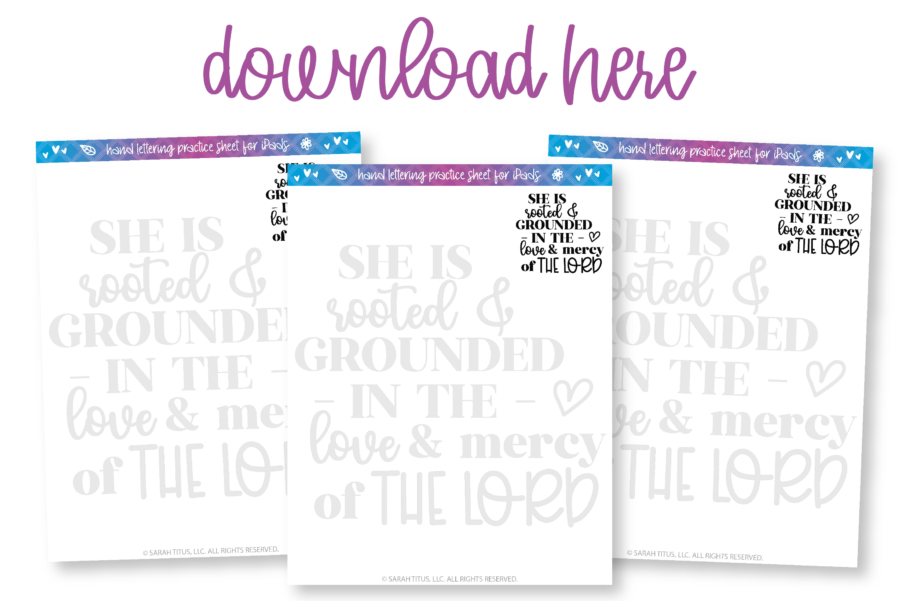 Download the She is Rooted Hand Lettering Worksheet for iPad: PDF and JPG