Sabbath is a time for rest and reflection. It's a time to focus on what's important and to connect with God in a more deeper and personal way.
In our super busy schedules, we absolutely should remember to dedicate a day to Him as much as we can because after all, He's the One who GIVES US time in the first place. It's kinda like a big THANK YOU to Him. 💖🙏 But keeping the Sabbath is NOT a command. God doesn't want it to BE a command. What's a gift given to you if it's forced?!?!
This Sabbath hand lettering practice sheet can help you make the most of your Sabbath time. Spend some time practicing your lettering skills, and then use them to create beautiful prayers or reflections. Peaceful thoughts are the perfect way to relax and refresh during your relaxation time (which we ALL need to recharge our batteries, continually).
When we focus on positive, peaceful thoughts, we open ourselves up to receive the many blessings that God has in store for us and begin to see things from His perspective. This is the perfect way to prepare for a new week ahead. Focusing and realigning our minds and hearts on Him. 😊
Peaceful thoughts help us to let go of stress and anxiety, and they can even help to improve our physical health. So take a few moments during Sabbath to focus on peaceful thoughts, and see how much better you feel.
Sabbath Hand Lettering Practice Sheet
These free Sabbath hand lettering worksheets are perfect to practice all your hand lettering skills with!
With these pages you can:
Practice your lettering skills
Create beautiful prayers or reflections
Enjoy some peace and quiet during Sabbath
As you use these pages, remember that there are no rules for Sabbath. Do what feels right in your own conscience, and let God guide you. Relax, breathe, and enjoy the peace and blessings of taking a day of rest from the demands of the world.
You'll see words to relax you more like…
Promises
Spiritual
Holy day
Jesus
Savior
Prayer
Blessings
Worship
Sunday
I've included drawings in this page too, in case you're like me and like to draw and color to relax also. 😊
You could even take the WORSHIP butterfly, bird, bee, ladybug, flowers, hearts, and frame and print them out and use them as stickers!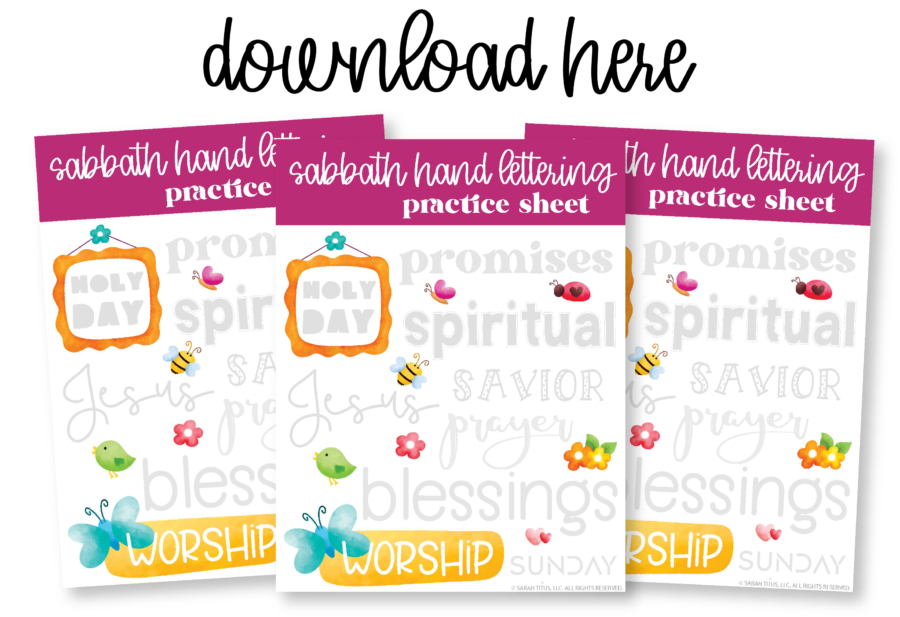 –