As much as depends on me (and my team), we pin manually. We try to do everything manually as much as we can. This is why I have three, yes, three, people working my Pinterest account. There's NO way I could do all that without them! But we don't ALWAYS pin manually, and I'll show you why!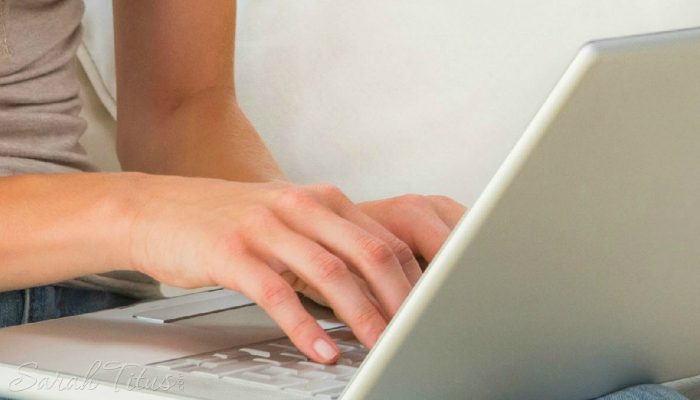 One Simple Trick Got Me 100,000+ Traffic This Month on Pinterest
Although I DO feel that manual pinning is best, I like to have a great assortment. For some of my pinning work, my team and I use ViralTag.
Why?
Because of this…

My bounce rate from Pinterest alone this month is 81%. Now, usually it's not nearly that high, but this month because I'm purposely sending traffic to other sites, it is.
So, let's say that 100 people come to my site from Pinterest. If those 100 people look at 1.39 pages, then I get 139 pageviews for the month.
And if I get 1,000 people from Pinterest, that's 1,390 pageviews. And if I get 100,000 people, that's 139,000. And if I get 500,000 people from Pinterest, that's 695,000 pageviews that month.
But, let's flip it, and say they are all coming through ViralTag…
If I get 100 people, since the pages per session through ViralTag is 1.75, my pageviews on 100 people would be 175.
And if I got 1,000 people from ViralTag, that's 1,750. And 100,000 people is 175,000 and again at 500,000 people, it's 875,000 pageviews from ViralTag.
For my account, this means I got well over 100,000 more pageviews simply because I go through ViralTag (according to Google Analytics)!!!
Now, BOTH ways are off Pinterest, yet ONE of those ways gets me a LOT more "bang for my buck." I'm doing the same amount of work. I'm pinning the same exact stuff, except that, through ViralTag, I'm getting a lot more pageviews. The time they are spending on my site is nearly triple the amount, which means they see more ads, they are connecting more to my words. This leads to more newsletter subscribers, more money, more people who genuinely care about what I have to say, and most importantly, the longer they are there, the more I can help them!
I'm no rocket scientist, but I feel like it's a no-brainer.
I don't know what scheduler you use, if you use one or not, but you might want to check out the bounce rate and really consider if it's helping you or not.
The cool thing, this is not just my account. All of my friends that have shared their bounce rates with ViralTag as opposed to Pinterest have all seen the similar lower bounce rates with ViralTag vs. Pinterest, so it's definitely something you'll want to look at your own Google Analytics and check it out for yourself.
Where are you getting the bounce rate the lowest? Where are you seeing your readers spend more time on your site? Really look at your analytics because you're going to spend the same amount of time pinning anyway, you might as well make your darts hit that bulls-eye, right?!
But, if you know me, I have to test, re-test, and test again. So, a while ago, I tested my theory of getting more traffic with ViralTag. I went around and tried a few other Pinterest schedulers.
Know what happened?
My traffic went DOWN! Same pins, same time of year, same everything. I was still pretty skeptical (yeah, I take the skeptical approach for everything. LOL) and so, I thought, okay, I'll test it yet again, and go BACK TO ViralTag. I waited for the full month to end, went back to ViralTag, and sure enough, my traffic from Pinterest started going up again.
Since then I've used ViralTag and have been very pleased.
I cannot explain how or even why it works that way, but the point is that it does. I'd love to hear your hypothesis on why the bounce rate is lower and people stay longer on the site through ViralTag than through Pinterest alone in the comments below. I've tried to figure it out and I got nothin'. LOL. What I do know, is that it works…for whatever reason, it works.
Now just in case you don't have a ViralTag account, I had my AH-mazing assistant Katie make a video for you about how to set up and work ViralTag. This is how I have her pin, so I'm letting you in on a few secrets here…shhh! 🙂
ViralTag for ONLY $12/month!
And here's where I'm going to share with you how to get a ViralTag account for only $12/month! It's top secret (yes, it's well hidden on the site, so you really have to know where to look and when you sign up through my link only, you get a $15 credit on your ViralTag bill!!! Believe me when I say, I had to pull some strings to get that credit for you and it's not available to everyone. I'm the ONLY one that I know of that they give the $15 credit on the $12/month account! So, be sure to go through this link >>HERE<<
Step 1: Click my link here to go to Viral Tag.
Step 2: It will take you to this page:
Step 3: Click pricing in the top right corner
Step 4: It will take you to this page. Scroll all the way down on the page.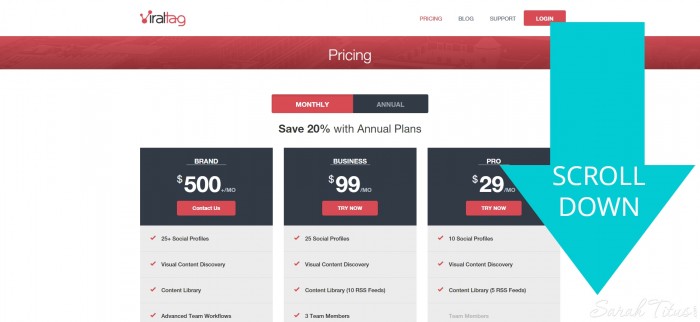 Step 5: Keep scrolling until you see this: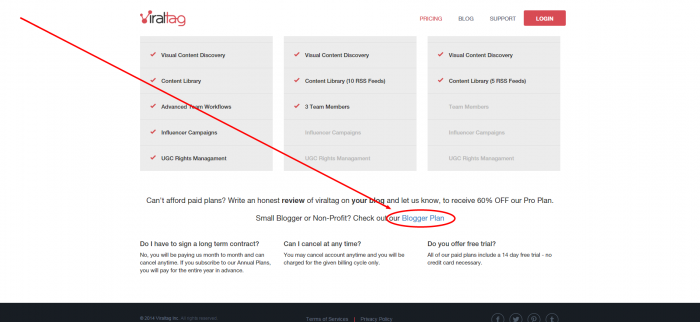 Step 6: Click "Blogger Plan"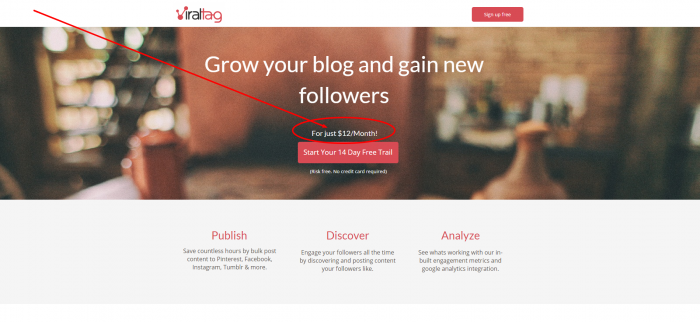 Step 7: Click the button that says, "Start Your 14 Day Free Trail." Apparently, they don't know how to spell trial. LOL #NoOneIsPerfect
Then just follow the prompts and you're good to go.
It's really easy to schedule your pins with Viral Tag. Simply click bookmarklet on the side navigation bar of your account to install on your browser.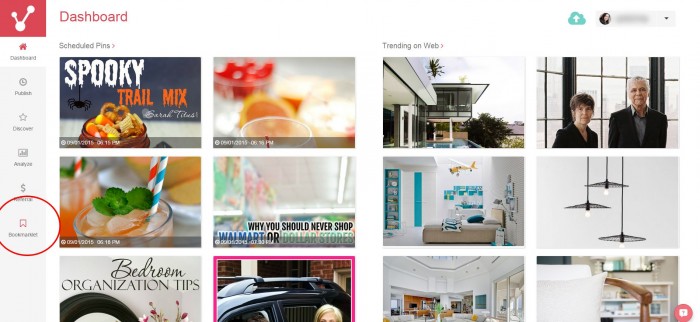 Then click and drag the Bookmarklet to your bookmarks bar (don't use the Chrome extention- it's harder to pin that way!)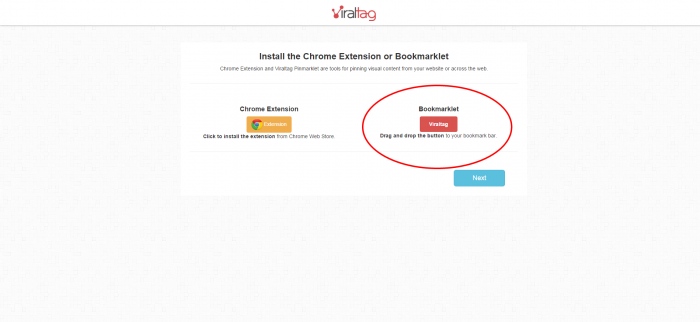 Then, when you are ready to pin, simply be on the page you want to pin from and click that bookmarklet button in your bookmarks bar. It'll take you to this screen. Check mark the box of the picture you want to pin (only do one picture at a time) and then click Next.
Select and change all the fields as desired. This is how I personally pin my Viral Tag pins (1440 minutes apart = 1 day). Be sure the description field is filled in, select your time zone (which you set in settings once you join), and the time you want them to pin. Select all the boards you want them to go on.
Doing this method, this pin will hit one board a day at the time you specified, until it runs out of boards.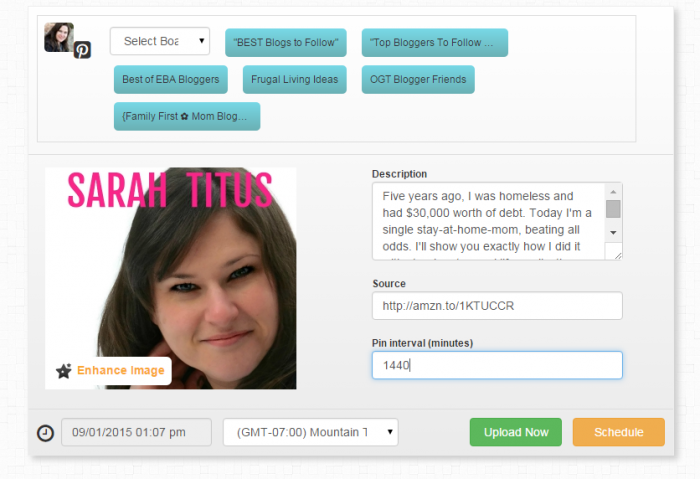 Do you have ViralTag? Do you see in your own Google Analytics that it has a lower bounce rate? I'm curious to hear if it's just me and my friends or everyone!