Sometimes you'll hear these words in church or in Christian circles and you know they mean God, but you don't know EXACTLY what they mean, and it makes you feel bad. Like you're less than a Christian because you SHOULD know these and don't. Have you ever felt like that? I have!
So I wanted to make some flash cards for myself in order to learn the names of God. Then, I thought…why not also make this for my kids so it can do double duty? Not only teaching ME but also my children.
Thus…the Names of God Memory Cards Game was born!
Names of God Memory Cards Game Free Printables
On one page is all the names that you want to learn and on the other page is the corresponding meanings of the names. This makes the game really challenging.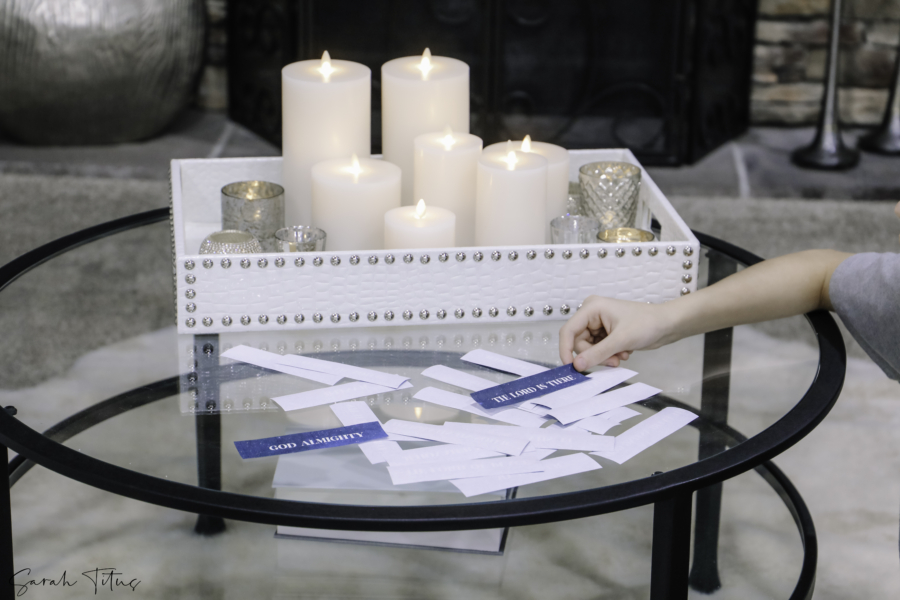 You can laminate them or just print them out on paper (or even cardstock). You could tape them back to back and use them as flashcards or play memory by yourself or with your kids.
For littler kids, you could have them cut out the memory cards so they are learning scissors and hand-eye coordination.
For older kids, you could put these in their Easter eggs to find, and the person with the most amount of slips they can successfully put together wins the game. It doesn't have to be Easter to play this game either; we hide eggs around the house all year round for various ways of having fun! Your kids will love it!!!
There's an answer key, too, so if you get stuck on any combination, it's right there to help.
All in all, it's a really fun resource that will help you learn the names of God! 💖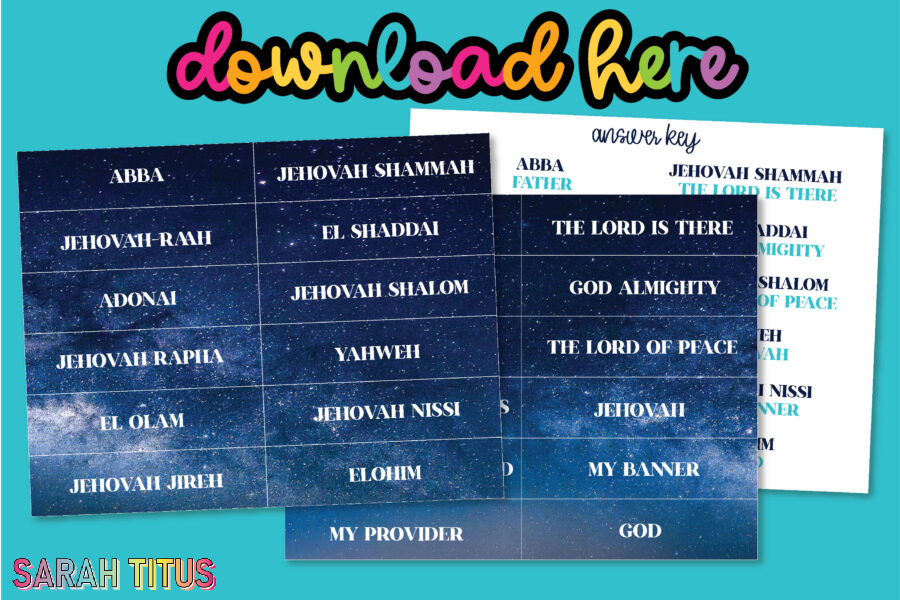 Answer Key:
Abba – Father (Mark 14:36; Romans 8:15; Galatians 4:6)
Jehovah Raah – My Shepherd (Psalm 23:1)
Adonai – Master (Genesis 15:2; Judges 6:15)
Jehovah Rapha – The Lord That Heals (Exodus 15:26)
El Olam – The Everlasting God (Psalm 90:1-3)
Jehovah Jireh – My Provider (Genesis 22:14)
Jehovah Shammah – The Lord is There (Ezekiel 48:35)
El Shaddai – God Almighty (Genesis 49:24; Psalm 132:2,5)
Jehovah Shalom – The Lord of Peace (Judges 6:24)
Yahweh – Jehovah (Deuteronomy 6:4; Daniel 9:14)
Jehovah Nissi – My Banner (Exodus 17:15)
Elohim – God (Genesis 17:7; Jeremiah 31:33)
El-Elyon – The Most High God (Genesis 14:17-20)
El-Roi – The Strong One Who Sees (Genesis 16:13)
Jehovah Maccaddeshem – The Lord Your Sanctifier (Exodus 31:13)
Jehovah Rohi – The Lord My Shepherd (Psalm 23:1)
Jevovah Sabbaoth – The Lord of Hosts (Isaiah 6:1-3)
Jehovah Tsidkenu – The Lord Our Righteousness (Jeremiah 23:6)
*Update: I found more names that I'm adding to the blog post (but aren't on the printable cards)