Enjoy practicing your hand lettering with this cute It Is Well With My Soul Hand Lettering Practice Sheet for iPads!
You can practice your lettering on the iPad and erase it if you make a mistake. This will help you practice more without the need to reprint! Practice with the Apple Pencil, another iPad stylus of some sort, or whatever you have on hand and start dwelling in the Word of God.
One of the things I love about hand lettering is that it can be used for so many different purposes. Whether you're creating artwork for your home, making a sign for a church event, or just doodling in your Bible, hand lettering is a great way to express your faith.
Hand lettering biblical phrases and verses is one activity I REALLLLLY love doing because not only can I reflect on His goodness, but I can also use my creativity to craft His truths and grow in my gifts so that I can serve the world through them.
I was listening to this song in church the other day and it inspired this sheet: "It Is Well With My Soul." So why not make hand lettering practice sheets with that? 💖
This song is such a great reminder that we can trust God with everything, no matter how big or small. And when we do, He gives us His peace.
It Is Well With My Soul Hand Lettering Practice Sheet for iPads
Whenever I'm feeling anxious or stressed, I'm constantly going to do something creative (both when I create the sheet and then to letter it) and this is a great way to remind myself of God's truth and to focus my mind on His peace.
If you're new to hand lettering, practice makes perfect! Don't be discouraged if your letters don't look perfect at first- no one's does!!! Just keep practicing and you'll get the hang of it in no time.
Happy hand lettering!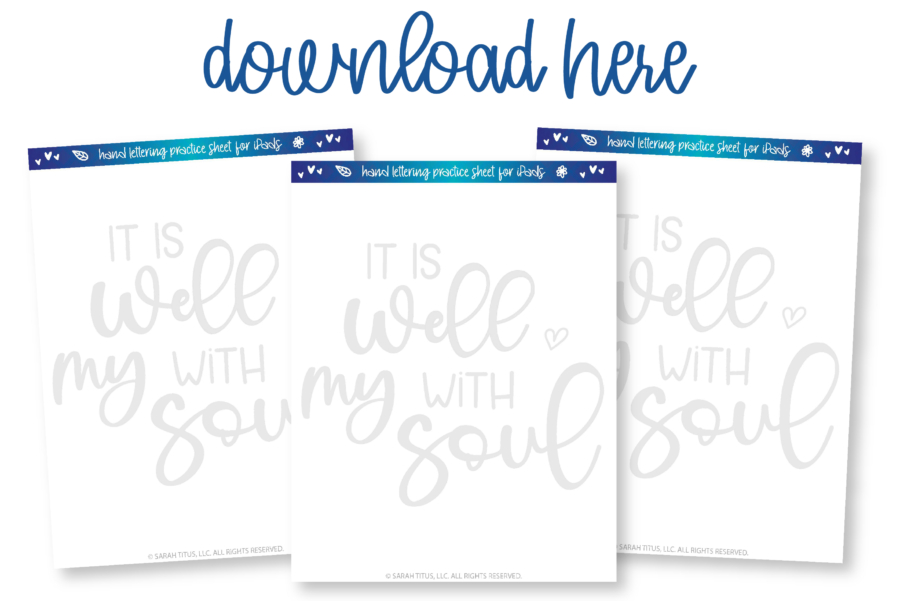 Download the It Is Well With My Soul Hand Lettering Practice Sheet for iPads: PDF and JPG