Something you may not be able to know about me from an online picture, but I'm short. I'm 5 foot 2 and 3/4 inches.
Now, that 3/4 of an inch is VERY important, I tell you what!!
When I moved into my 5 bedroom house, I bought a new bedroom furniture set and it's so tall, I literally have to run and jump to get into bed.
I need an elevator just to sleep at night. Okay…maybe it's not THAT bad. lol.
My daughter has the opposite problem. She's TALL. I buy her shirts and they always show her tummy there at the bottom. We've tried going one size up but then it's too big because she's on the thinner side.
I think that we ALL have issues that we hate about ourselves.
We all have things that can hinder us.
This Inspirational Spiritual Quotes Wall Art Printable is PERFECT wall decor for those times when you start thinking like me: I'm hindered…I can't do something.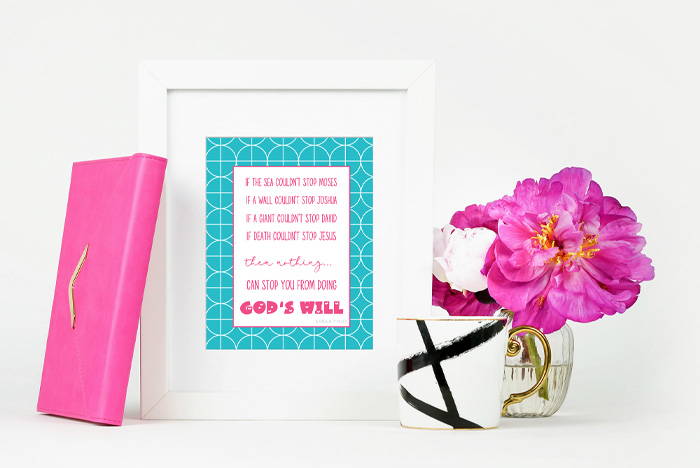 Inspirational Spiritual Quotes Wall Art Prints
I hate being short.
I hate having to put my seat all the way forward just to reach the pedals to drive a car, or having to get a step stool to get into some of my kitchen cabinets.
Just forget about changing a light bulb. This shorty cannot do it! 🙂 Nope…not even with a chair!
It's important to remember that we all struggle with things. Whether it be height, raising teenagers, not enough money, being a single mom….no one is above difficulties in this life.
So often I hear people say something like, "My life would be perfect if…"
If you only had…
a million dollars
a bigger house
a car
a family
people who love you
The list goes on and on.
But, the truth is, that if you don't find complete contentment where you are at in your life right NOW, NOTHING will change that.
It's such a joy-sucker, you know. I have a beautiful home now, but I've ALWAYS been content. Ask anyone who knows me. Even in that 2 bedroom small apartment right after I got out of the homeless shelter, I was happy, content.
We all wish our lives were different in some way. We all look at someone else's life and think they have it so good, we all get tempted to be discontent. Don't let that steal your joy today.
Remember that…
If the Sea Couldn't Stop Moses
If a Wall Couldn't Stop Joshua
If a Giant Couldn't Stop David
If Death Couldn't Stop Jesus
Then Nothing…
Can Stop You From Doing God's Will
Display this positive wall art in a cute frame in your home as a daily reminder! <3
Download your free printable Inspirational Spiritual Quotes Wall Art below…