When I came across this quote (in one of Charles Spurgeon's sermons on YouTube), I instantly fell IN LOVE with it. YES! Finally, someone who gets it! Service is delight!!!! YES! Praising God is pleasure! Yes, absolutely! Laboring for Him is the HIGHEST delight we can know! Hands down YEEESSSSS!
I always feel the most happiest when I am laboring for God. When I am serving Him. Let's take a look at what laboring for Him means and grab this beautiful inspirational free printable quote by Charles Spurgeon to encourage you!!! 💖
Inspirational Free Printable Quote – Charles Spurgeon Quote Wall Art
Maybe you're wondering to yourself, "Well, HOW can I labor for Him?"
Any work that you do for the intention of pleasing God is laboring for Him.
Maybe you're washing dishes.
Maybe you're chasing after a toddler.
Maybe you're pounding the pavement hard and spreading the gospel
Or working in the VBS program at your church.
Any work that you do FOR the Lord is laboring to Him.
So why dishes?
Well, God has called you, as a woman, to keep your home. When you obey Him, you are doing what He asks you to do…laboring for Him.
If you are doing dishes for Him, to obey Him, with that as your motivation, then yes, it's laboring for Him.
Now if you're doing the dishes for yourself or something like that, it's not laboring for Him.
It's all about the heart. What is your heart's motivation?
If your heart is to serve Him, and to serve others as an extension of serving Him (Genesis 18:1-8; Hebrews 13:2), then you are laboring for Him.
👉 Laboring does not have to mean grueling, back breaking work.
I serve on this blog. I pour my life out, my time, my energy, my expenses toward serving others. It's not for myself. It's not for any other reason. I do it for Christ.
And when I am working on the blog, creating things for you, whether that's a printable like in this post, teaching in another blog post, or simply talking to an audience member through email, any of it, if I'm doing it with the motivation of wanting to please God, wanting to be used by Him to show HIS glory to the world, that is laboring for Him.
It's not back breaking work. It's not grueling (although sometimes it can get busy 😂). For the most part, it's not HARD work. It's light, restful, peaceful, streamlined, systematized work.
I peacefully work this blog. I peacefully and joyfully create a printable or wall art or whatever it may be. I am serving my Lord. And it brings me GREAT JOY! Truly, when I AM serving others in His name, I find the MOST joy of anything in my life.
Why? Because I know I am making God happy and it's the biggest desire of my heart to please Him. It's really that simple. 🥰
Quote – "Service is delight, praising God is pleasure, laboring for Him is the highest delight a mortal can know." – Charles Spurgeon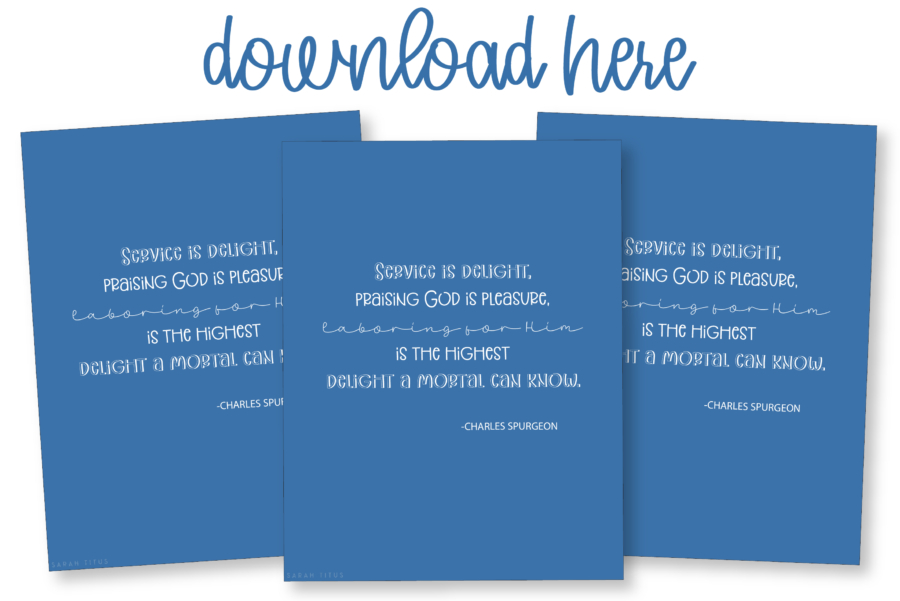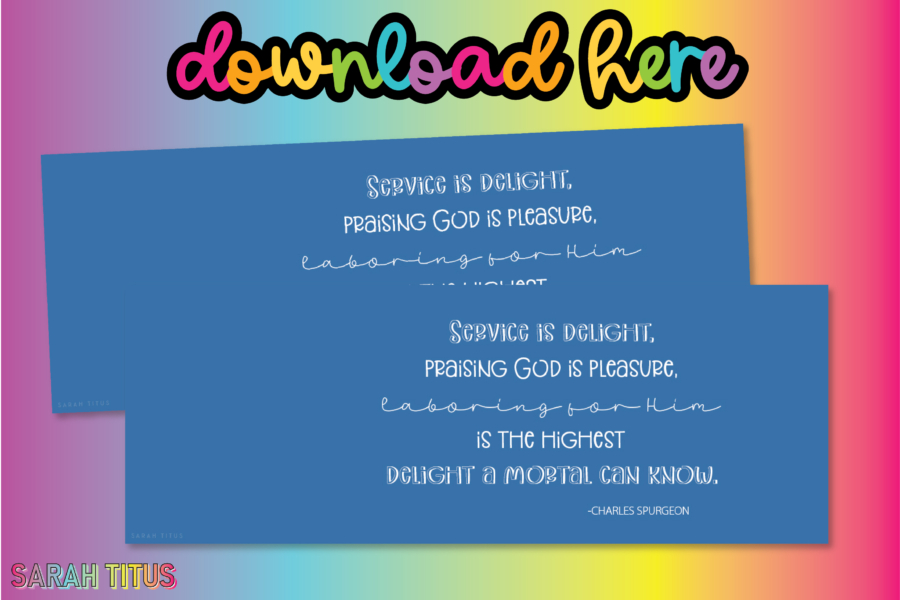 Creative Ways To Use This Printable Wall Art:
Here are some great and thoughtful ways to use these inspirational quote printables…
Frame And Give As A Gift
These make perfect gifts for your loved ones!
Maybe you have a friend or family member going through a tough time right now. A new mom struggling to find her purpose, a friend seeking a new job, or whatever the situation may be!
Frame one of these printables and give this inspirational gift. It is so thoughtful and is sure to encourage them! It's also free, meaning you can give to as many people as you want, for however long you want! 🥰🎁
Use As Home Decor – Framing Quotes For The Walls
This quote would look great as a decoration in your home as well!
Just frame this quote as use hang it up in your living room, office, bedrooms, or nursery. The blue background is very calming and will match a lot of home decor and that's why I chose that background color! 😊
Use Facebook Cover For Social Media
I have also included an image that is specifically designed to fit your Facebook cover photo area.
It's so easy to scroll on Facebook for 5 minutes and see all the bad in the world. Let's get some encouragement out there, blast the world with kindness, mercy, grace, and love!!!
Use this quote to help encourage and inspire yourself and others. Uplift your brothers and sisters in Christ, as well as non-believers!
When you need that little reminder, I hope you can look to this inspirational free printable quote and be encouraged! 💖