The garage is one of those places in our homes where it can easily become messy and a catch-all for just about everything.
Not only do you want to declutter, clean and organize your garage, but you want it to be a budget friendly endeavor as well.
This free printable makes it super easy!
Here's how to organize your garage on a budget.
How to Organize Your Garage on a Budget Printable
Here are my garage organization tips and tricks:
Get the whole family involved – chances are that you have belongings in the garage that belong to different family members. Be sure that everyone is pitching in and keeping their stuff neat and tidy.
Start with one area in your garage – often times people can get overwhelmed by the amount of stuff there is to organize. I like to work on one part of the garage at a time. One cabinet, one shelf, one area, and so on. This will help keep you from getting overwhelmed.
Use the right organizational supplies – I can't tell you how much cabinets will do for your garage organization ideas. I just think everyone who has a garage should have them. Here's a link to what I'm referring to. You can find them used on Craigslist for about $20-$25 each.
Make three piles (keep, sell, donate) – as you're making these piles, be sure to keep your little ones out of the piles you are creating! They will find something in the "wrong" pile for SURE!
Start sorting one section at a time – after you have your three piles, start sorting those piles. Go through your keep pile and organize it. Find places for the things to fit away nicely. Then go through your sell pile. Keep all your selling items in one section and start selling stuff right away. If you can't make at least $20 on one item you are selling, it's not worth your time to sell it, rather, donate it. Likewise, haul off the donate pile right away, so it doesn't creep back into your space.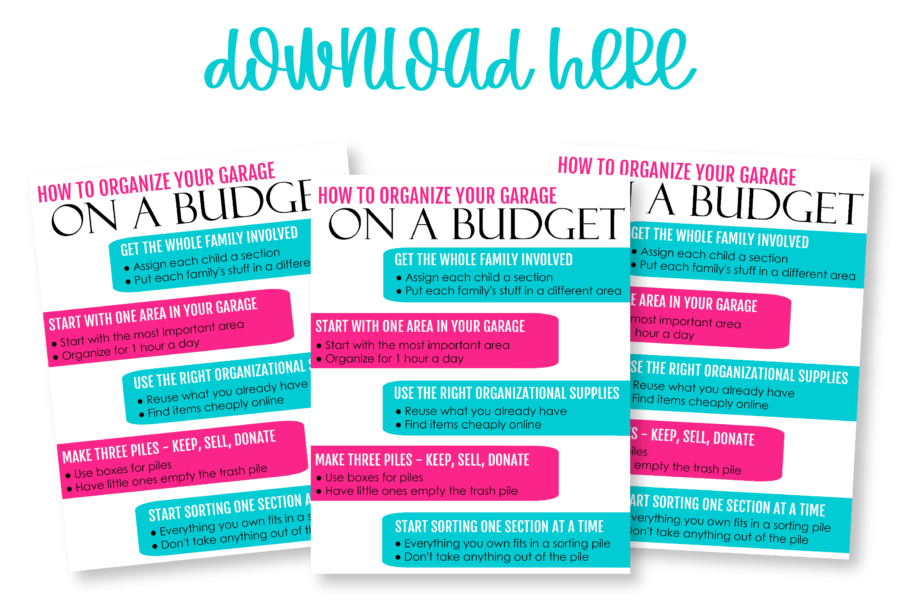 Download this How to Organize Your Garage on a Budget Printable PDF Template by clicking here.