It wasn't too long ago, that I was only making $18k/YEAR. As a single mom, I lived a very affluential life and I've done it all on very little, just simply and cheaply. In fact, it's how this site came into existence. Many of my friends would visit my home and be awe-struck at how MUCH I had while making less than three times what THEY made. Somehow I had MORE than them.
They couldn't wrap their minds around it. So, I shared with them my money saving secrets and frugal living tips. Secrets that I learned over time by nothing more than trial and error and help from God to teach me how to spend His money wisely.
But, many people know me now as this successful woman who makes a great living from this blog and they wonder what I do with it.
I get lots of questions all the time asking me to show them how I spend my money.
It may seem like glitz and glamour to many people, but the truth is that it's not at all, that much different than how I was spending my money when I was living on $18k/year.
How to Live Cheap on $75k/month
My home: When my friends would pull up to my house when I was making $18k/year (my then-nice 3 bedroom, 2 car garage house in THE most sought-after subdivision in my city that I live in), their mouths would drop. Once they regained composure, the first sentence was usually, "How in the world do you have so much?"
Immediately they were drawn in and needed to know everything about how I was able to have so much on what the world calls poverty.
After a while, and so many questions later, I started seeing the same questions asked over and over and decided instead of writing the same emails…over and over, it would save me time to just put the emails on a blog. So, I set out to start a blog and did not promote it at all. In fact, it was password protected and was not even turned "on" with any search engines.
Just me and my friends.
What quickly happened, is that they would share the password with THEIR friends and I began picking up some traffic. I quickly saw this turning into something bigger than I anticipated.
My humble little blog with no spell checked words, no capitalization at the beginning of sentences, no pictures, nothing…was drawing quite a lot of attention. People liked what I was saying, and they were staying on my site for an hour at a time, reading all that I had wrote. They began emailing for more. And as each new question came to me, I wrote a post answering their question, one at a time, in full on the blog.
One day it dawned on me that I should actually TRY. lol. I wondered to myself if I actually did TRY to work the blog, if I could earn income from it and so, I set out on this big adventure. A small girl with a dream of quitting eBay to blog full time.
It wouldn't come without hard work, that's for sure. For 4 years, I worked 80 hours a week (yes, a week) on eBay. When I started blogging, I had to work harder than that! I did eBay, worked as a virtual assistant (VA) to cover my blogging expenses, and on the blog. No…I didn't sleep much. lol.
But it was all worth it. My dream came true and I make more now, than I used to make in an entire year…in ONE month blogging. That's right. Last month, I made $75k!
Why am I telling you all this and how does it relate to how to live on so little?
I want you to know that if you want to get ahead in life, you can't follow what everyone else is doing!!!
You have to make YOUR OWN path. And when you set out on finding that path that's right for you, you will fail a thousand times…but…in time, you will find that one thing that clicks. And when you do, it's magical. It's life-changing, and you'll never see the world the same again.
When people told me I needed to get a REAL job, I really had to hold my tongue because, at the time, I didn't share income reports like I do now. Now, I never get told that, because everyone knows that I'm succeeding far above what they ever expected, which was $0. lol.
My mission from the beginning on this blog has always been to show other moms around the world that you most likely do NOT have to work outside the home if you do not want to. I'm not on some bandwagon to get every mom home, but I AM here to show you that you have options. Options to make your life and your family's life the absolute best it can be.
Think about it…no more stress from work, getting along with crazy-insane co-workers who irritate the heck out of you, no more boss breathing down your neck for a deadline, being yelled at when you make a mistake, feeling unappreciated, alone, and scared in an unstable employment situation.
Every day, you go off to work and you tear up because you desperately want to be with your kids. You're missing them walk for the first time, talk for the first time, you feel like you're missing it all.
My dear friends…there is a better way. And I believe that every single mom out there who wants to be home with their kids CAN. I'm living proof it can be done! Yes, you may have to work harder for a little while, but it's only a season. If you REALLY want it, you CAN make it happen.
The same is true for your income. If you REALLY want to be able to live on $18,000/year or even half that (here's my post on how I lived on $700/month), you CAN do it. Even if you live on little, you can still have a great life and it's my job…to show you how!
When I lived on $18,000/year, my exact bills looked something like this:
Rent: $800
Gas: $25
Power/Gas: $110
Water: $30
Garbage/Sewer: $60
Car insurance/Renters insurance: $55
iPhone: $30
Satellite TV: $65
Groceries: $250
Internet/Landline Phone: $120
Now that I live on $75k/MONTH, my exact bills look like this:
Rent: $1,400
Gas: $9
Power/Gas: $99.42
Water: $30
Garbage/Sewer: $60
Car insurance/Renters insurance: $79
iPhone: $30
Satellite TV: $80
Groceries: $300
Lawn maintenance (in the summers only): $120
Pest control: $28
Internet/Landline Phone: $120
Here's a printable bill payment tracker to keep track of your bills each month…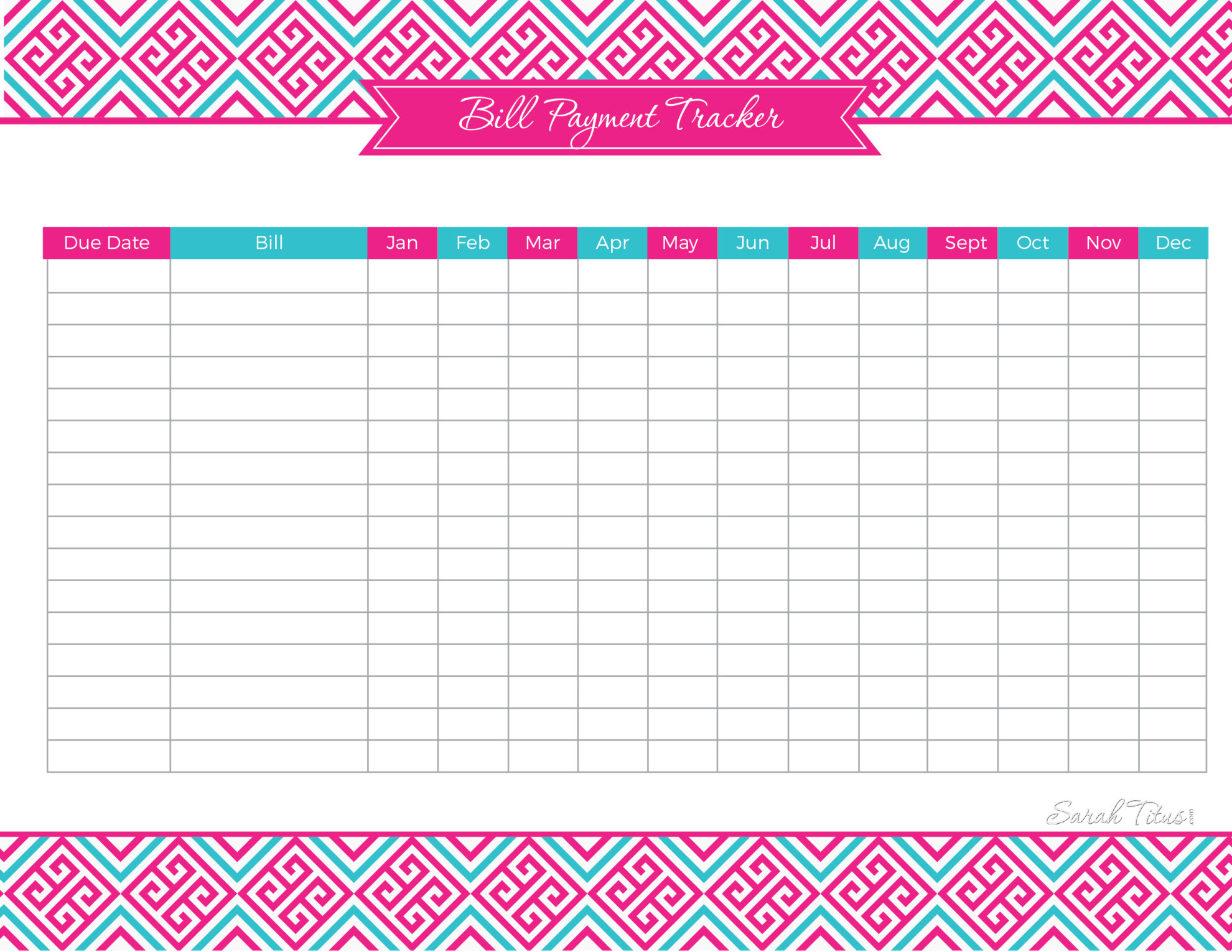 Download the bill payment tracker printable here.
No debt: The first thing you might notice is that I don't have any debt. This is true. I've been very blessed in all my single years, to not have any debts to pay. I've worked extremely hard to live on ONLY what I bring in and not a penny more. If I didn't have the money, I didn't buy it. And being extremely frugal, I'm good at getting all that I want on a very tight income. Now that I make more, I carry over those same principles.
Car: The next thing you might notice is that I don't have a car payment. I bought my car, an expensive SUV, brand spankin' new and paid cash. Although I don't have a car loan payment, you will notice that my car insurance went up from $55 to $79 because of it though.
Health Insurance: Because I am self-employed, by law I am required to purchase ObamaCare health insurance for myself. I did this last year. But co-pays for me were still $30 each doctor visit and I had to pay a monthly cost for something I rarely EVER use. I did not visit the doctor that year, however, I was on one medication that was free under that insurance plan. This year, I spoke to my CPA and I opted to take the penalty for NOT purchasing ObamaCare. Why? Because it's cheaper for me. While, yes, there IS a penalty and I'll gladly pay it, it's FAR LESS than I was paying having insurance that I never use.
Why don't I use insurance? Here's what I do instead: First, I have the Zyto bio-scanner, which is basically like having a doctor at your fingertips anytime you want. It reads your body and tells you what's wrong. I don't need to go to a doctor very often because of this and because I'm very healthy. When I do go, I go to a holistic doctor. The first visit is $140. Each additional visit, for life, is only $40. $10 more than a doc co-pay without the monthly insurance bill. And since I rarely go to the doctor, and when I do, I want to visit a naturepath FIRST anyway, this is a great option for me. I DO pay for my medicine now, out of pocket. It is $90 for 3 months, however, there's a website that gives me coupon codes, Goodrx.com, which brings my total for that medicine down to $45 for 3 months. So, if let's say, I visit the doctor once a year, I pay $40 and my medication is $180/year, that's $220/year plus the penalty. We are talking hundreds of dollars instead of thousands for an insurance plan. I also, do go to a routine female doctor every few years, but since I'm still young and in great health, I don't need to go more than that. That is $120 out of pocket.
Now, I know what you're thinking…what about an emergency, well ObamaCare is not the best plan anyway, and even in emergencies, unless I want to pay an extremely high monthly cost, emergency visits are out of pocket anyway. I compared all this information and for me personally, because I am young, healthy, and use essential oils (which are 100% free for me, as are all my household and cleaning supplies) and have an option for a great naturepath at a fraction of the price, for me, it was best to take the penalty. Every situation is different and you want to do what is best for you and talk it over with your CPA. But that's the reason there is no health insurance monthly cost in my bills.
For vision and dental, I always pay out of pocket as well. I get new glasses every 3 years, and the visit is like $40 and the glasses are super cheap. For dentist, I have a great local dentist that if you pay cash and don't have insurance, you save 20% off your bill right then and there and they give you free teeth whitener every visit. It is $120 each visit. Vision and dental are NOT included in the standard ObamaCare, so to have it, would cost me more than paying out of pocket as well. As for my children, their insurance is covered in my divorce.
Satellite TV: No, I'm not one of those people who give up TV. Even though I rarely watch it, when I do want to watch it, I want it to be there. I'm not a person all about cutting out the things I want. I'm a person who is crafty at thinking up ways to GET what I want. I've always been like that. When I want something, I'm very skilled at figuring out how to make it happen. That is NOT to say I'm manipulative or do this on other people. Please DO NOT misunderstand. Satellite TV monthly costs HAVE gone up a little bit over the years, thus the difference there. I haven't added anything, it's just normal cost increases.
Groceries: I did extreme coupon at the time I was living on $18k/year. Again, knowing how to get what I want, at the price I want to pay. So, I had a very nice stock pile in the garage of all kinds of things and was often found giving them away to help others. When you're "poor," there is NO reason to be stingy! The more you give, the more your heart changes, and the more God blesses you. I DO NOT extreme coupon now. I only use the coupons that are for products I'm already buying. And since I do all my grocery shopping online now, it's become significantly easier for me to cut coupons. You just enter in codes. 🙂
Gas: Gas is pretty cheap for me, because I don't really take trips. I do all my shopping online, so what I do pay gas for are things like church and fun stuff, like taking my kids to the park. 🙂 The reason my gas went down (as I'm writing this, the last time I filled up was on 5/17 and then again on 7/16 and paid $17.75) is because I started doing all my shopping online. Mostly, I go through Albertson's, Schwans, Amazon, and sometimes Staples.
Rent: My rent is higher now. One of my biggest dreams was to get my dream house. A 5 bedroom, 3 bath, 3 car garage, 2 story home with a garden, beige walls, and granite countertops. Those were all musts. Many people ask me what I do with all the extra space. Well, since I'm HIGHLY organized, I have tons of room. 🙂 One of the rooms, I turned into an exercise room (I lost 65 pounds last year and am looking to be even MORE healthier!) and one of the rooms is an office. The entire upstairs of the house is like a little apartment and I haven't decided what to turn IT into yet. Any ideas?
Power Bill/Gas: The reason my power bill/gas bill went down, is because, although I have a much larger house now, when I first moved here, I did a power bill challenge on the blog with my audience and lowered my bill significantly. If you're interested in getting that information on how to drastically reduce your power bill, let me know in the comments. If there's enough request, I'll bring all that information back! 🙂
So, outside of a new car and moving to my dream house, everything else is mostly the same. When I moved to the new house, I needed pest control and landscaping, so those bills are new.
Even if you make a lot of money, you may still want to live on less…he
re are some of those reasons:
• To simplify your life and make life easier. Things get real simple when you are living on less. Those fancy cars, fast food tabs all the time, elaborate houses, they all disappear in comparison. You start to realize exactly how little you REALLY need in order to make it through life. THEN, when you do have more, you can appreciate it all the more!
• To get out of debt. Many people deliberately live on less in order to get out of debt. This is, in my opinion, extremely wise. If you're serious about getting out of debt, you'll need to make some drastic changes. While that may not be living on $18k/year, it could be living on half your income. For me, after my bills are paid and uncle Sam takes his very large cut, I do my tithes/giving, and put some money aside in the kids accounts for college/car, the rest all goes into savings. I don't spend it. It's my goal to one day buy my house! If you are married and you both work, try getting to the state of living where you're not dependent upon both incomes, but only one. If one spouse makes $2,000/month, this means you have $2,000 to put on debt! You can get out of debt super fast that way and then once you ARE out of debt, go back and get your nice house again, get that nice car, just pay cash for the car and rent, so that you're not getting BACK in debt!
• To retire early. Who wants to work all their life? Not me! There was a reason I worked 80+ hours a week for those 4 years. So that I can provide for my family as a single mom, making good money and getting somewhere. Put money aside to buy a house with cash, put away for college for your kids, their cars, my retirement, and so on. Work hard now, so that you don't have to work so hard for the rest of your life.
• To prepare for emergencies. What if you or your spouse were laid off their jobs? What if a natural disaster overtook your home? There are a million and one things that could happen and having a nice, well-stocked savings can drastically help in the event of an emergency.
• To prepare for kids. Some people like to live on little in order to prepare for having kids or adopting. While I feel kids are inexpensive to raise (see my post on how I get my kids clothes completely free here), they still do add to the expenses each month. You might need a bigger house with more bedrooms, a bigger car, more food, and so on. Saving now to prepare for those expenses is wise. As for baby equipment, just don't buy new and you'll save a ton (you might want to buy the crib and car seat new for safety reasons). I used to go around yard saleing to gather up all I needed when I had my two little ones. If you're low-income, WIC is also a good option.
• To start your own business. Depending on the business you want to start, it can become very costly. Blogging is probably one of the cheapest businesses to get started in, but it requires investment just the same…in your time. You have to build it. It can also be very lucrative. Within 1 year from my starting a blog, I was making $10,000/month! I'm not saying that's normal, but I am saying, it's possible! And going from making $18,000 a YEAR to $10,000/month was insane and it's something I'm STILL getting used to with the more I make.
My life has not changed, outside of the fact that I did buy the brand new car and am now renting my dream house. I still save money like crazy. I stopped working crazy hours and now work about part-time. Being self-employed has changed my life and it may be something that you can do as well. Best to have the money to start upfront, so you can really ROCK it. Here's a post that will walk you through all the things you'll need to think about before starting a blog, if that is the direction you are thinking about. And of course, check out my best blogging tips and tricks here!
How to get your cost of living down on whatever income level you're at:
• Don't use any credit cards. You don't want to incrue any debt. Being debt-free allows you to have a completely free lifestyle.
• Find and use the cheapest cell phone service you can. Net 10 is a great prepaid service and if you don't use your phone much, the prepaid cards can last you 3 months! Last time I used their service, it was $30 for a phone card, which lasted me 3 months, so $10/month. Now, I have my iPhone, but the service is very cheap and I'm not on a contract at all. It's MY phone (again, paying cash for what I want).
• Use cash back sites like Ebates. You're going to spend the money anyway, might as well get paid to shop! If you don't have an account, you can sign up here and get a free $10 gift card! To receive your free gift card, just make one purchase of $25 or more and they have every site I shop at on there, so it's very easy. I put a sticky note on my computer so I remember to go through them first. I've been with Ebates for about 5 years now and have earned to-date $7,236.84. They are a pioneer in the cash back industry and I highly recommend them!
• Negotiate your bills. Did you know that you can do that with some of them? You totally can. Negotiate credit card bills, everything, and get that DOWN!
• Use free budgeting software and tracking services like Personal Capital. If you don't have a pre-set budget, you're dead in the water before you even start. You have to tell your money where to go each month or it likes to spend itself!
• Meal plan. Like budgeting, you have to tell your meals what to make (here's cost-effective and quick meals for those on a budget) or it can take over your expenses. You'll go out to fast food too much, nice dinners, and so on. Having a meal plan set up makes things a lot simpler. A couple of the sites that are great for teaching you this are: Thrifty Frugal Mom (she feeds a family of 5 on only $200/month!) and Graceful Little Honey Bee (I do her freezer meal burritos idea instead of buying them).
• Stop paying for stuff. Just decide that there are things you won't pay for anymore! Here's my list of 15 things I refuse to pay for. Here's a post I wrote about how I get all my household products for FREE, including diapers, baby wipes, pull ups, candles, soaps, dishwashing detergent, cleaners, and SO much more!
Increase your income to put into savings:
• Start a blog. Staring a blog is first because it's my own favorite personal way to make money by doing what I love, serving others! If your heart is about helping others and sharing your knowledge with the world, then you should go for it. I started out with a dream of making $1,000/month by 1 year and ended up making $10,000/month by 1 year! My life has changed drastically. Though the results are not typical, you never know until you try. I surely didn't know when I started, but God did!
I recommend going through Bluehost and through my site, you can get the cheapest cost (I worked out a deal with them on your behalf!) You have to pay upfront for how many ever years you want to choose, but by far, this is the cheapest and best plan. I pay ONE MONTH for what YOU can get for one YEAR!
• Take surveys online. It won't get you rich, but it's income and you want as MANY revenues for income as you can. You can check out my 25 best survey companies here.
• Sell things around the house. Here's a post I created teaching you how to find FREE things to sell and here's a post giving you 40 ideas of things you can sell right now that you might already have in your home!
Related: 5 Real Ways to Add $500/month Steady Income (you can find even more ideas for increasing your income here!) Still looking for more? Here are the 10 best articles that teach you how to make money from home.
Whatever income you currently live on, whether $18k/year is a dream to you or it's 1/10th of what you currently make, there are things that you can do to improve your financial outlook and I'm here to prove it. In my darkest time, around 7 years ago now, I was homeless. I had absolutely nothing and now, I make pretty dang good money and have no debt. I can come and go as I please, have a nice savings account, and have a lot of options opened up to me now…but it didn't all come without hard work and God in my life every step of the way.
No matter what your financial situation, you can improve it using these tips. If you enjoyed this post, be sure to let your friends know. Because this information, truly is life-changing to women who want to be home with their kids, or are already home with their kids, but are struggling financially to STAY home with them.
Want more? I created an entire course, How to Become Financially Free. It's my journey of how I went from being homeless and $30,000 in debt to making 6 figures from home and completely debt free.
If you feel stuck or in a rut financially, you don't want to miss this inspirational story!
It's just what you need to motivate you and give you practical steps to step up your money saving game. Written by a single stay-at-home-mom; if I can do it…so CAN YOU!
So, what DO I do with all the extra money I make, since everything is just about the same, with the exception of renting my dream house and a new car?
Well, I save it.
Everything extra goes into savings.
Why?
Because I want to buy a house. And when I do, I want to either pay cash for it (doubtful) or pay it off within 3-5 years. That's my goal. That's what I'm saving for.
If you have any of your own tips on how to live cheaply (but well), please share in the comments below! <3