Not only is Easter a time to celebrate the resurrection of Jesus Christ, but I believe every day is a time for celebration! These He is Risen Hand Lettering Practice Worksheet for your iPad can help you remember the true meaning of Jesus' resurrection and celebrate His rising!
This worksheet includes tracing and writing practice for the phrase "He is risen" so no matter HOW you practice your lettering skills, this sheet's got ya covered!! 💖
A few added suggestions to use this practice sheet are:
Trace the letters with dashed lines. As you trace, say the phrase out loud so you can hear how it sounds
Write the phrase on your own. If you need help, you can look at your own dashed lines you just made for guidance
Add some embellishments to make your lettering more festive (a great, fun activity for kids!)
Remember, keep the praise and worship of all that Jesus has done for us and continue celebrating Him and His resurrection! These He is Risen Hand Lettering Practice Worksheet for iPad can help you do just that!
You could even use this practice sheet with your kids as part of your homeschooling studies!
Have your kids find all the places in the Bible that talk about His rising!!!
Here's an example for the teacher… 😉
1 Corinthians 15:3-4, "For I delivered to you as of first importance what I also received: that Christ died for our sins in accordance with the Scriptures, that he was buried, that he was raised on the third day in accordance with the Scriptures,"
This passage is a great reminder of the hope we have in Christ's death and resurrection and a great place to start to teach children about God.
He is Risen Hand Lettering Practice Worksheet for iPad
This iPad lettering practice sheet is perfect for practicing your hand lettering skills and keeping God at the forefront of your mind! Use the guidelines on the page to help you create the beautiful words He Is Risen (from Matthew 28:6) in various ways. There's also lighter lettering for you to practice free-hand lettering.
Just practice with these worksheets, perfect your strokes, and stay in God's Word! After you're done, show off your work by taking a photo and sharing it with all your friends!
Happy lettering!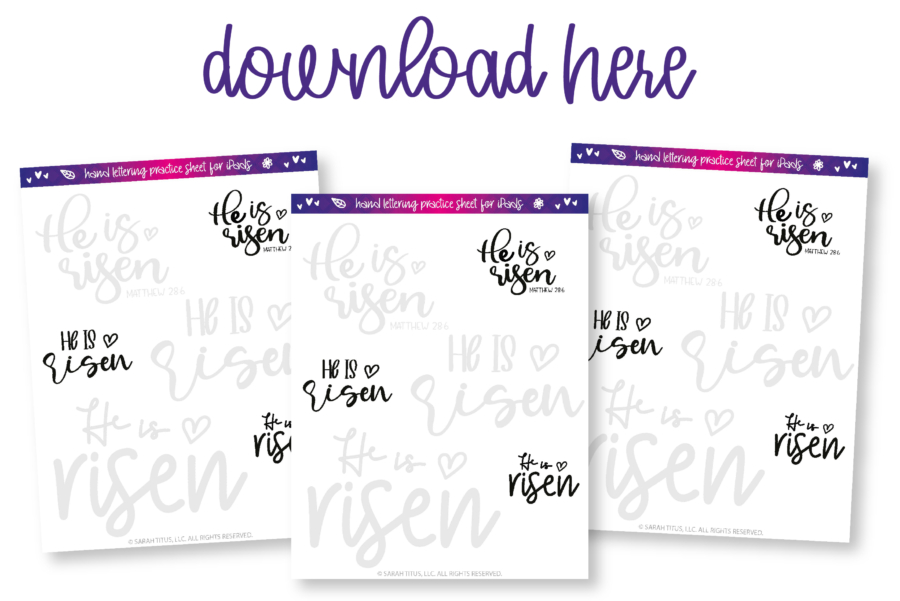 Download the He is Risen Hand Lettering Practice Worksheet for iPad: PDF and JPG