I really look at the SEO in my store the same as I do on my blog.
Today, I'm going to take you through all the elements of what I personally do in my Shopify store for SEO so that you can have great SEO in your Shopify store too.
Having Great SEO in Your Shopify Store
I don't know if I get a lot of traffic from Google or not. There's really NOTHING to compare my store TO. So, I make no promises going in (I want to be completely honest and transparent). However, what I CAN say, is that in the last 30 days, at the time I'm writing this, I've gotten 434 unique visitors from Google (568 total sessions).
All of those 568 traffics are completely FREE traffic. I do not pay for them. I do not have to advertise for them. All I have to do, is do my little SEO stuff and bada-bing-bada-boom, I get traffic.
In looking at my traffic reports (you can see yours by clicking Analytics, Dashboards, and click the card titled, "Online store visits by traffic source"), I can see my best and biggest traffic referrals.
Here's a screenshot of my exact totals for the last 30 days. In going back to previous dates, I can tell you that my SEO IS going UP in traffic. It IS increasing as time goes on and this is a great thing!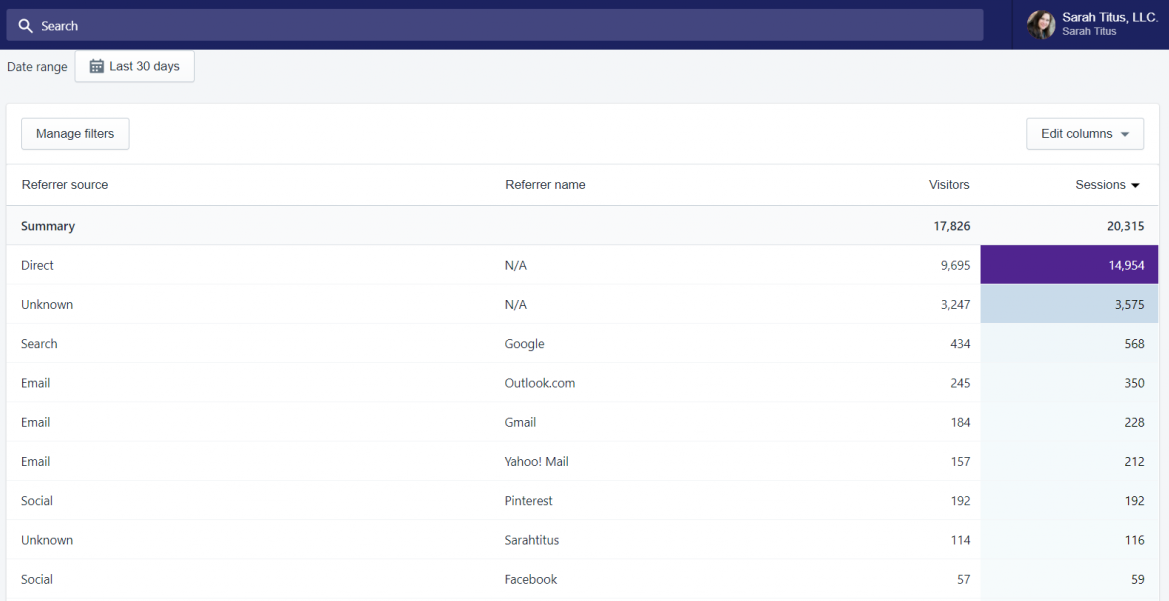 My biggest source of traffic for my store is of course direct, followed by unknown. I'm not really sure if the direct traffic is from email or not. Sometimes, I'll look at a particular customer and see they used a discount code, and yet it says direct. Obviously, if they are using a discount code, since discount codes are not usually on my Shopify site anywhere, they are most likely getting it on my email list. But, in full transparency, I have no clue as to the exacts of the direct traffic.
My third biggest referral is Google.
You'll also see Pinterest (I just starting pinning a few things).
My blog got 114 unique clicks in the past 30 days.
And then, you'll see Facebook. I don't have a Facebook blog page or anything, so that is purely others sharing. 🙂
There are other littler traffic sources as well, but that's as far as I did the screenshot as those are the main ones.
Today, we're going to be looking at Google specifically.
For SEO, what I do is incredibly simple.
Titles
I choose a title. Most of the time, I just choose a title of what the exact product is and I do not do any keyword research or anything like that. However, I would encourage you to do some keyword research and especially when you're just starting, use Co-Schedule to really nail titles.
Pictures
Before you upload pictures into Shopify, be sure that they are NAMED the title of your product. You don't want to upload something like IMG_5994 because Google looks at that and it doesn't help their spiders crawling around identify what your post is about. But I will say, that I don't usually pay attention to this myself.
Description
This is where I personally pay attention. Within your introduction paragraphs in your description on your ads, you want to BOLD the title in there.
So for example, in my Medical Binder: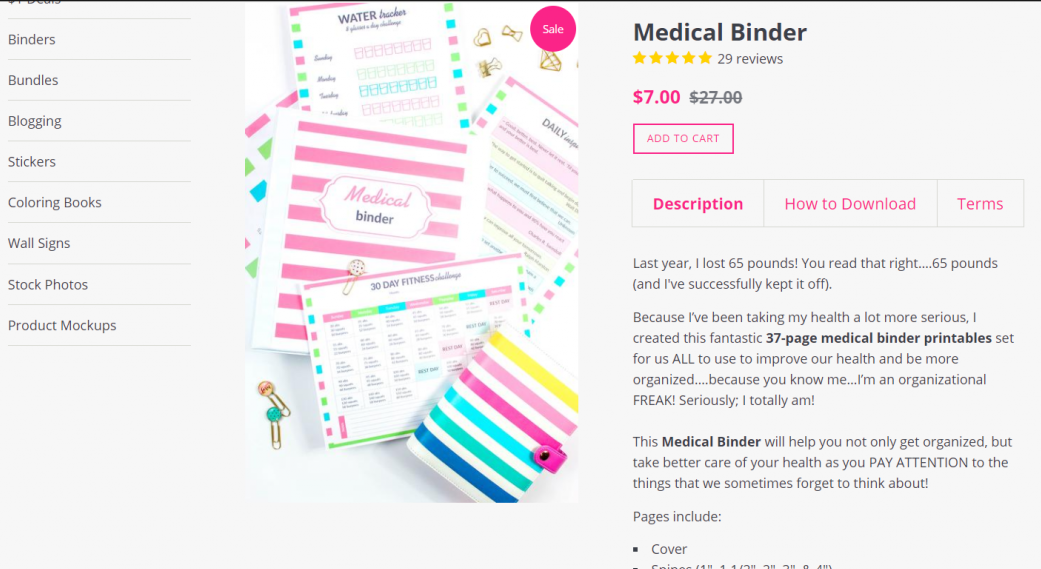 You'll see the title is "Medical Binder" and then within my description, I have the words "37-page medical binder printables" and "Medical Binder" bolded. This helps tell Google spiders that THESE words are important. Since there's not many Medical Binders online, period, I can rank with Google pretty easily.
When you pull a Google search for Medical Binder, currently, I'm third on the front page. There's another site and Pinterest of course, and then me. But the link I rank for is a post on my blog, NOT my actual store, and I think this is key.
In fact, when I search the first few pages on the Google search, I don't see my store at all. This tells me Google prefers to send people to a blog, NOT a store.
So, what do I do?
You guessed it. I have a landing page post for my Medical Binder ON my blog. You can see it here. That blog post just basically leads them right to my store. So, I'm getting more traffic to my store from Google, but running it THROUGH my blog, you see.
While I wouldn't suggest you do this for EVERY ad you make on your Shopify store, if you want to rank in a certain topic, or you really want a certain item to sell, I absolutely encourage you to make a blog post on it. Pinterest and Google both, for sure (and there may be others) prefer to send people to a blog post rather than a store, and readers prefer to be sent to a blog post rather than directly TO the store because it's not as "scammy" to them.
So when you pin and when you promote, promote those blog posts, not your actual Shopify ads!
Tags
When you're setting up your ad, you'll want to pay attention to tags.
I'm not really sure if Google pays attention to your tags too much, to be honest. However, I would say that it couldn't hurt. I use this section especially for people who search on my actual store. They will find something based on the keywords entered in.
Again, with the Medical Binder, you can see that I have several tags in there.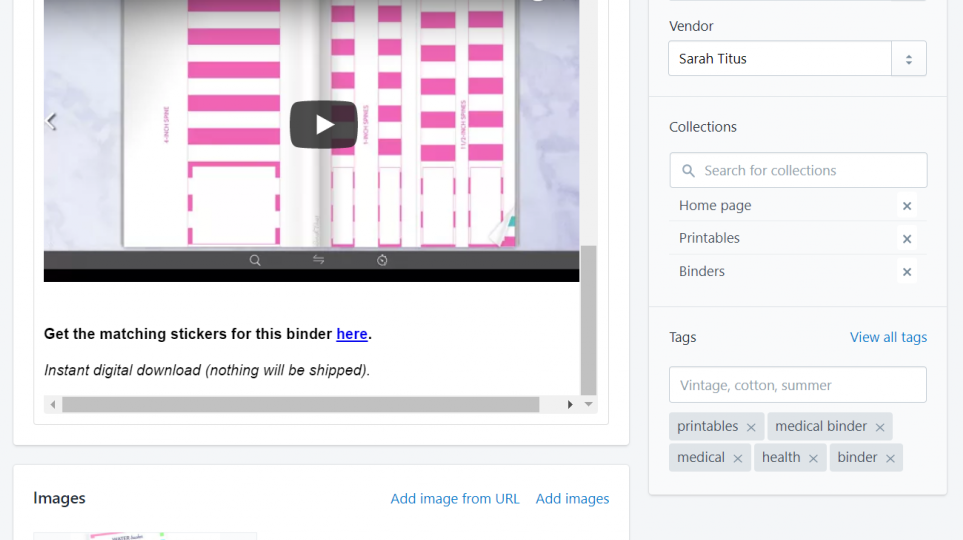 I have:
Printables
Medical Binder
Medical
Health
Binder
If anyone is searching in my store for these keywords, this product will pop up in their search results. You can add as many keywords as you want, just be sure they are all incredibly relevant to the post. The quicker you can get your customer directly to the page they want, the better. So don't overdo it on tags and keywords.
Collections (you'll see in that screenshot) is basically the exact same thing as your blog post categories in WordPress. You'll want to use that section for your navigation bar purposes.
Search Engine Listing Preview
At the very bottom of the screen, when you are setting up your ad, it'll have a section for "Search Engine Listing Preview".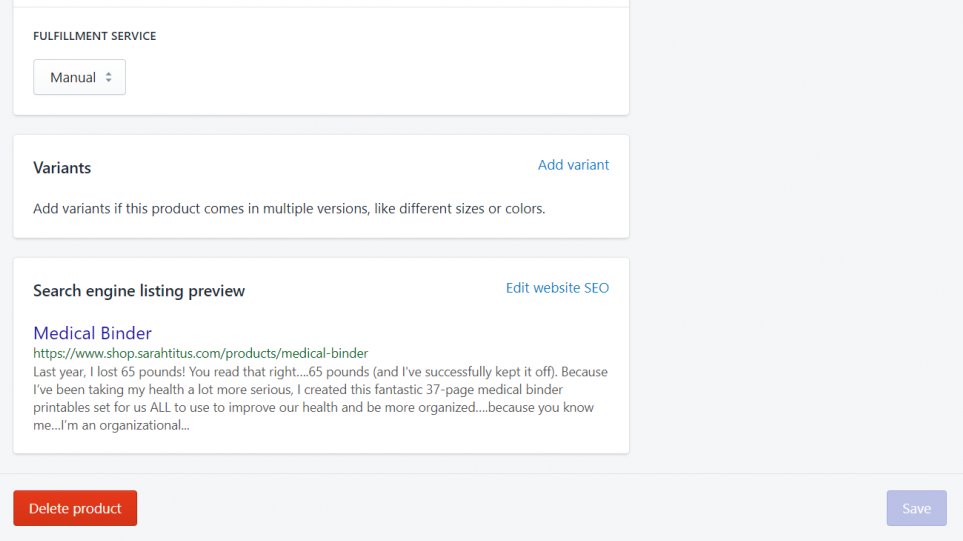 This is where you go in and manually enter in whatever you want. For me, personally, I never worry about that, but it's a great idea to fill in exactly what you want in there.
That's it. That's really all I do at this point. It's not a lot of steps, however, it leads to some pretty good traffic. 🙂