God wants so many good things for us!
The great thing about this is that He provides so much for us and gives us opportunities to grow and become all He desires for us.
One of the many things He wants for us really stands out to me – wisdom.
The Lord tells us in James 1:5, "But if any of you lacks wisdom, let him ask of God, who gives to all generously and without reproach, and it will be given to him."
God wants us to have wisdom – to be blessed by it, to walk in it, to be led by it, to share it with others. And He wants to give it to us; we just have to ask.
When we ask for wisdom God will begin to work in us two ways and both are things we must work on.
First, we need to learn to LISTEN. God will IMPART wisdom to us by the nudging of His Spirit. He will begin to reveal to our spirits things that we should be wary of or things we should do.
God wants you to be able to discern both the things to stay away from and the things to do. This is part of His wisdom, but it takes a LISTENING, faithful, obedient HEART.
And if you think sometimes it's difficult to listen with your ears, take a deep breath to prepare to listen with your heart! It's difficult because the world is always pulling at us, and sometimes it seems we're going 16 different ways at once. Those are the times it's easy to get caught up in just getting it done than really listening with our hearts to what God wants from us. There are MANY times in our lives where we can get things done, but completely ignore God. People who don't follow Him do this all the time.
You may be in the middle of a task when God nudges you to teach the task to your child. It may take you a few more minutes and some extra effort, but it WILL be worth it because God knows when they are ready to receive. His timing is PERFECT. Listening with your heart is wisdom.
The second thing God will do is begin to put you in new experiences. Wisdom comes from experiences and what you learn from them. God will move you into areas that will probably surprise you, but with it will come experiences that bring about wisdom. And you know what you'll have to do during this time?
That's right – LISTEN WITH YOUR HEART!
He will guide you in what you need to learn, and your wisdom will grow in leaps and bounds!
But don't think it will always be easy…it won't. But it will always be worth it – I promise.
As you search your heart, praying to God for wisdom, grab this free hand lettering wisdom workbook for iPads so that you can meditate on these Scriptures while you pray them to the Lord, seeking and asking for wisdom!
Hand Lettering Wisdom Workbook for iPads
This hand lettering workbook highlights some of the best verses about wisdom. They are a constant reminder to me to continue to ask for more wisdom and to walk in and share the wisdom I've already gained.
Download them today, practice your hand lettering, and let your heart receive the importance of gaining wisdom from God.
How much better to get wisdom than gold! – Proverbs 16:16
So teach us to number our days that we may get a heart of wisdom. – Psalm 90:12
For the Lord gives wisdom. – Proverbs 2:6
A wise son makes a glad father. – Proverbs 10:1
The fear of the Lord is the beginning on knowledge. – Proverbs 1:7
Blessed are those who find wisdom. – Proverbs 3:13
Whoever walks with the wise becomes wise. – Proverbs 13:20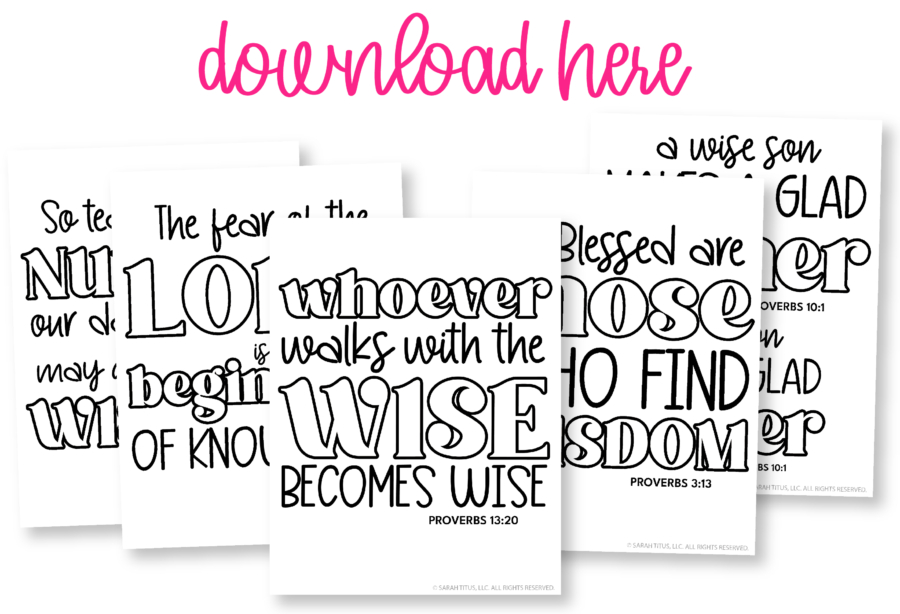 Download the Hand Lettering Wisdom Workbook for iPads: PDF and JPG.